words // Nick DePaula
Most everyone that's watched the action of the 2014 NBA Playoffs so far is pretty quick to agree on one thing -- this has been the absolute best opening round ever.
With an unprecedented five series going the distance to a deciding Game 7 (the previous record was two), the added drama and competitiveness of the matchups made for bigger moments and grander falls.
While stars like LeBron James and Tim Duncan have had their standing in the league cemented for quite some time, this year's opening round gave an opportunity for the stars of tomorrow to establish themselves now, making for some new additions to the league's elite tier of players.
Check out our biggest winners and losers of the NBA Playoffs' 1st Round, and let us know who you think helped or hurt their profiles most in the comments section below.
THE WINNERS: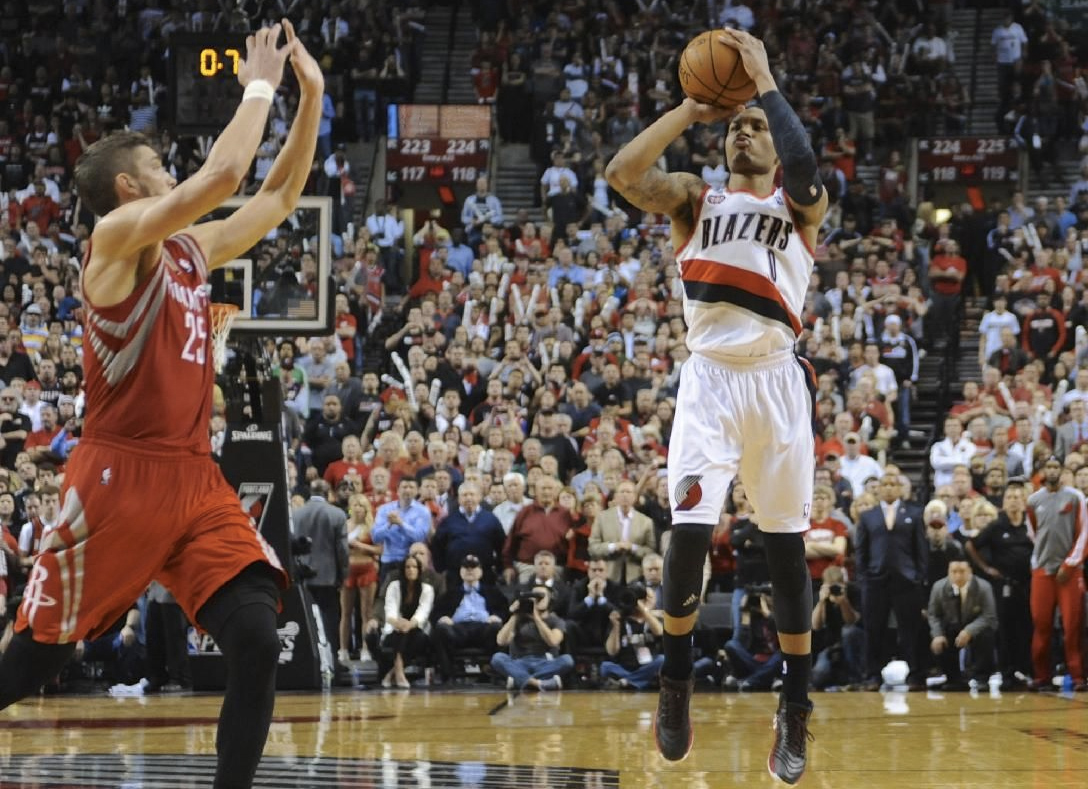 - Damian Lillard
For someone that just signed a massive 8-year extension with adidas, Damian Lillard couldn't be having a better year. Last season's Rookie of the Year carried that momentum right on into this year, and after an All-Star Weekend that saw him become the first player to compete in 5 events, he's having a breakout debut in the NBA Playoffs. He torched the Rockets for 31 points, 9 rebounds and 5 assists right out the gate in Game 1 of the series, and then put himself into an elite class of players by cashing in a series-clinching buzzer beater this past Friday night.
Things couldn't be going much better for Lillard these days, who is currently being featured in a Foot Locker ad airing non-stop throughout the playoffs, and it's the perfect time for his profile to rise into an entirely new echelon. He's rumored to have his very own signature shoe launching sometime during next season, and at this pace, he'll most certainly be a top-of-mind star to hoop fans across the country thanks to his tremendous playoff run so far.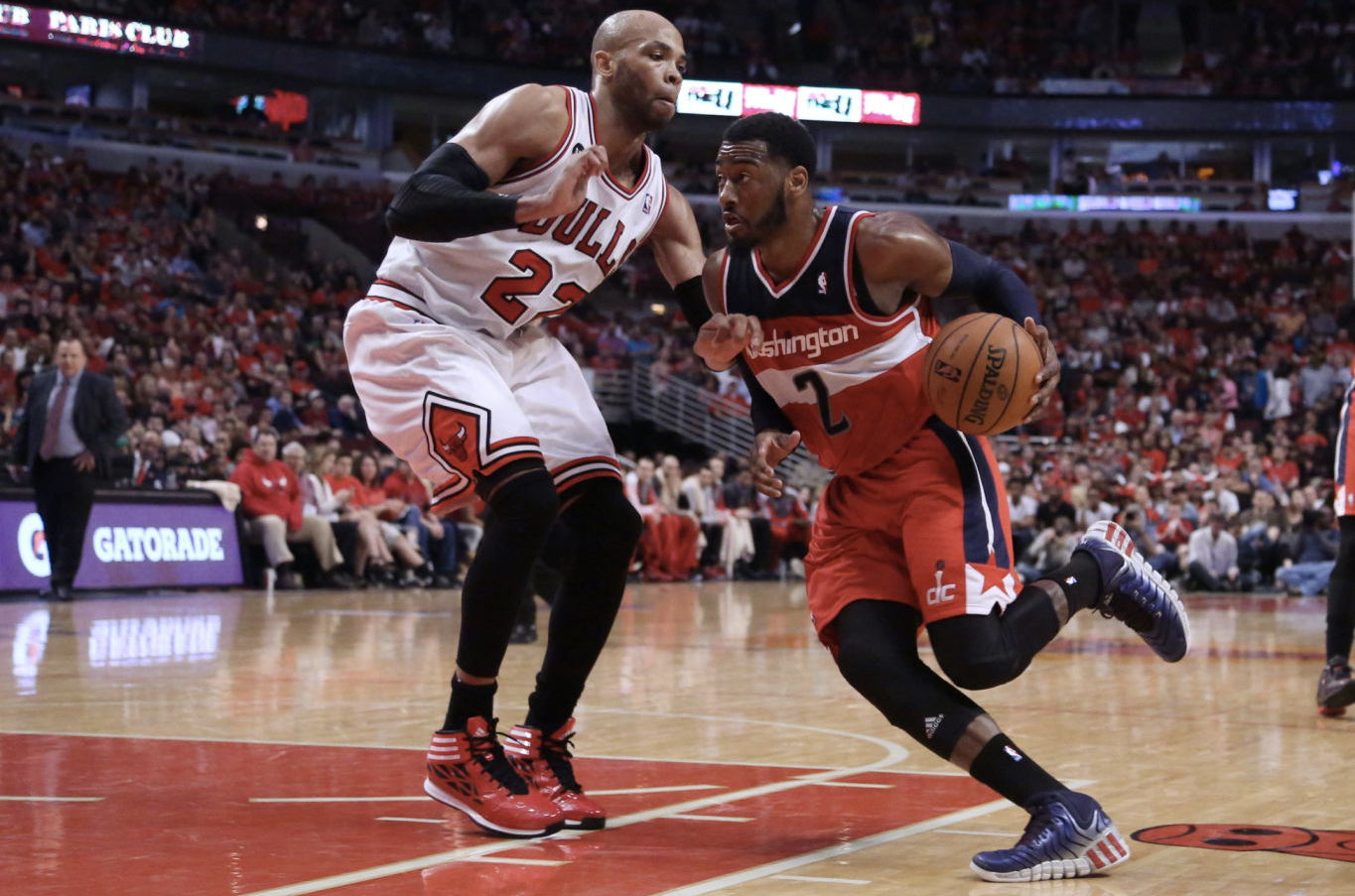 - John Wall
After a few seasons of floundering in DC thanks to a collective of knucklehead teammates, Wizards point guard John Wall is suddenly on track for the superstardom and elite career many expected of the 2010 NBA Draft's #1 overall pick. Just a season ago, there were still concerns that he played the game too fast, couldn't run a team, and wouldn't be able to sort out his shaky jumper.
In actuality, Wall's All-Star season has gotten that much better during his first outing in the NBA Playoffs. In a quick five game series against the Chicago Bulls, Wall posted averages of nearly 19 points, 7 assists and 5 rebounds per. He might still have some work to do on the jumper, but he's clearly an elite level point guard, and the Wizards are already being picked by many to advance to the Eastern Conference Finals.
Thanks to a stellar opening round of relentless energy and smooth facilitating, John Wall has been enjoying a sudden surge of praise, much like his coastal counterpart Damian Lillard. Like Lillard, Wall is also expected to have a signature adidas sneaker sometime next season, making his play and winning ways that much more impactful.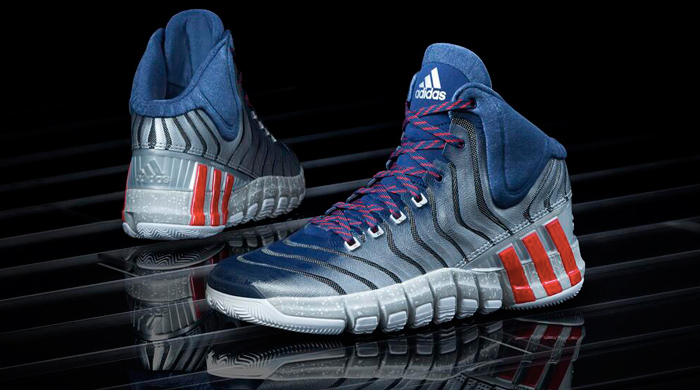 - adidas Hoops
With Damian Lillard and John Wall each enjoying an awesome start to the NBA Playoffs, surely the adidas Hoops category is a clear winner thus far. Both players have been doing their damage in the new Crazyquick 2, and we can safely bet the brand would gladly trade an awkward commercial of them playing inside of a shoe in exchange for their current success on the game's biggest stage.
As adidas continues to fight through the struggles that've come with Derrick Rose's unfortunate string of injuries, it's the play of Lillard and Wall that've helped to get them through a trying stretch where they perhaps went too "all in" on DRose. Both players enjoyed an injury-free regular season and played in all 82 games, and you can look for Wall to kick off his 2nd Round matchup tonight against the Pacers, with Lillard leading the Blazers to their next series in San Antonio on Tuesday.
In addition to the stellar play of the two point guards, adidas had to also be encouraged by the dominant play of Dwight Howard. After a rough year in LA last season, and after being routinely called out by Shaq at the start of this year's playoffs, Dwight dominated in the paint and looks to be back to full strength. He upped his regular season averages of 18.3 points and 12.2 rebounds per game to a beastly 26 points and 13.7 boards. While his Rockets couldn't advance, thanks in part to the aforementioned Damian Lillard's cold-blooded killer mentality, Dwight can still be proud of his first round showing as he looks to continue to build and gel with his Rockets teammates.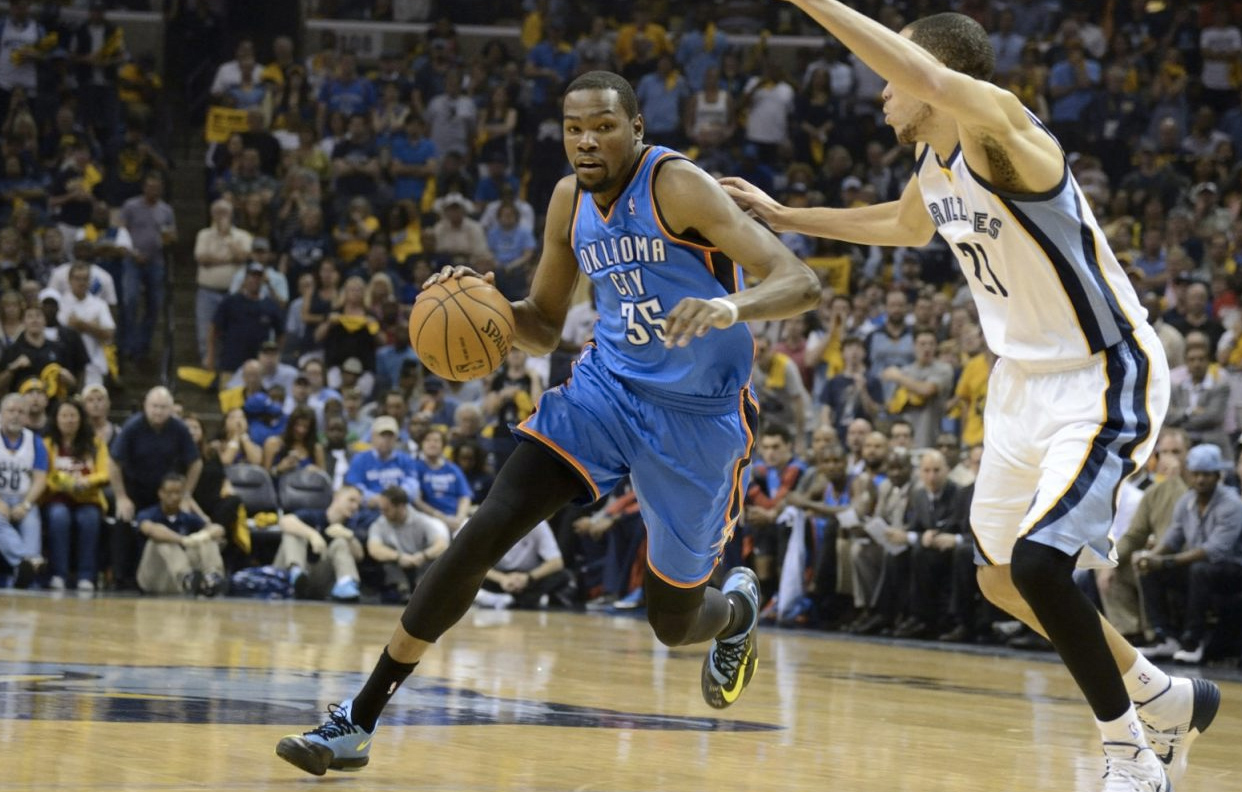 - Kevin Durant
Let's be clear about this one: KD was very, very close to being the absolute biggest loser on this list. Despite his awesome scoring output and definitely reliable game, the Thunder were pushed to the brink of elimination by the Memphis Grizzlies, and at times looked like they might not make it out of the round alive. For Durant, expected to soon be named MVP of the entire league, it would've been disastrous for his legacy and made for quite an awkward award acceptance.
Instead, he's continued to add to his already unreal collection of individual awards and records pacing at just 25 years-old, and he's established himself as perhaps the game's greatest player. Well, it's most valuable anyways. He advances to the 2nd Round as the Western Conference's biggest star, and despite a rocky start for his team, KD has a shot to push forward towards being the playoff's biggest winner.
All he has to do now is keep on scoring and leading the Thunder. Oh, and wearing the KD VI Elite would be nice too, which conveniently brings us to....
THE LOSERS: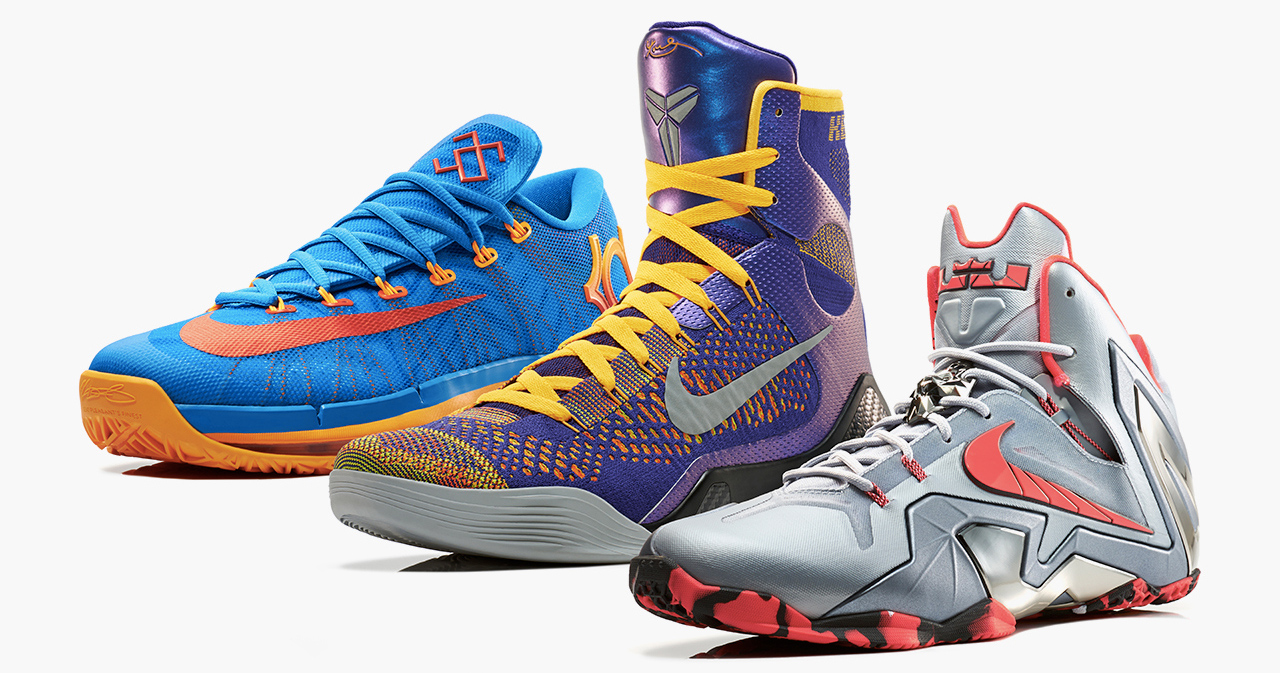 - Nike Basketball Elite Collection
For the third consecutive postseason, Nike Basketball has an enhanced and elevated trio of sneakers made for the game's biggest stars. The only problem is that in the opening round, all three models haven't been consistently worn by any of the guys they're made for.
Kobe Bryant's injury issues -- and the fact the Lakers missed the playoffs entirely -- obviously make it tough for him to lace up the Kobe 9 Elite.
As for Kevin Durant and LeBron James? KD has worn the KD VI Elite for a total of three quarters over the span of two games, and opted instead for his regular season KD VIs for the entire remainder of his team's 7 game series with the Memphis Grizzlies. Meanwhile, Derek Fisher wore them for every game. Hardly ideal.
LeBron James, who obviously had extensive issues wearing the LeBron 11 throughout the regular season, did indeed wear the 11 Elite for all three of the Heat's first wins. But in the deciding fourth game, James switched right on back to the Soldier VII for the 2nd half, prompting us to wonder if he'll be dancing back and forth from here on out.
We'll certainly be keeping an eye on things as the second round gets underway tonight, but regardless, it's an ongoing issue potentially marring the longterm historical nostalgia for each model.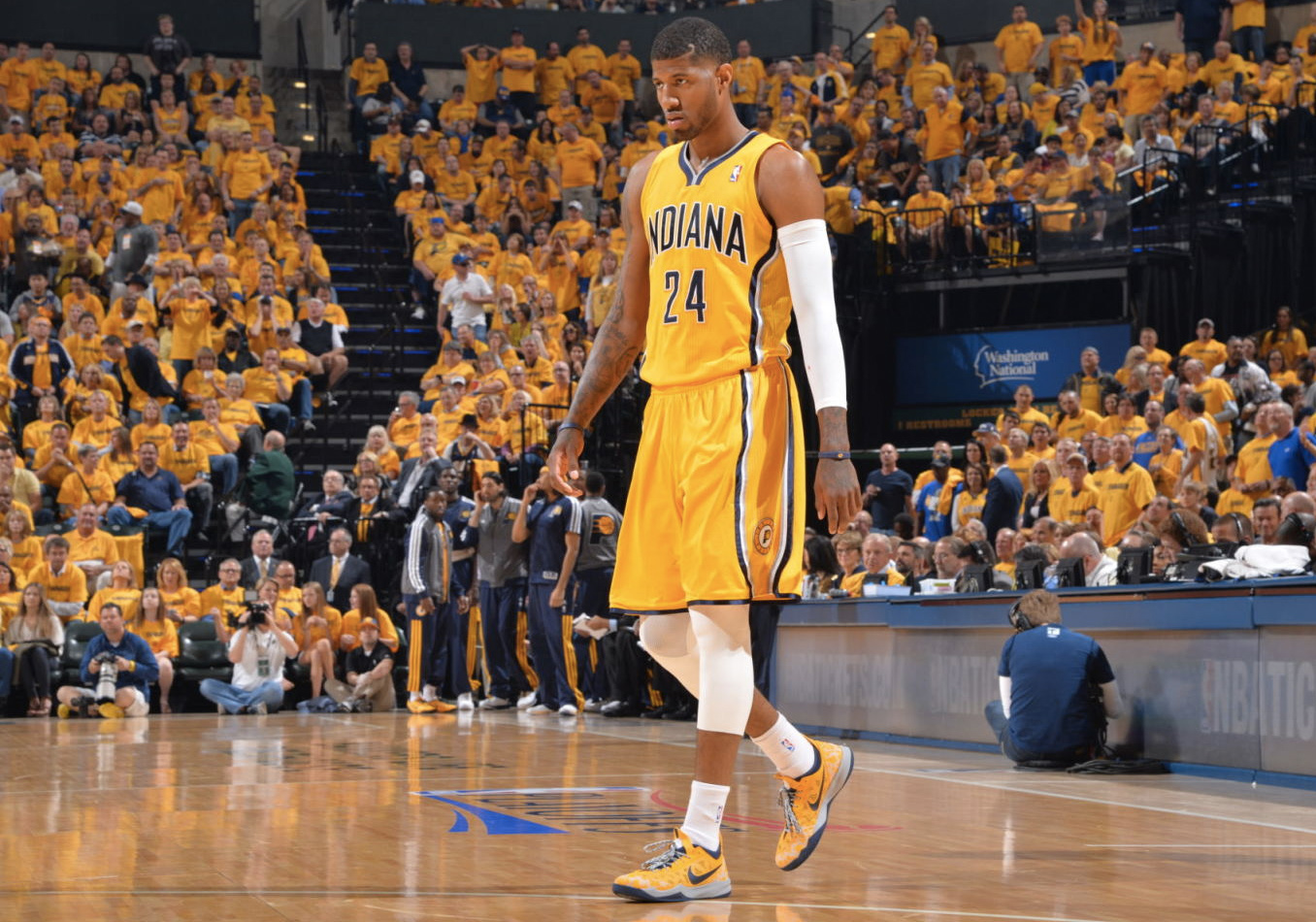 - Paul George
Since the Indiana Pacers narrowly escaped becoming just the sixth #1 seeded team to lose in the opening round, things can certainly still go up from here for Paul George, but his squad's unparalleled late season collapse and postseason struggles have brought people to question just how much of a legitimate star he is.
With his current Nike sneaker deal being up this fall, George was expected by many to cash in handsomely and likely even have his own signature shoe if he were to leave Nike. I'll be the first to admit that I think he's got a TMac-esque appeal to his game as an endorser, but his recent on-court struggles and lengthy, lengthy list of off-court and embarassing social media mishaps aren't helping his stock. His box score numbers for most of the Hawks series looked good on paper, but the team looked like a complete mess for huge stretches of the opening round, and most writers were quick to call out the team's Eastern Conference All-Star starter. Even his hometown fans were letting him hear it.
Did George potentially cost himself quite a bit of money on his next shoe deal? Perhaps. Just how much of a leader and primetime star he can be remains to be seen, and his shot at redemption kicks off later today against the Washington Wizards.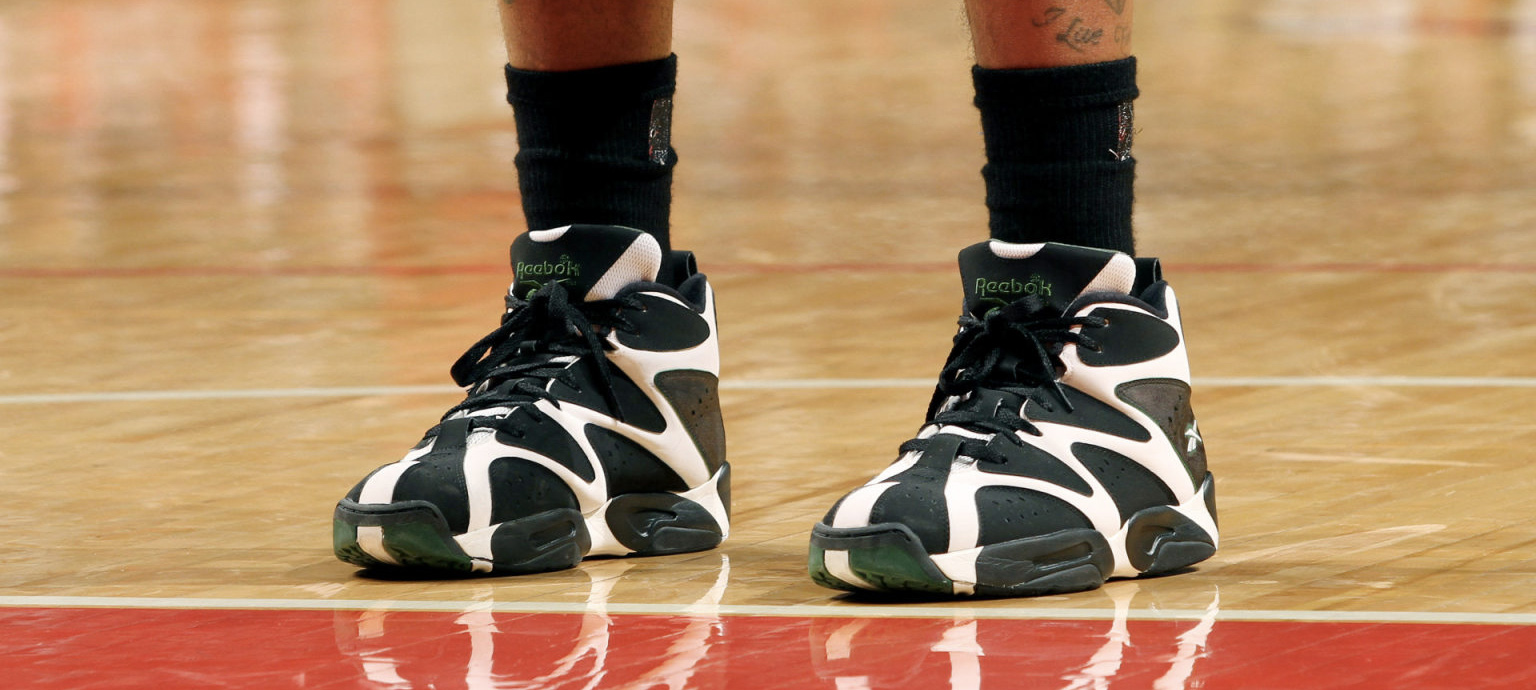 - Reebok Basketball
When John Wall switched over to the adidas Basketball roster after two unremarkable seasons as a Reebok signature athlete, the news seemed to indicate a huge shift in strategy for the company. At the time, we had confirmed with several people that the brand would indeed be phasing out its modern performance basketball models, in favor of a continued push behind its Reebok Classics division and new retro-inspired sneakers. Retros would be seen on court, and there would be a distinctly new approach for the brand's handful of remaining NBA athletes.
"Contary to reports, bball remains an important category for Reebok -- soon, we'll announce new players joining our current roster," the company tweeted from its @ReebokClassics account shortly after.
Since then, Reebok signed 76ers' lottery pick center Nerlens Noel the following draft, who has yet to play an NBA game as he recovers from a knee injury that cost him his rookie campaign. I immediately loved the signing, as the style-conscious Noel will be playing for Allen Iverson's former team, and as a big man can potentially rock Shaq-inspired product as well.
For the entire 2013-2014 season, they had awesomely iconic Retro models like the Kamikaze I and II, Shaq Attaq, Question and Shaqnosis all see time on the hardwood -- but only one "new" model was spotted -- the Q96. A shoe that clearly takes heavy inspiration from the brand's absolute best model ever that originally released in 1996.
With a depleted roster of pro athletes that now includes Kings guards Isaiah Thomas and Jason Terry, Bucks guard Ramon Sessions and Most Improved Player nominee and Suns wingman Gerald Green, Reebok had only the age-defying Andre Miller as its lone representation in the 1st Round of the playoffs.
Dre's goofy lacing of his two-year old Reebok SubLite Pro Rises might've inadvertently created one of the best footwear articles of the season, but he certainly isn't someone the brand can be relying on ever. Hopefully Reebok can make good on their promise to sign additional players and get back to being represented on the game's grandest stage. If not, we'll luckily still have an amazing back catalog of classic sneakers from the AI, Shaq and Shawn Kemp signature lines to look forward to.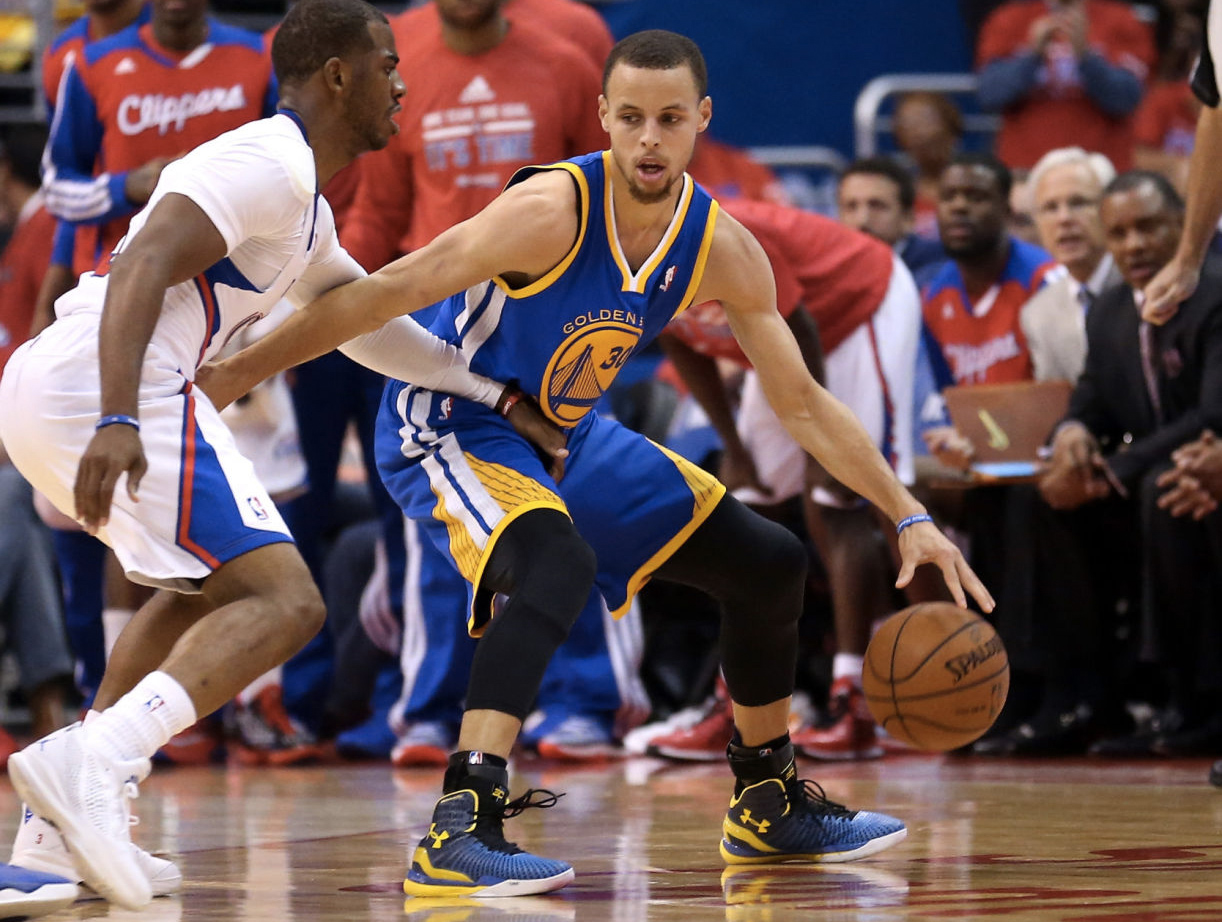 - Stephen Curry
After a hugely impactful first season as Under Armour's new leading face of the brand that saw him be named as a starter to the All-Star Game, the Warriors sharpshooter undoubtedly struggled with his jumper and turnovers for stretches of the opening round.
The career 44% shooter from long distance shot just 38% in the series on 3s, and Curry wasn't quite able to rekindle the breakout run of clutch shots he had in his first playoff run a year ago. While he headlined the new ClutchFit Drive for Under Armour for most of the series, his best showing of 33 points, 7 rebounds, 7 assists and 7 threes came when he switched back to the Anatomix Spawn for the much-frenzied post-Sterling matchup with the Clippers in Game 4.
It's hard to get too down on Curry, who will undoubtedly use the early exit as motivation for next season, but the 1st Round loss puts a damper on an otherwise tremendous injury-free season for him that saw some huge moments both on the court and with Under Armour.