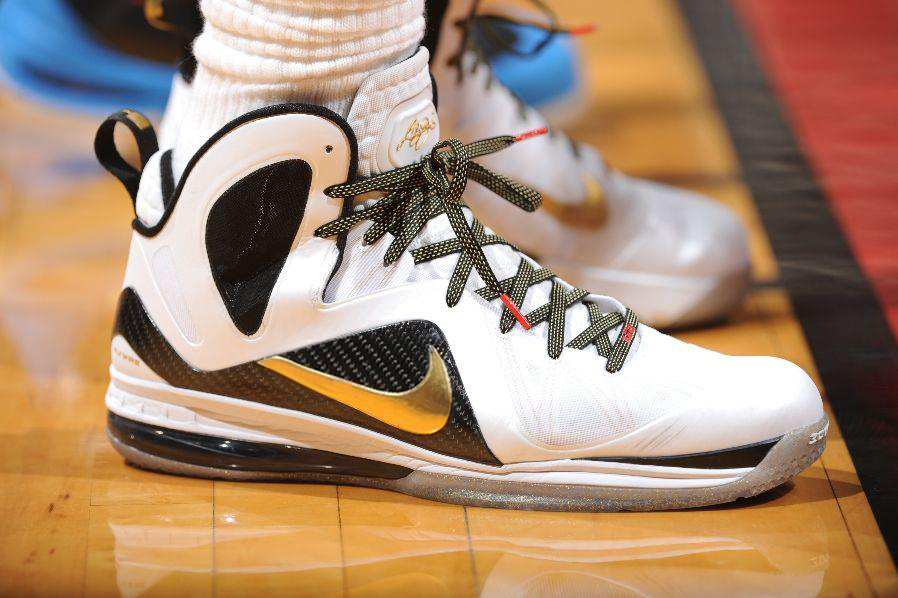 words // Luis Sanchez
As evidenced with the grand celebration going on this year by the Jordan Brand, Michael Jordan's first-ever championship shoe in the Air Jordan VI is an all-time classic. It's all-time classic for many reasons, but none bigger than the fact that Michael captured what would be his first of six NBA titles in the now iconic Black/Infrared Air Jordan VI.
But could the same story be told for LeBron James and the LeBron 9 Elite years from now? As we all know, LeBron went on to win his first-ever NBA title with the Miami Heat back in 2012 in the luxurious White/Black-Metallic Gold LeBron 9 Elite by Nike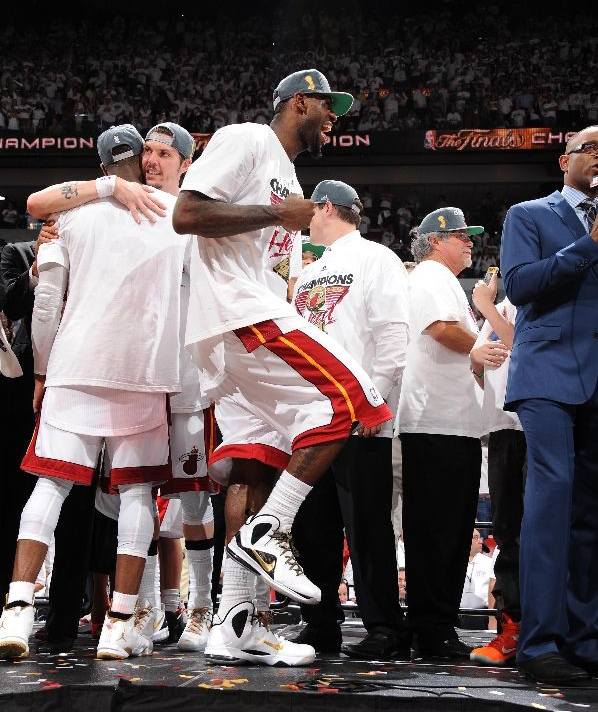 Basketball. The innovative signature LeBron for the playoffs was ground-breaking in more ways than one, utilizing a combination of tech we'd never before seen from Nike Basketball. The Swoosh upgraded LeBron's playoff kicks with Carbon Fiber support wings, Pro Combat lining and Kevlar laces, all in a color scheme that screams "Championship" for LeBron.
LeBron wore the White/Black-Metallic Gold LeBron 9 Elite throughout some of the NBA Finals, but also laced up Player Exclusive colorways such as a Red/Gold version. Proving we always want what we can't have, at the time, most LeBron fans were hoping the Red/Gold LeBron 9 Elite would release, while overlooking the General Release White/Black-Metallic Gold colorway which definitely holds more historical significance.
The Red/Metallic Gold LeBron 9 Elite eventually did hit select retailers in extremely limited numbers as part of a LeBron Championship Pack alongside the original LeBron 9, sending fans into a frenzy for them, and leaving the White/Black-Metallic Gold colorway to hit the outlets.
Looking ahead, things can play out in many different ways when it comes to LeBron's Championship footwear legacy. Unlike Michael and the Jordan Brand in the past, Nike Basketball has released limited edition styles each of the past two years that were specifically created to celebrate LeBron's NBA titles.
With that said, we cannot blame consumers for overlooking the far more historic colorways in favor of colorways released by the Swoosh to specifically celebrate 'Bron's titles. Yes, the limited styles are heavily desired largely because of the limited numbers they were released in, but more so because they were specifically released to celebrate a historical moment in LeBron's legendary career. Hardcore collectors will likely track down both the Champonship and White/Black-Metallic Gold versions to commemorate LeBron's first NBA title, proving the LeBron 9 Elite's historical significance as a whole, and not just placing it on one specific colorway.
Looking back, which LeBron 9 colorway is more significant to you? Does the White/Black-Metallic Gold version worn on court by LeBron as he captured his first title have more meaning to you? Or would you rather get your hands on the limited edition Championship Pack? Also - would your decision be based on just the visual appeal of the shoes, or on-court historical significance?
Join the discussion in the comments below to share your thoughts on the historical significance of LeBron's first Championship Shoe.