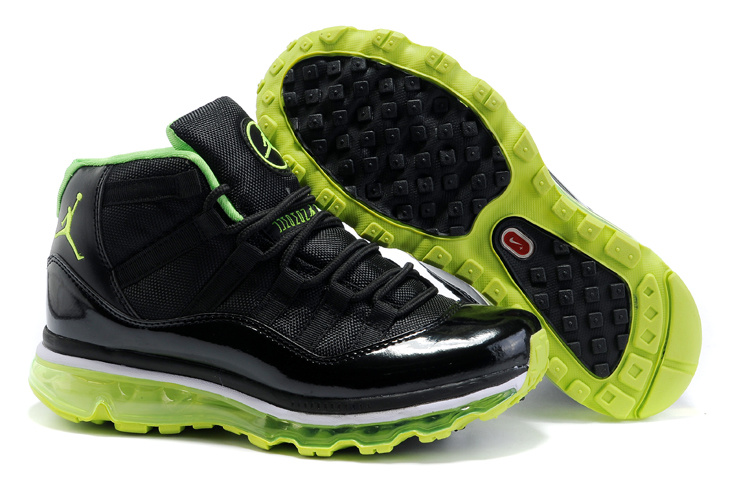 words // Zac Dubasik
After taking a look at some of the worst fakes available on the internet, we are now going to take a look back at some sneakers that only appear to be fake. This list of Jordans appears to have more in common with what's often sold at an uptown bodega than what you'd find at a Foot Locker.
Since pretty much nothing is sacred anymore when it comes to the Air Jordan, these models have shockingly all released.
NOTE: We've excluded all Fusions, since it's generally accepted that all of those look bootleg.
#10) "Chutney" Air Jordan XX
Just because a shoe looks fake doesn't necessarily mean it's also ugly. But this XX could just as easily be on an ugliest Jordans list. The story told by the print found on the strap of the XX actually helped make up for some of the tackiness of its aesthetic. But when used in an all-over fashion like on the regional XX releases, the print looked as fake as it did ugly - especially in the Chutney colorway.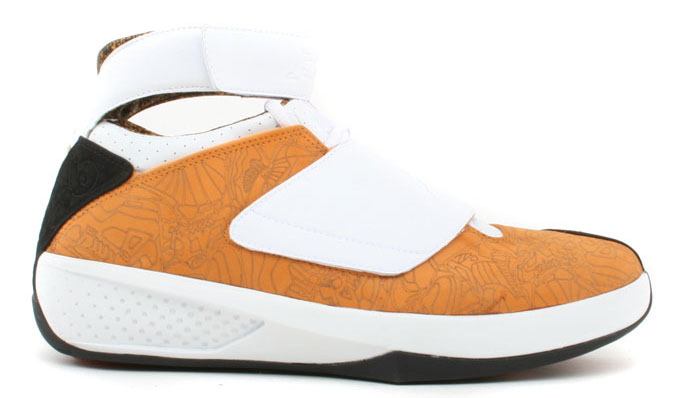 9.) "BIN 23" Air Jordan XIII
Hypothetical situation:
Jordan Brand employee #1: "These kids will buy ANYTHING we put out, as long as its retro and limited."
Jordan Brand employee #2: "No way. There's gotta be SOME limit."
Jordan Brand employee #1: "Wanna make a bet? Lets do a XIII in maroon, yellowish brown, and white, and see if it sells out."
Jordan Brand employee #2: "It's a bet. But only if we can charge more too."
We're not saying this happened. In fact, we're pretty sure it didn't. But it does seem like one of the only plausible explanations behind the BIN23 XIII.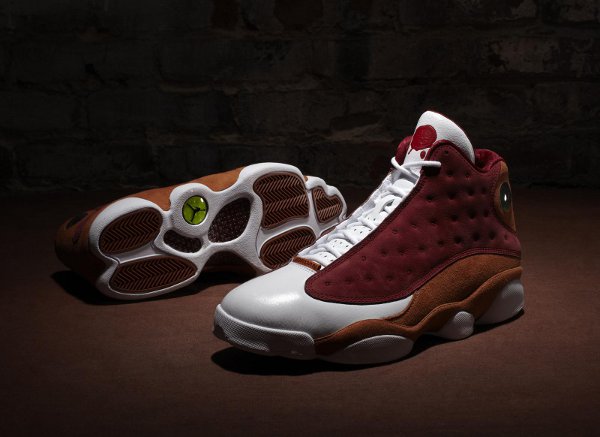 8.) "Lightning" Air Jordan IV
You could argue that any Air Jordan IV with nubuck straps and heel tabs looks bootleg, and you'd win that argument. But the bright upper, in a non-traditional Jordan color and in cheap-looking materials, are basically signature features of fakes, and put this version over the top.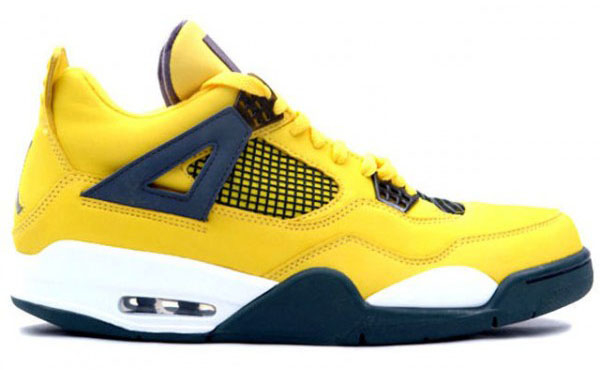 7.) "Filbert" Air Jordan VII
For a model that hasn't released in all that many colorways, the VII's good version-to-bootleg looking version ratio is shockingly high. The newest edition features a color and material combo we haven't seen since all-over Gucci prints ruled the world of fakes. These are so disastrously bad that they inspired this list.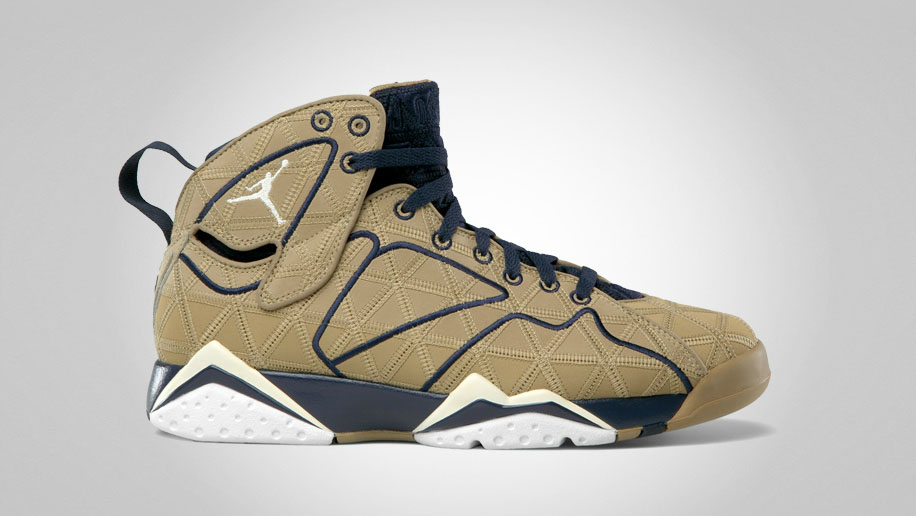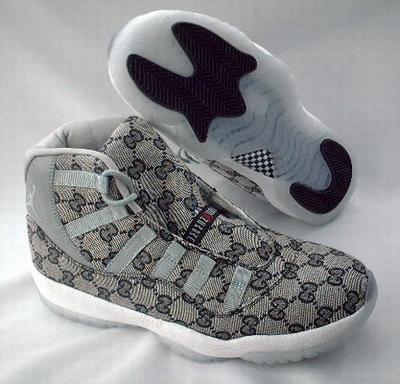 6.) "BIN 23" Air Jordan VII
It's hard to believe there could be two different versions of the Air Jordan VII so similarly bad. But while it resembles the Miro, this version apparently pays tribute to an era where tribal armband tattoos were cool, rather than Joan Miro.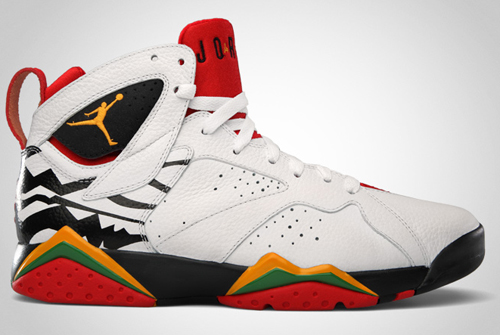 5.) "Laser" Air Jordan V
The great thing about an all-over laser print is that it can instantly make even a truly classic model look like it came straight off Canal Street. An all-over print upper wasn't enough for Jordan Brand though with this release. They decided it ALSO needed a multi-color, all-over print liner. All this roughly 2 years after all-over print had gone the way of the velour warm-up suit. (Which they were also still making.)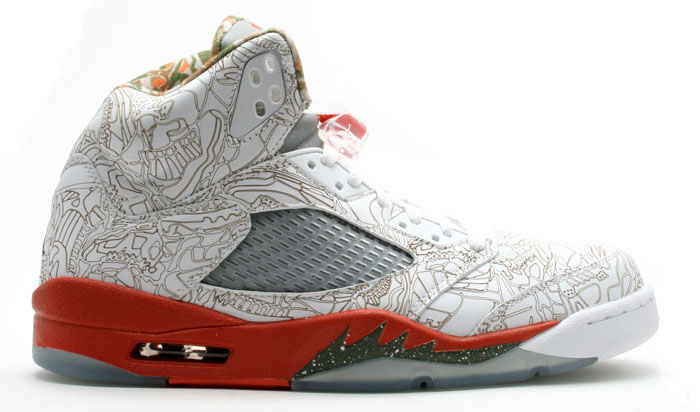 4.) "Olympic" Air Jordan VI
The recent Olympic 6 Retro may have left something to be desired as far as quality and accuracy to the original, but at least it resembled something legitimate. In contrast, the "other" Olympic 6 featured flimsy patent leather, a rainbow color scheme, and a hood-of-a-Camaro-esque toe graphic.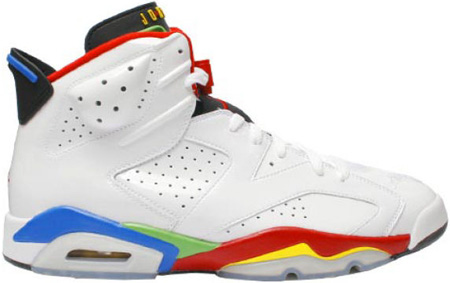 3.) "Do The Right Thing" Air Jordan III
Most fans of "Do The Right Thing" probably associate the Air Jordan IV with the movie, since they were actually featured as a plot point. But that's a different argument for a different day. The bigger problem with the DTRT IIIs is that they released period, despite looking like something more at home in an early-2000's Nelly video.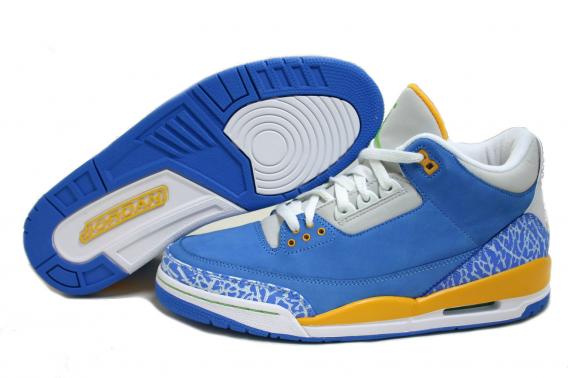 2.) "Miro" Air Jordan VII
Joan Miro was a Spanish artist who was born in Barcelona. Michael Jordan once wore the Air Jordan VII in Barcelona. With a connection this natural, there HAD to be a shoe to celebrate it. It's just too bad it ended up looking like this.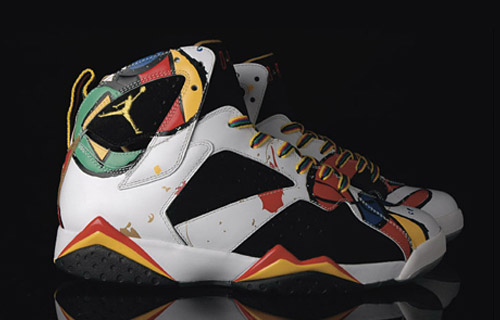 1.) "Peapod" Air Jordan VIII
While not as polarizing as a model like the XV, collectors seem to have a bit of a love/hate relationship with the Air Jordan VIII. In contrast, most have a hate/hate relationship with the infamous Peapod colorway. And while we'd never advocate wearing or buying fakes, it certainly wouldn't do as much harm to the Brand or your reputation as being seen in these.