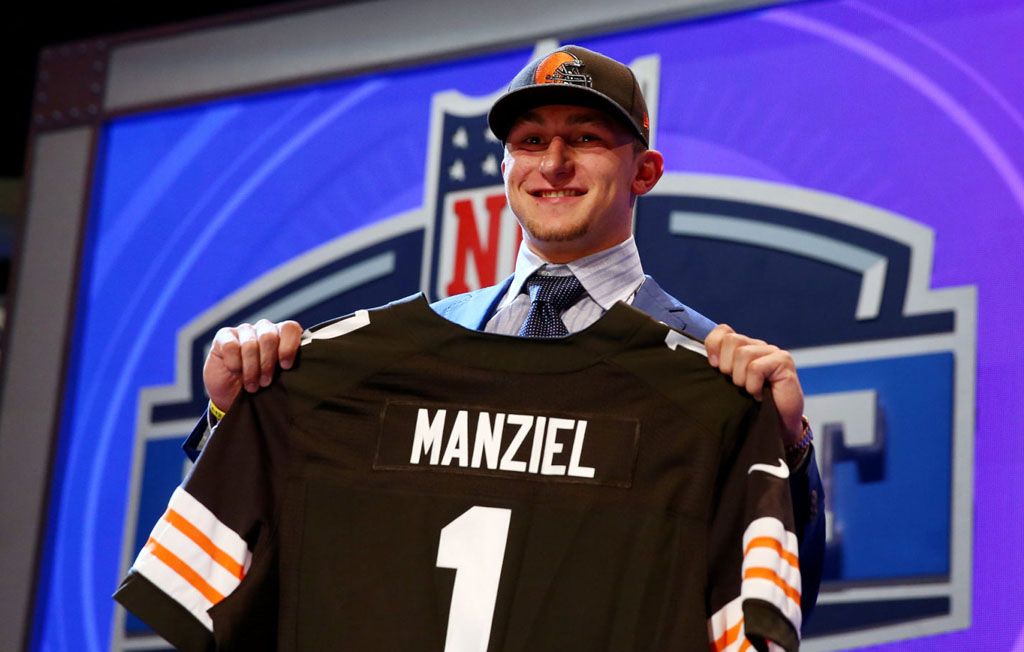 words // Brandon Richard
With the 22nd pick in the 2014 NFL Draft, the Cleveland Browns selected quarterback Johnny Manziel. Initially mocked going as high as first, Manziel's stay on the draft board was longer than expected, but he landed with one of the teams that were expected to make a play for his services.
Manziel is the latest in a recent string of young star collegiate quarterbacks with personalities that could be instantly marketed at the next level. He follows Tim Tebow in 2010, Cam Newton in 2011 and Robert Griffin III in 2012. What do these three quarterbacks have in common? They've all been signature athletes — will Manziel join them?
After officially announcing that they had signed him in early March, Nike wasted no time making Manziel product available to purchase. In an unprecedented move, they sold products worn by Manziel during his Texas A&M Pro Day, including an all-black limited jersey. He's also been featured in marketing campaigns, advertisements and his camouflage 'Johnny Football' t-shirt just released this week. With his NFL destination now known, footwear could be next.
Cleveland isn't exactly the hottest sports market, but the right player can thrive there, just like Tebow made an immediate splash in Denver. What gives Manziel an extra edge is that he has an electric personality that transcends the sport like few before him. He'll surely top the next edition of the best-selling jerseys list. However, making the jump from heavy merchandise pusher to signature athlete in the NFL is no sure thing.
Despite playing the most celebrated position in American sports, quarterbacks have rarely been called to lead signature sneaker lines. For starters, the cleats they actually wear on the field don't exactly translate to casual settings. Also, football is a sport in which teams are marketed over individual players. There have been a few exceptions. Michael Vick had a relatively successful signature run before off-field troubles brought his line to an abrupt end. Quarterbacks like Brett Favre, Dan Marino and Kordell Stewart were linked to trainers that weren't official sigs. Tebow started off hot with a special edition of the Nike Trainer 1.2 and was set to lead a kids' footwear line before it was scrapped as his career flamed out. If Manziel were to get his own shoe, it'd be a rare feat.
As great as Newton and RG3 were coming out of school, they had to play well for at least one season before signature shoes became a reality. The biggest and most important step toward an eventual Johnny Football shoe would appear to be a quality rookie campaign. Newton and Griffin showed their worth by breaking records and bringing home Rookie of the Year honors. Nike's last two signature athletes have been Darrelle Revis and Calvin Johnson, two players that had made multiple trips to the Pro Bowl and were generally regarded as the best at their respective positions when their shoes were released. Furthermore, with Nike owning the NFL's official apparel contract, there isn't as much pressure on them to identify a 'face of the brand.'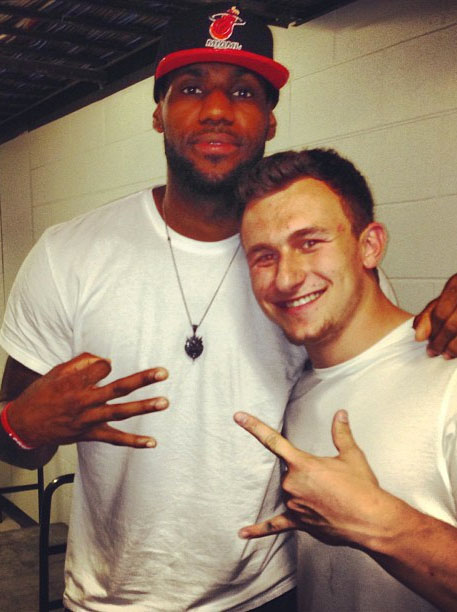 We also have to factor in celebrity connections. Manziel is in tight with LeBron James and is even marketed by Maverick Carter's LRMR. He's also an official member of Drake's OVO family. Being linked to influential figures like this only enhances Manziel's profile.
Nike also signed rookie quarterbacks Blake Bortles, Teddy Bridgewater and Derek Carr. None of the three are currently on the signature radar, but there were some interesting developments from Thursday night worth noting. For starters, Bortles ended up being the first quarterback selected in the draft, going to the Jacksonville Jaguars third overall. And, after seeing his stock plummet, Bridgewater crept back into the first round when the Minnesota Vikings picked him at 32. Nike also has Russell Wilson, Colin Kaepernick and Andrew Luck on its roster, so if we're not talking sigs for any of those guys, this year's "other" three rookie quarterbacks probably won't be stepping foot in their own shoes.
So, does Johnny Football have signature potential? Absolutely — what you have with this kid is Tebow-like charisma with more quarterback skills and on-field talent. We probably won't see anything right away, but I wouldn't be surprised if there was a special edition training shoe in the near future. Then, if he has a successful rookie season in Cleveland, a signature sneaker could very much be in play. Don't forget, Nike chose to sell a replica jersey he wore during a workout. After that, you have to believe they're all in on selling as much Johnny Football merchandise as they can, as long as the on-field results warrant it.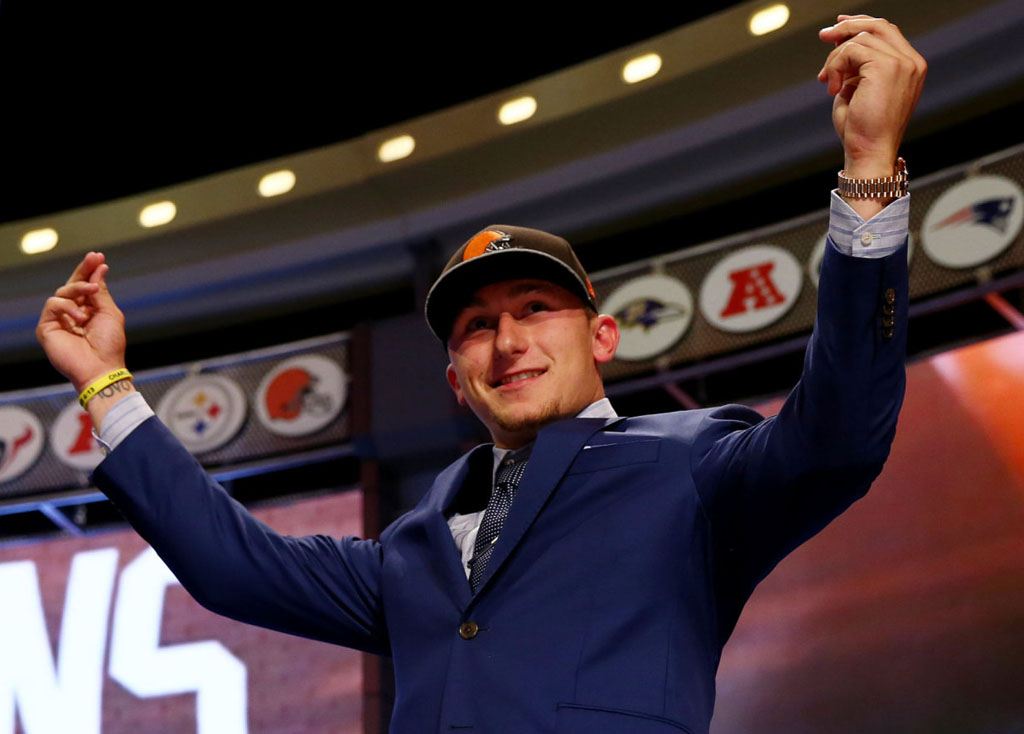 images via Elsa for Getty