words // Luis Sanchez & Brennan Hiro Williams
For years now, the Jumpman has been all over baseball.
It first began with MJ during his first retirement from the NBA, and continued with Team Jordan's first-ever Major League ball player in the now legendary Derek Jeter. Jeter paved the way for a number of current stars to rock the Jumpman on the baseball diamond, including everyone from current teammate CC Sabathia, to young stars such as David Price and Gio Gonzalez. Representing everything MJ stands for, these guys have taken Major League Baseball by storm in some of the most impressive Air Jordan cleats ever seen.
See for yourself in the list below, and be sure to hit the comments to share your favorite Air Jordan baseball cleats.
Air Jordan XIV - Derek Jeter PE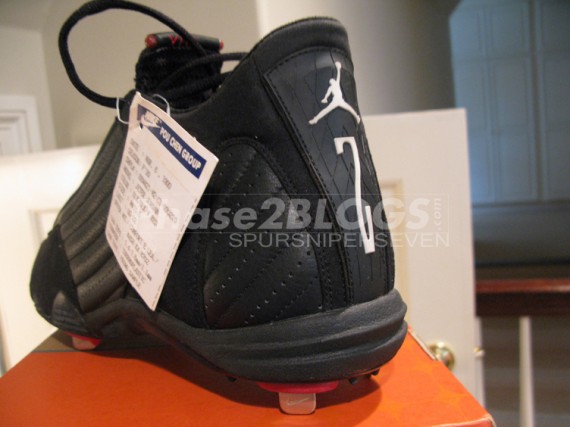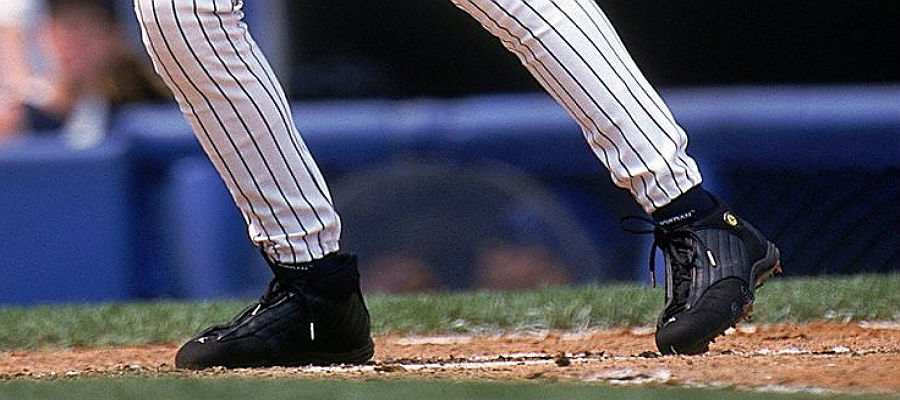 Nearly as memorable as his clutch play over the years, these Air Jordan XIV cleats were on Derek Jeter's feet during his rise to stardom throughout the late '90s. These XIVs marked the first time we'd see the Jumpman on a baseball field since MJ's stint in the minors, kicking off what would go on to become an incredibly successful partnership between Jeter and the Jordan Brand.
Air Jordan XI - CC Sabathia PE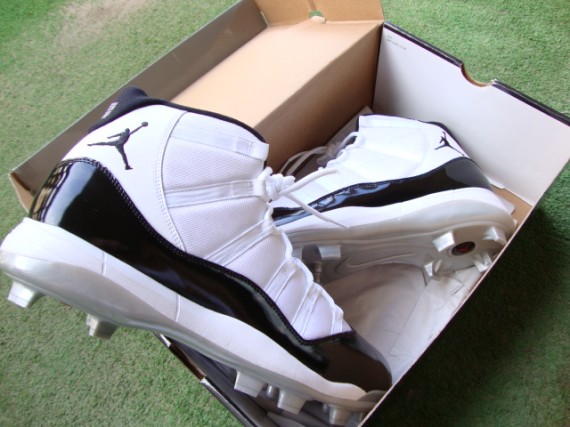 Along with CC's Cool Grey's, these 'Concord' XI cleats are easily one of the most coveted Jordan cleats out there. Something we would have definitely seen MJ rock back in the day if his short stint on the diamond was somehow delayed, the Jordan Brand blessed CC with this cleated pair of Concords in traditional form.
Air Jordan XI - Derek Jeter PE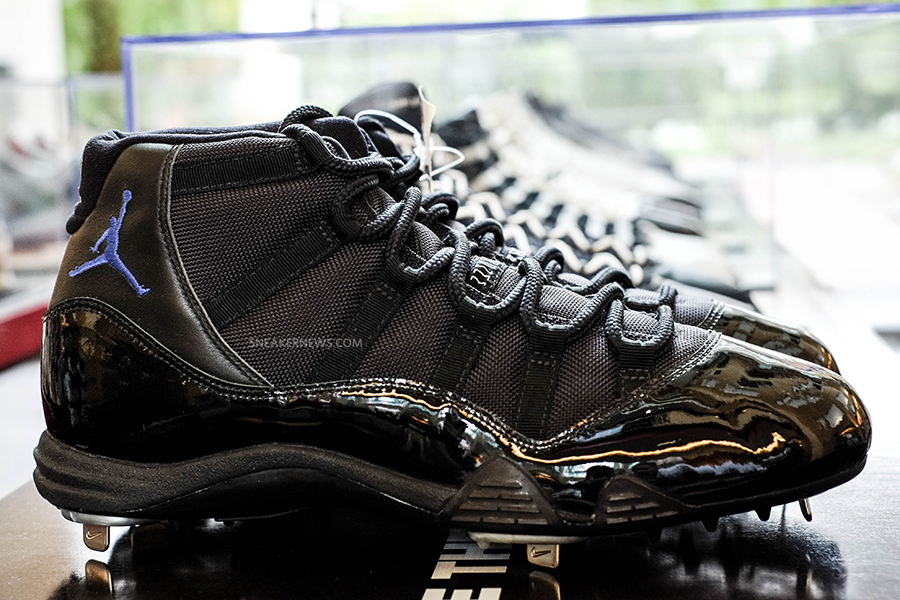 While Jeter's signature line has quietly become one of the most impressive the Jordan Brand has ever produced, it was Jeter's early days with the brand that everyone really remembers. Jeter's 'Glory Days' with the Jumpman included this pair of 'Space Jam; XI cleats, done up right around the time these classics officially hit retail in the early 2000s.
Air Jordan IX - Gary Sheffield PE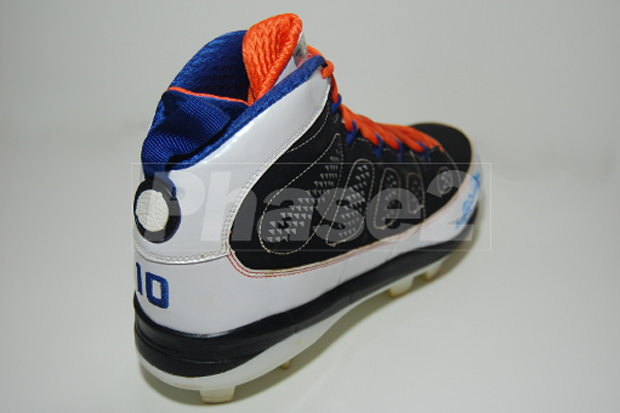 Not rocking the Jumpman until late in his career, Gary Sheffield left the league in style. Worn by Sheffield as he joined the 500 Home Run Club, this pair of Air Jordan 9 cleats for Sheffield rocked an appealing New York Mets-inspired color scheme over a nubuck and patent leather build.
Air Jordan X - Michael Jordan PE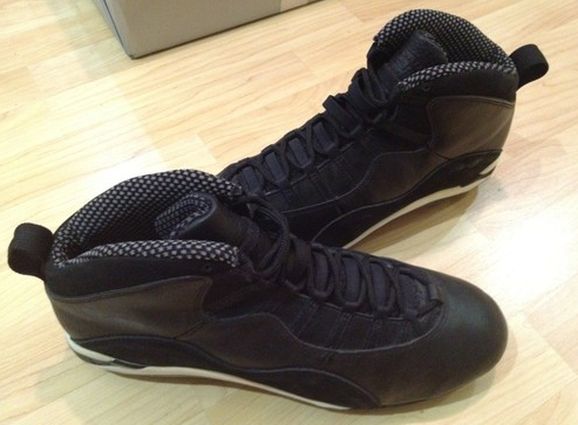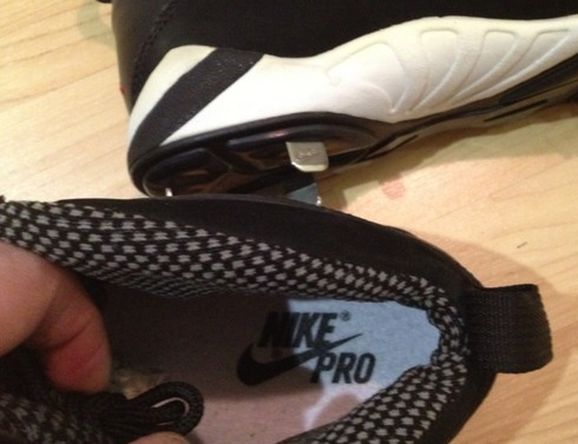 Not nearly as recognized as the Air Jordan IX cleat, the Jordan Brand also created this pair of Air Jordan X cleats during MJ's days on the diamond and away from basketball. Styled just like most traditional baseball cleats, these were brought to life with a full black leather build in black and subtle white accents.
Air Jordan XI - Jimmy Rollins PE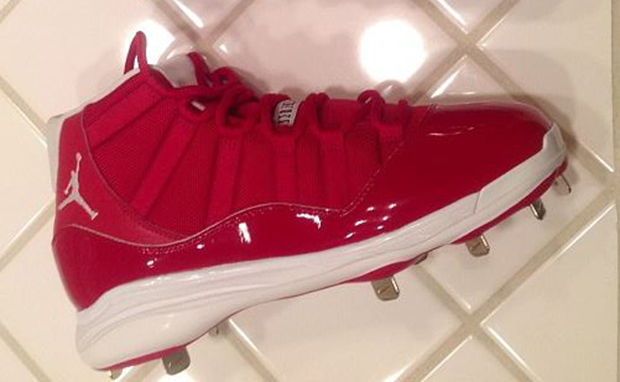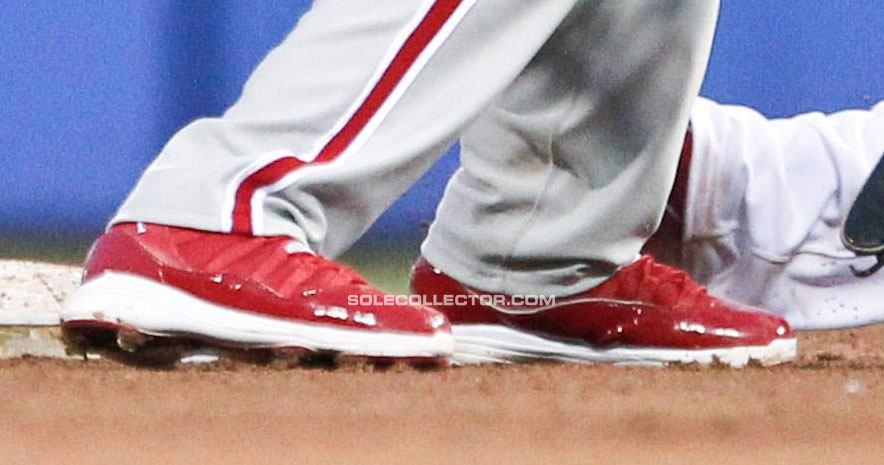 JRoll might have quite a few impressive player exclusive cleats, but none are better than this Air Jordan XI. Nearly as impressive as Deion's 'Primetime' cleats, these PEs rock a traditional Air Jordan XI upper that's covered entirely in red.
Air Jordan VII - Derek Jeter PE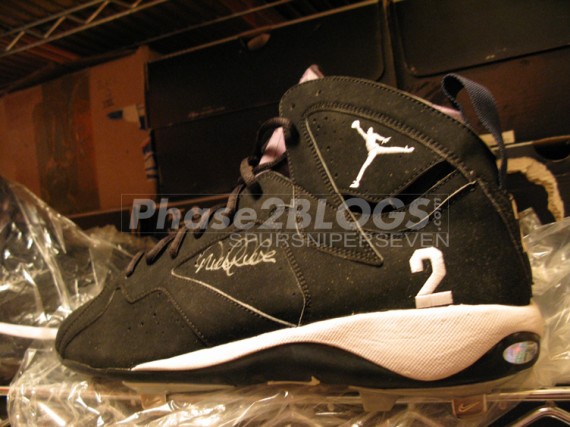 Rounding out Jeter's selection of Air Jordan retro cleats is this simple pair of Air Jordan VIIs. Done up for Jeter during the VII's original retro run in 2002, the Jordan Brand hit them with a baseball friendly nubuck build in black and white with Jeter's number 2 on the heel.
Air Jordan XII - Jimmy Rollins PE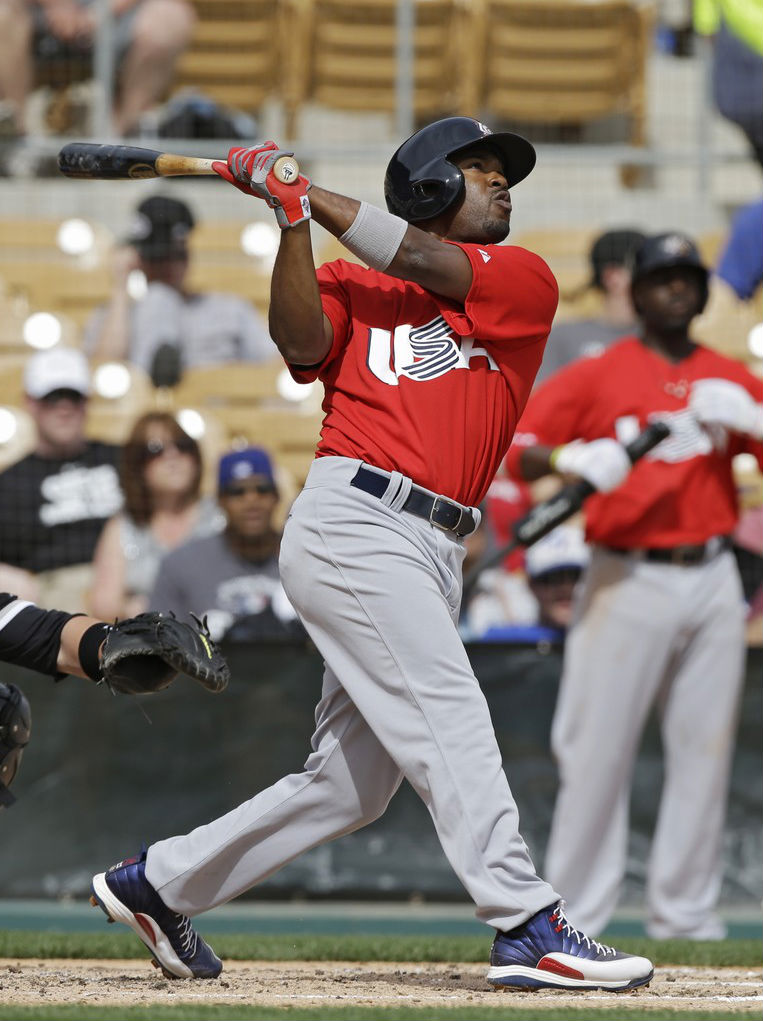 For years, Jimmy Rollins has been one of the most notable baseball stars on Team Jordan. Rollins' unmatched talents have earned a countless amount of impressive Air Jordan PEs, including this much appreciated Air Jordan XII done up for the World Baseball Festival.
Air Jordan III - Andruw Jones PE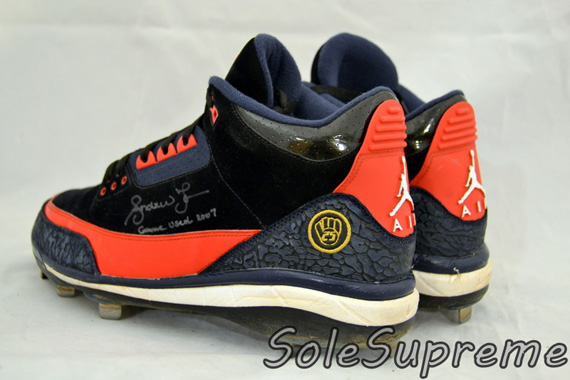 Andruw Jones storied baseball career also included a number of great cleated PEs sporting the Jumpman. We saw Andruw Jones hit the field for the Braves in a number of classic PEs such as the Air Jordan XIII and IV, as well as this Air Jordan III which also featured Jones' own personal logo.
Air Jordan XI - Deion Sanders PE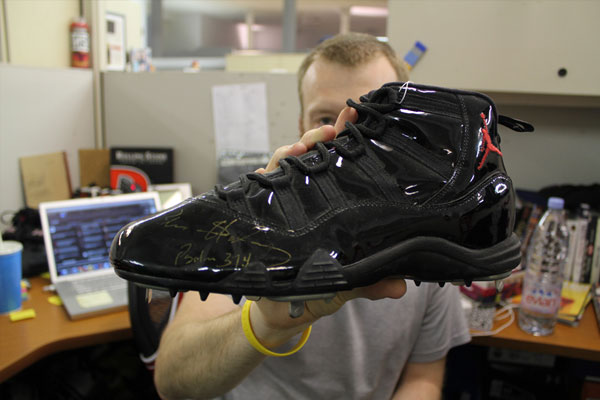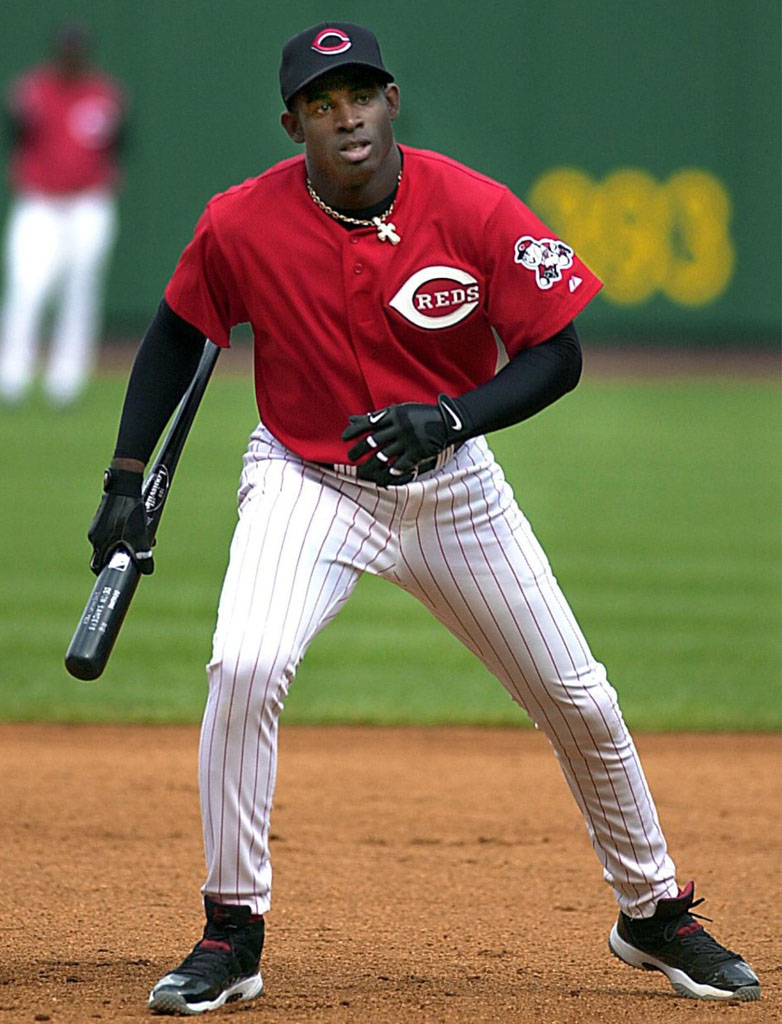 Deion Sanders, while best known for classic Nike trainers like the Air Diamond Turf, also was a member of the exclusive Jordan PE club. Seen here towards the end of his diamond days with the Cincinnati Reds, Prime Time wore an amazing Air Jordan XI PE that came in both cleated and turf versions to account for the carpet of Cinergy Field.
Air Jordan XI - CC Sabathia PE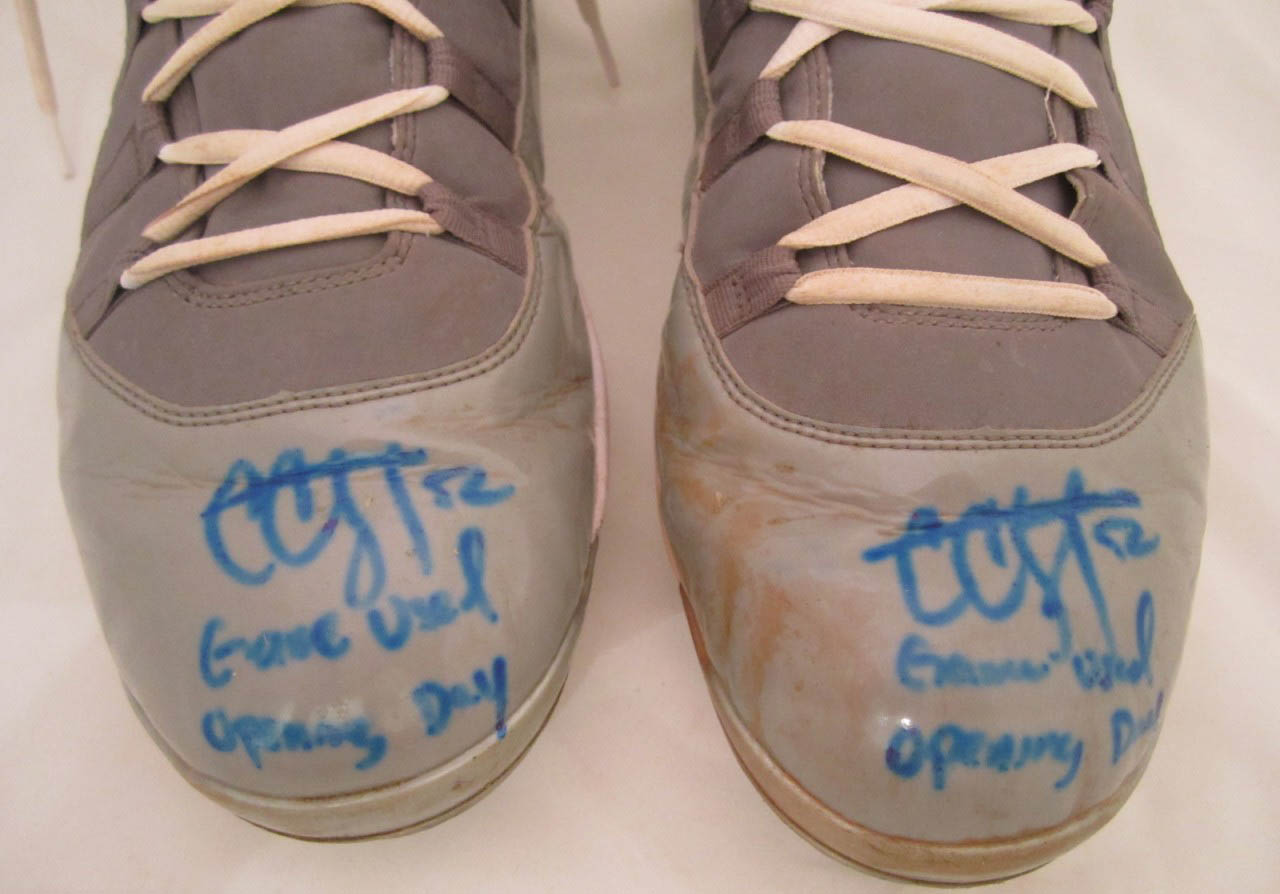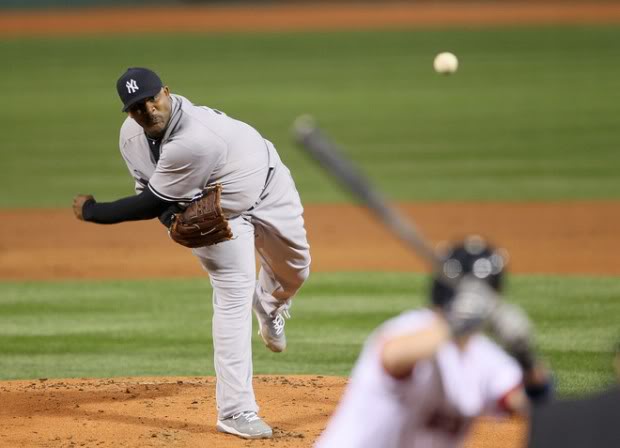 After winning the 2009 World Series, CC Sabathia took the mound on Opening Day 2010 in an
amazing "Cool Grey" Air Jordan 11 PE
. The player exclusive, while maintaining much of its original patent leather glory, features CC's #52 on the heel.
Jordan Six Rings - Carl Crawford PE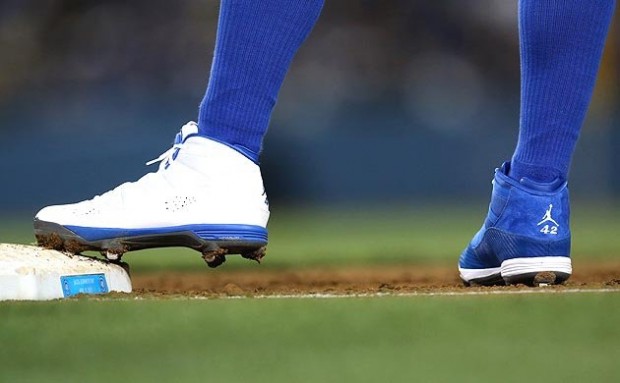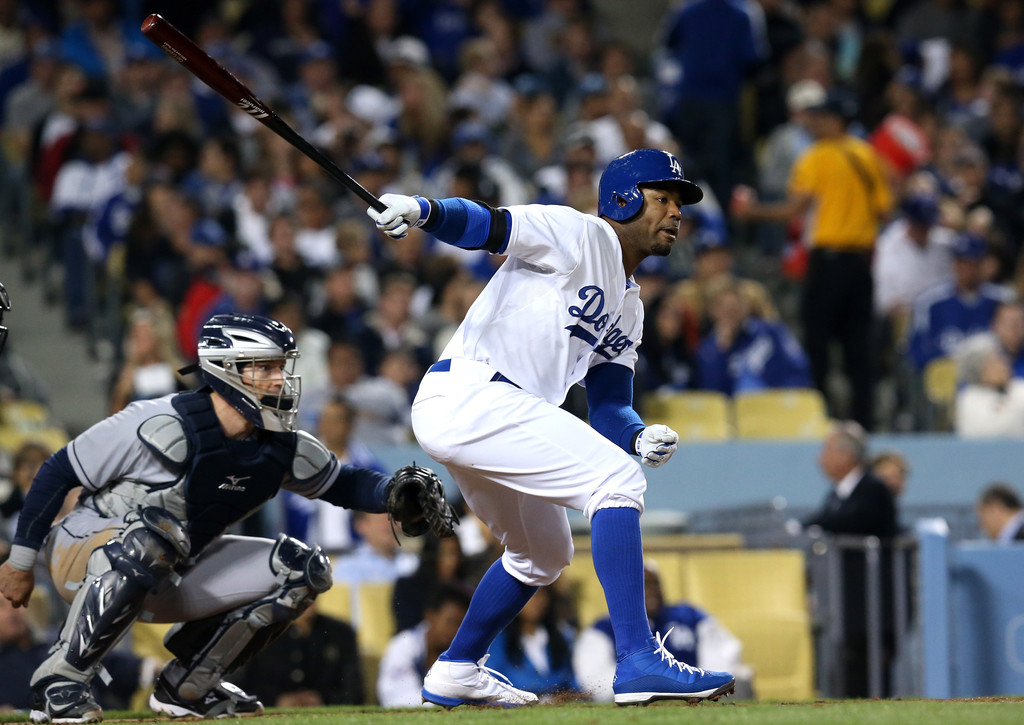 Dodgers outfield Carl Crawford celebrated 2013's Jackie Robinson Day in style, taking the field in a mismatched pair of Jordan Six Rings "Jackie Robinson" PEs. Though he had violated the league's dress code, Crawford embraced the moment, collecting three hits with a run and an RBI while wearing #42 on his jersey and cleats.
Air Jordan VI - Gio Gonzalez PE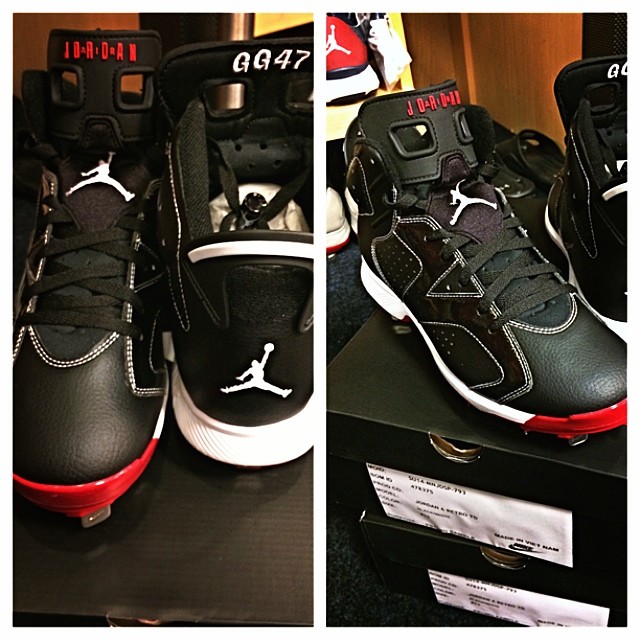 Like fellow young phenom David Price, Gio Gonzalez also started taking mound wearing Air Jordans in recent years. This season, the Nationals pitcher broke out
two awesome "Home" and "Away" Air Jordan 6 cleats,
the first time we've seen the model on the baseball field.
Air Jordan XIII - David Price PE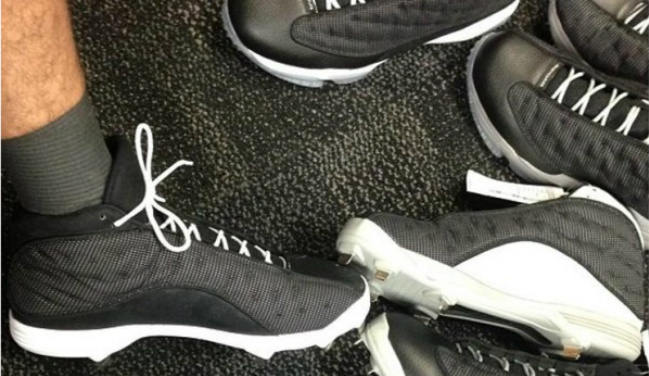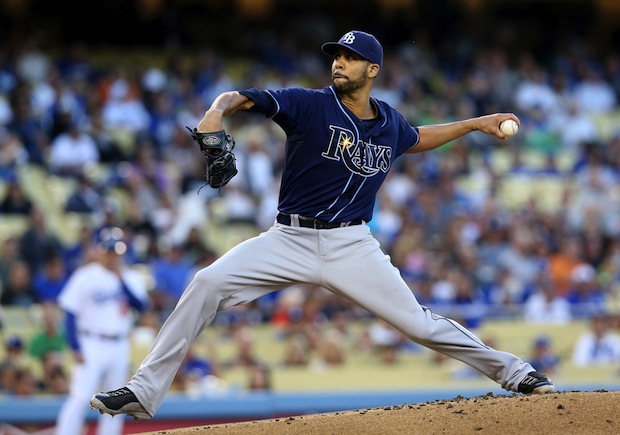 Fresh off his 2012 Cy Young campaign, Tampa Bay Rays Ace David Price started wearing Jordan PEs in 2013, highlighted by

a no-nonsense colorway of the Air Jordan 13

. At only 28 years old, we're excited to see what's next from the dominant lefty.

Air Jordan IX - Michael Jordan PE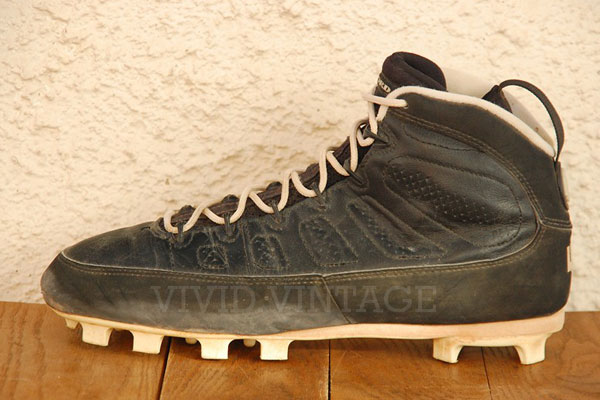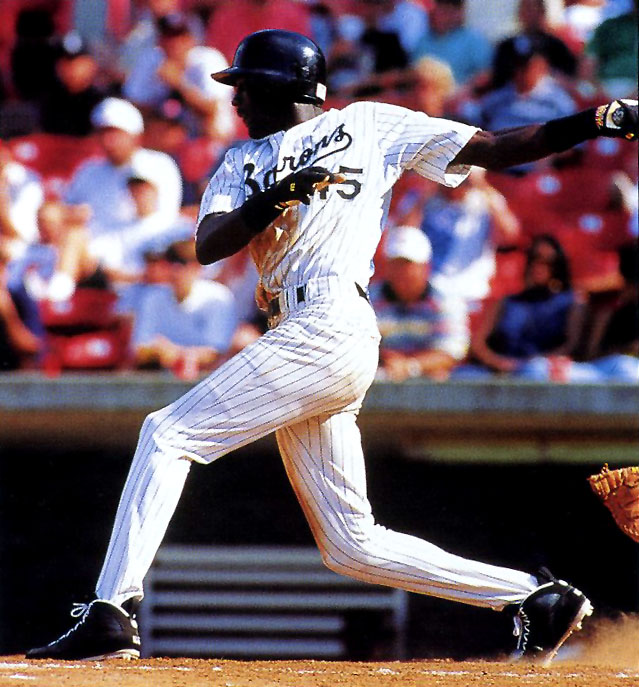 If it wasn't for MJ chasing his baseball dreams midway through his illustrious NBA career, we might have never seen Air Jordan cleats come to life. When it comes to his footwear, MJ's baseball days were most remembered by sneaker collectors with the unique Air Jordan IX cleats we saw him rock. MJ never rocked them on the hardwood, but he did rock them on the diamond in a simple Black/White look that would eventually release during the AJ IX's original retro run in the early 2000s.