If you're a fan of the Arizona Wildcats, our condolences go out to you for the team's coming up short in this year's tournament, suffering a one point loss to Wisconsin and just missing the Final Four. But as a bit of a consolation prize we offer up this retrospective of Arizona's best on-court sneakers of all time, and maybe you can rest assured knowing your school is almost inarguably the greatest sneaker school ever.
Second only to the Fab Five of Michigan and the Nike Air Force Max for probably the most memorable sneaker ever in college basketball, Penny Hardaway's royal blue Nike Air Foamposite One that Mike Bibby and company wore during the Wildcats' run to the 1997 national title goes down as one of the most iconic sneakers in NCAA basketball history. But as you'll see below, that's only the tip of the iceberg.
While many schools have changed sneaker brands over the years, Arizona has been wearing Nike for as far back as we can find photographic evidence. From being one of the teams selected to get their own Dunk colorway in the Be True To Your School collection, to the aforementioned Foamposite One, to the 2001 squad that seemed to have made a conscious group effort to lace up retros like the Air Trainer 1, to the more recent teams rocking retro Jordans galore, Arizona could be the victors of a college basketball sneaker tournament on almost any given year.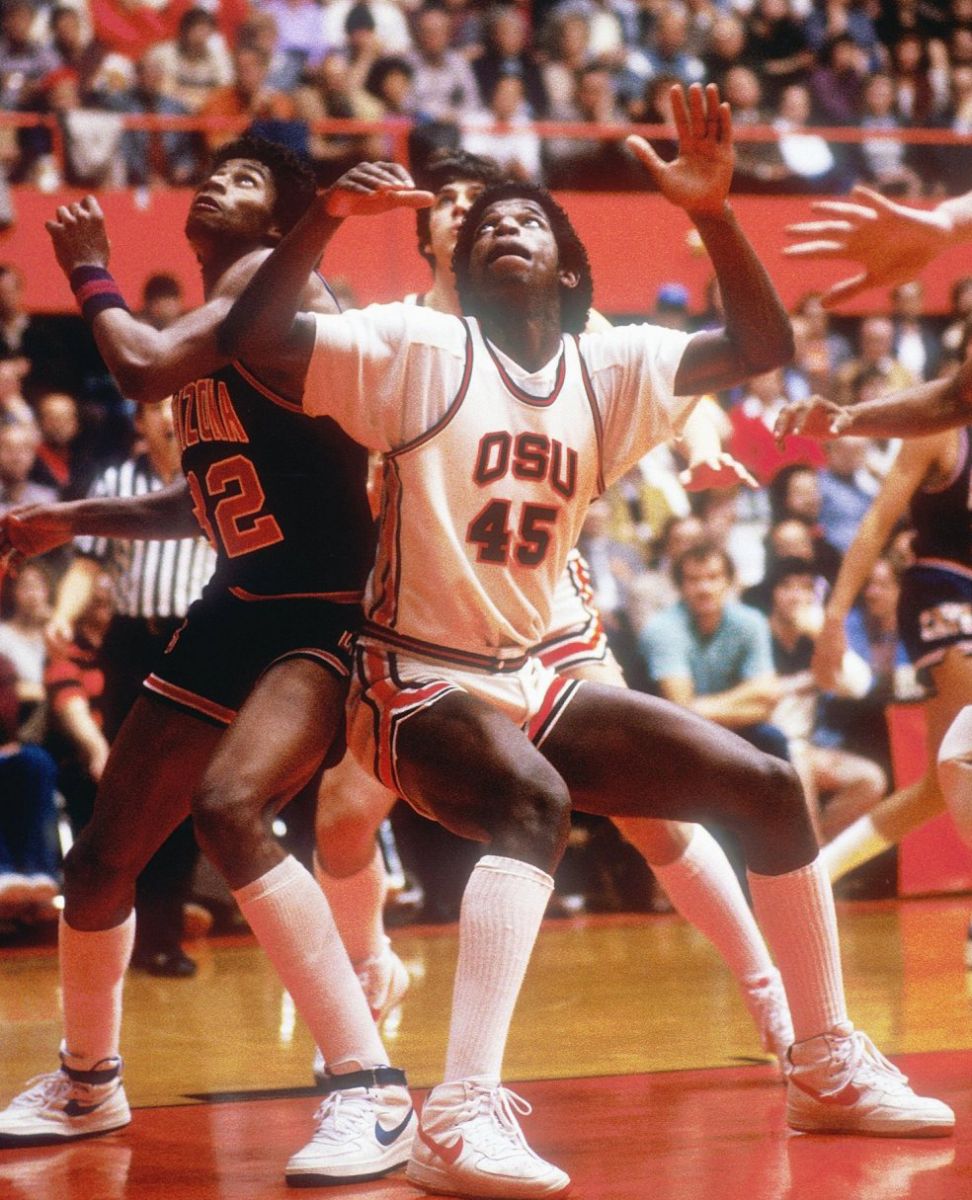 Nike Air Force 1 - Early 1980's
Nike Dunk - 1985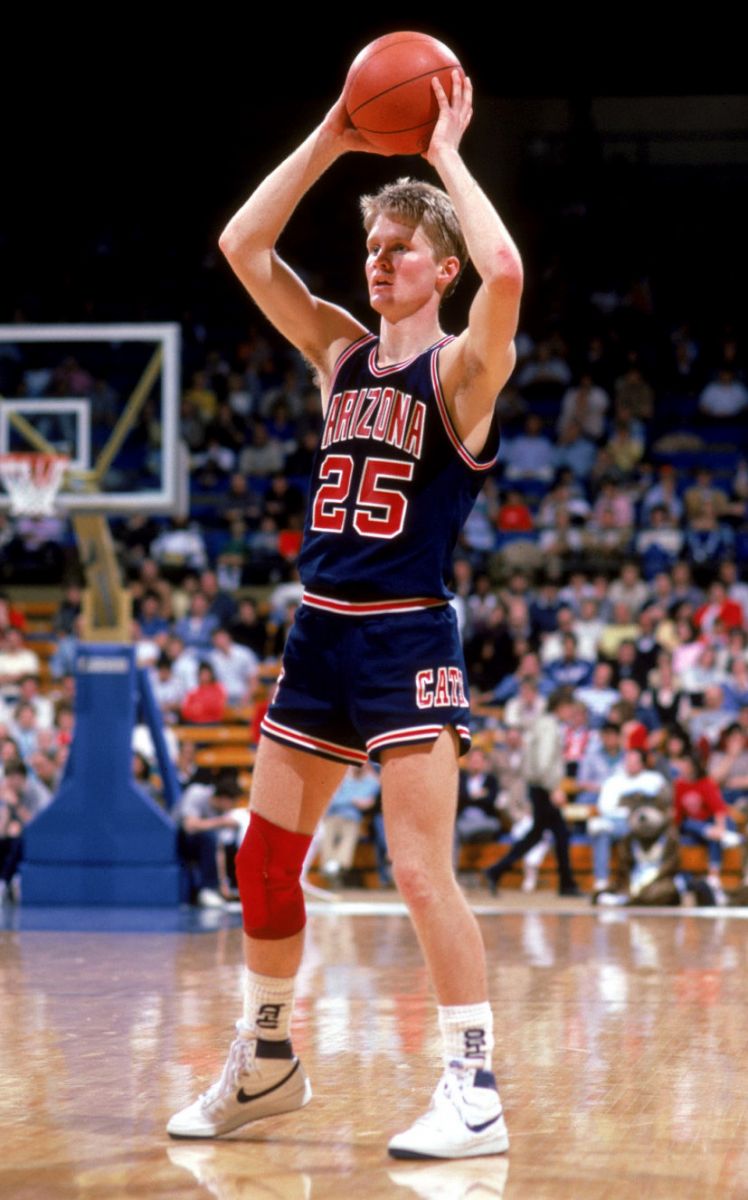 Steve Kerr - Nike Air Ship - 1985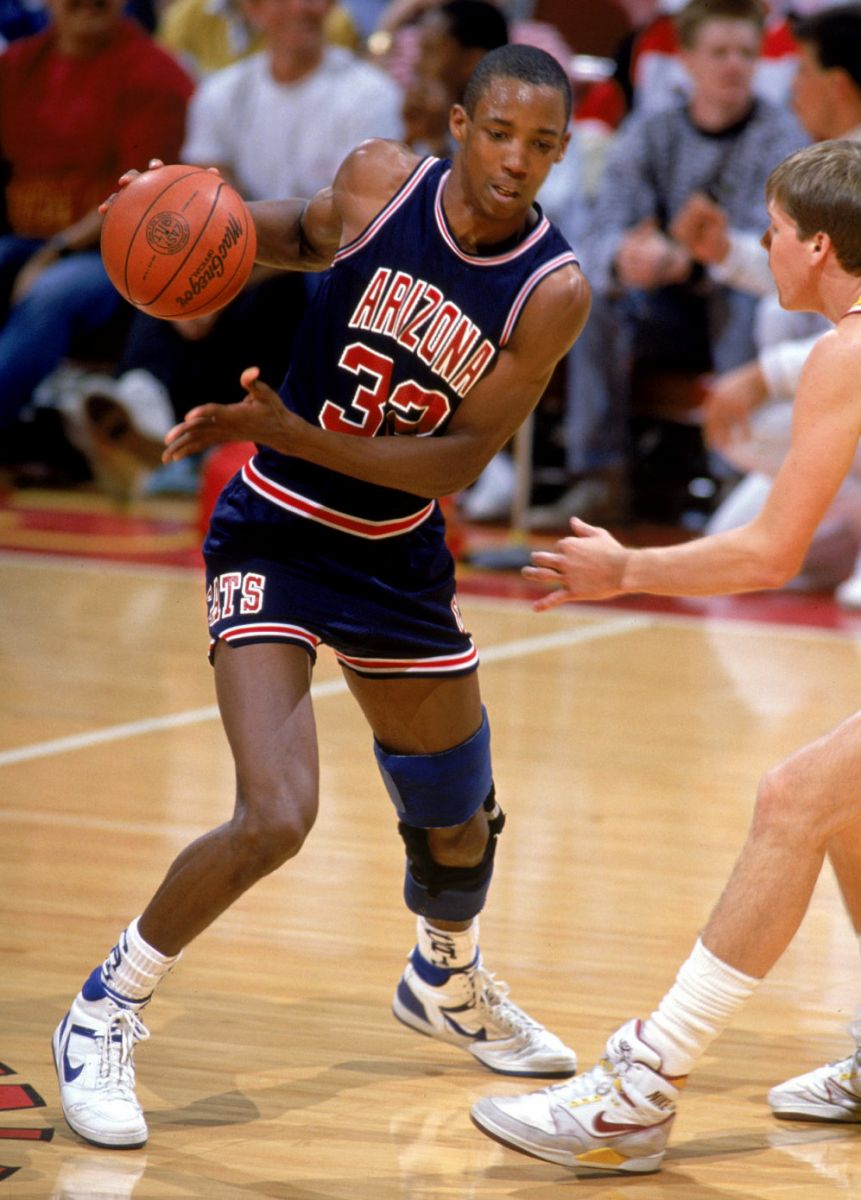 Sean Elliott - Nike Air Force 2 - 1985 (Opponent in Air Assault)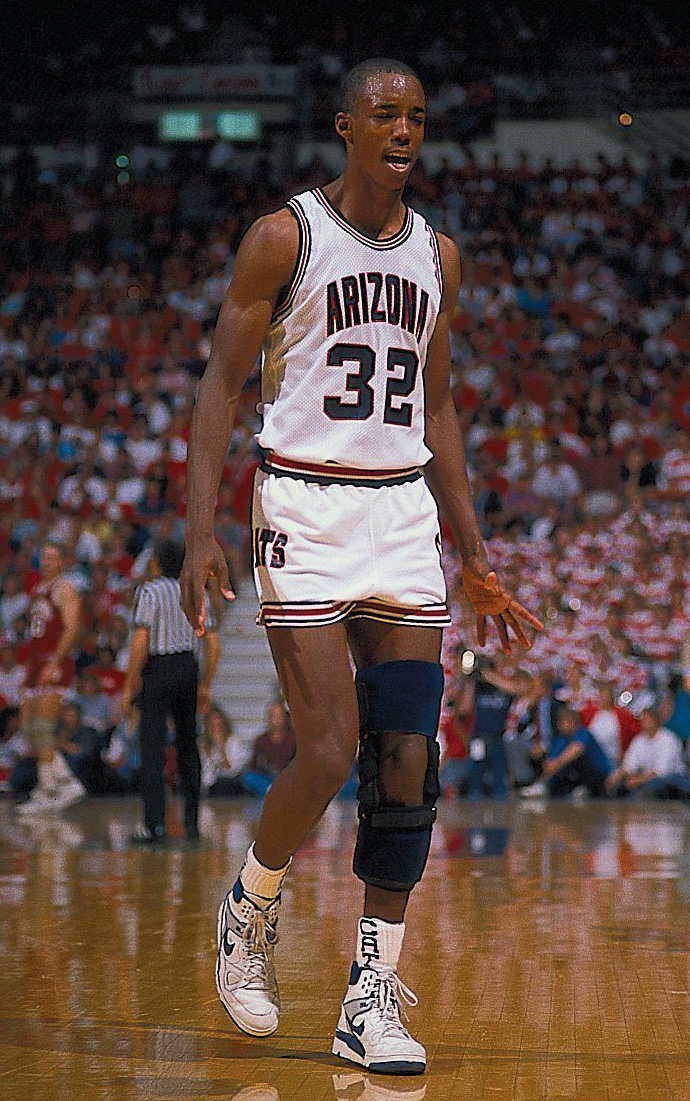 Sean Elliott - Nike Air Force III - 1988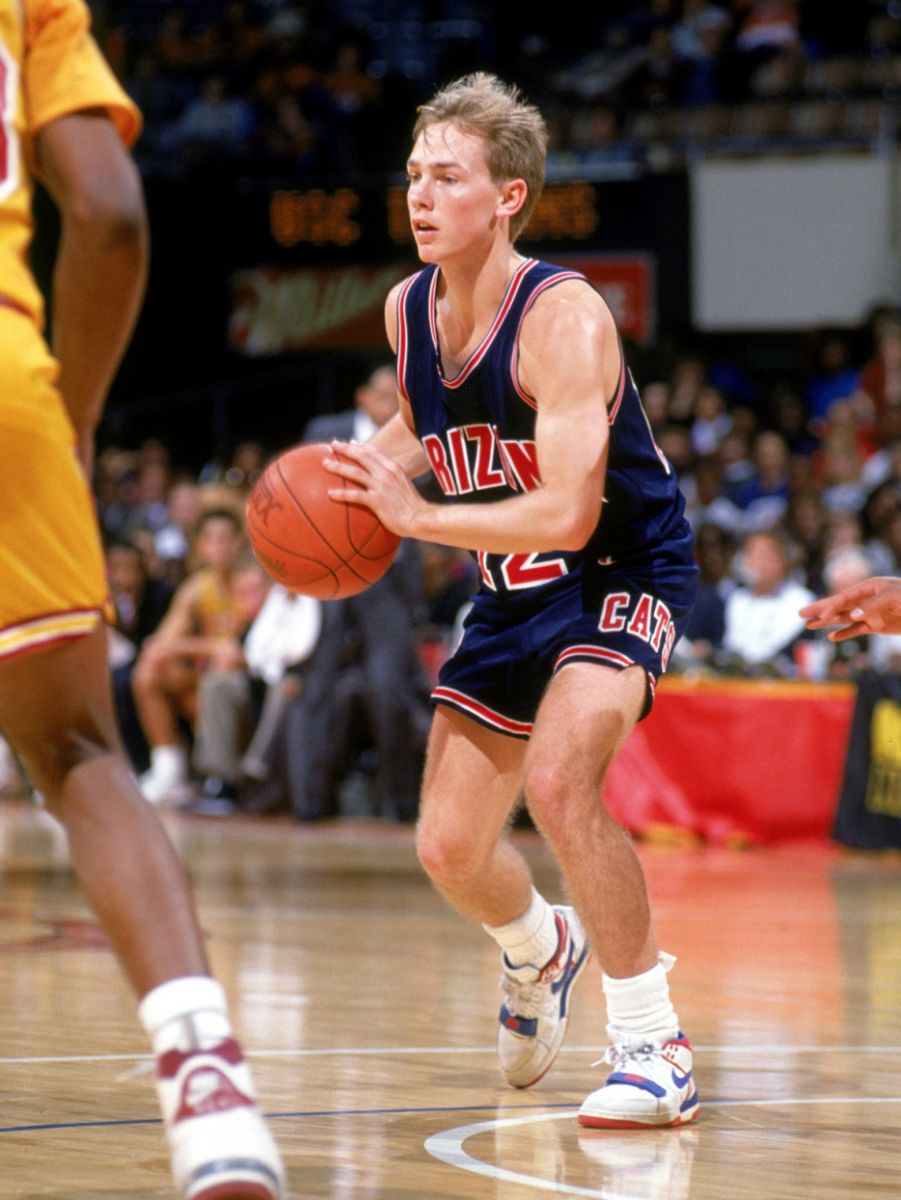 Matt Othick - Nike Air Alpha Force II - 1989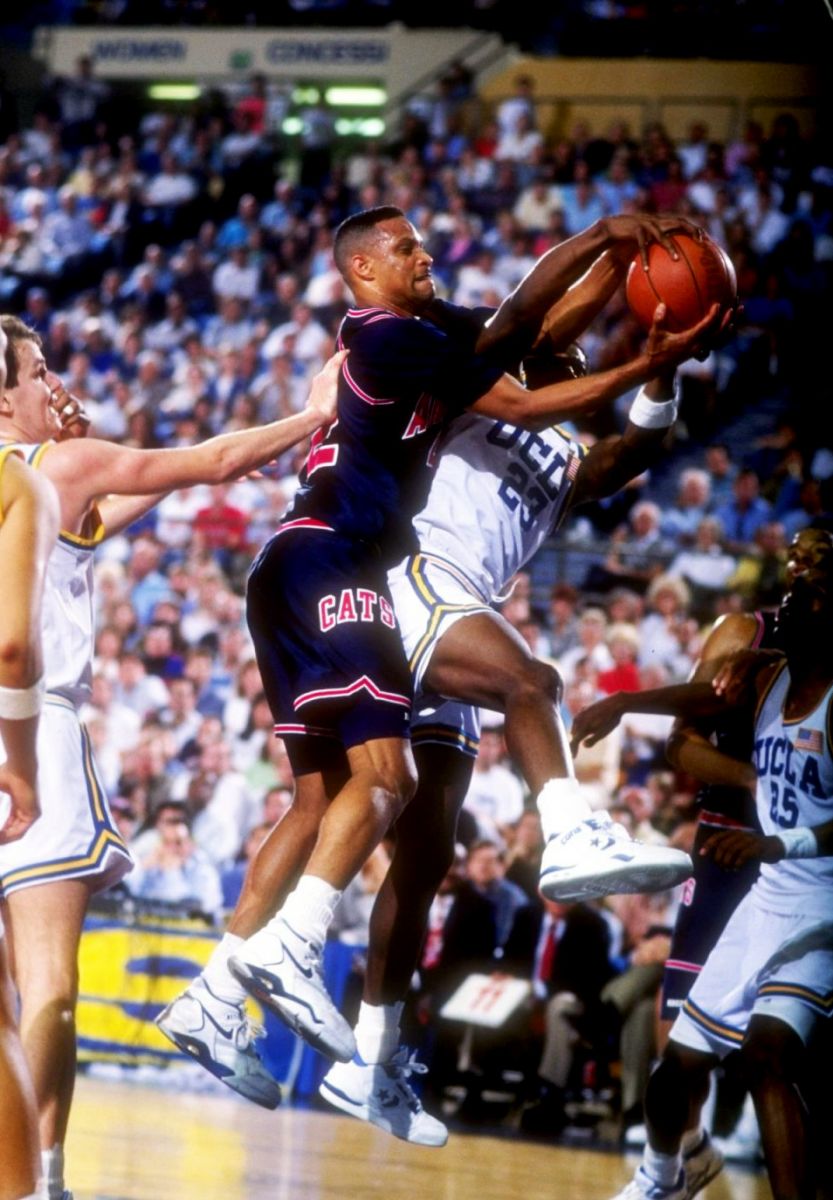 Chris Mills - Nike Air Force V - 1990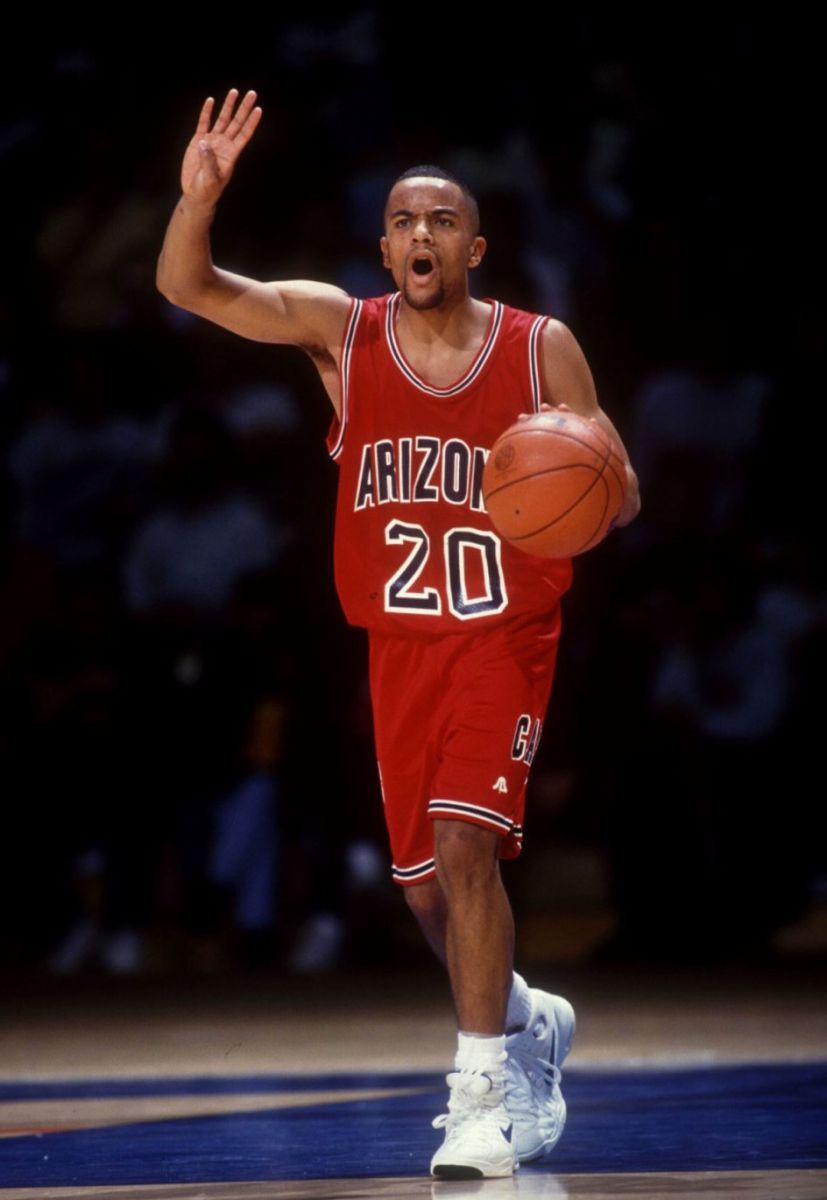 Damon Stoudamire - Nike Air Dynamic Flight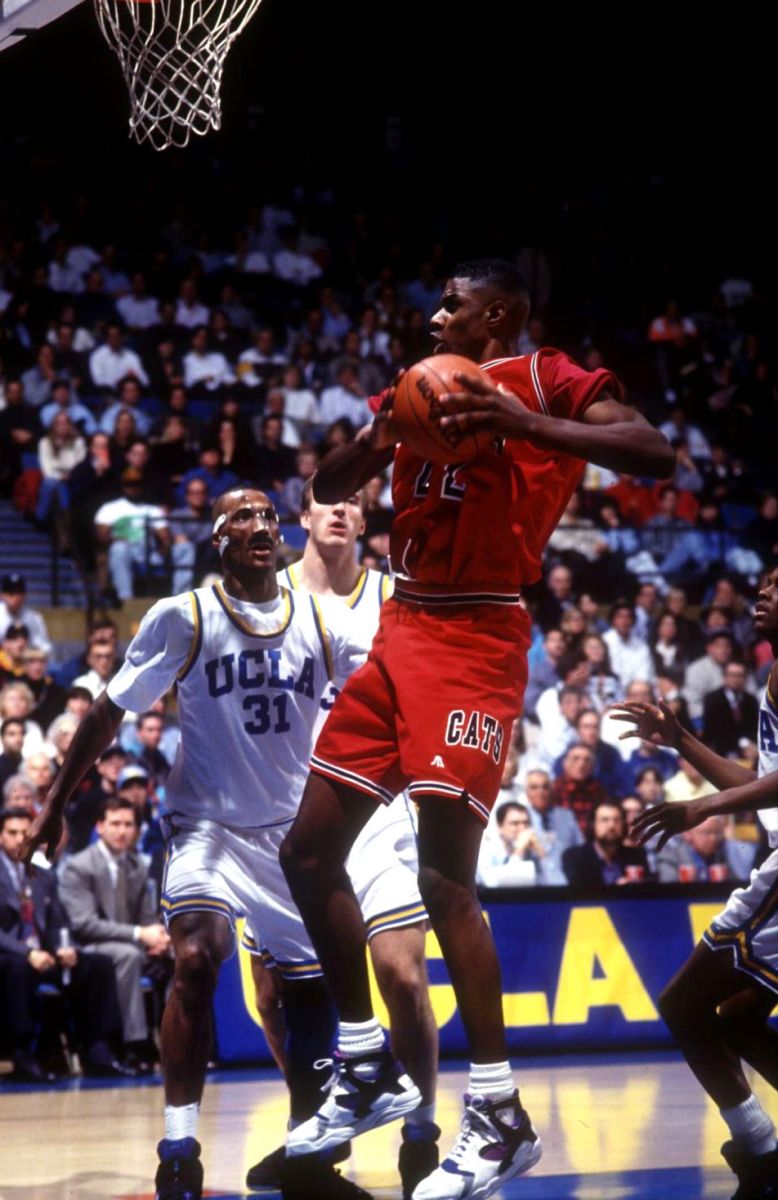 Ray Owes - Nike Air Flight Huarache - 1993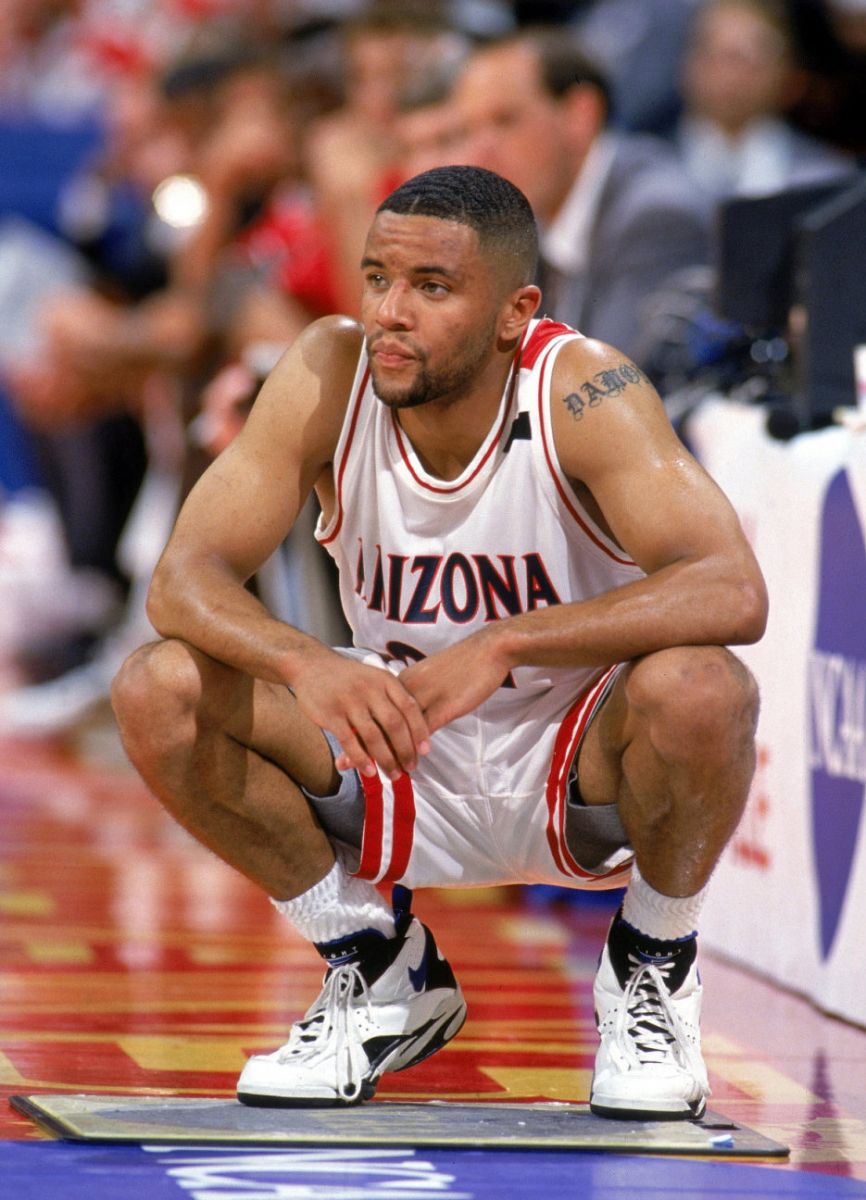 Damon Stoudamire - Nike Air Maestro 2 - 1994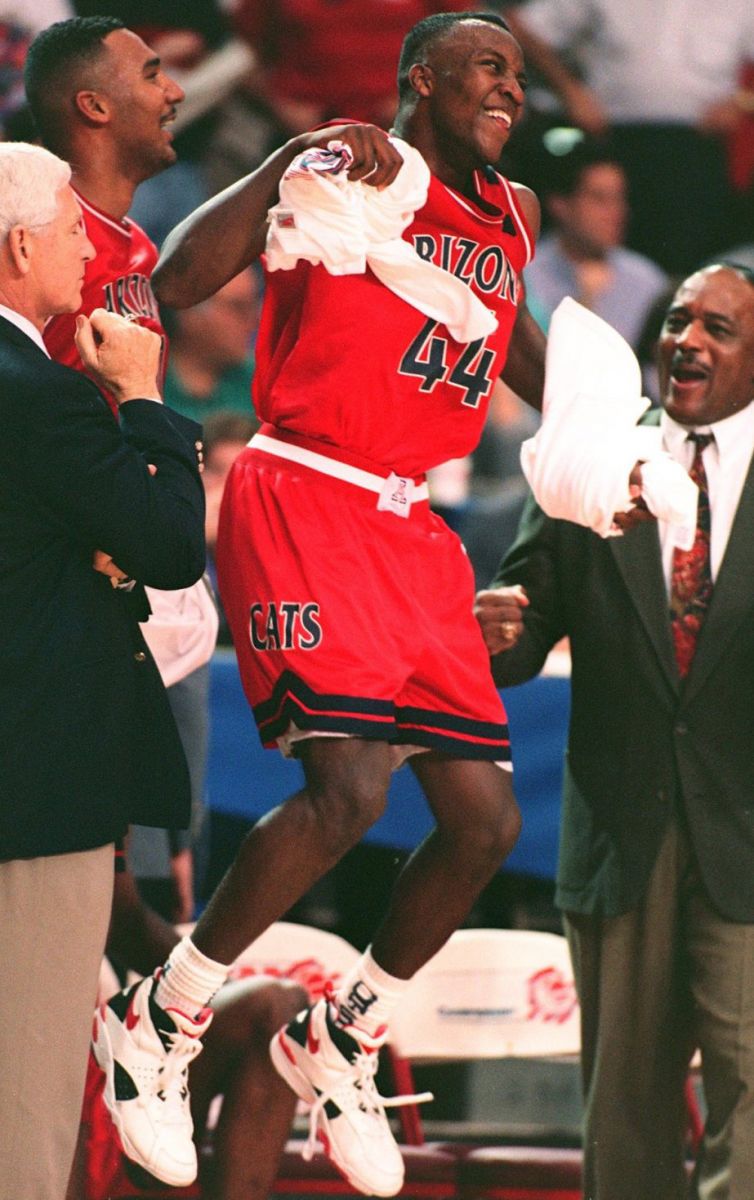 Reggie Geary - Nike Air Maestro 2 - 1994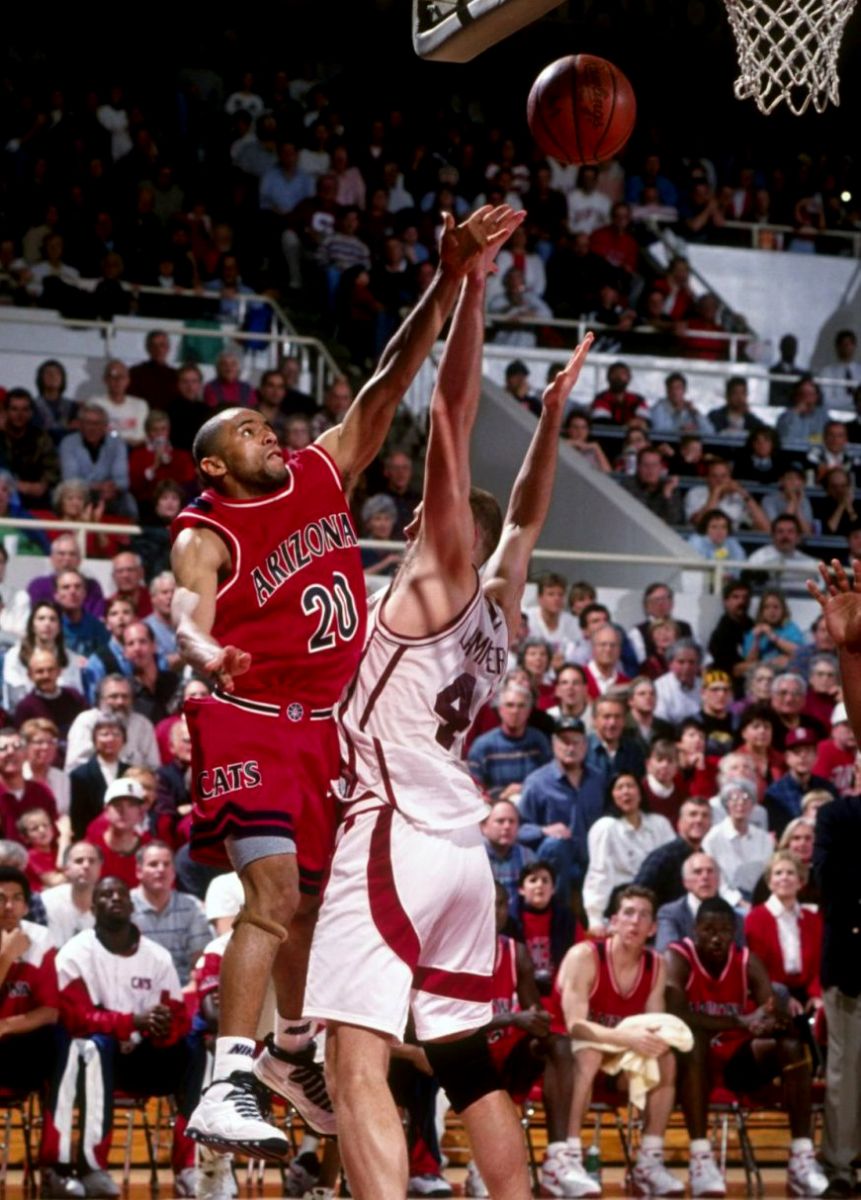 Damon Stoudamire - Air Jordan 10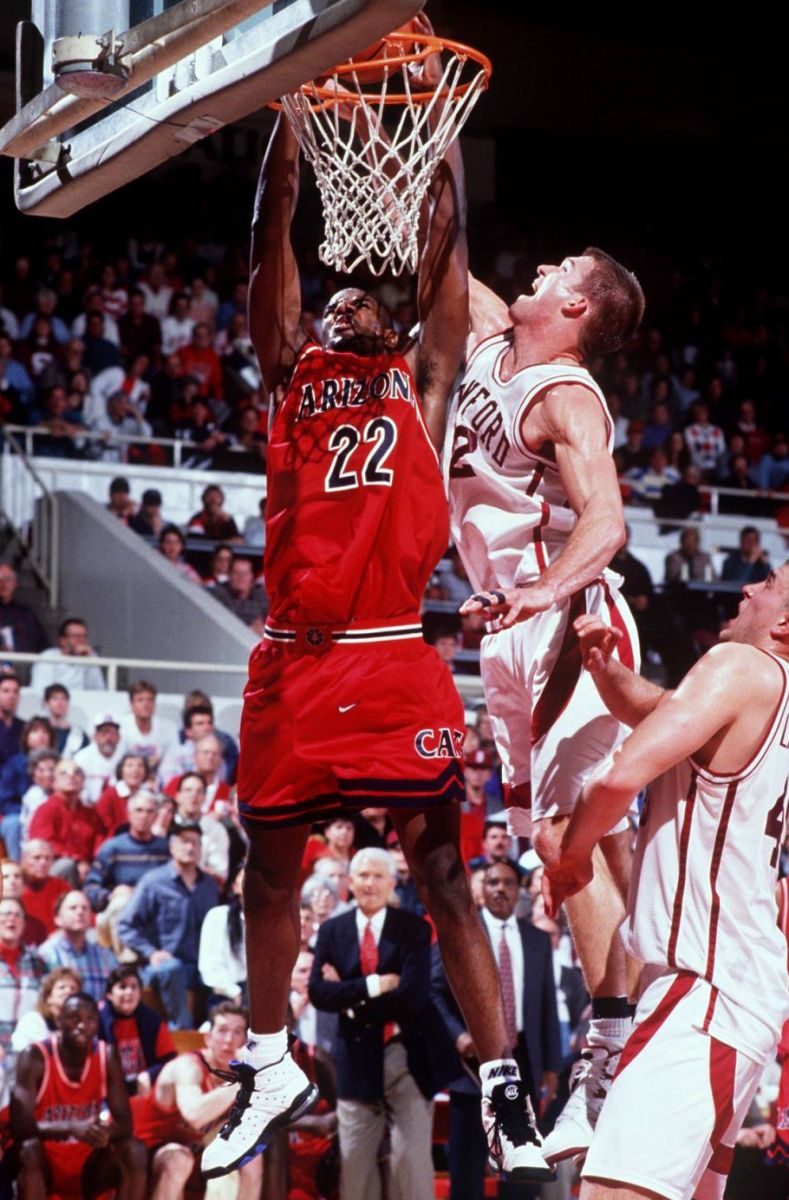 Ray Owes - Nike Air Max2 CB - 1995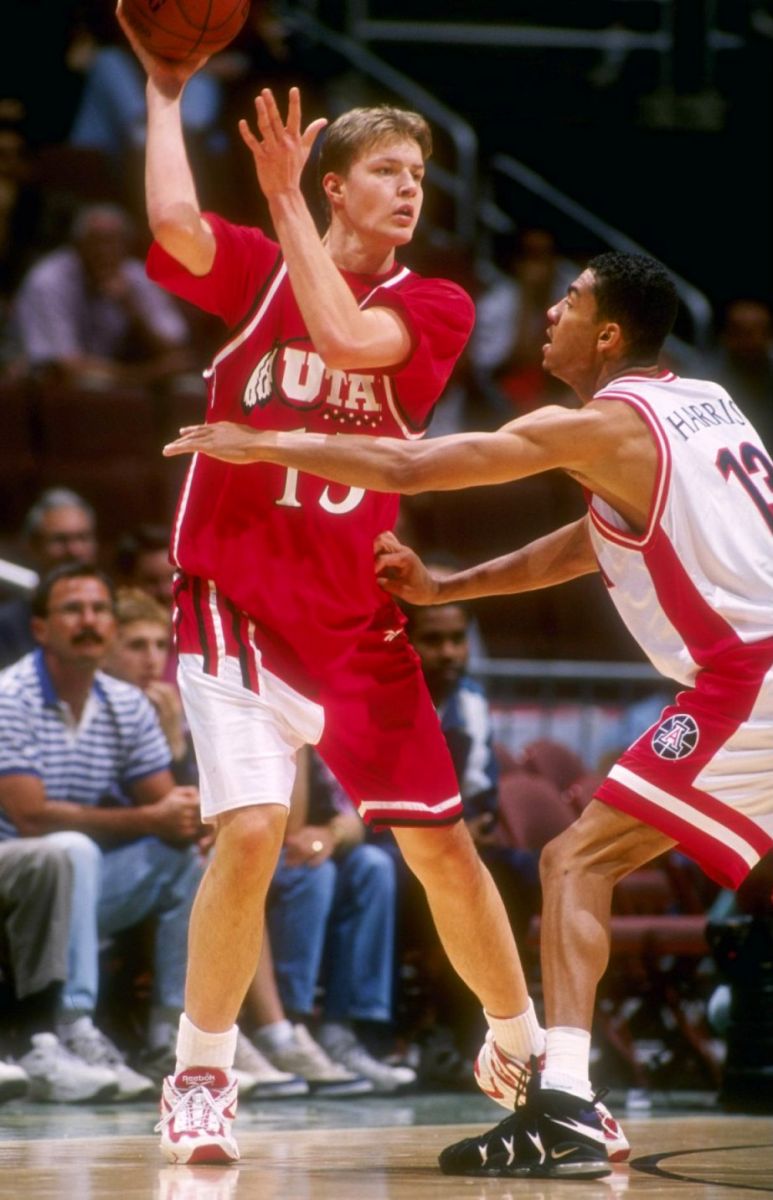 Donell Harris - Nike Air Max CB 34 - 1996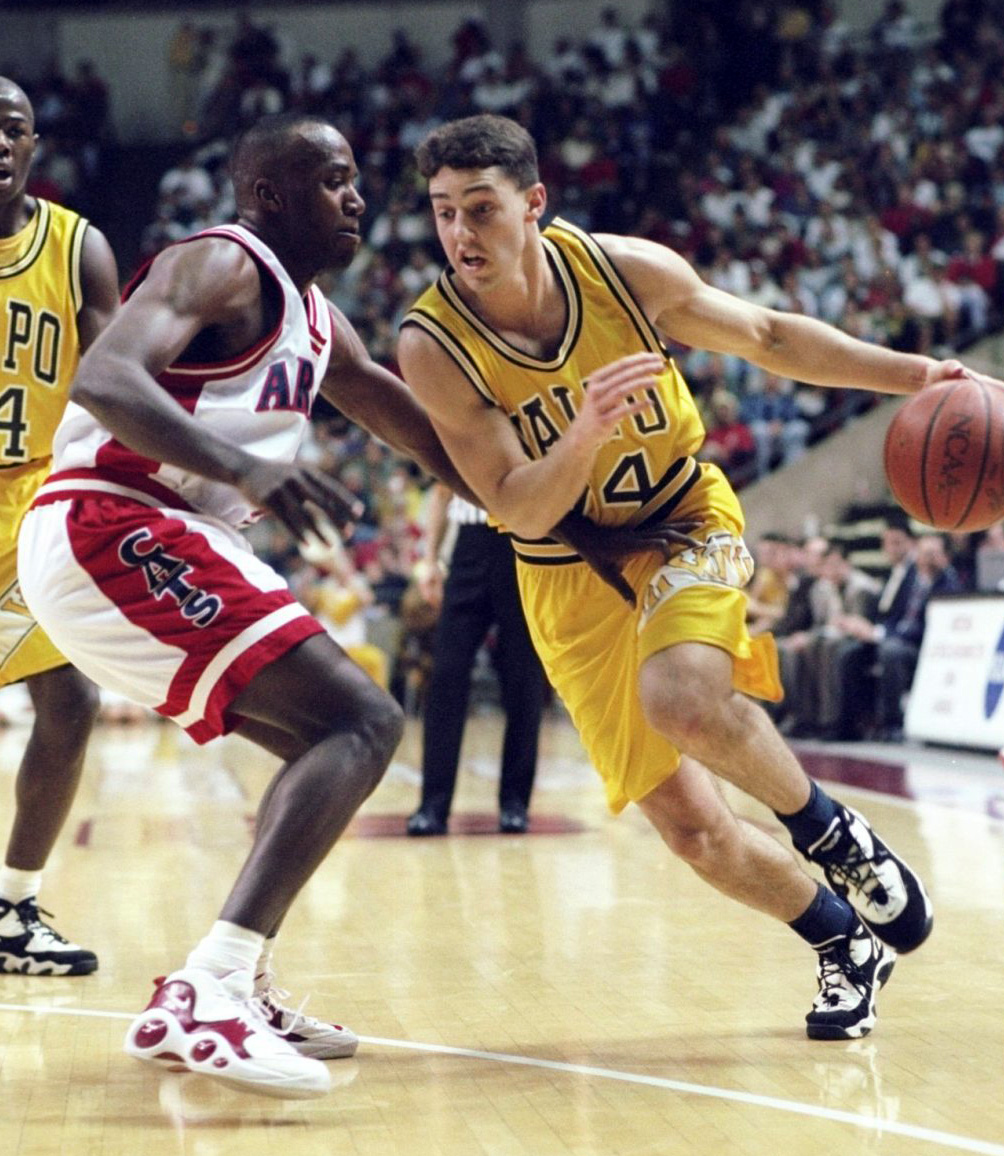 Zoom Flight '95 - 1996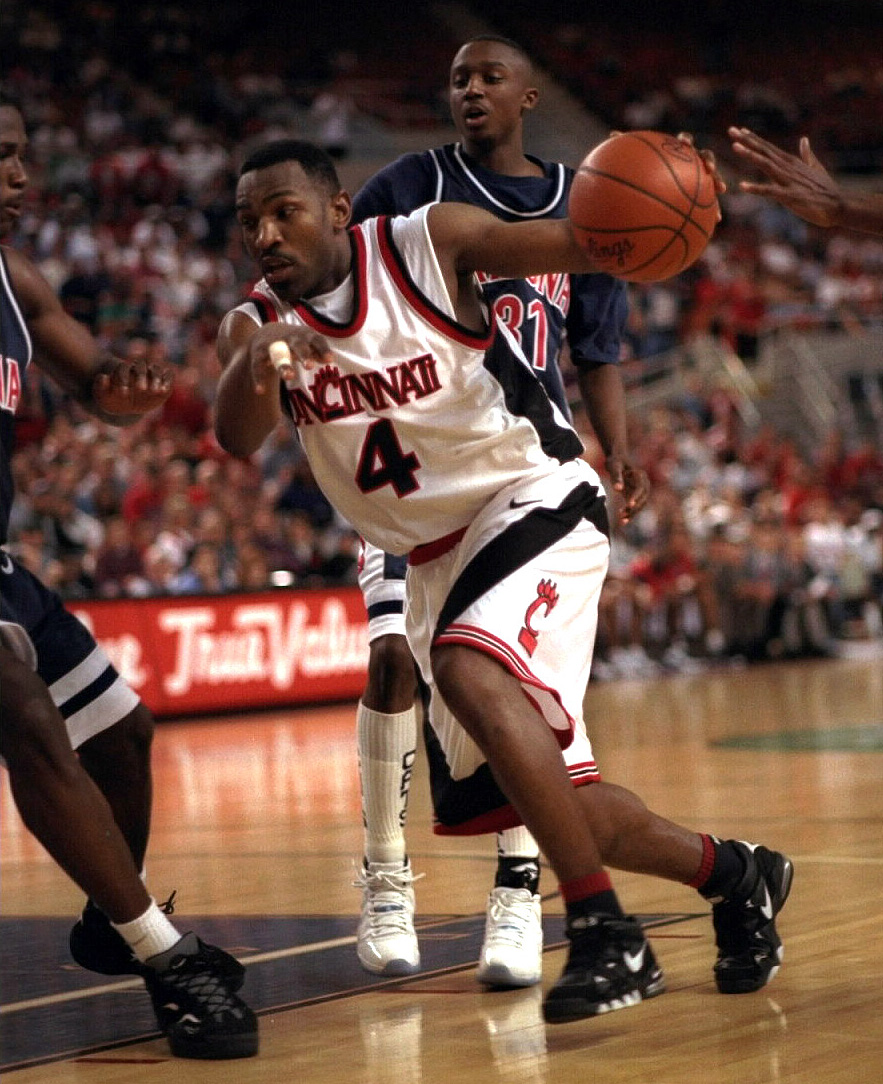 Nike Air Flight One, Jason Terry - Air Jordan XI - 1996
Jason Terry - Nike Air Adjust Force - 1996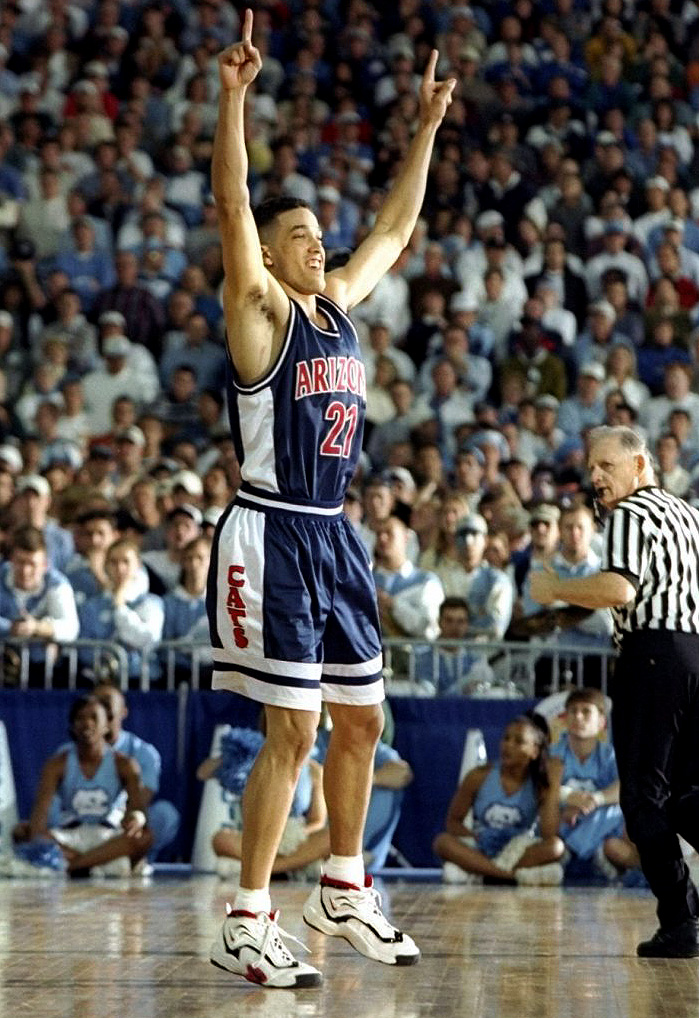 Bennet Davison - Nike Air Maestro '96 - 1997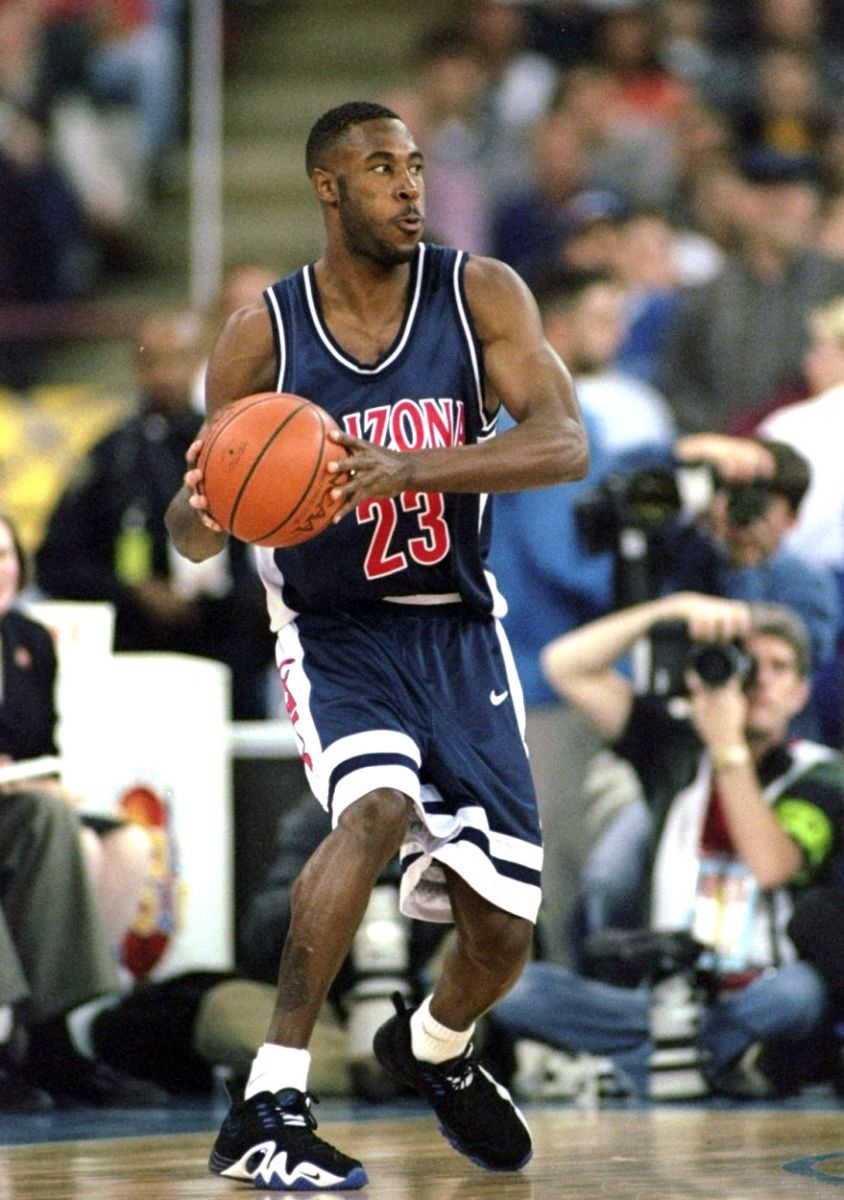 Michael Dickerson - Nike Zoom Flight Five - 1997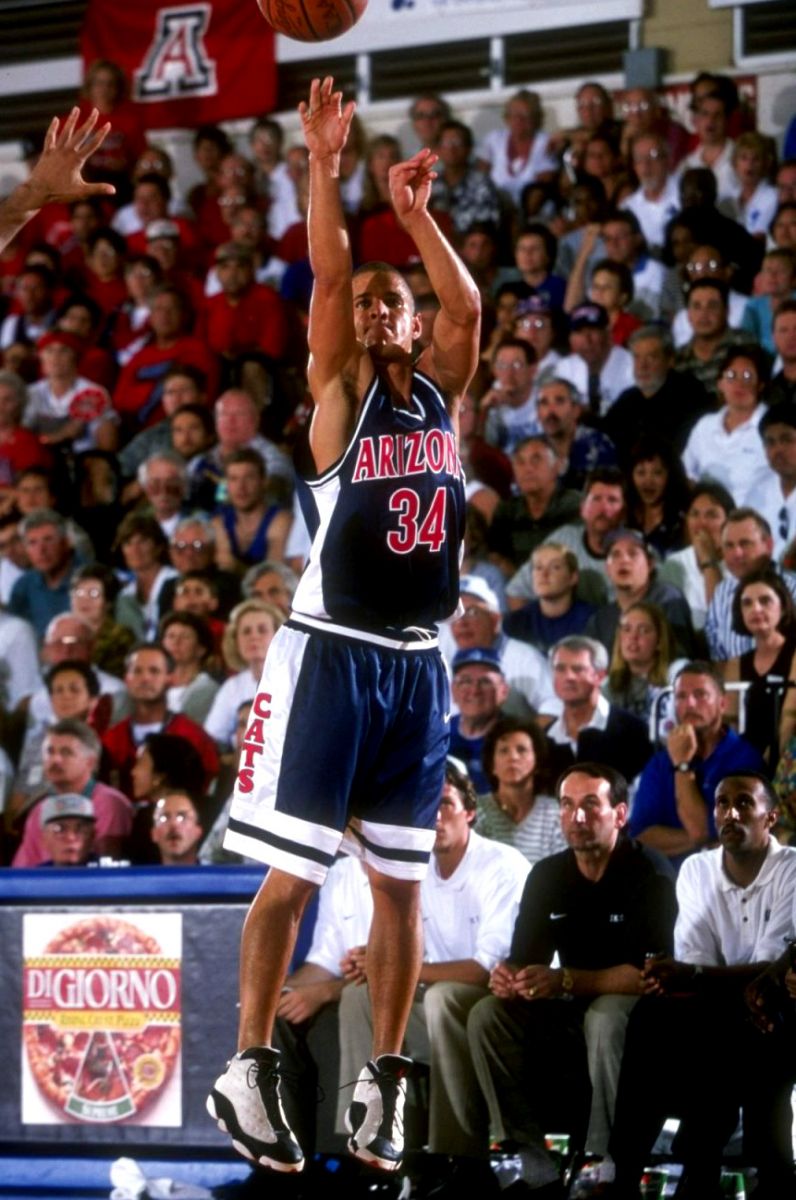 Miles Simon - Air Jordan XIII - 1997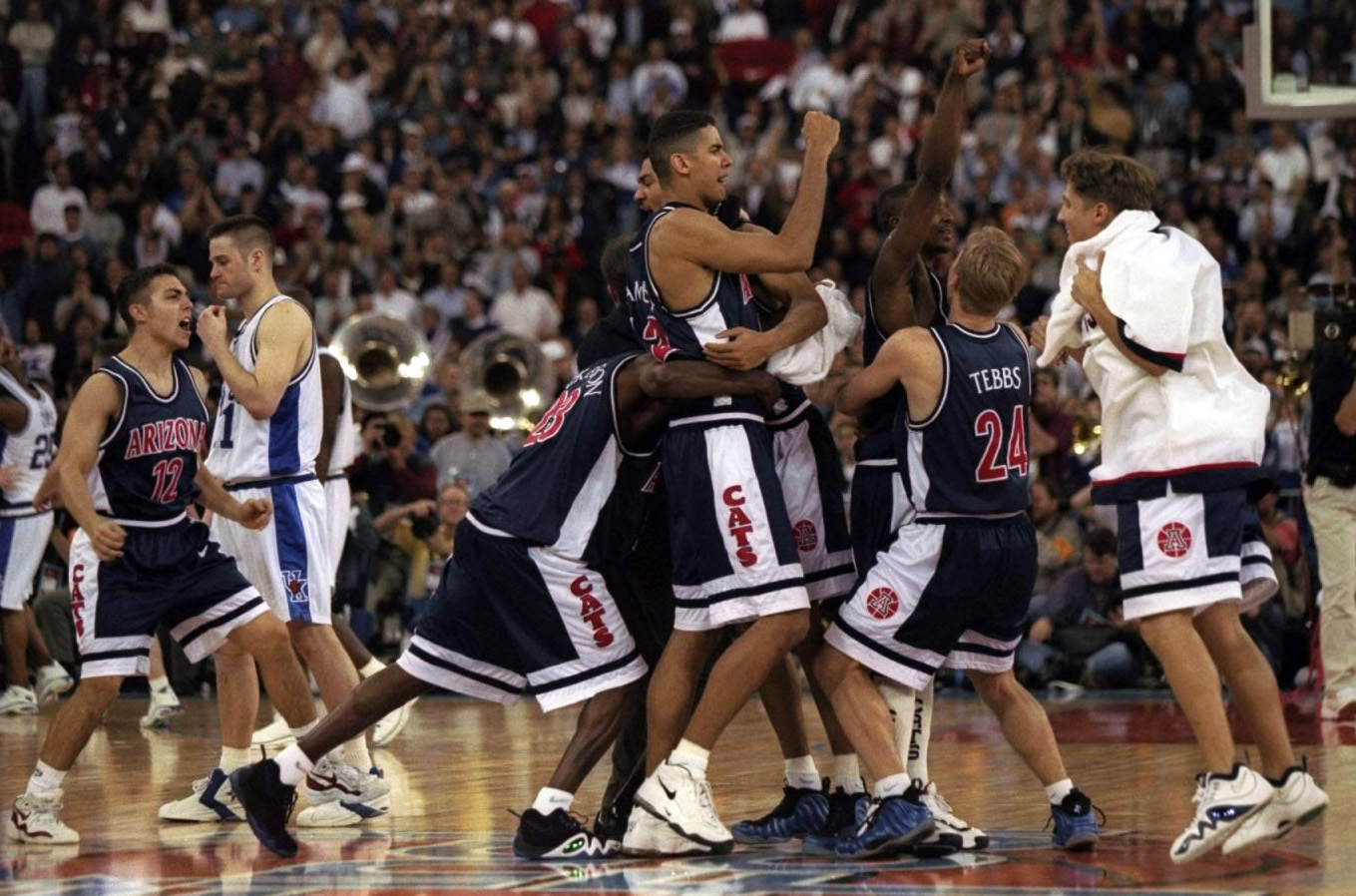 Zoom Flight Five, Air Adjust Force, Air Foamposite One - 1997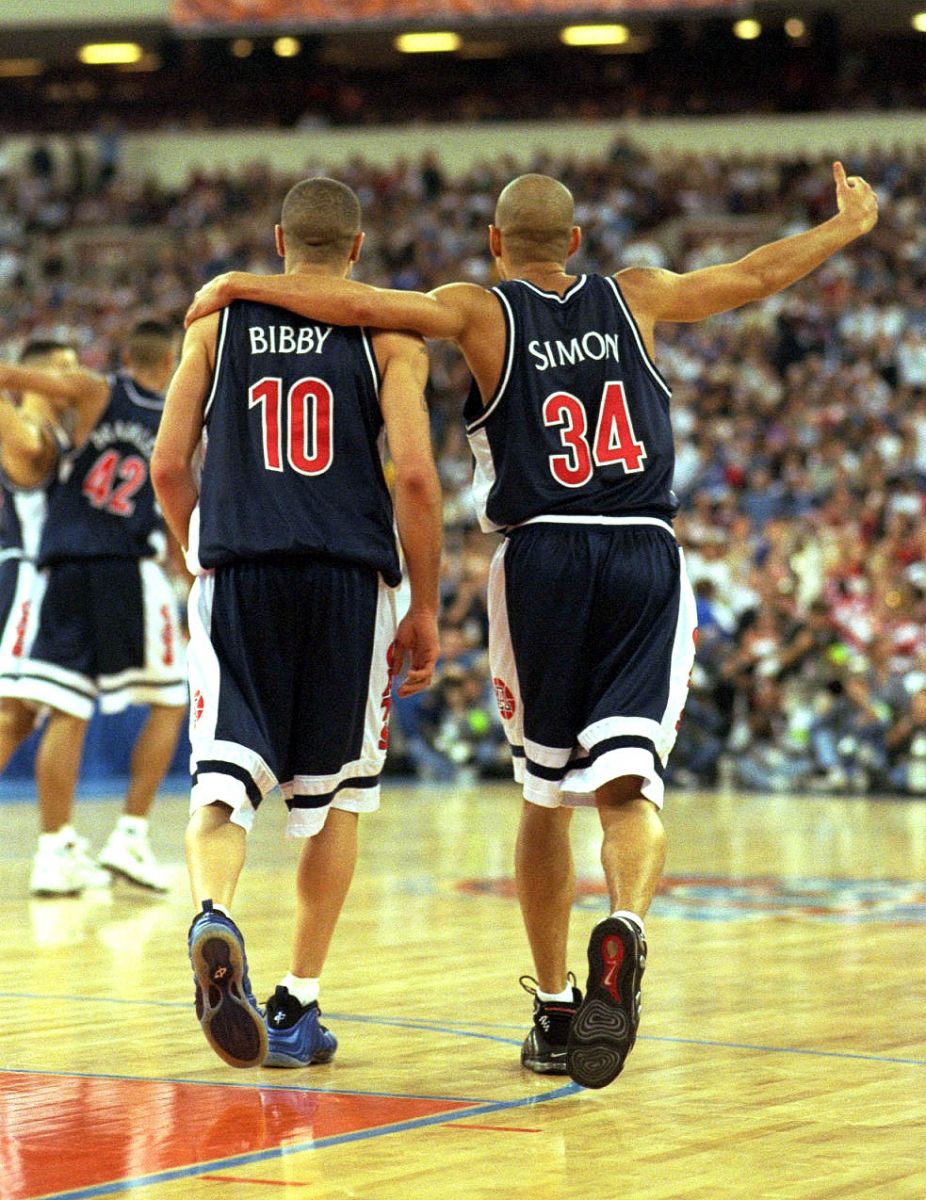 Mike Bibby - Air Foamposite One, Miles Simon - Nike Air Max Uptempo III - 1997 (See more of Bibby in the Foamposite HERE)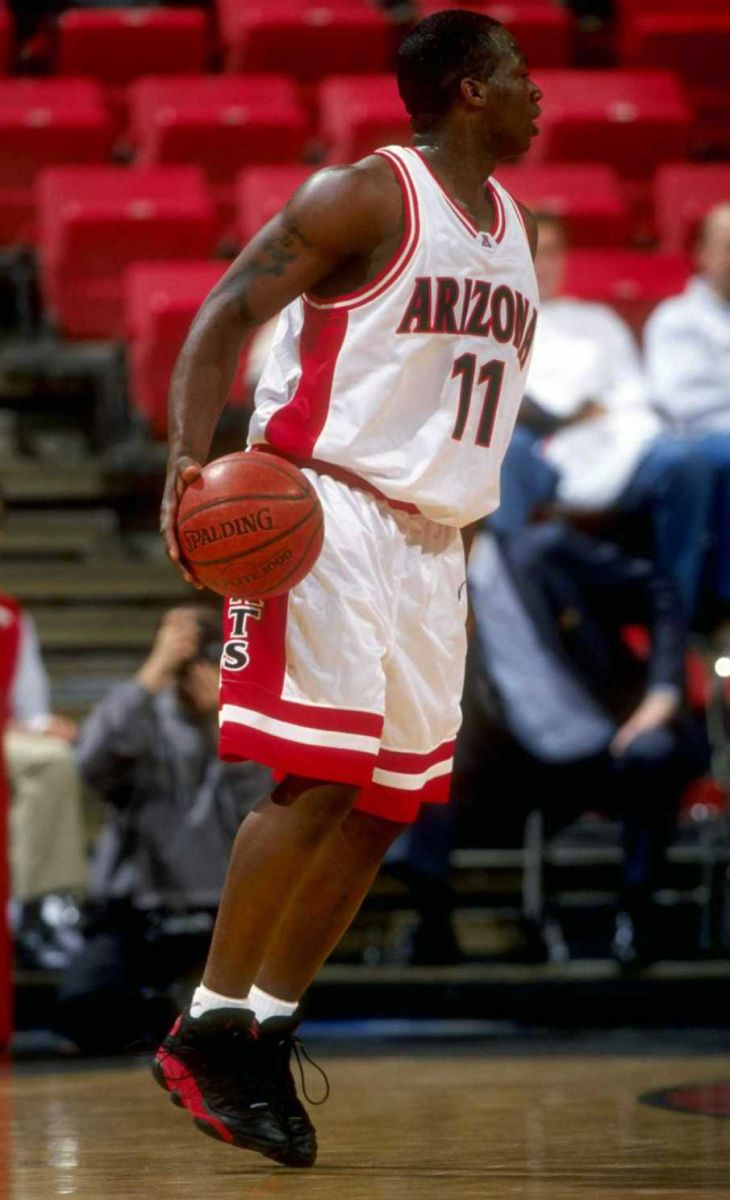 Traves Wilson - Air Jordan XIII - 1998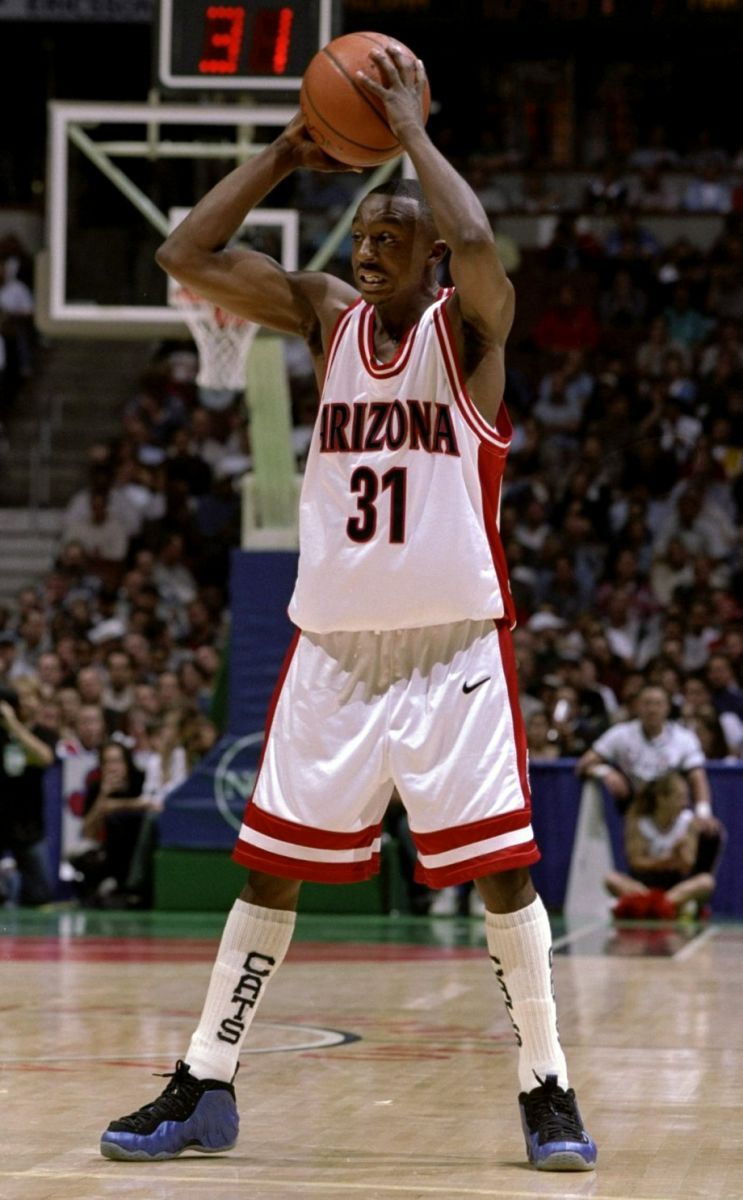 Jason Terry - Air Foamposite One - 1998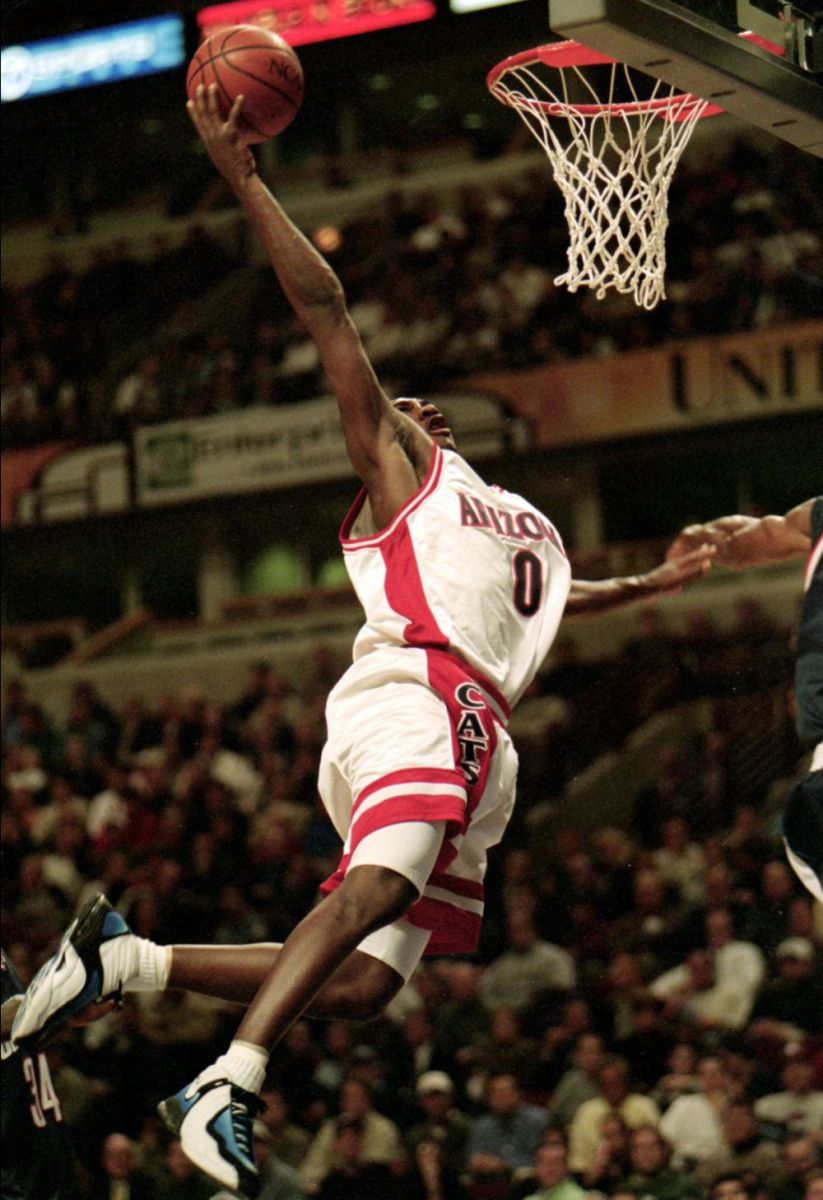 Gilbert Arenas - Nike Air Garnett III - 1999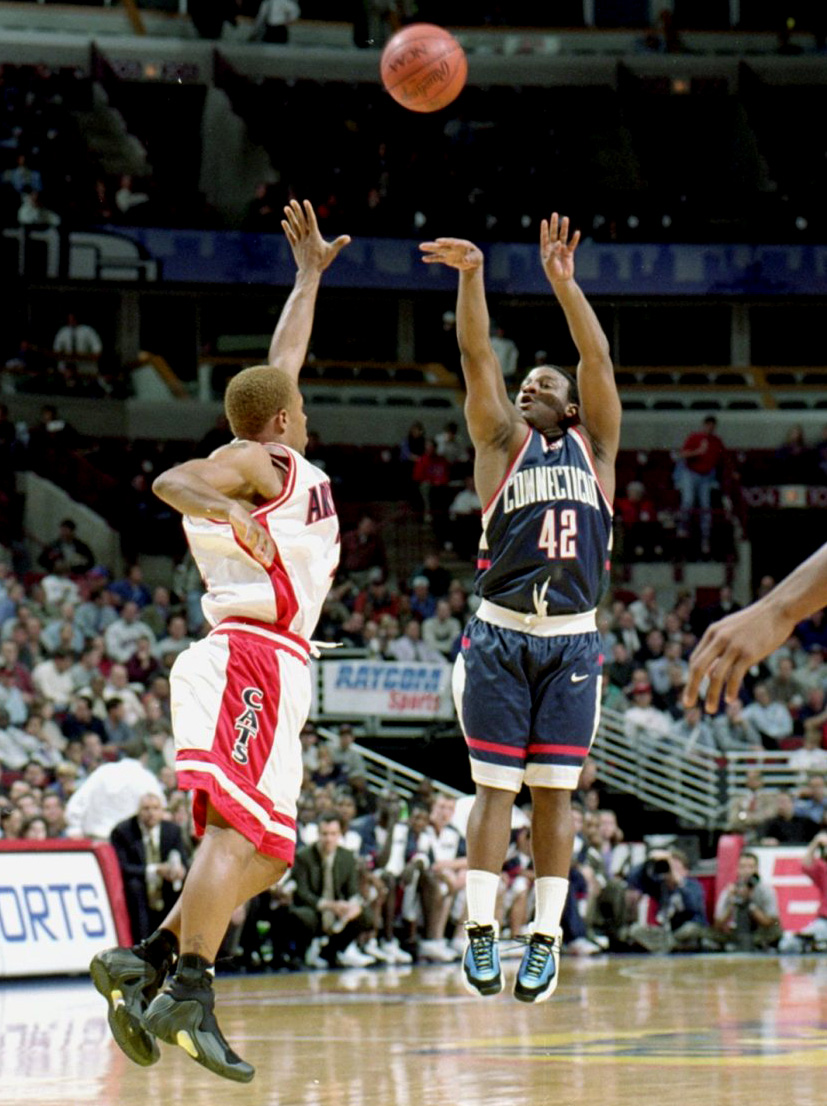 Jason Gardner - Nike Air Flightposite - 1999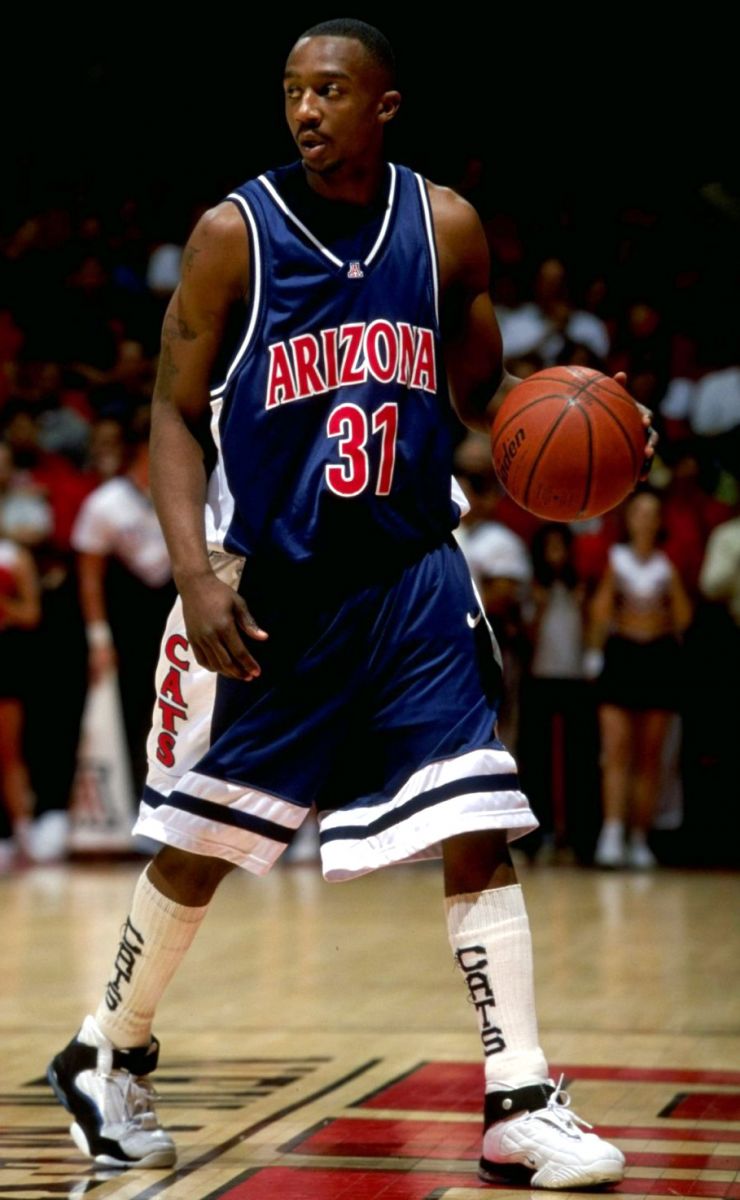 Jason Terry - Nike Air Penny IV - 1999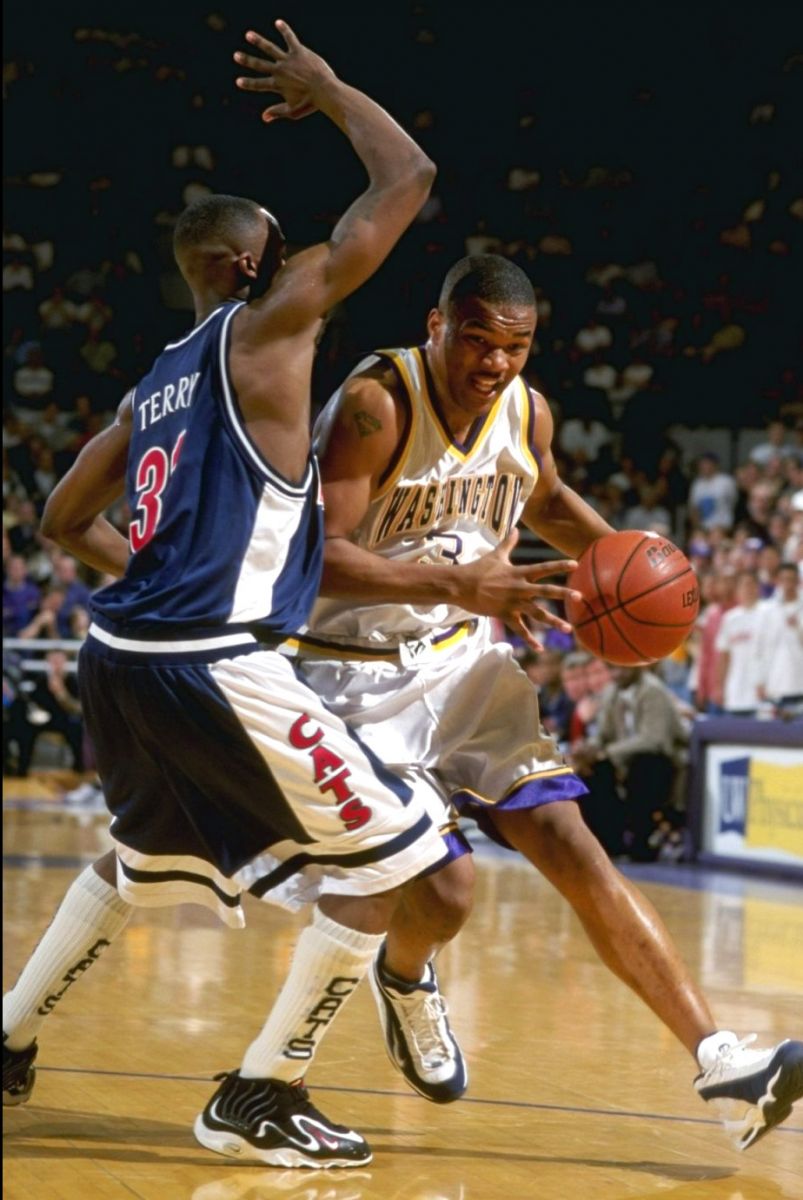 Jason Terry - Nike Zoom T-Bug Flight - 1999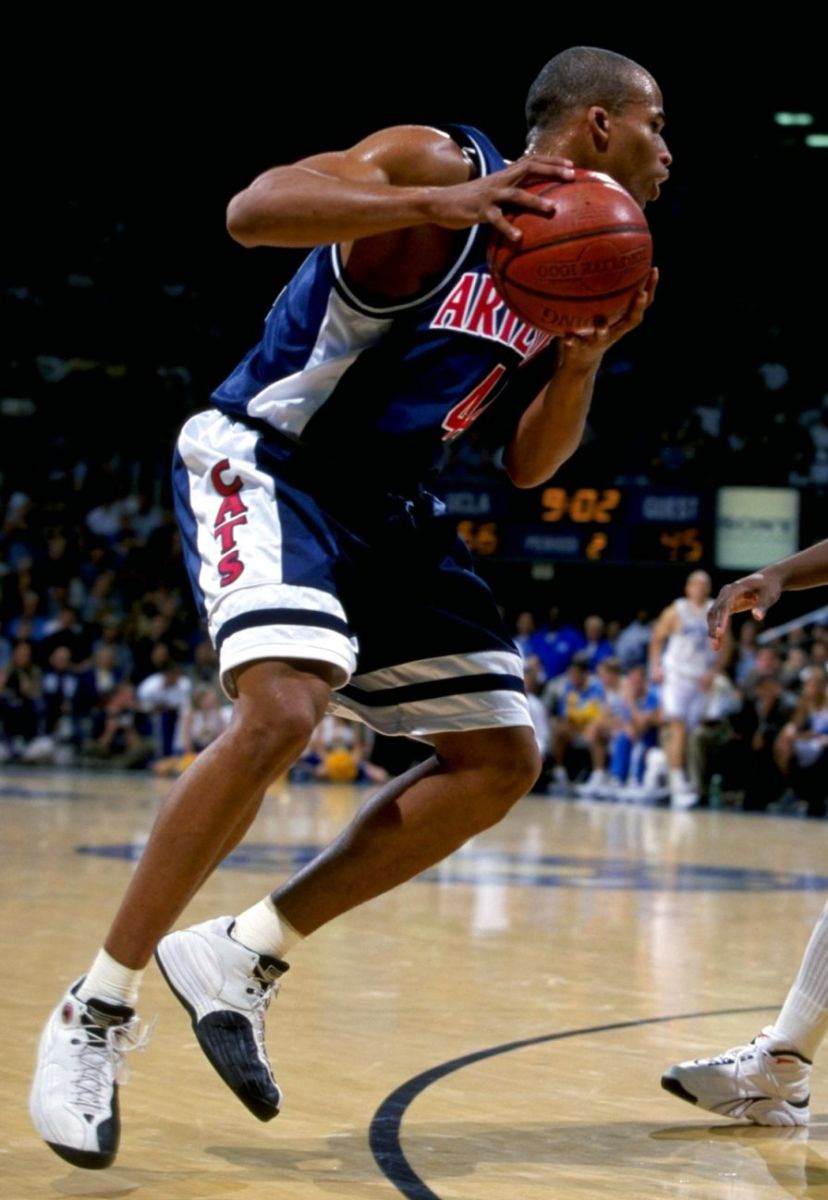 Richard Jefferson - Air Jordan Jumpman Team - 1999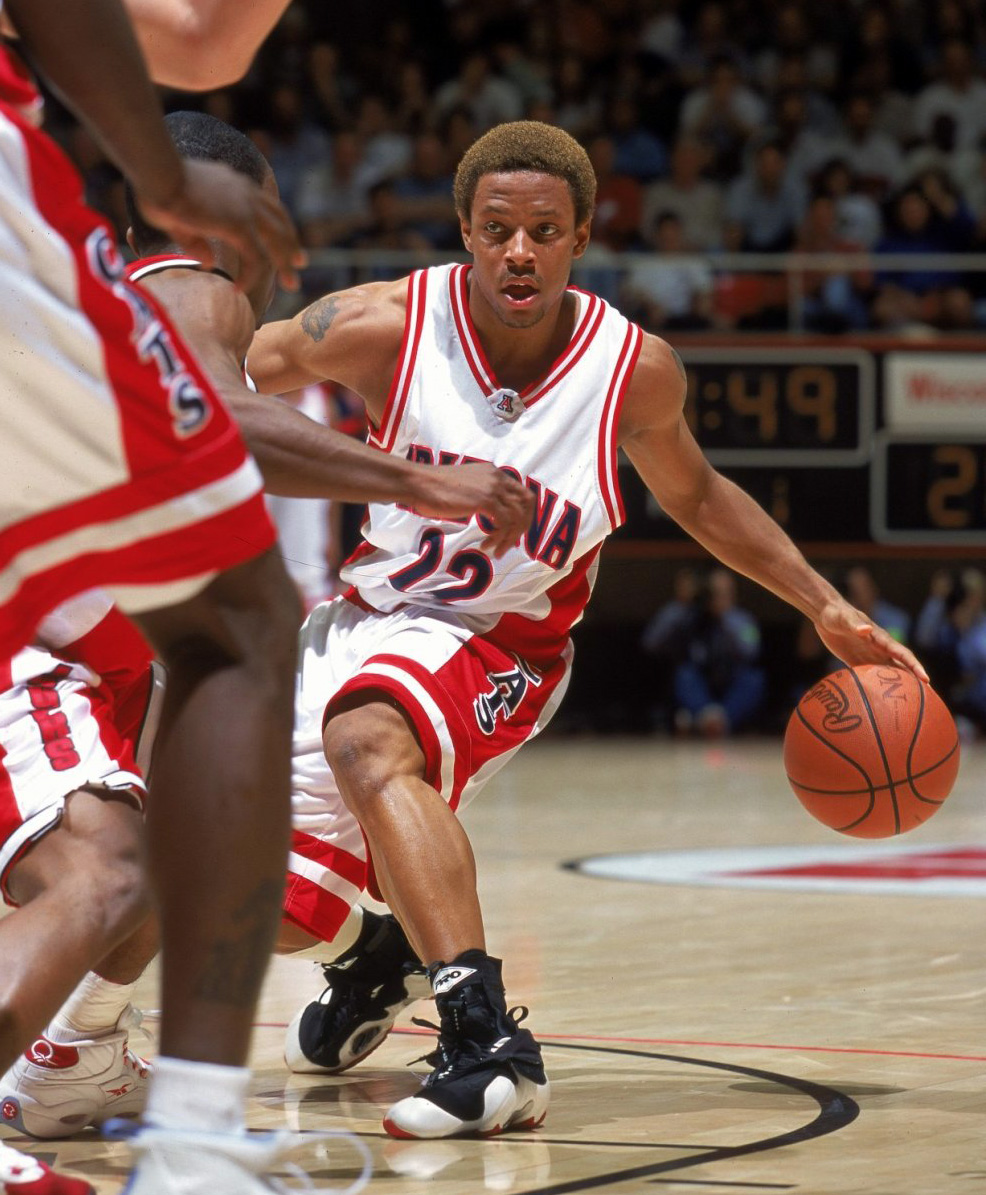 Jason Gardner - Nike Air Flightposite - 2000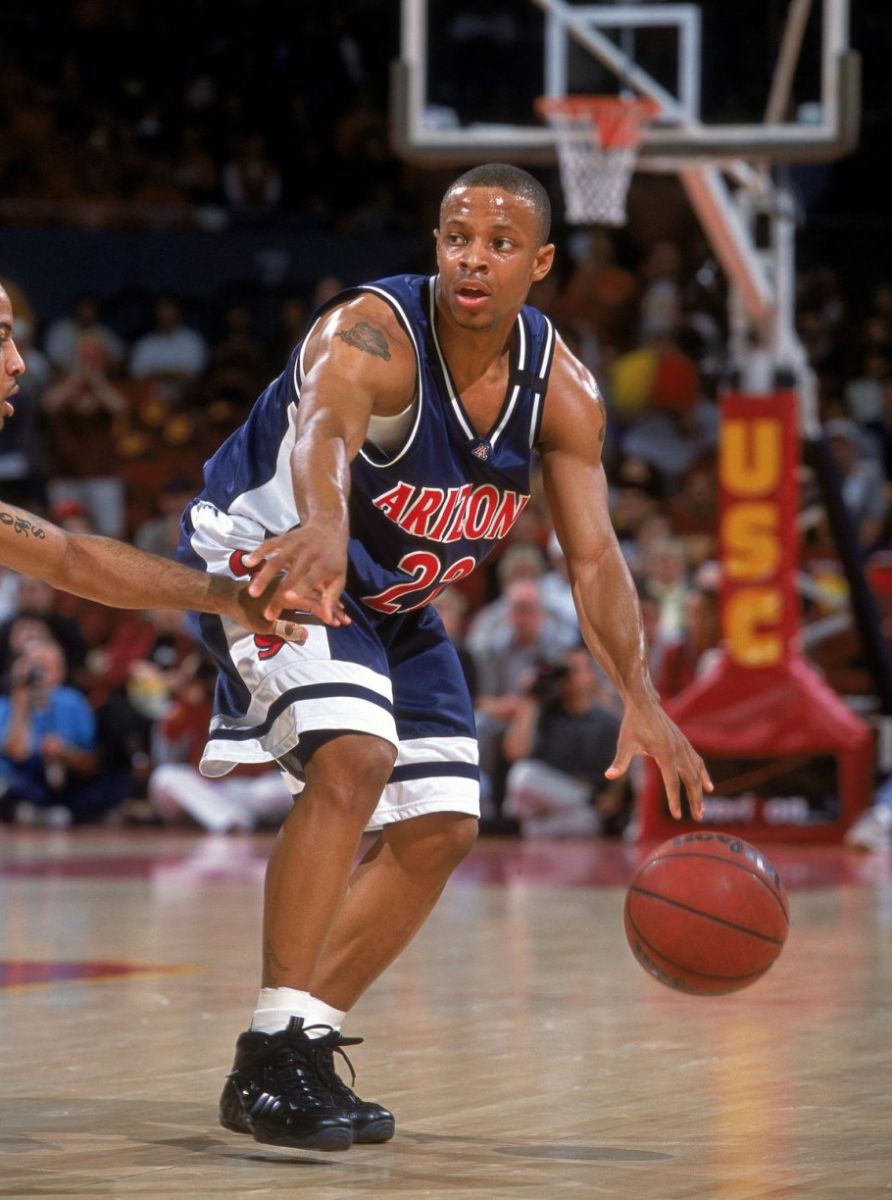 Jason Gardner - Nike Air Foamposite Pro - 2001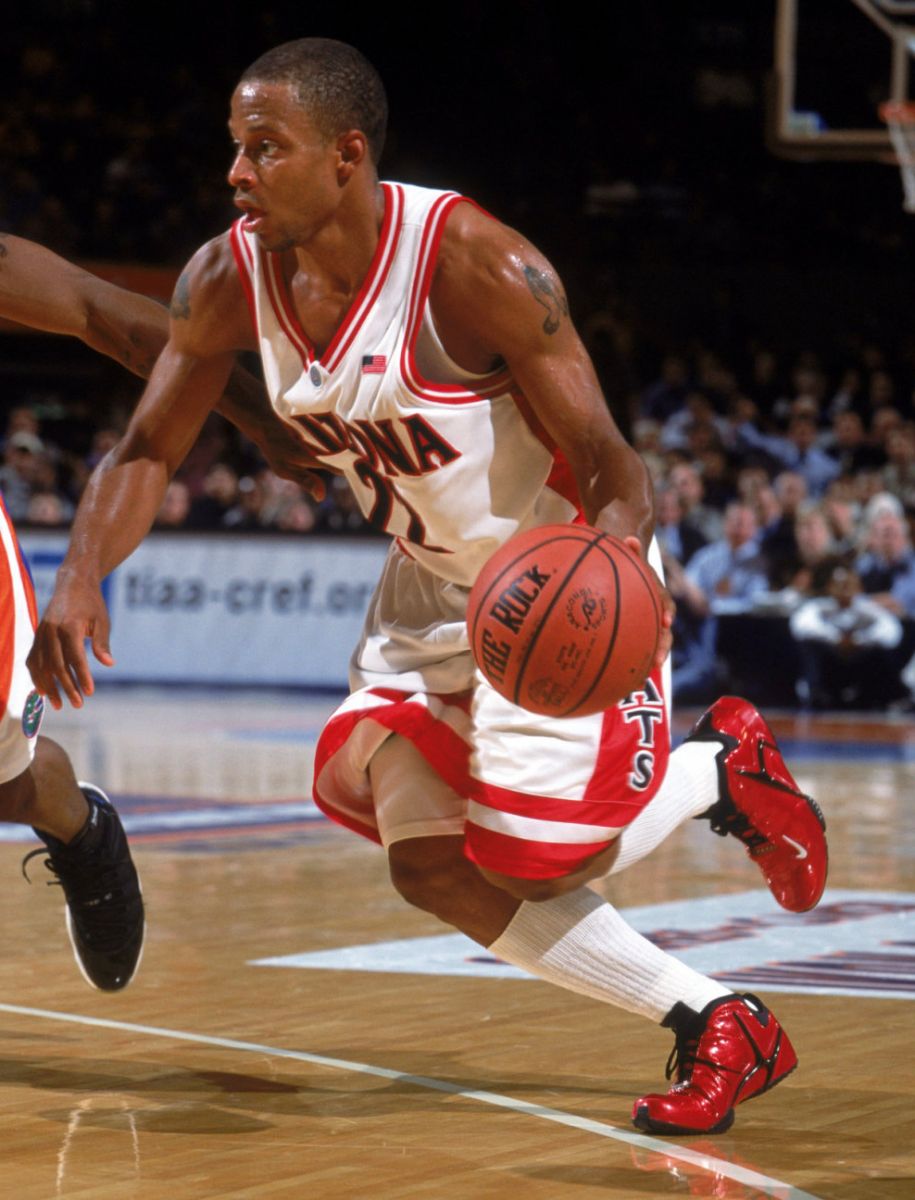 Jason Gardner - Nike Zoom Hyperflight - 2001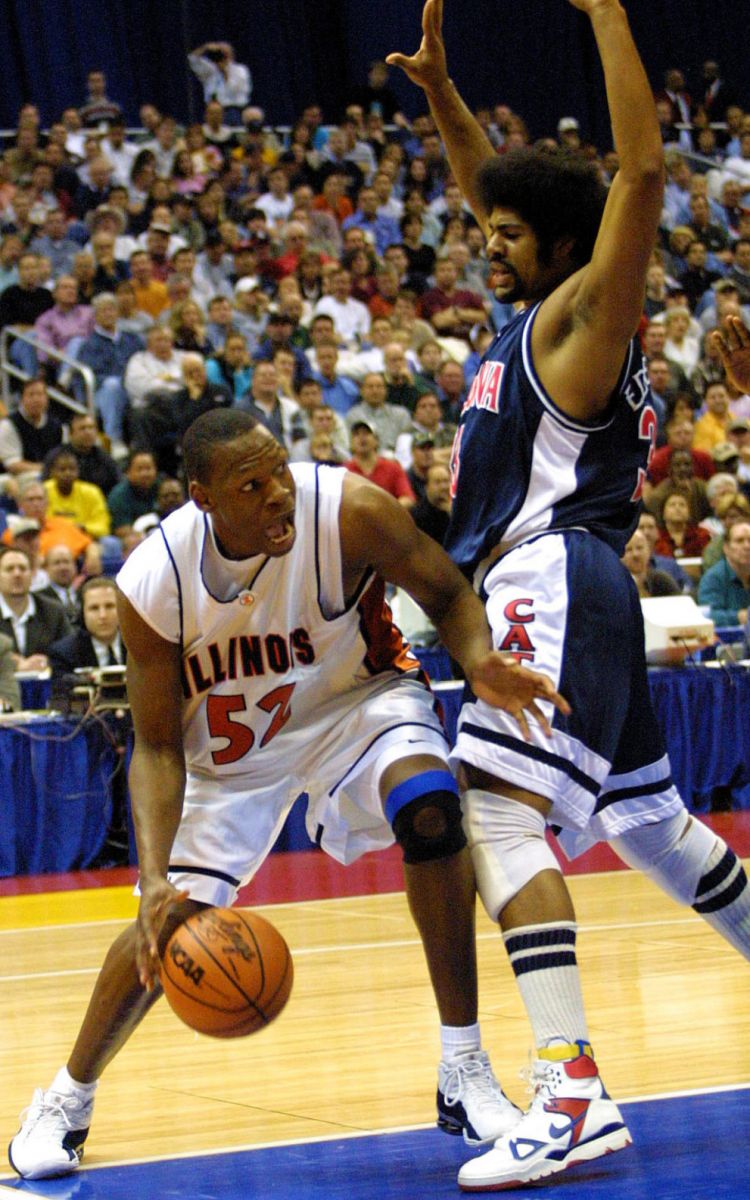 Eugene Edgerson - Nike Air Force III - 2001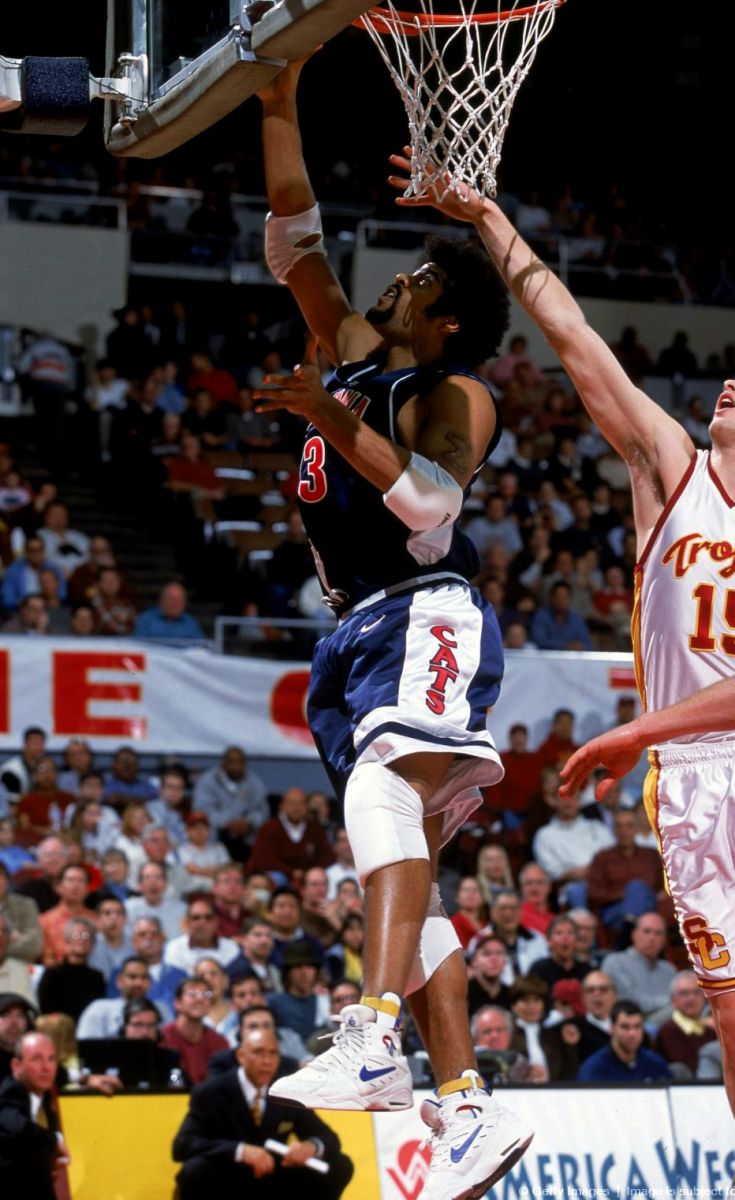 Eugene Edgerson - Nike Air Dynamic Flight - 2001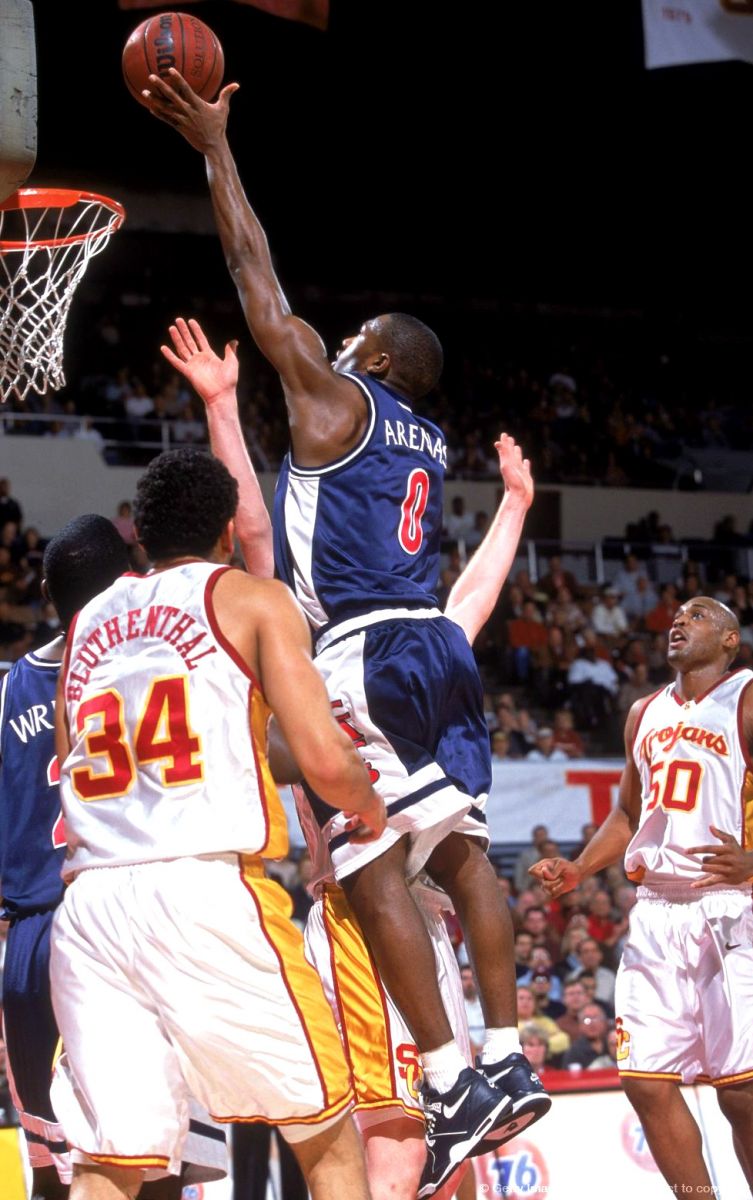 Gilbert Arenas - Nike Air Flight '89 - 2001
Jason Gardner - Nike Air Trainer 1 - 2001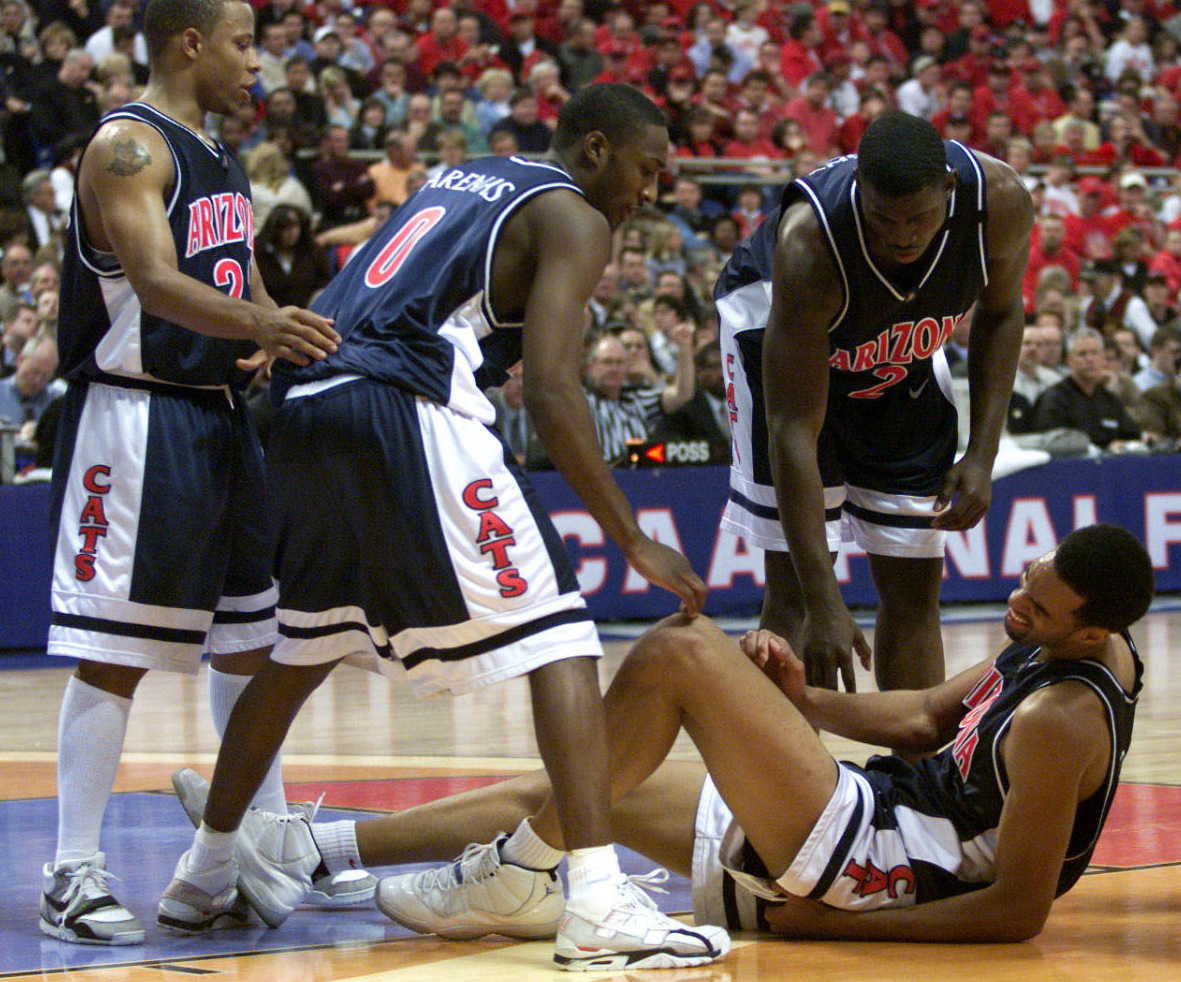 Jason Gardner - Nike Air Trainer 1, Gilbert Arenas - Air Trainer SC, Lauren Woods - Air Jordan 11 - 2001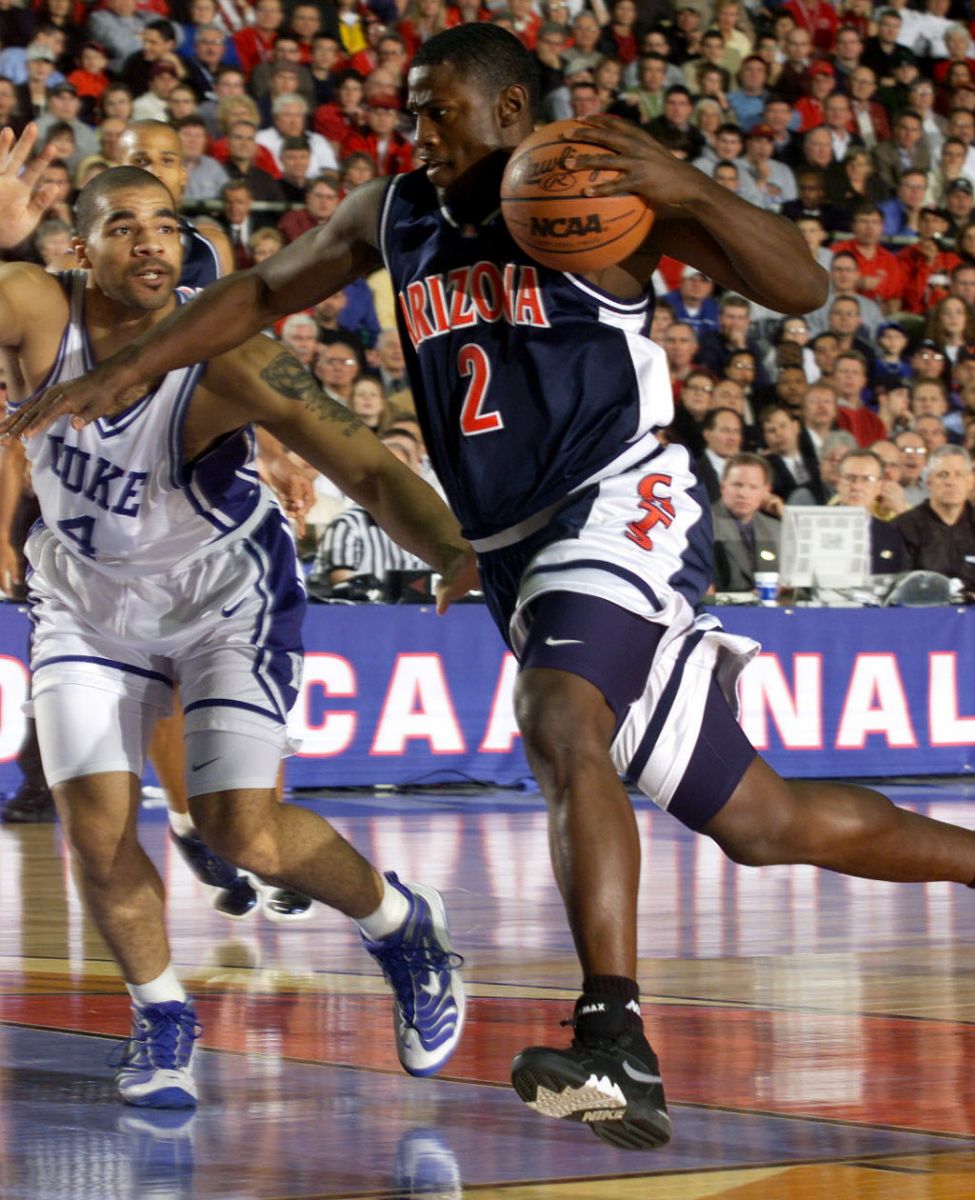 Michael Wright - Nike Air Force Max - 2001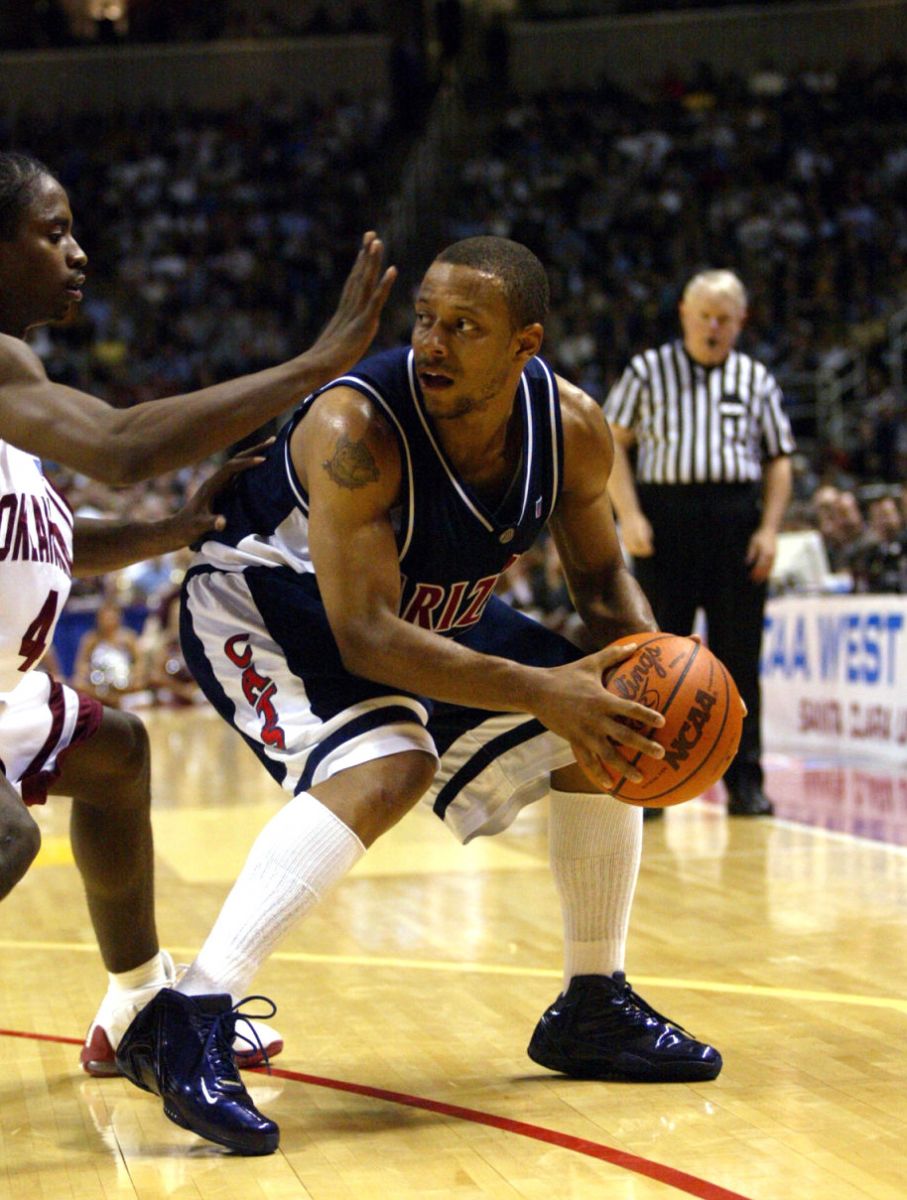 Salim Stoudamire - Nike Zoom Hyperflight - 2002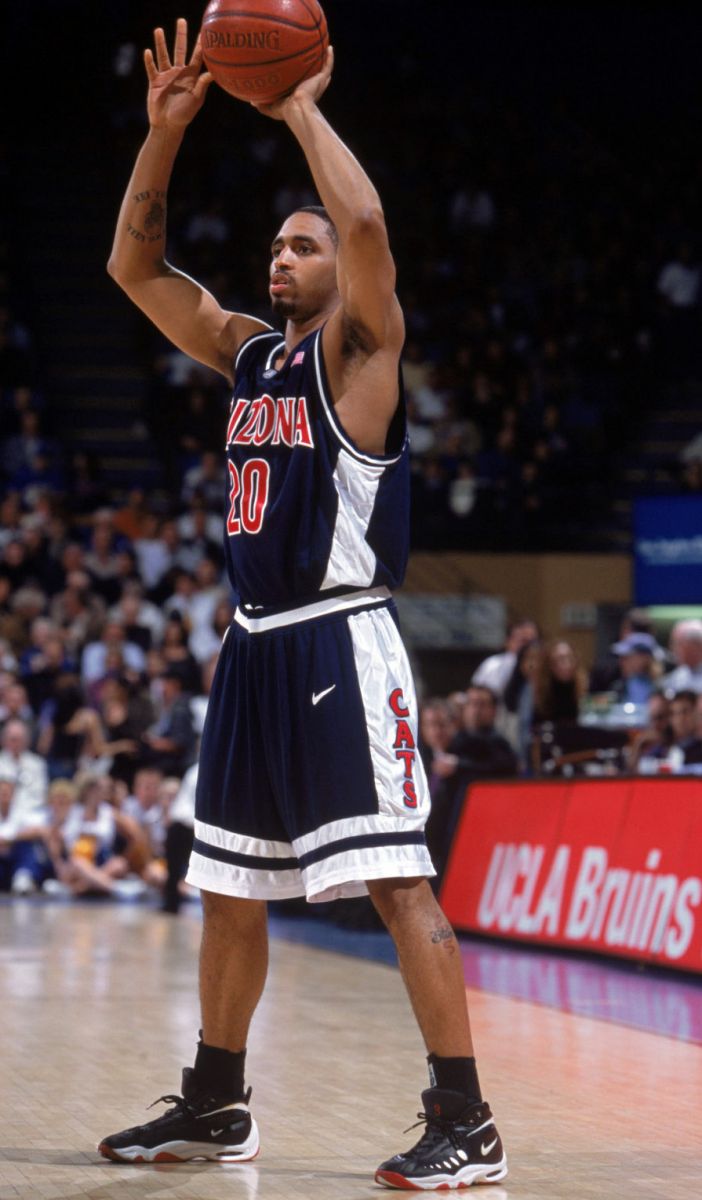 Salim Stoudamire - Nike Air Afterburner Flight - 2002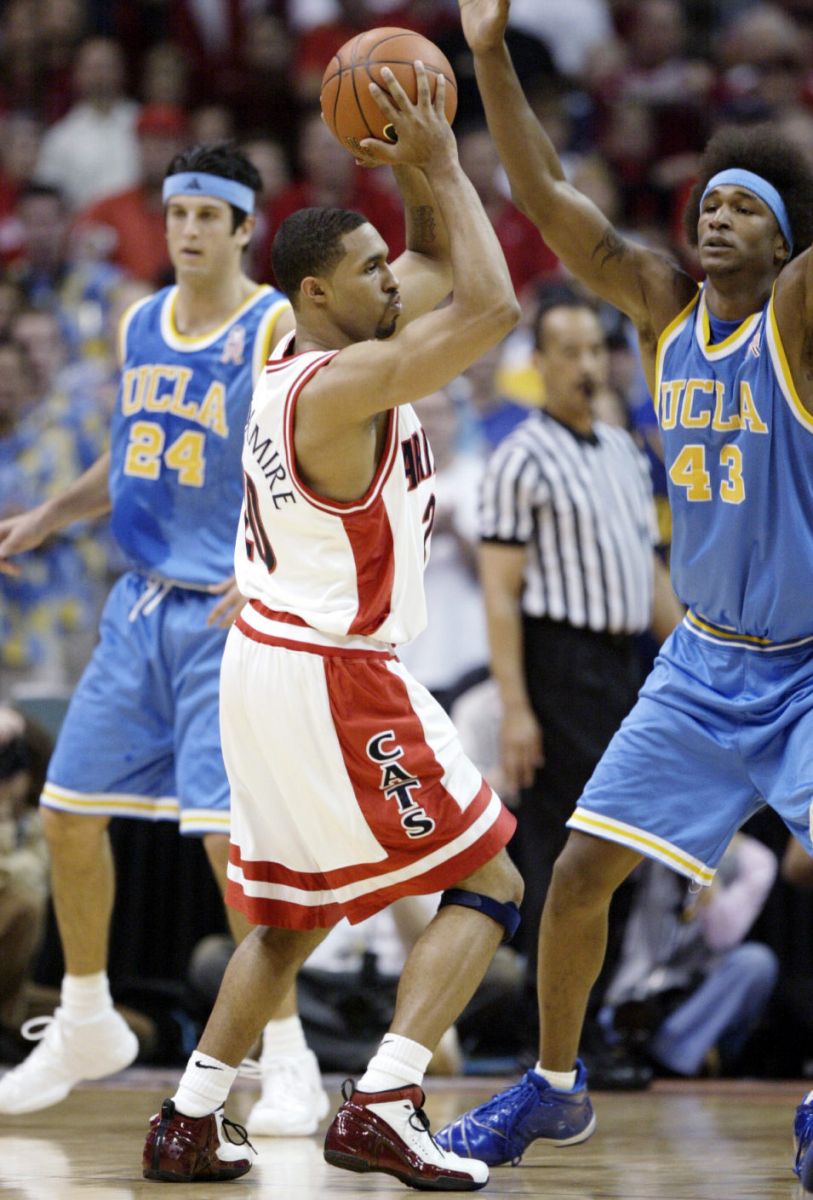 Salim Stoudamire - Nike Zoom Ultraflight - 2003
Salim Stoudamire - Air Jordan XVII - 2003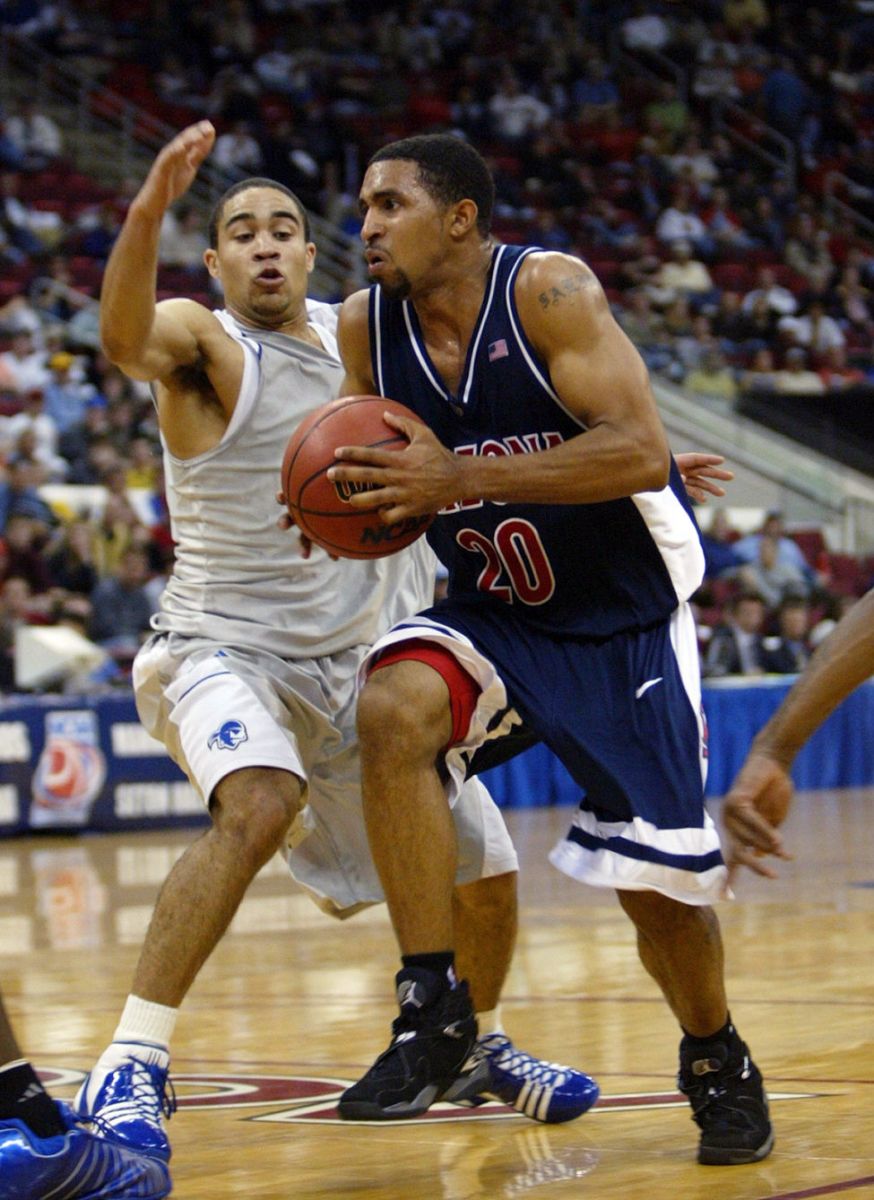 Salim Stoudamire - Air Jordan 8 Retro - 2003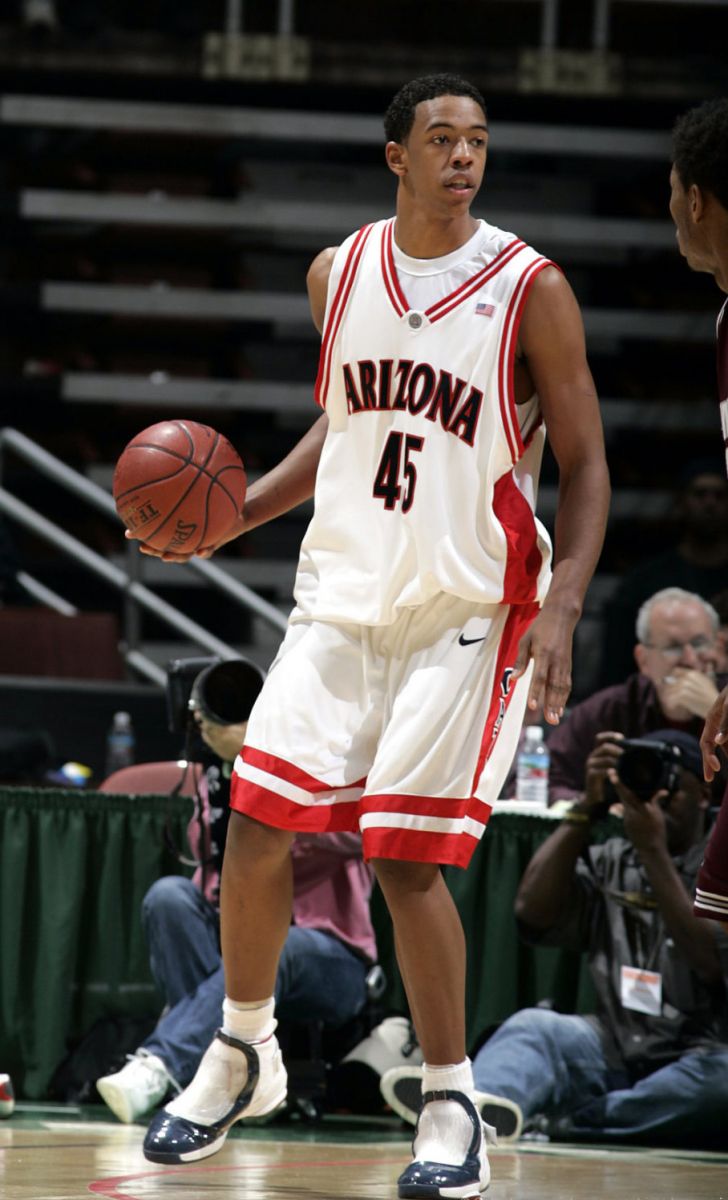 Channing Frye - Air Jordan XIX - 2004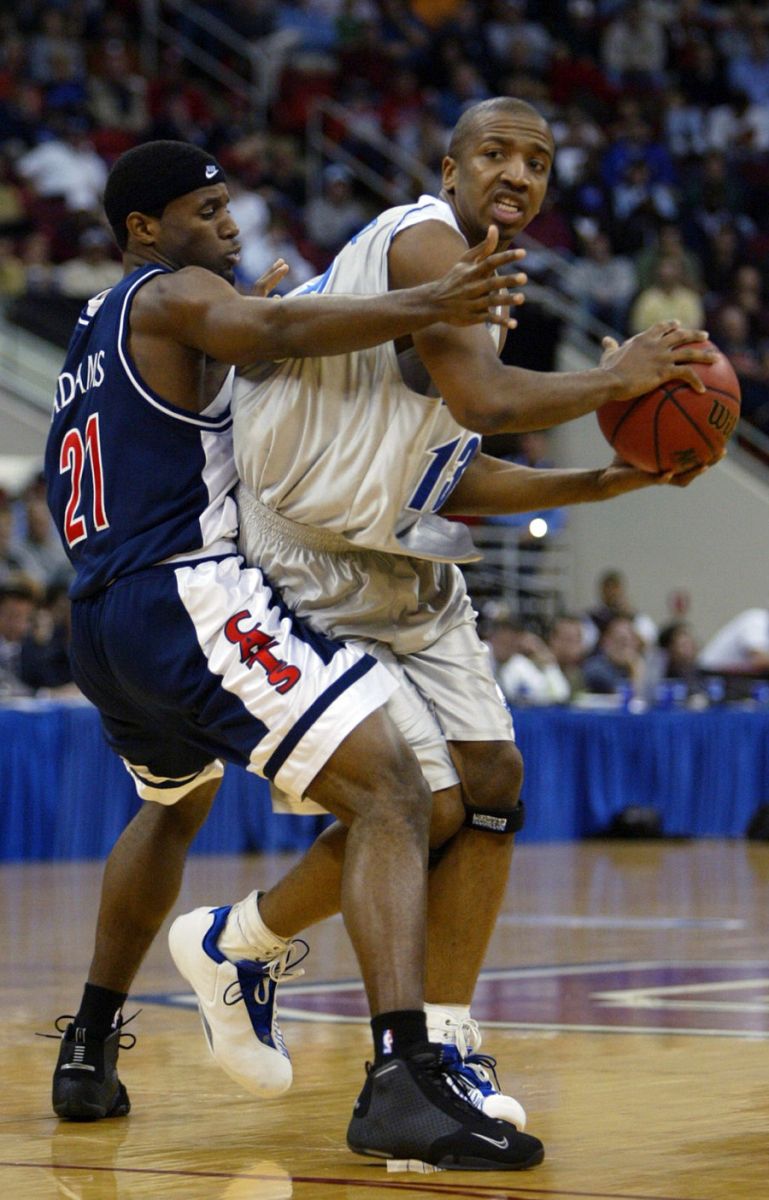 Hassan Adams - Nike Zoom Flight 2K3 - 2004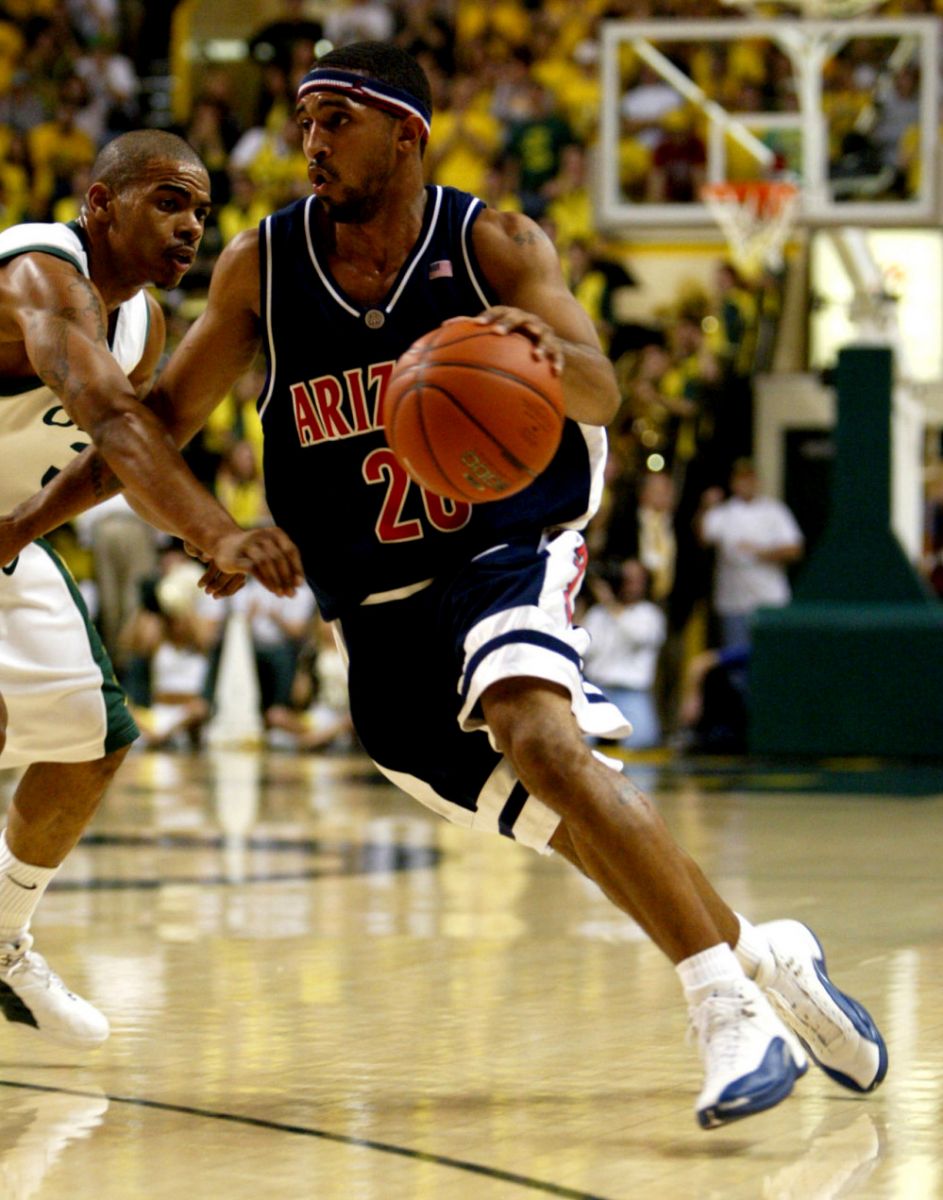 Salim Stoudamire - Air Jordan 12 Retro - 2004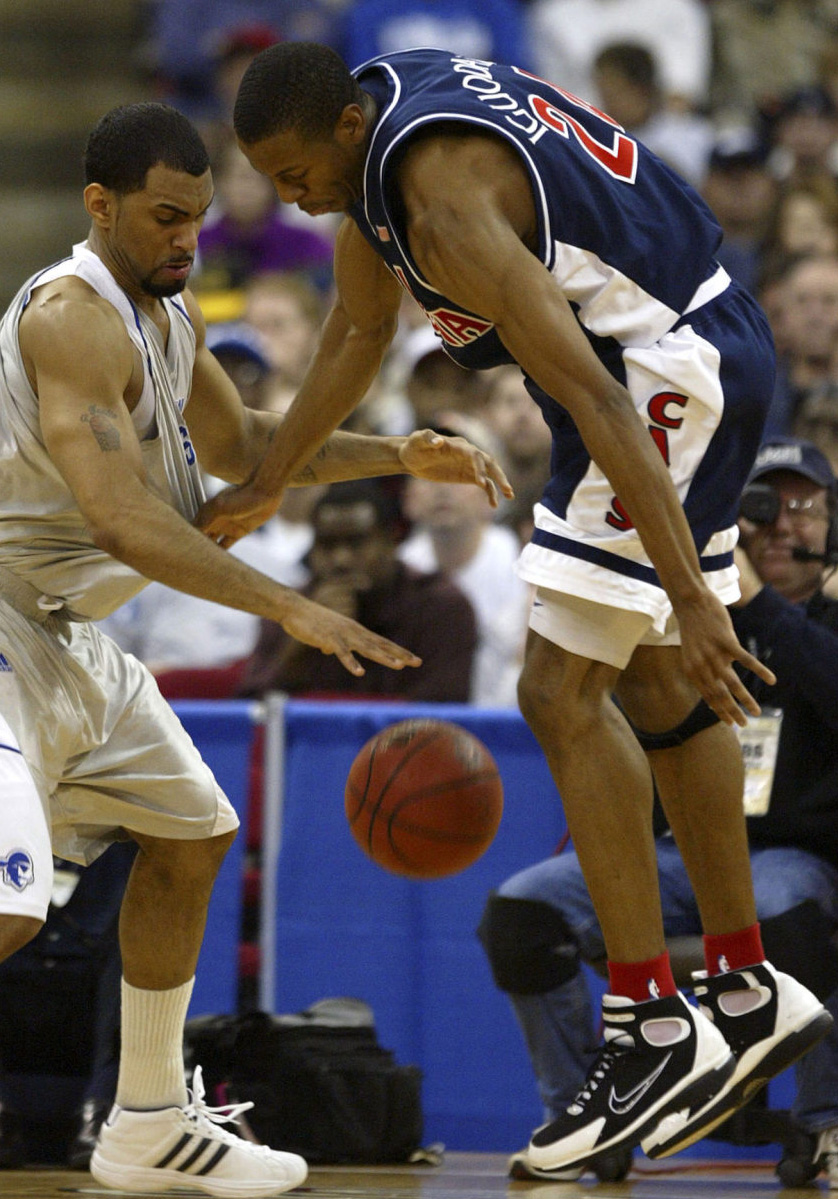 Andre Iguodala - Nike Zoom Huarache 2K4 - 2005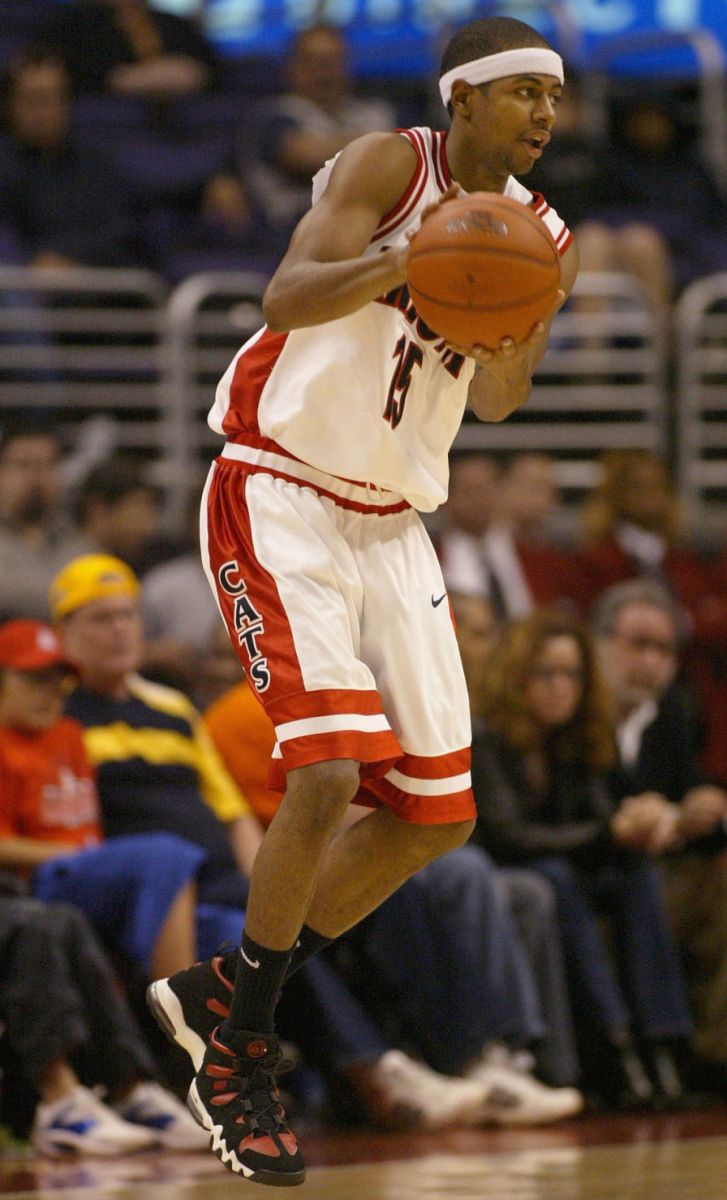 Mustafa Shakur - Nike Air Max CB '94 - 2005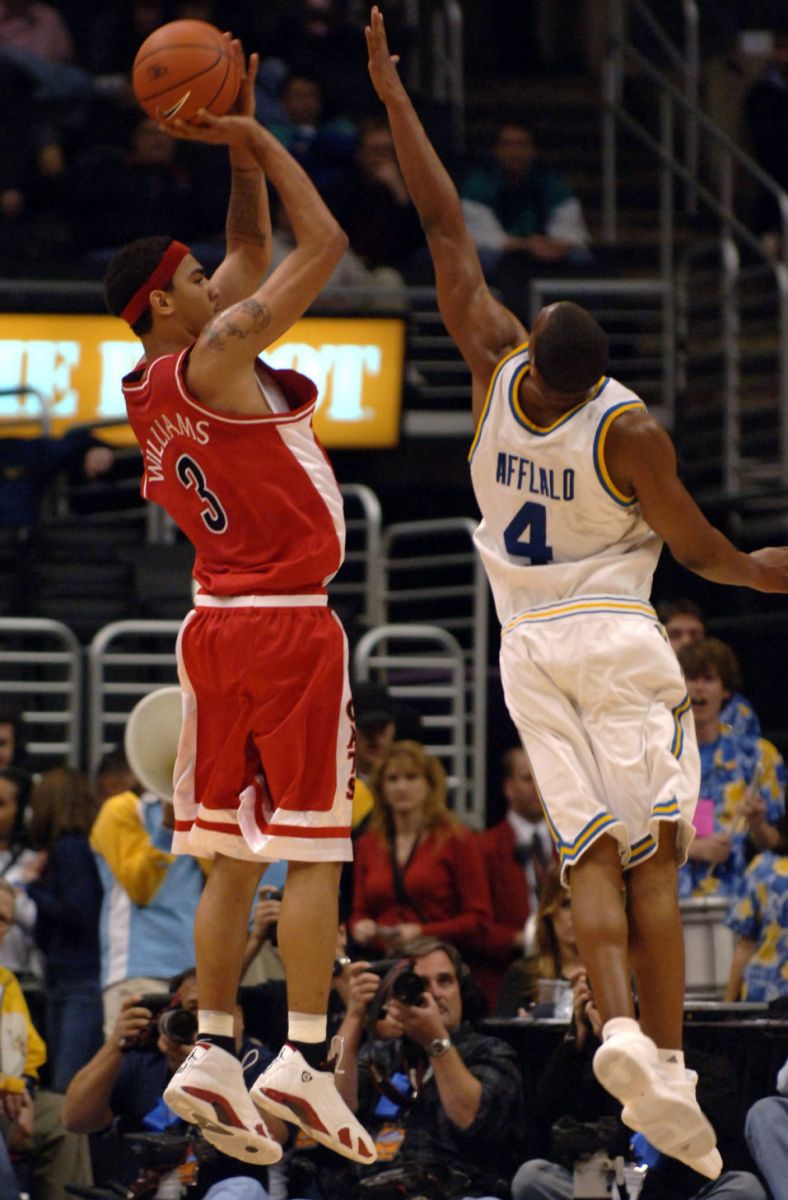 Marcus Williams - Air Jordan 14 Retro - 2006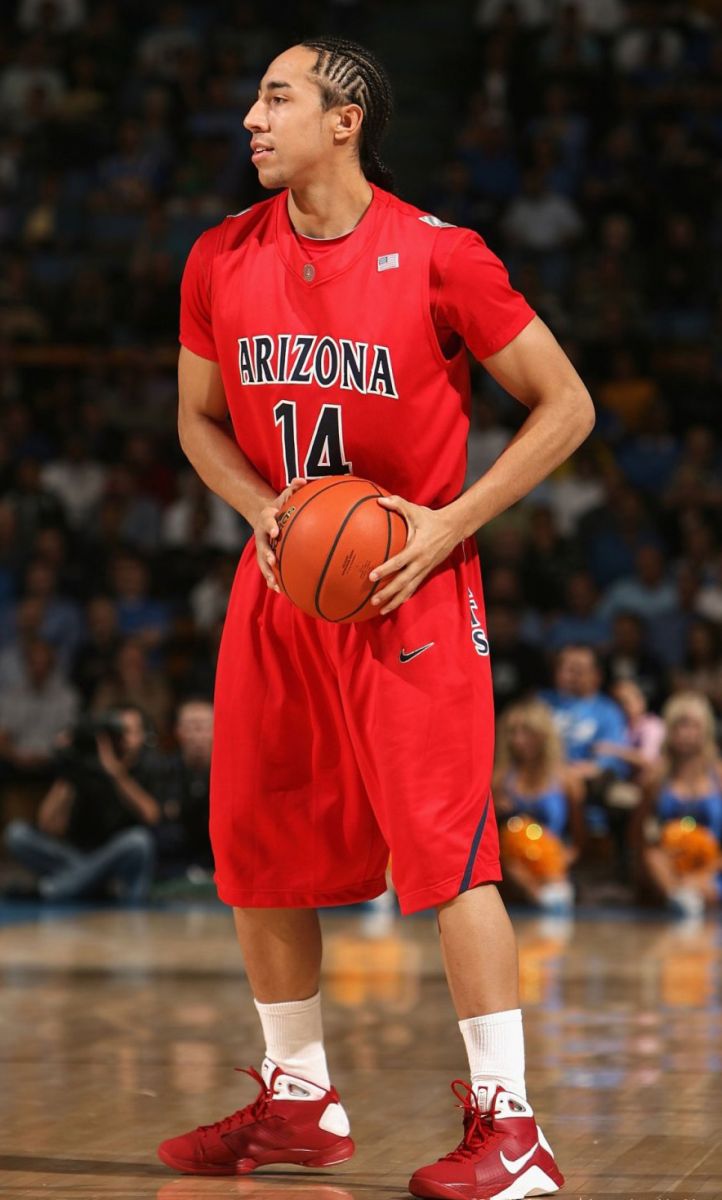 Brendon Lavendar - Nike Hyperdunk - 2009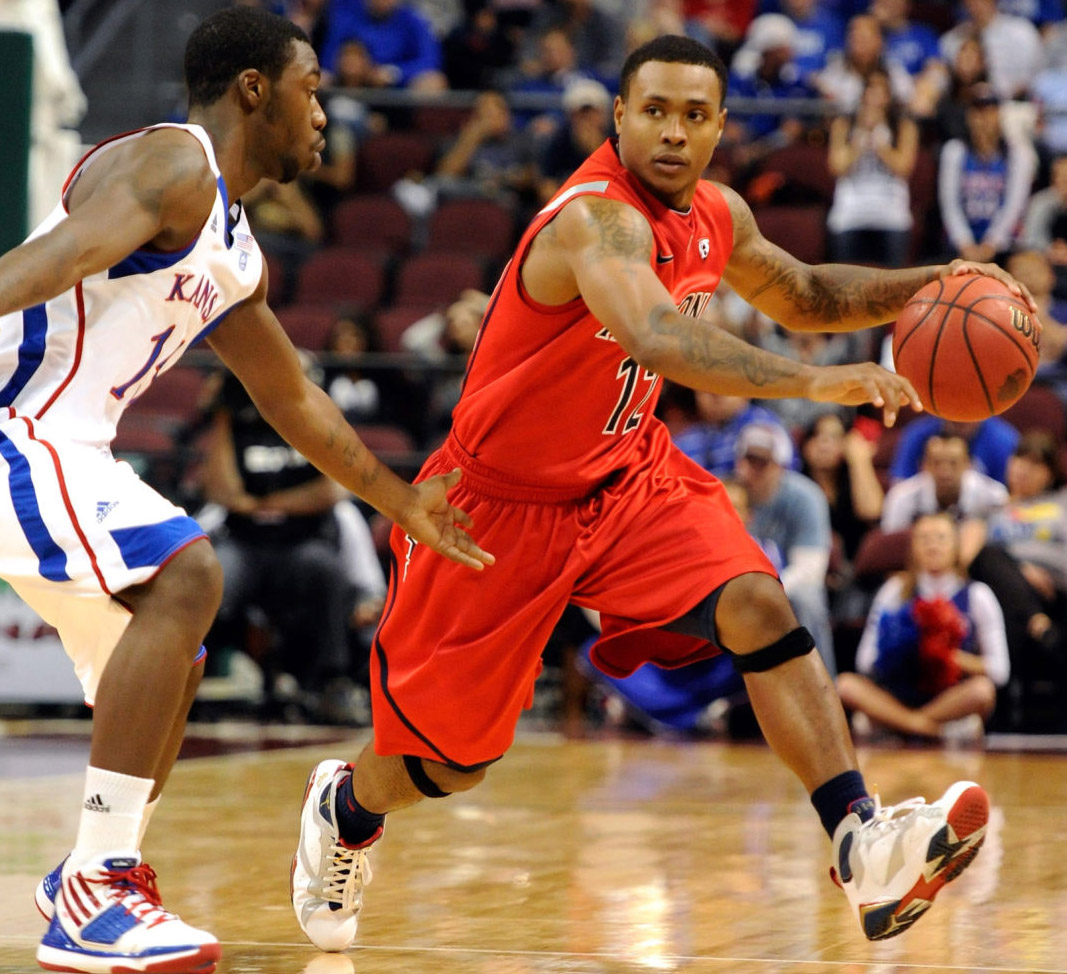 Lamont Jones - Air Jordan 7 Retro - 2010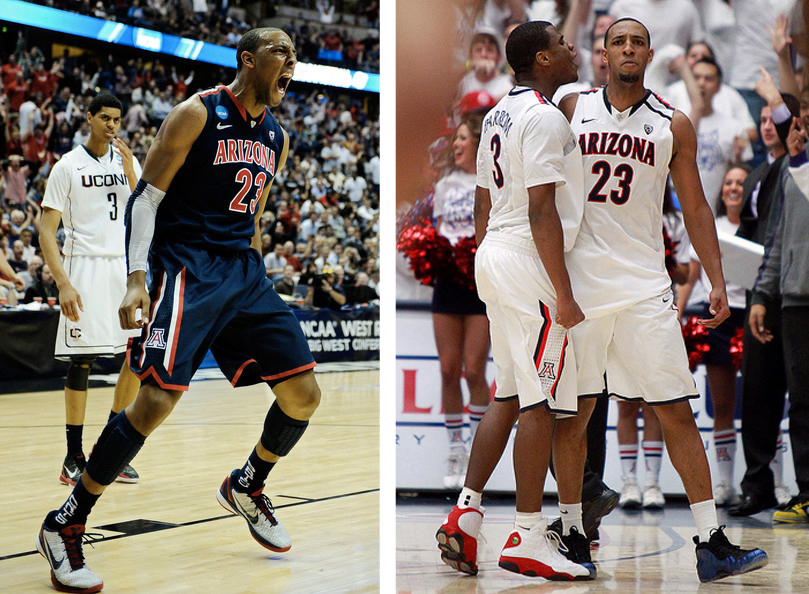 Derrick Williams -- Kobe VI iD & Foamposite One - 2011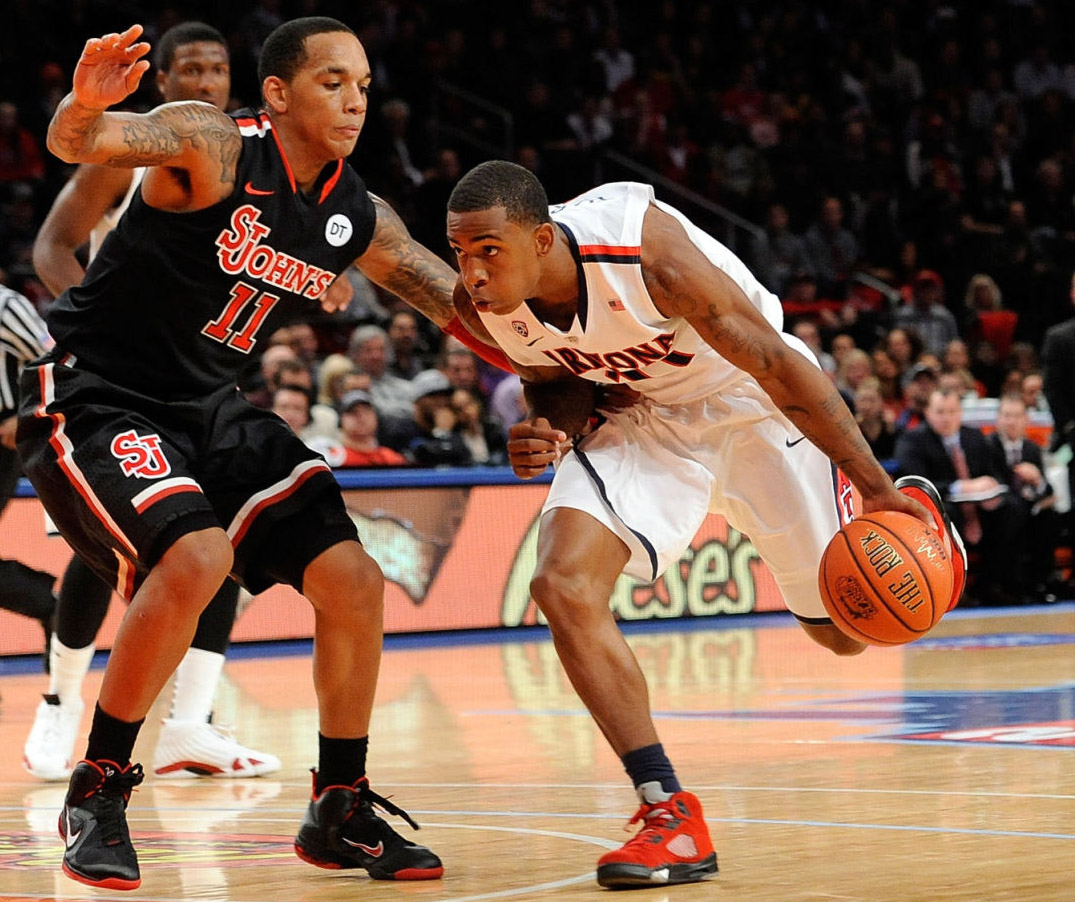 Josiah Turner - Air Jordan 5 Retro - 2011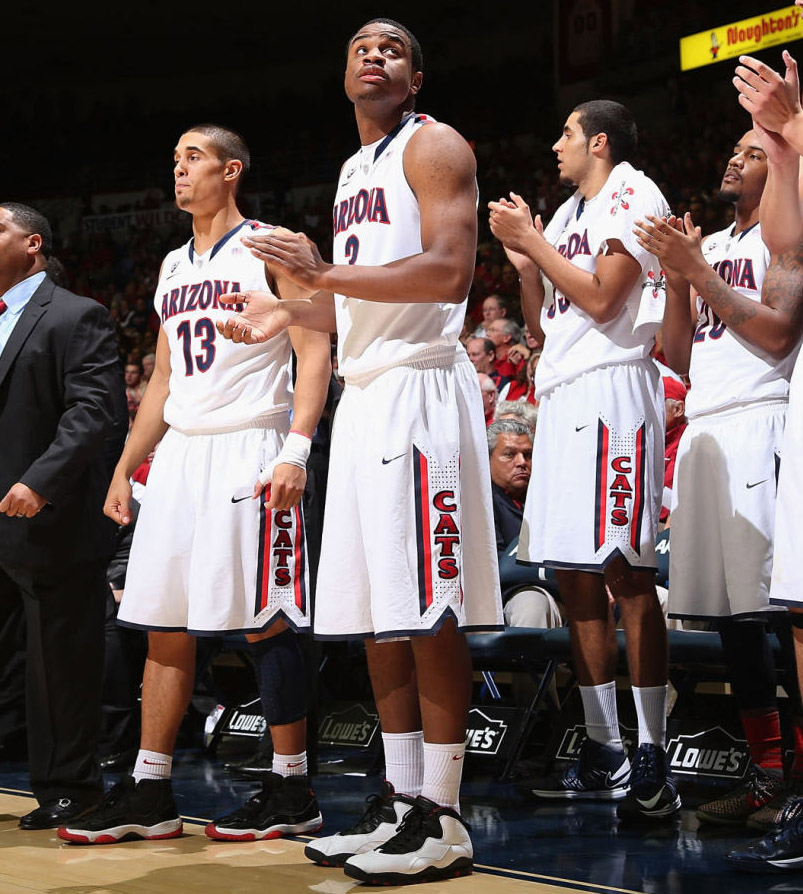 Nick Johnson - Air Jordan 11 Retro, Kevin Parrom - Air Jordan 10 Retro - 2012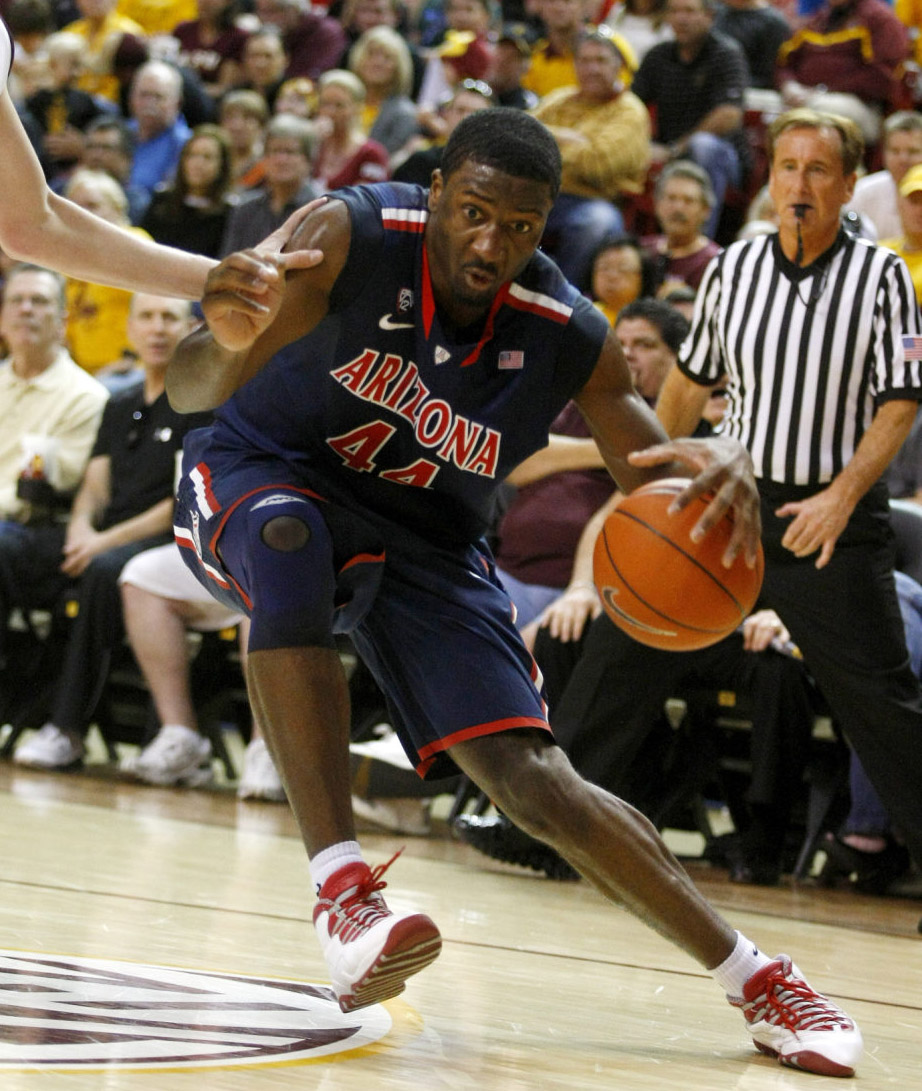 Solomon Hill - Air Jordan 10 Retro - 2013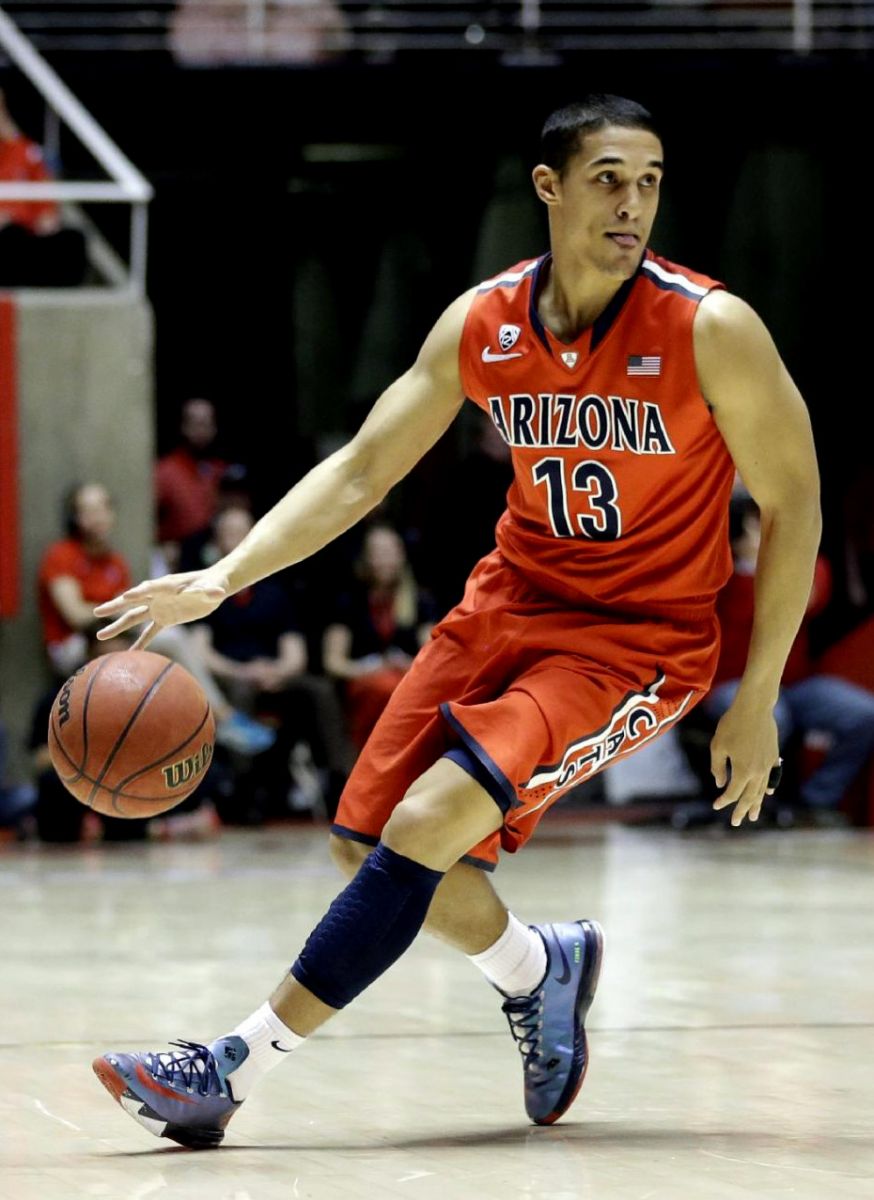 Nick Johnson - Nike KD VI iD
(Images via Yahoo!)