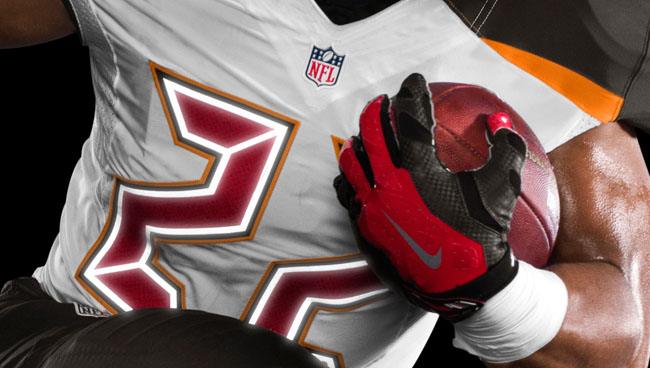 words // Zac Dubasik
For the first time since 1997, the Tampa Bay Buccaneers have made a major change to their uniforms. For the 2014 season, they'll be suiting up in a new design of the NFL Nike Elite 51, which features a fully integrated system of dress.
According to Nike, the new design "honors the Buccaneers' rich tradition while boldly bringing the team into the future with a modern industrial design aesthetic."
"Today marks the culmination of more than two years of research and planning to bring the Tampa Bay Buccaneers into a new and exciting era of our history," said Buccaneers co-chairman Edward Glazer. "We worked closely with our partners at Nike to design a uniform that would set the standard for both design and functionality. The result is a sleek, modern design that honors our championship past while also establishing a new, bolder identity moving forward."
As for Nike's Elite 51 Uniform, it focuses on creating a system where lightweight padding is built diretly into the baselayer, and was designed to works in tandem with padding, the jersey, and uniform pants.
For Bucs fans looking to get their hands on the new jerseys, they launch this April and will be available at Buccaneers.com, Nike.com and NFLShop.com. What do you think of this new look?