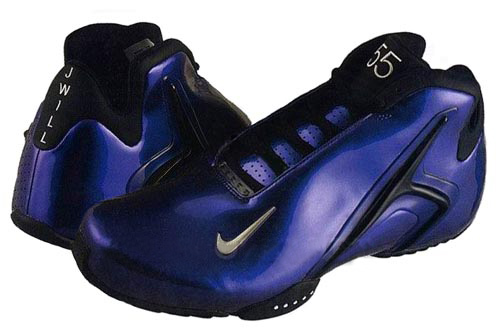 words // Nick DePaula
for more on player exclusives, check out THE PE ISSUE of Sole Collector Magazine
I have a few pairs of different PEs. I also have a TON of pairs of Hyperflights. But I don't have this Hyperflight PE -- might not ever, actually -- and for well over a decade it's still been my favorite player pair to ever hit the courts.
You see, this is THE Hyperflight. The shoe has always been one of my favorite designs ever (while simultaneously being one of my least favorite performance shoes...) and it doesn't get more classic than this bold purple base with insanely mailed-in added fontwork.
You might be thinking, "Hey, those aren't much different than what released back in the early 2000's?"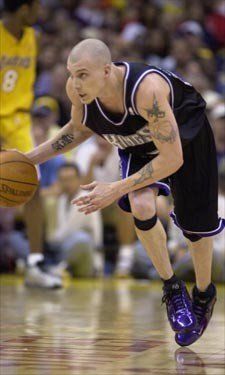 Wrong. The biggest difference is the support bar is actually black on this pair, versus entirely clear, which frames things up infinitely better. Then you have the custom font, which by today's standards (outside of Jordan Brand...) looks juvenile, sure.
That's what made a PE back then though. Even something as simple as "JWILL" down the heel in place of the shoe's standard "Flight" badging meant everything. The awkwardly sized "55" that's probably Courier New or something exceptionally basic is equally as awesome too. There's also the fact that we both wear size 13.
For a young kid out of Sacramento like me that got to experience the entire Jason Williams Show at the turn of the millenium, the Hyperflight was already one of the most impactful shoes in the city's history. This version is at the very top of the list.
Thanks to Williams' influence, I'm known for terribly timed behind-the-back passes and an exceptionally high turnover rate I like to think I have decent court vision and love playing uptempo ball, and the Hyperflight was actually the first shoe I spent my own money on.
I shattered my mom's then-$50 sneaker limit during the summer of 2001, coughed up my own $125 and pre-ordered them on Eastbay in Red to match my high school's colors. I'm talking three months ahead pre-order by phone.
It was completely unnecessary, and I ended up getting basically a full size too big and had to always double-sock it up for games, but whatever, these were the hottest joints out as far as I was concerned. (Even if my teammates called me "Dorothy.")
This purple pair though, I just still can't seem to track them down. There's a legendary JWill collector on NT by the name of "WhyteWunder55" (get it?), and he's got this pair, the black pair, and a white Grizzlies pair as well. A collector in China appears to have a purple pair too, along with pretty much all of his AND1 PEs. There can't be more than eight pairs of JWill's purple version ever made.
I have a white Hyperflight PE that I'm proud to own, but they don't really even compare to these, plus he never even wore them. (To be fair, since they sucked to actually play in, Williams quickly switched back to the Force Carbide during the 2001 Playoffs after just a handful of games in the Hyperflight.)
For now, I guess I'll have to make due with our Zoom Flight Club collab that was 100% selfishly inspired by these, and I'll continue the endless search to possibly track the real things down. And continue to throw wild turnovers whenever I hit the court.