words // Luis Sanchez
When it comes to Player Exclusives, there are many reasons why they are heavily collected and hunted down by countless sneaker heads. It could be a shoe worn by one of their favorite players, or a favorite model in a color scheme we'd never seen before.
My favorite PE though, is likely as simple as it gets, rocking a color scheme we are all definitely familiar with. If you were around back in 2002 or so, you'd quickly understand why the Black/Red-White sole Air Jordan 9 Retro is my favorite player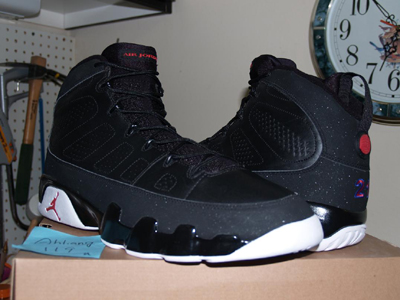 exclusive out there.
Although never worn by MJ on the hardwood as a Chicago Bull, the AJ 9 still made history with several Player Exclusive styles introduced during their original release, and a ton more during their first retro run back in 2002. Of the many seen in 2002, the Black/Red-White sole edition worn by Darius Miles for the Clippers and Cavs, Eddie Jones for the Heat, and also in low-cut form by Derek Anderson for the Blazers, still stands out to me the most.
D. Miles was clearly one of the most influential Jordan Brand athletes at the time, alongside Clipper teammate Quentin Richardson, and had everyone wishing they could get their hands on their rare kicks. I myself still remember wishing these simple Black/White AJ 9s would somehow release.
Aside from DMiles and how dope he made them look on court, the black upper and white sole combo is simply the perfect color block in my eyes for the Air Jordan 9. The simple take on the AJ 9 made them visible on court, and still had the look of an original Air Jordan with their Black/White-Red color scheme. Not only were people customizing their Olive 9s back in the day, I still remember plenty of collectors customizing their original colorway 2002 AJ 9 Retros to look just like the coveted D. Miles PEs.
A release would have definitely been well-received by the sneaker community at the time. And still to this day, I'm hoping for a release. While there are many PEs I'd like to get my hands on, none are more appealing than this Air Jordan 9. I've always appreciated Black shoes with minimal accents and contrasting white soles, and it also helps that I just can't get over how great D. Miles and others made them look on court.
What's your take on the Black/Red-White Sole Air Jordan 9 PE? Would you welcome a retail release of this OG-inspired PE colorway? If not, what's the one PE you'd like to see release? Join the conversation the comments below.