words // Zac Dubasik
Flywire debuted in basketball all the way back in the summer of 2008, for the Beijing Olympics. It was first seen on the original Hyperdunk, and has been used on pretty much every high-end hoops line since.
We've seen many different iterations of it since too. There was the original found on that first Hyperdunk, which utilized a Vectran material, followed by a thinner 2.0 edition sometimes referred to as "Skinwire," and most recently, nylon-based Dynamic Flywire. One thing each and every version has had in common though, has been that the Flywire itself didn't really do a whole lot in terms of providing support.
The support in all of those shoes came primarily from what the Flywire was encased in. It seemed that Dynamic Flywire might change that, but even then, the support came from the main structure of the shoe, with the actual Flywire often showing slack, even when fully laced.
Up until now, at best, Flywire may have provided a secondary level of support. But finally, after over 5 years, the HyperRev changes that. And as it turns out (not surprisingly), thin strings aren't exactly the best way to provide support.
The Zoom HyperRev is a uniquely built shoe, when it comes to basketball. The best comparison would be the Air Jordan XX. Like that shoe, there's no tongue on the Hyperrev. It's basically a tight fitting sock, with an ankle strap. The laces are laced directly through the dynamic flywire, which runs in between layers of the synthetic upper. It's an extremely minimal design, and responsible for the shoe's light weight.
My first issue came with just putting the shoes on: it's kind of a pain in the ass. If you've ever worn the Air Jordan XX, it's a similar situation. You have to hold back the Velcro strap, which wants to stick to everything, while you jam your foot in the socklike upper. It's a tight squeeze to get in, but it needs to be without any tongue to provide adjustment. Once you're in, the shoe is very comfortable. But as soon as I laced up my problems started.
Because of the unique construction, when laced tight, the laces pull down on the top of your foot, rather than across, creating major comfort issues (after feeling supremely comfortable when unlaced). There's what appears to be a decent level of foam on top of the foot which provides some relief, but you don't need the foam to remember where the laces cross – you need it to protect your foot.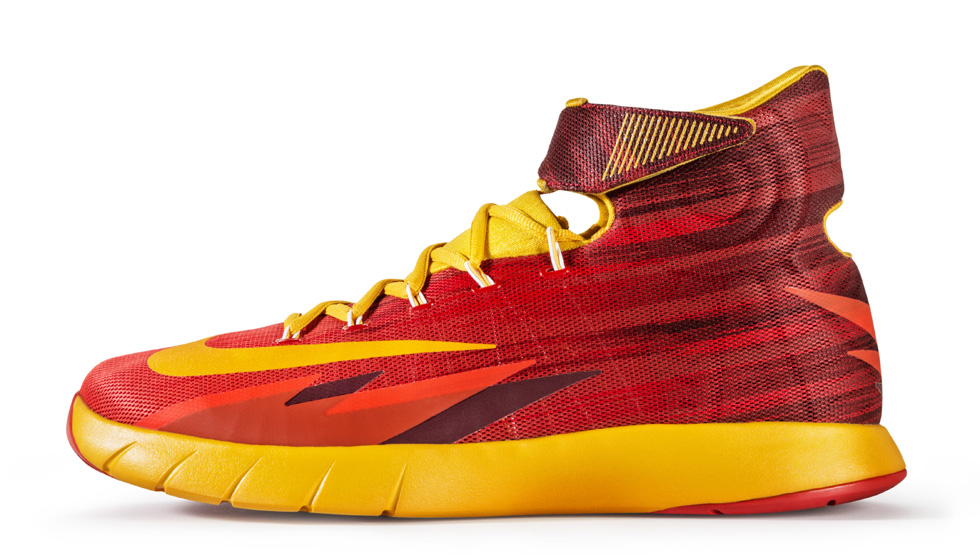 The lace pressure is only part of the problem though. When the Dynamic Flywire is pulled tight against the foot, it doesn't feel too great either. I could feel the bottom most strands of Flywire providing constant pressure and irritation against the medial side of my forefoot. There needs to be a more rigid layer between the foot and the Flywire, allowing the Flywire to provide dynamic adjustment, rather than direct support.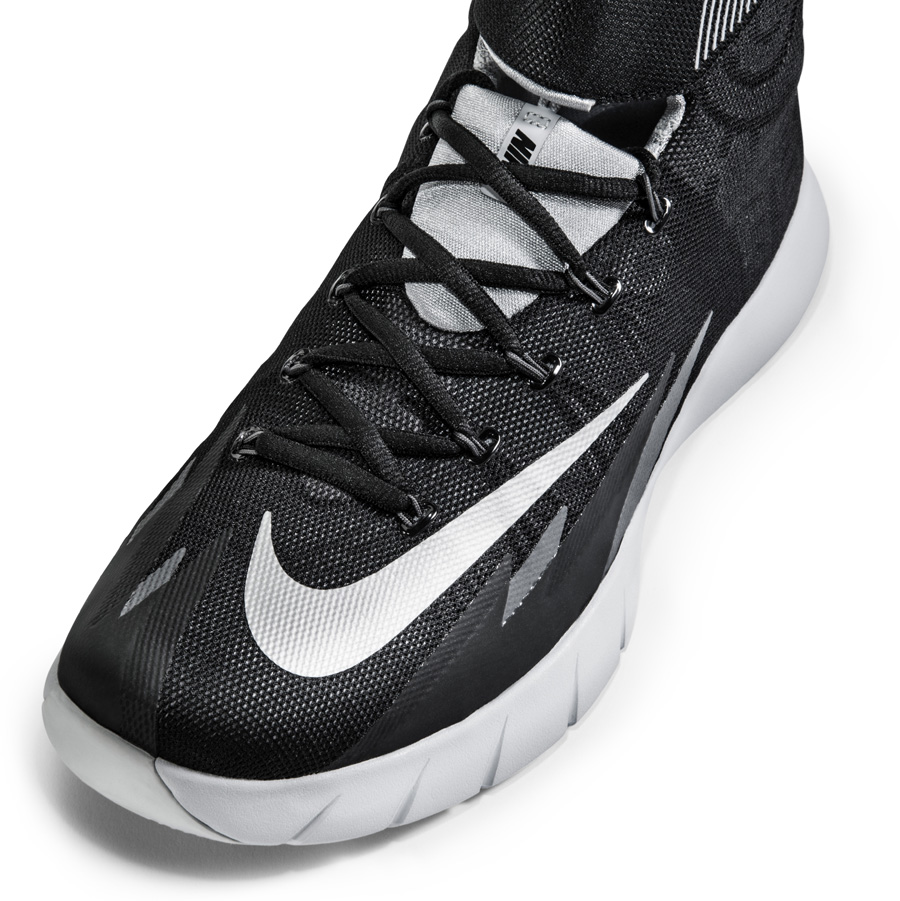 The upper itself provided very little in terms of support, and my foot slid past the footbed regularly on cuts, with only the Flywire to hold it in place. Much more concerning though was the lack of heel stability. The shoe's lacing ends even lower than a typical low-top hoops shoe would stop, but unlike most basketball lows, not enough emphasis was placed on heel lockdown.
There's no sculpted collar to lock the heel down, nor much of a heel counter. In fact, you can feel even a light squeeze to the heel through the shoe. It's about as minimal of a heel counter as I can think of in recent memory, and it's not a reassuring feeling. The shoe's strap and collar are plenty comfortable, and don't do much to limit range of motion, but also don't add much to the lockdown.
Moving to the shoe's tooling, things are mostly positive, with one fairly big exception. The full-length Zoom bag provides a comfortable ride, but the level of responsiveness just doesn't compare to shoes utilizing Flight Plate. "Regular" Zoom Air just isn't as good as it used to be. It's the Phylite midsole the bag is encased in though that causes the main problem with the tooling.
On the lateral side of the shoe's forefoot, the midsole and outsole are one in the same. And if we've learned one thing about traction over the years, it's that foam doesn't make for a good choice. There's no exception to that rule here, and despite the rest of the traction being just fine (other than needing fairly frequent swiping), on hard cuts, you could feel the shoe slip laterally.

I've been mostly critical of the HyperRev, but I actually liked the shoe. They feel like next-to-nothing on your feet, are super smooth, very comfortable through the collar. I love the concept of the shoe, but I just think it's a bit ahead of itself as far as the execution. With a few minor improvements, a second edition of the shoe could be fantastic.
That doesn't mean this couldn't be a great choice for certain players. If you're a smaller player looking for something extremely light and minimal, with good court feel, cushioning and transition, this could be a great choice. But it probably won't be enough shoe for bigger and stronger players. I'm definitely excited to see what's in store for next season.
Grade Breakout //
best for: smaller players not concerned with support
designed by: Leo Chang
colorway tested: Court Purple / Iron Purple / White / Atomic Violet
key tech: full-length Zoom Air, Phylite Midsole, Dynamic Flywire
pros: weight, transition
cons: lace pressure, lack of support, very weak heel counter
improvements: add external heel counter, more protective padding to help with lace pressure, integrate dynamic flywire outside of shoe rather than directly against foot, full rubber outsole
buying advice: The Zoom HyperRev isn't a bad shoe, but it's an idea that's a bit further along than its execution. The shoe fits like a sock, but when laced, it turns out that strings pulled tightly against your foot aren't particularly comfortable. They aren't particularly supportive either when that's where all of the support is coming from. They do have great cushioning and are very light however, and for smaller players unconcerned with support, it's a shoe that may work.