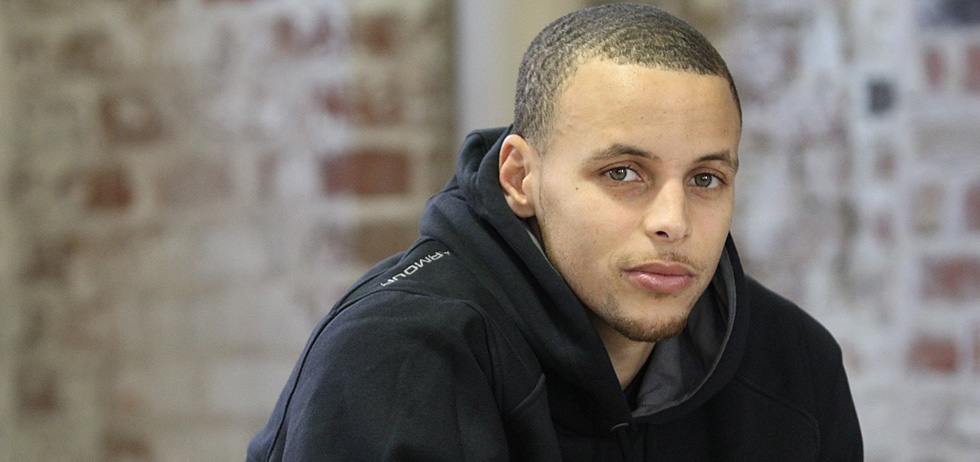 words // Nick DePaula
Earlier this month in New Orleans at the NBA's 63rd All-Star Weekend, most players were busy doing a couple interviews here and there during the day, and then party hosting deep into the night throughout the weekend. First-time All-Star Stephen Curry did things a bit different.
The Western Conference's leading votegetter for all backcourt players held a Grind Session for area middle school hoopers, personally walking them through some of his favorite drills and stretches, and imparting the wisdom and work ethic that has helped to make him a household name after doubts at every stage of his basketball career.
Hosted by former NBA #2 draft pick Jay Williams, Curry held a Q&A with the impressionable young players on hand, sharing gems about his approach to the game and how the level of competition and expectations rise at every stage of the journey.
Jay Williams: What was your mentality as the son of an NBA star that wanted to follow in your father's footsteps?
Stephen Curry: My mentality was basically, I knew there would be some pressure and some expectations from people that knew about him. Especially because I grew up in the same city that he grew up in. I knew that people would expect, just because of what he did, that I would do the same. I had to try to develop my own passion for the game, my own work ethic and my own drive to make a name for myself. I had to stay consistent and hungry about the process, just knowing that nothing was guaranteed and nothing was laid out in front of me. I had to work for it myself and hopefully it would happen.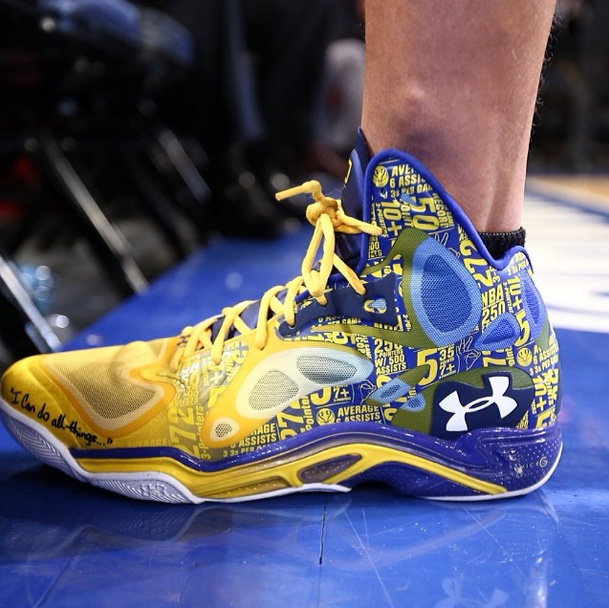 I feel like we live in an age where a lot of kids feel like they're entitled. Describe to the group what hard work really is and all of the work that you put into it.
Every level, when you take that next step, it gets tougher. You can't rely on your popularity within your circle or anything that you've done before. The competition continues to develop and gets better around you. If you look around you, you'll know who's working hard, who's working on their game and who's preparing themselves for the next level. You've gotta be one of those guys that's working at it every single day and good things will happen. But you can't take the game for granted, because there are so many people out there that are hungry to play, and there are so few spots each level you get to. So it gets harder and harder.
What motivates you? You're from North Carolina, but you didn't go to Duke or North Carolina. You went to a small school in Davidson, and what motivated you to be as great as you are?
I just love the game and wanted to get the most that I could out of it. I knew that to do that, I had to work harder than most other people. I wasn't gifted with natural physical abilities. I was probably the shortest kid on all of the teams that I played on growing up. I wasn't the fastest and I couldn't jump the highest, so I knew that for me to be successful, to get to that next level, I had to work harder than most people around me. I love to work on my game though, it wasn't that I had to do it. Because I knew it would prepare me for big moments and big time situations where I could show what I put into my craft.
I was asking the kids beforehand what time they get into the gym in the morning. Sometimes they might think everything is about instant gratification, but can you describe to them what a typical day is like as far as what time you get to the gym, how many shots you get up and what your day is like?
Well, it depends on when it is. In the summer, I usually work out really early. I usually work out at like 6:30 or 7 o'clock and for about five or six hours, I'm either doing conditioning, lifting weights, getting shots up or doing ballhandling work on the court. All of that is apart of the day and it's all apart of a big formula to sharpen my game. Even as I stand now, I can still get better. That mission never really stops. You want to be the first one that shows up to practice, and you want to be the last one to leave. You also need to make sure you're getting quality workouts. It's not just about the amount of time you're spending, but you want to be working hard that whole time. A guy can go in and work out for eight hours, but I can get the same amount done in four hours if I put my mind to it and keep my motor going. You gotta have both. You want to lead by example with how much time you put in, because people around you will notice.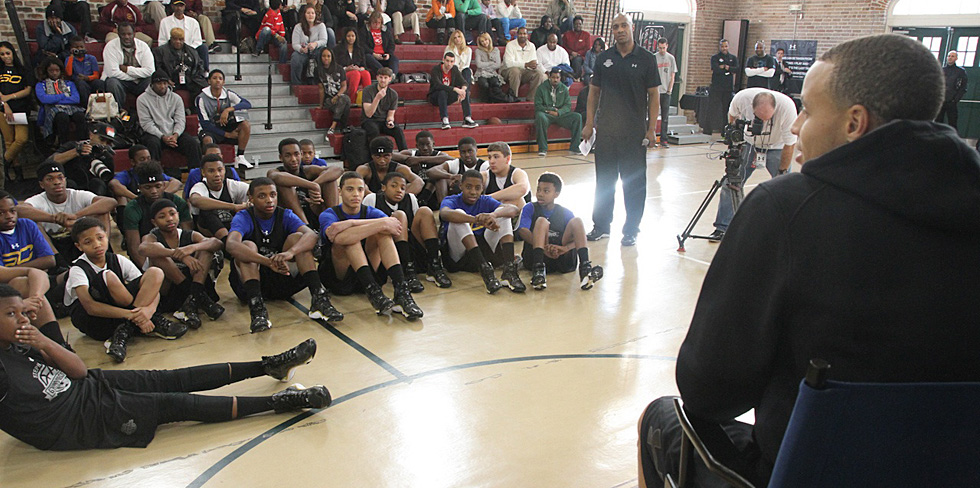 A lot of kids go into the gym and do their favorite drills and that's their workout for the day. What are some of your least favorite drills that you know you have to do in order to get better?
Anything to do with wind sprints. For me, the best part of training is knowing that I can do things when I'm tired. In a game, you're going to be winded, be breathing heavy, but then you need to find that next gear, especially late in games in the 4th quarter so you can still be efficient on the court. Any time I do wind sprints in between hitting spot shots, sometimes it might be boring just running up and down the court, but it's preparing you for those big games that you've got to be ready for.
Everyone here knows about your game on the court and is a big fan of yours, but who is Stephen Curry off the court? What are you like and what do you like to do? Yoga, biking, cooking – what do you do?
I don't cook very much. [laughs] My wife does most of it and she's a really good cook. I have an eighteen month old daughter, so mostly I'm with her in my free time. I do like to ride bikes with my family, play golf and also go bowling. I like to do all sorts of fun stuff. I also watch a lot of basketball in my free time, because I'm always learning.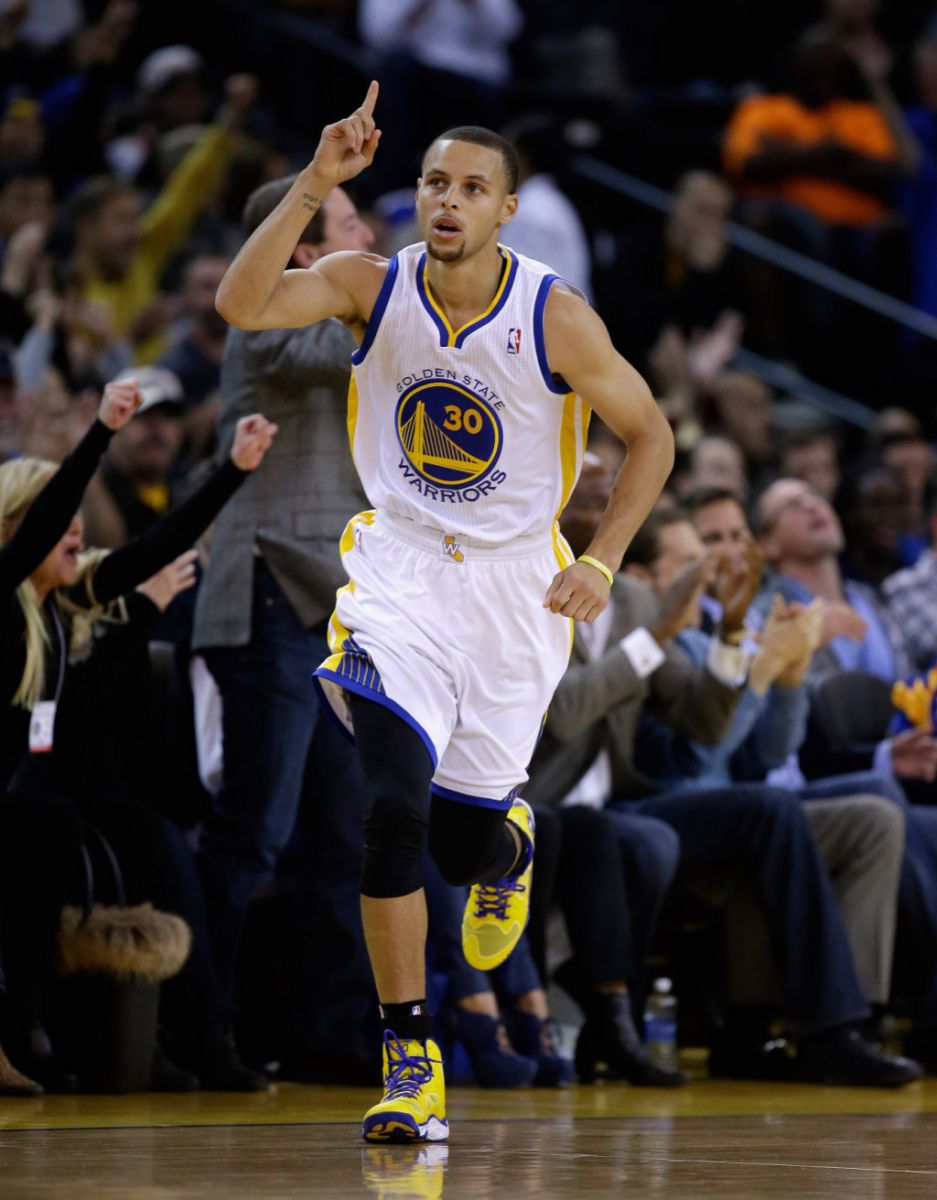 I love the fact that you're a student of the game. Sometimes when we see guys go off for crazy points, like when you were at Madison Square Garden last year, what was it like to be in that zone?
It's an amazing feeling. Some of you guys have been in the gym and there's times where you feel like you can't miss. There's days where you're like, "Just give me the ball." And you feel like you're going to make it. All of that doesn't just happen. It's about repetition, your practice sessions and how much time you put into your game. All of that stuff comes out, and it shouldn't be a surprise to you when it does, because of how much you've put into the game. That night at Madison Square Garden was special. Obviously, we know the stage and the arena is something everyone knows about. To be on a list with LeBron, Michael Jordan and Oscar Robertson -- guys that are pioneers in the game of basketball – to be on a list with them for one of the best individual games at Madison Square Garden is pretty special.
How does it feel to be able to score as much as you want on a team?
It felt great, because at a certain point in the game, you know they're trying to stop me. They were going to do whatever they could to get the ball out of my hands and not let me shoot all of those threes. But to still get those shots up within our offense and knock them down in a big game, because it was a close game the whole way to the finish, it's really rewarding. You want to play against the best, and to be the best, you've got to beat the best. To play well in those kinds of games, it's pretty special.
Can you talk about studying the game?
It's great to know who came before you, because you're not the first person to bounce a ball or do a certain move. You can always learn from guys that have done it before you by watching old footage. For me, Reggie Miller was a guy that I loved to watch. It seemed like he never stopped moving when he was on the floor. He was a guy that could get open by using screens off the ball, and he had a motor that never stopped. He also hit big shots because of how much he used to work on his game. Steve Nash is a guy that as a point guard I used to study a lot of film on. The other thing is you don't want to just go on YouTube and watch highlights. If you go watch Steve Nash, it's all his good plays, but people mess up too, and if you want to know how someone got better, go watch their mistakes too. When you look at those highlights, it's not all bread and butter every time you step on the floor. You're going to have your failures and you've got to work through that. You gotta have that mentality when you're going through your season to make sure that you're always ready to go.
Can you explain how the things that you've learned on the court have helped you off the court, just in the way that you live your life?
Being apart of a team is the good thing about basketball. I'm sitting here representing Under Armour, the Golden State Warriors, my coaching staff and my teammates as an All-Star because of all of the work that we all put into it. It wasn't just me that went out there and did it by myself. Being apart of a team, being committed to the team and being accountable to eachother and trusting eachother. You can take all of those ideas from the basketball court and apply them to your life. You can be a good friend, good family members, good sons and doing your job at the house to make sure that everything is good. You can learn a lot by being apart of a team and learning from one another and challenging eachother to be better.