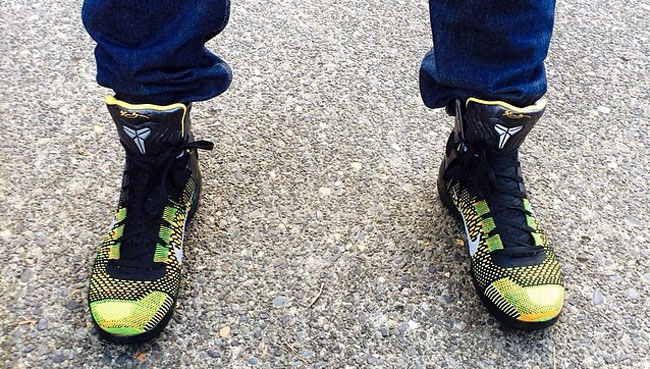 words // Zac Dubasik
Leading up to the launch of the Nike Kobe 9 Elite, we got a bit of a preview of what a retro Kobe line may be like, with the release of the Prelude Pack. Taking into consideration that the releases were limited, the reception wasn't too surprising: immediate sell outs, and high resale prices.
Kobe's signature line with Nike has been immensely successful on a number of different levels. It's done well commercially; you don't get to a ninth model if no one is interested. It's also been both innovative and influential, introducing Free to basketball with the Zoom Kobe II, and helping to popularize low tops with the Zoom Kobe IV, for example. It's created plenty of hype too, with limited releases of shoes like the Grinch Zoom Kobe VI.
If there's one thing the line has become best known for over its run though, It is its performance. Driven by Kobe's own performance-first mentality, the line has always aimed to provide the best possible shoes for the court, placing function over form (with varying degrees of success). What's that mean for the eventual off-court legacy of the line though?
We all know that the Air Jordan line has enjoyed the most success in sneaker history at making the jump from on-court to off-court. Each and every shoe in the line was designed for performance, yet some have become among the most popular casual sneakers ever. Shoes like the Air Jordan III, IV and XI are absolute status symbols in the streets.
While there are certainly lots of similarities between the lines on which to base this comparison, there are also some key differences. Easily one of the best players of his era, Kobe is yet to match MJ's on-court accomplishments. And missteps like the infamous "White Hot" photo shoot have hurt his "cool factor." Also, while created for performance, the materials and design of the original Air Jordan line lend themselves to off-court style better in the first place than the high-tech and synthetic builds of the Kobe line. Outside of some key limited colorways, it's always been more at home on-court.
So, what do you think this means for the future and retro potential of the Kobe line? There's clearly life left in even past models as a performance shoe. I firmly believe that a re-release right now of the Zoom Kobe VI would be big success, as evidenced by the amount still seen on courts at all levels of play. But it's much easier to envision the day where past Kobes will return to the court, than the street.