words & interview // Nick DePaula
2012 was one hell of a stretch for Trinidad James. At the start of the calendar year, he was simply known by his friends as Nick Williams, a guy from Atlanta with a passion for sneakers and music known to do whatever it took to get his hands on a pair of shoes.
By November of that same year, a music video for his song "All Gold Everything" dropped on MTV, LeBron was soon after also dancing along, and it didn't take long after for his hit single to tally up over 500,000 purchases. A deal with Def Jam shortly followed.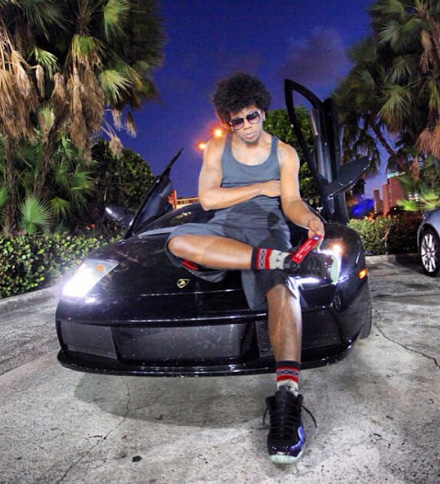 Before the sudden rush of fame and timely Instagram-referencing lyrics though, James could often be seen camping out in Atlanta at Walter's for the sneakers he desperately wanted.
He had camped out for each of the three original colorways of the first Air Yeezy, the BIN VIIs and several Dunk SBs, seven times in total, but nothing quite came close to the wait he had in store for a pair of the "Galaxy" Foamposites that released in February of 2012.
As we look back on some of our most memorable campout stories all this week, we caught up with Trinidad to hear all about his own experience waiting in line. And yes, there's even video to prove it.
Nick DePaula: What was the first thing you thought once you saw the Galaxy Foams?
Trinidad James: The first thing I thought was, "Damn, how am I going to get my size?" [laughs]
How many days did you expect to camp out at first, and how many days did you end up spending in line?
I went in there with five on my mind, and I did five. [laughs] Sunday night til Friday.
What'd you take out there with you? A basic chair and blanket?
Actually, you try and wait as long as you can so you won't be left out, but you don't want to be the very first one either. It was February, so it was cold, so you didn't want to be there too early. I was trying to hold out as long as possible, and I ended up getting off work that Sunday night, and Walter's was really close to my job there. I walked by and said, "Ah dammit. The line started." So I had to just jump right in line. No chairs; nothing. I had my outfit on from work and everything. [laughs]
Once you were in line, what was it like that whole week?
It had its ups and downs, and everyone in line was cool and just talking the whole time. It was pretty basic and a cool situation, but the closer and closer it got to the shoe coming out, and you realized how crazy the shoe actually was, you knew it was going to be serious. The Dunks, Foamposites and Flight Ones came out on Friday, and then the rest of the Galaxy Pack, like the LeBrons, Kobes and KDs came out on Saturday.
I was actually just landing into Orlando at 9 PM that Thursday night, and drove by the Florida Mall where everyone was trying to line up at the House Of Hoops. They had police on horses, helicopters hovering above and there was like 2,000 people out there. It was insane. They ended up canceling the whole launch that weekend and kicked everyone out. While you guys were in line, were you hearing about all of the crazy stuff going on around the country?
Definitely, definitely. We were all saying, "Man this shit is crazy!" [laughs] Even near us, over at Southlake Mall over near Riverdale on the south side, they closed the mall there too and damn near kicked everyone out. There were some low key riots and everything going on there in the parking lot too.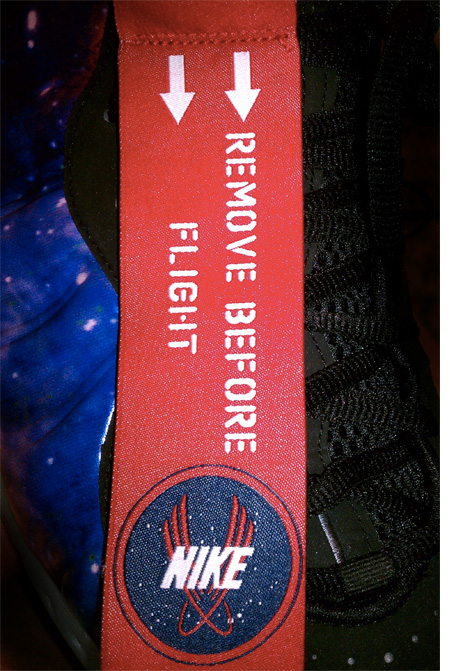 So once you finally got to the front of the line, did you get the shoes?
I did, but it was a disappointment and an accomplishment. On the one hand, I'm thinking, "Oh god, I just spent five days of my life and went through so much to get these shoes." [laughs] I ended up getting a 13 though, and I'm an 11. The guy in front of me wore a 12 and didn't want the 13, so he got the last 11 instead. In the Foamposite world, that is fucking crazy. [laughs] To not get my size at that point, I felt like the guy had basically took my shoes and I had to go get them back. That's how I felt. [laughs] We ended up trading, and we're good friends to this day, so it all worked out.
Nice! Looking back on it, would you do it over again?
Well, if I wasn't doing music, yes! Yes, of course. But, you know what, even though I'd say yes, I'll also say that that was kind of a crappy shoe. The materials are terrible. For all of that, maybe it's not worth it. After having the shoe and actually wearing them, the graphic chipped off real quick.
Did you ever end up camping again for anything else after that?
Well, there weren't a lot of memorable shoes that came out right after the Galaxies, and I kind of slowed down right after that because that's when I got really started in music. But I did camp out for the Yeezy 2s, the black pair, that came out the June after. I wasn't anyone or anything at that point, and I really wanted them.
And all of that helped to inspire how you named your show, "Camp James." How'd you come up with it and how's the show been going?
Me cranking up "Camp James" towards the latter part of last year was basically because I wanted to be able to get back in touch with my fans like how I did when I first started with my blog. If you look back at my early blog, some of those got 100,000+ views. I went through so much in 2013 and kind of fell off on doing them, but now, my YouTube views are doing really, really well.
I remember just looking through them the other day, and it's not really anything too crazy [in terms of setup] and I'm just the same person. I might have this new title and everybody might know me as "Trinidad James" or whatever now, but one thing that never failed with me, all through last year, no matter what people thought of my music, the mixtapes or the ups and downs of my career, you really can't say anything about my shoe game. I came into the rap game with a real shoe game, and I really do this. I'm not even trying to be better than anybody or anything like that, but I just personally collect shoes that I like because I love shoes.
When I started "Camp James," that was just to show people another side of me and what I'm into. There's more to me than what you might read somewhere or think, and I'm just a regular guy that loves shoes and tries to work hard. I just want to show people that if you work hard for whatever it is that you want, you can have this too and get the things you want.
And then we can disagree on pretty much every shoe that we each like.
[everyone laughs]
Exactly! This is all just my opinion, and I'm having fun with it.