words & images // Nick DePaula
As adidas Basketball looks to celebrate two of its All-Star point guards with a dual-hosted meet & greet event tonight in Portland, the Compound Gallery team has helped to enlist some of the footwear world's best custom artists for a display of custom Crazy 1s honoring local Trail Blazers star Damian Lillard.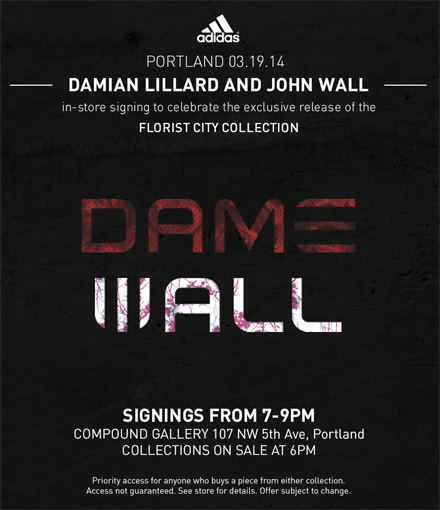 The first of five pairs we'll be spotlighting is this anthracite, metallic silver and red colorway done by Chris Hui, aka C2 Customs. After first bursting onto the scene at just fourteen years-old, C2 has long been recognized as one of the premier artists in footwear.
He won our national award for Best Customs in 2006 at our Las Vegas Finals competition, he's been featured on Last Call With Carson Daly, and he's now able to apply his eye for color and materials on a daily basis as a member of the adidas Originals team.
C2 Customs explains this Crazy 1 created with Damian Lillard in mind:
"The theme is 'War Machine' and has a lineage of inspirations:
The original THE KOBE was designed with Audi back in 2001. This past summer, Tony Stark (aka Iron Man) was the face of Audi, driving the R8 in Iron Man 3.
The colorway is inspired by the Iron Man character War Machine, since his armor matches the Trail Blazers. The design also plays off how industrial the design language and construction is on the Crazy 1."
You can check out C2's "War Machine" Crazy 1 Retro in person tonight at Compound Gallery in Portland, Oregon, purchase items from the adidas Florist City Collection, and also meet both Damian Lillard and John Wall.
Compound Gallery
107 NW 5th Ave.
Portland, Oregon 97209
(503) 796-2733
Product on sale: 6 PM
Meet & Greet: 7 - 9 PM