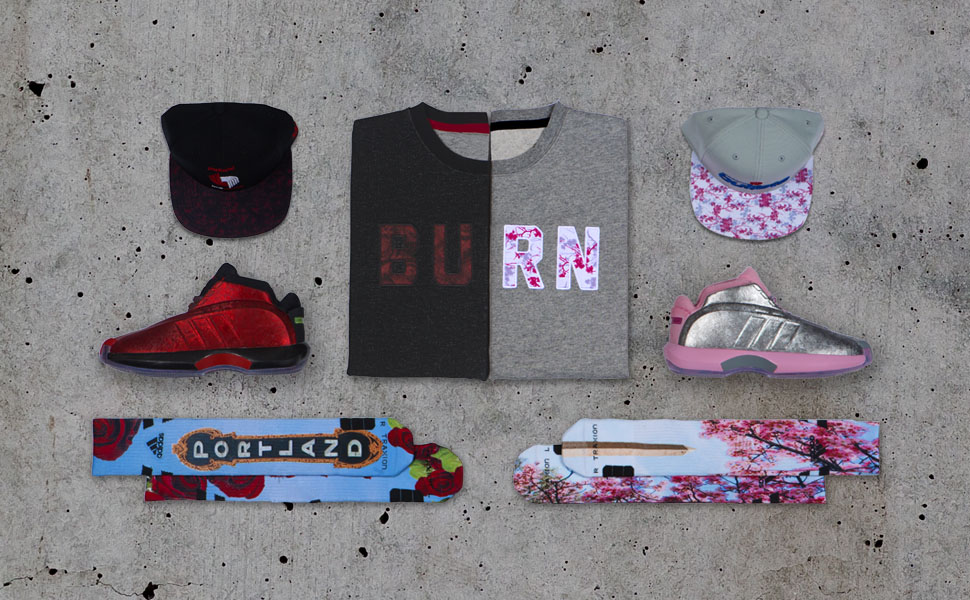 words // Brandon Richard
Next Thursday officially marks the arrival of spring, and adidas is celebrating with the release of the Florist City Collection for two of basketball's fastest rising stars — point guards Damian Lillard of the Portland Trail Blazers and John Wall of the Washington Wizards.
Lillard's 'Rose City' Crazy 1 pays homage to Portland's famous rose gardens and the Rose Festival with a rose print on the upper and laces, along with green detailing mirrored after the flower's stem.
Dropping in time for fans to lace-up for this year's Cherry Blossom Festival in Washington DC, Wall's Crazy 1 is decked out in grey to represent the capital's stone monuments. Cherry Blossom detailing can be found on the laces and outsole.
Sweatshirts designed in partnership with Portland's Bridge and Burn feature Lillard and Wall-specific detailing on the sleeves. The socks bear a sublimated floral print and iconic Portland and D.C. landmarks.
Fans will be able to purchase the Florist City Crazy 1s for $125 each along with select collection items next Wednesday, March 19 at Compound Gallery and adidas.com.
Additionally, Lillard and Wall will be stopping by Compound Gallery in Portland on March 19 from 7 - 9 p.m. PST to sign autographs and celebrate the collection's launch. Fans who purchase items from the Florist City Collection will gain VIP access to the meet and greet line.
Take a closer look at the collections below, along with the event flyer for more information.
Compound Gallery
107 NW 5th Ave.
Portland, Oregon 97209
(503) 796-2733