words // Zac Dubasik
Last week, the Sole Collector team shared some of their most overrated and underrated kicks. This week, we'll be telling stories of some of our worst pickups. I'm up first, and this is one I'm particularly not proud of.
When it comes to sneakers, I think the "ultimate collection" for a lot of fans, is having the complete Air Jordan set: at least one pair of Air Jordans I through whatever is the latest model. It's a logical goal to work towards, considering the Air Jordan line is basically the most important and beloved in sneaker history. And until the AJ 2009, pretty much every model got at least a little love.
Well, around the time where the complete set would have consisted of Air Jordans I through XX1, I had that goal myself. But with a slight twist. I wanted to have the "oddball" Air Jordan I through XX1 collection.
That meant instead of the OG or even 1994 White / Black / Red 1 Retro, I had the patent leather version from 03. Air Jordan 2 lows. Olive 9s (which had no love at the time). 11 Low IEs. Chutney 13s. You get the picture. I wanted the "black sheep" edition of each model. At the time, there were a few models that didn't really have that "mistake" version, so I had to settle for White/Cement IIIs. But, luckily, there were plenty of kicks the caliber of Ginger 16s to get me through most of it.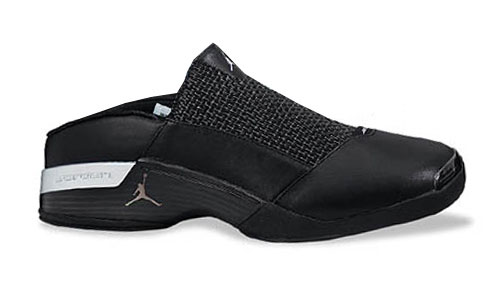 Putting together an oddball Air Jordan collection was at the same time easier and harder than getting the more popular models. It was easier on the wallet. You could have Ginger 16s for about half of retail at the time. But certain shoes just didn't come along every day. Air Jordan 17 Mules weren't exactly popping up on eBay regularly. So, I told myself that the next time a size 13 came around, they had to be mine, regardless of the price. Unfortunately, I held myself to that.
A few months of waiting passed, and a black pair of XVII Mules finally showed up. Black. DS. Even had the sticker covering the chrome heel still. I waited until the last minute, and while the price was rising, it was still around $75 with less than a minute to go. I knew they weren't going to go for much more, but I wasn't taking any chances, so I put in a bid for $200. After all, I'd been waiting months, and I did tell myself that the next time I saw them, they'd be mine. Plus they wouldn't end for close to that anyway, so there was nothing to lose – my bid was basically just for piece of mind.
Next thing I knew, the auction ended. For $180. Which was roughly double what I'd planned on paying. I had the money, but sure didn't want to pay that much, regardless of what I'd told myself. So, I did what anyone would do. I emailed the seller, told him I made a typo with my bid, and asked if he'd please let me off the hook.
The seller expressed his "sympathy," then politely told me he'd be leaving negative feedback if I didn't pay. He knew a good thing when he saw it. There was no way he was going to get that much again, if he were to relist the shoes. And having 100% feedback, I didn't want to catch the negative, so I went ahead and sent my payment – via money order, which was pretty normal at the time.
Over the next couple weeks, I tried to rationalize my purchase as I awaited its arrival. Summer was coming, and they'd be the perfect pool shoe. (Only they were bulky, stiff, and not remotely waterproof.) No one else had them. (Nor wanted them.) And worse case scenario, they'd help complete my oddball collection. (Which I gave up on shortly thereafter.)
For the next few years, those kicks sat in their box, serving as an ugly reminder of that terrible decision. I couldn't even bring myself to wear them ever – not because I wanted to preserve their DS status, but because – they were a stupid shoe in the first place. How were you even supposed to wear an Air Jordan Mule? I eventually sold them at a loss, closing the chapter on a number of bad ideas. At least I learned from this experience though, and don't have a similar story on picking up a pair of XV Mocs.