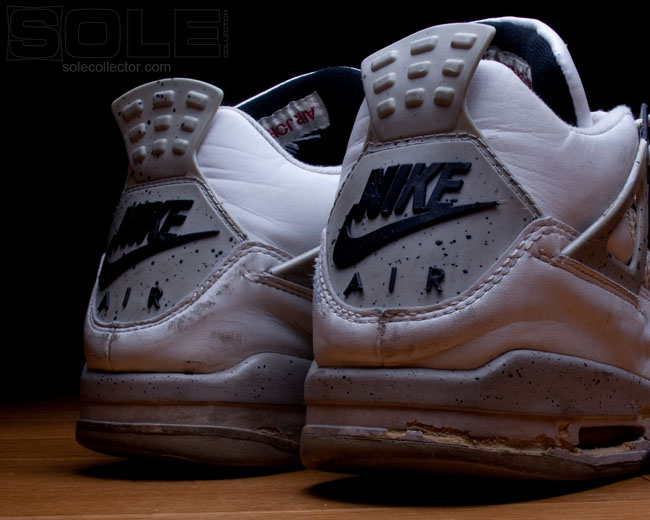 words // Zac Dubasik
After spending about a year just reading the Sole Collector Forums, I took the plunge and joined in March of 2004. I had a burning question, and I had to ask.
"How can you tell a fake Air Jordan IV?"
And within minutes, before I got a single response, my post was locked. Apparently there were these things called "rules," and I wasn't following them.
It wasn't the greatest start to my time of the Forums, and I eventually learned my way around. And one of the things that I learned was that Air Jordan 4 retros weren't particularly easy to come by. Original colorways had yet to start returning for their 3rd and 4th time, so if I wanted one, my only option was the 1999 edition. And those were expensive, even back then.
So, like I've learned to do with eBay over the years, I decided to be patient. I knew that pairs would show up in my size eventually, and that if I just waited it out, I'd be able to get a pair at a decent price.
About a year later, I finally found a shoe to target. A '99 edition White/Cement Air Jordan 4 Retro. There were only two pictures, but after doing a legit check on the Forums, I confirmed that at least the shoes in the ad were real. They weren't in the greatest shape, and the seller warned that they had some flaws. I decided to take a chance though, after seeing the seller was local, and asking if I could pick them up in person if I won.
So, I waited until the last second, placed my bid, and the next thing I knew, I was sending $120 via PayPal for a pair of Air Jordan 4s. The seller and I emailed back and forth, and planned to meet the next night. I was anxious all day, and as I was on my drive over, he texted me and said he wouldn't be able to make it. He claimed that he was going to be really busy for the next few days, and that he'd just ship them to me, free of charge.
I was pretty sure I knew where this was going. I'd tried my best to be careful buying things on eBay, and the Sole Collector Marketplace, but I was pretty sure I'd just been got.
A couple days went by, and the next thing I knew, a package showed up with my name on it. And inside? A filthy pair of Air Jordan 4s, complete with pen writing all over the side of one. They were structurally fine. And the soles weren't even worn down. But it was if they'd been worn in the mud, and then written on by a little kid. I was pretty sure I knew why the seller didn't want to meet up at that point.
I wanted to wear the shoes anyway, and I had just become familiar with something called a "Magic Eraser" that had worked wonders on another shoe, so I didn't panic. They were a great deal anyway, so I figured I'd try cleaning them up, and see what happened.
Not only did the Magic Eraser clean off the pen, it took care of the rest of the uppers, and had the shoes looking NDS again.
Over the next probably five years, I wore those shoes regularly, without fear of messing them up. They were never going to be perfect, so I had no motivation to keep them pristine. Eventually, the midsoles began to crumble, so I had to retire them. But I got use of them at least once a week or so for many years, which is the true definition of a steal for me.
RELATED: JORDAN RELEASE DATES
RELATED: SNEAKER RELEASE DATES
RELATED: LATEST NIKE RELEASES