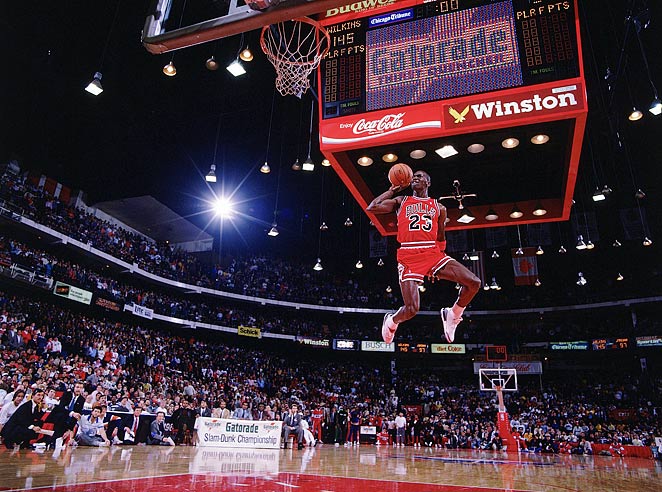 words // Zac Dubasik
Every year, around this time, the topic of LeBron's James' absence in the Dunk Contest comes up. We've already looked at the way it has impacted footwear, but what about how it's effected the Dunk Contest?
This is clearly a case of the Dunk Contest needing LeBron more than he needs it. LeBron is a future Hall of Famer whether he gets a Dunk Contest victory or not. But if the Dunk Contest keeps going in the direction it's been heading, it might not even matter that LeBron never did it, since less people care that it even exists each year.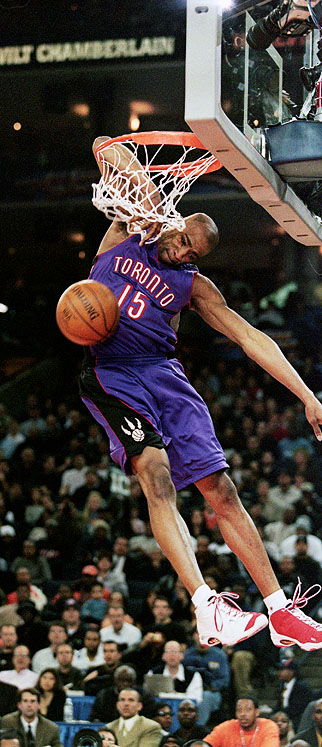 The Slam Dunk Contest didn't fall off overnight. It's been headed in that direction dating back to the early 2000s, following Vince Carter and Jason Richardson's successful runs. And despite some highlight moments from Gerald Green and Nate Robinson, the memorable dunks just haven't been frequent enough to have us actually excited these days.
What exactly went wrong with it? There are probably a lot of factors, beginning with one touched on at the very beginning: a lack of star power. No offense to Gerald Green, but he's not exactly a household name. And while he had some memorable dunks, like blowing out a candle on a rim-affixed cupcake, he found himself out of the League two seasons later. He's since fought his way back, and become an important member of a few different teams the past few seasons, but again – not exactly the most recognizable name.
Even Nate Robinson, who had the fantastic Kryptonate gimmick and dunk, could hardly be considered in the top tier of NBA players. Since his last Dunk Contest victory, he's played on five different teams, mostly on one-year minimum deals.
Then there was Blake Griffin's infamous Kia commercial Dunk Contest victory. Many basketball fans had seen the 5-foot-10 Hook Mitchell actually jump over cars for years prior, so Blake's participation in an automobile advertisement didn't exactly inspire the way the League hoped it would. And seeing their later collaboration on more traditional commercials made it seem that much worse.
Although many fans may have had a bad taste in their mouths following the Blake Griffin win, at least they remembered it. The following year, Jeremy Evans, the 55th pick of the 2010 draft, and largely unknown outside of his home crowd in Utah, took the title wearing a shoe out of Nike's value chain Core Performance line - quite a departure from the coordinated effort of the Kryptonate days.
That's not to criticize the players who do participate still. Jeremy Evans can't be held accountable for going out there and winning, when other, bigger names, didn't want to. But there's no doubt that the lack of superstars in the contest has hurt it to the point where there's more discussion of who isn't in, than who is.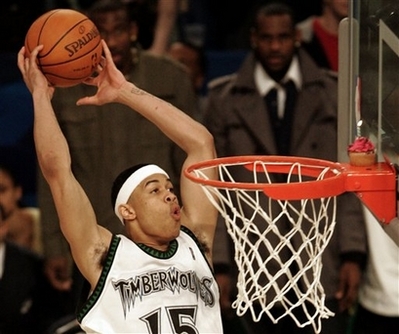 Can it be fixed, other than by the big names throwing their names in the hat? This year, the Dunk Contest will see a new format where three players from each conference will dunk together in a 90-second showcase, before next facing off in a one-on-one, conference vs. conference head-to-head showdown. The fans will then vote on the overall winning conference. If this seems complex to you, it does to us too. And probably not enough alone to bring extra excitement back to the contest. There also aren't any traditional 10-point scores for dunks. Which seems ridiculous.
What does make us interested though is the fact that there are some bigger names this season. John Wall is a former Rookie of the Year. Terrence Ross won last season, and has been a favorite dunker among hardcore fans. Last year's Rookie of the Year, Damian Lillard will also suit up. And Paul George is among the names mentioned to compete for MVP this season. True, it still isn't LeBron, KD, Russell Westbrook or Derrick Rose, but despite the possibly hard-to-follow new format, at least we are a little bit more interested this year. Are you?