words // Zac Dubasik & Nick DePaula
Each year, the importance of All-Star weekend in the sneaker world seems to grow. It not only usually has served as the traditional launch of the yearly Air Jordan game shoe, but it's also come to mean limited releases, daring colorways and, most importantly, the anticipation that something big might happen.
It doesn't always pan out. Blake Griffin "kind of" jumping over a car may have made for a couple good commercials, but the Max Fly By he wore didn't quite provide the moment some had hoped for. Sometimes everything does come together, though, and creates a lasting memory. Here is our list of the most memorable sneaker moments in All-Star history.
#10 // 2006 – Houston, Texas – Nike Air Force 1
Including Sheed, four of the Detroit Pistons' starting five made the 2006 All-Star team. Only one left a lasting impression with his sneakers, though, as the split panels and mixed materials like patent and ostrich on Rasheed Wallace's AF1s make them a standout, even today.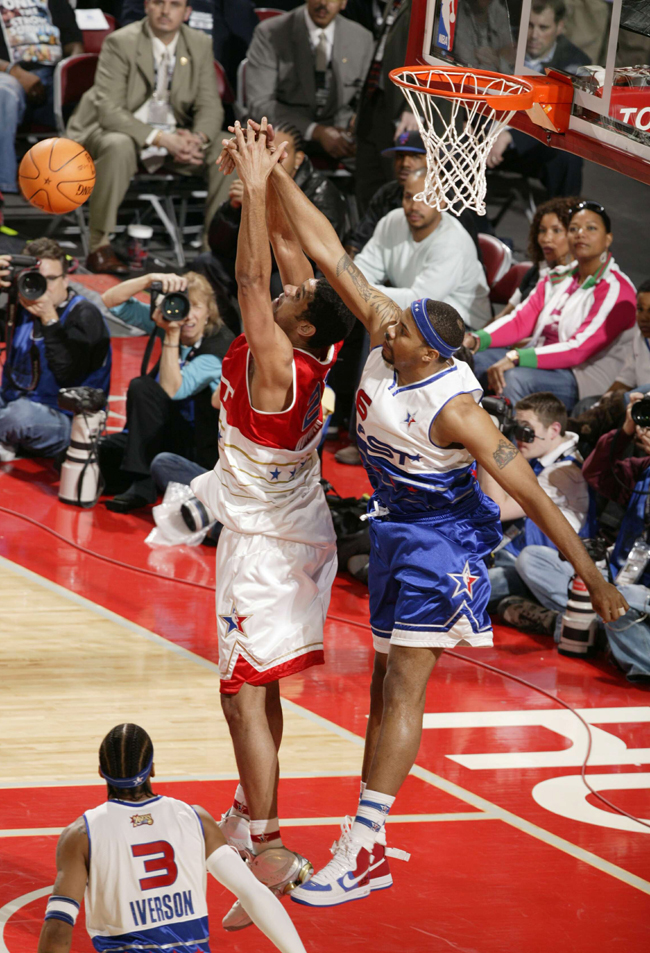 #9 // 1997 – Cleveland, Ohio – adidas EQT Elevation
The EQT Elevation may not be the most memorable model of the Feet You Wear line, but this all-purple version earned its spot in sneaker history by being on the feet of Kobe Bryant while winning his only Dunk Contest title.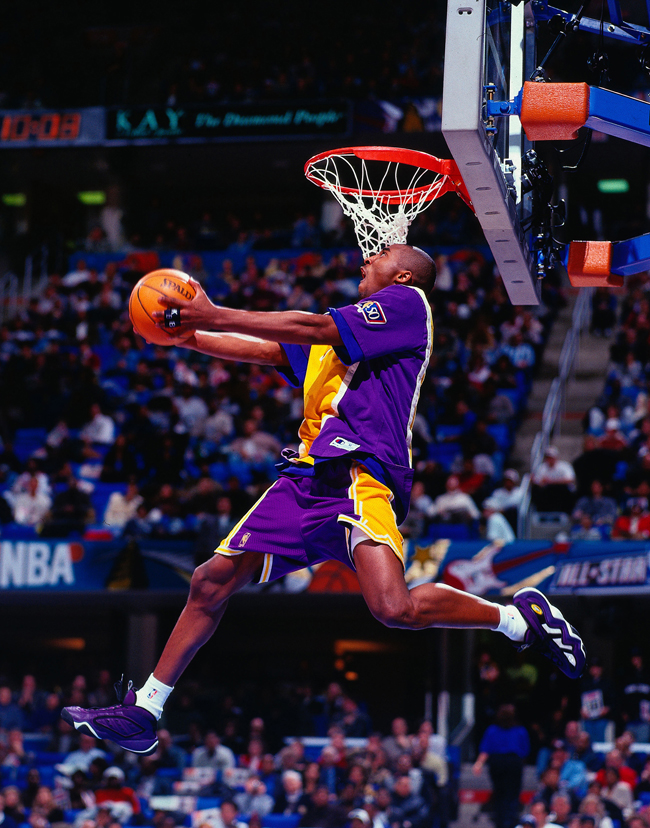 #8 // 1996 - San Antonio, Texas – Reebok Kamikaze II
Fifteen years before Swizz Beatz and Reebok got their hands on the "Kamikaze" franchise again, Shawn Kemp wore this striking blue and white colorway of his coveted signature shoe in the '96 All-Star Game.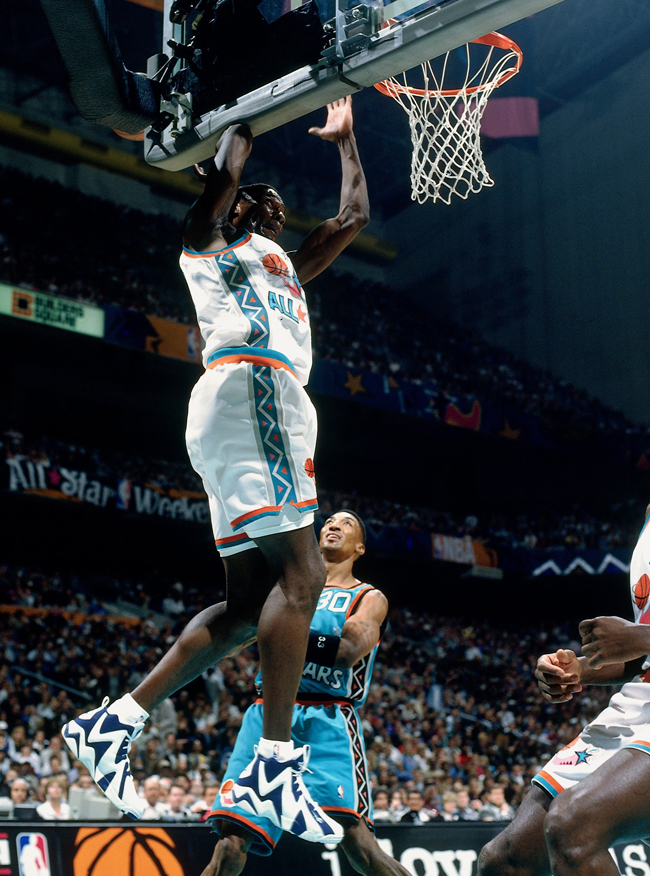 #7 // 1994 – Minneapolis, Minnesota – Nike Air Maestro
While they would have matched his Bulls jersey, Scottie Pippen only wore these all-red Air Maestros in his fourth All-Star appearance, where he took home MVP honors while MJ was off playing baseball.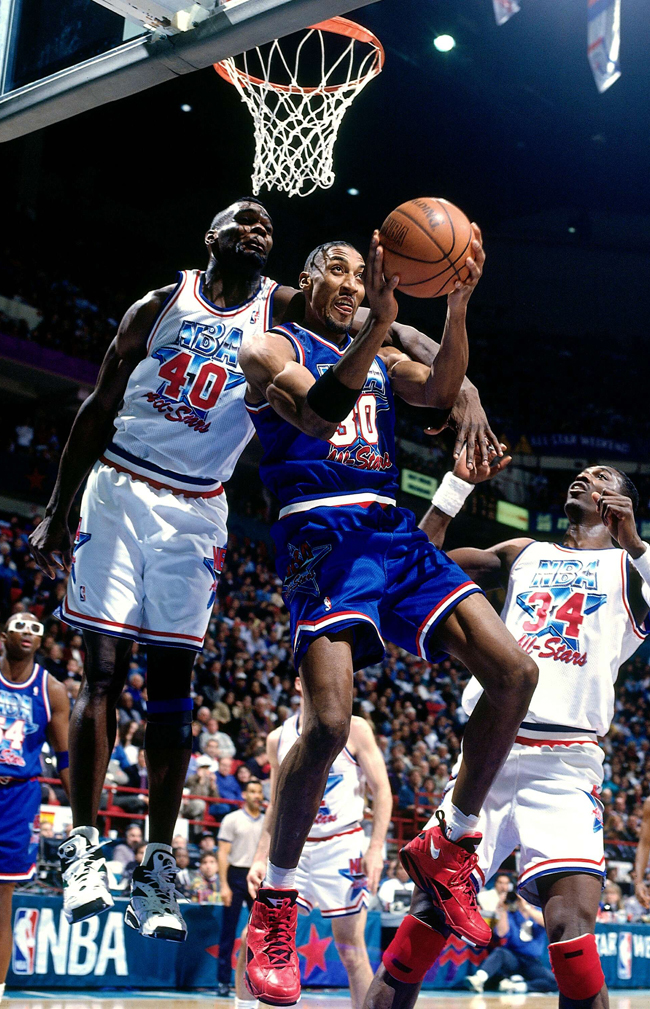 #6 // 2004 – Los Angeles, California – adidas T-Mac 3
The T-Mac 3 itself is a memorable model from Tracy McGrady's adidas signature line, but what earns it a spot on this list was T-Mac wearing one red and one blue colorway, one on each foot. It also made for a memorable Sole Collector cover that unveiled the shoes prior to the game.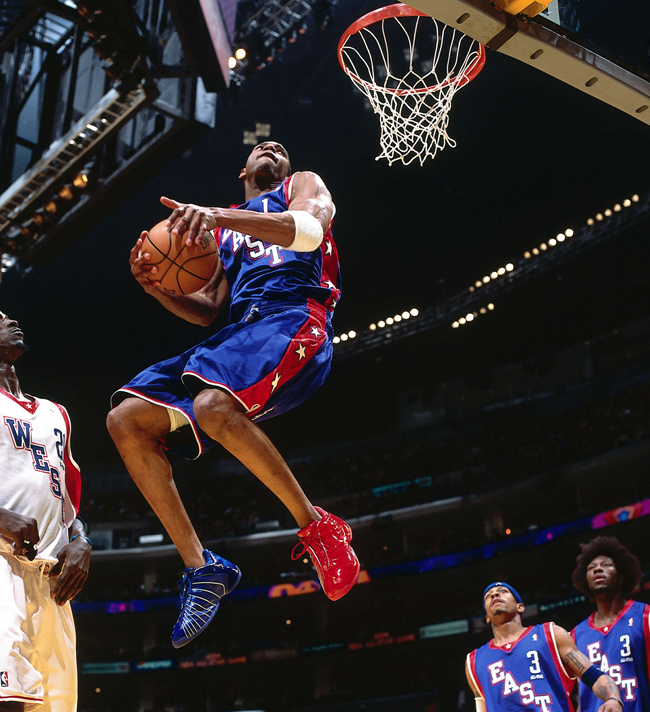 #5 // 2000 – Oakland, California – AND1 Tai Chi Mid
Visually, this white and red Tai Chi Mid may seem tame compared to some of the shoes on this list. But the moment Vince Carter created while wearing them helped usher in the AND1 era of sneaker history.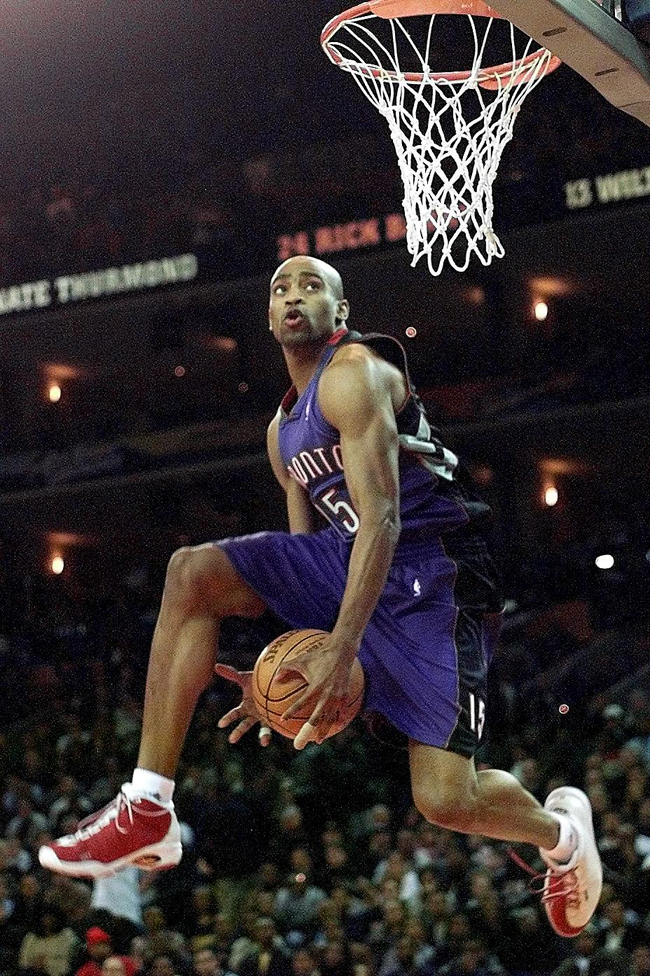 #4 // 2009 – Phoenix, Arizona – Nike Foamposite Lite
Let's face it – Dwight Howard's Superman-themed Bounce Commanders probably weren't destined for this list anyway. But he helped make them almost too easy to forget after allowing 5-foot-9 Nate Robinson, wearing the "Kryptonate" Foamposite Lites, to jump over him on the way to creating one of the most memorable sneaker moments of all time.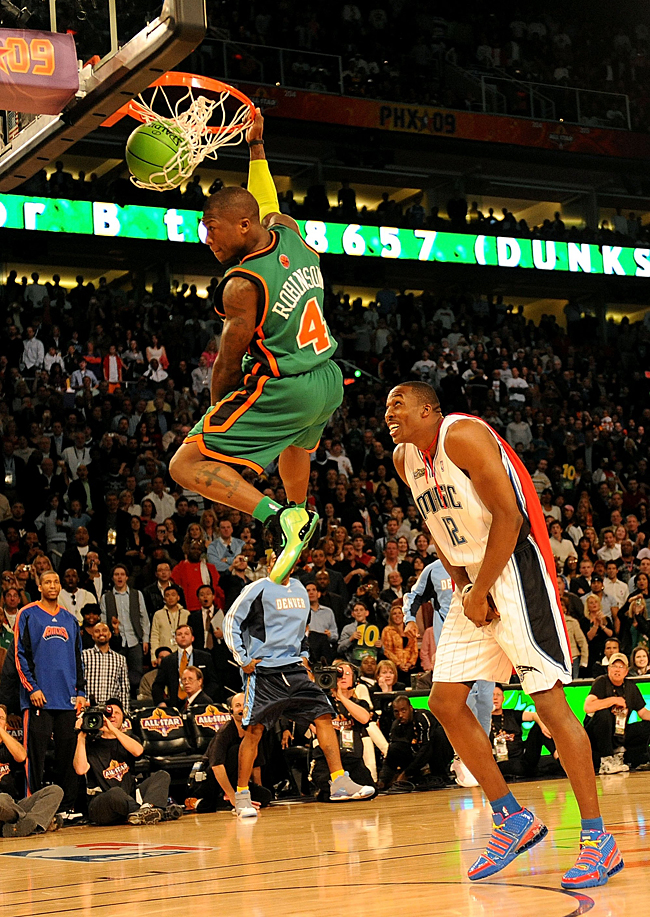 #3 // 2002 – Philadelphia, Pennsylvania – Dada CDubbz
The finish may have started to chip away after a single wearing, but that's beside the point. The point is that an all-chrome shoe – even one made by Dada – was bound to become an instant classic in All-Star sneaker history.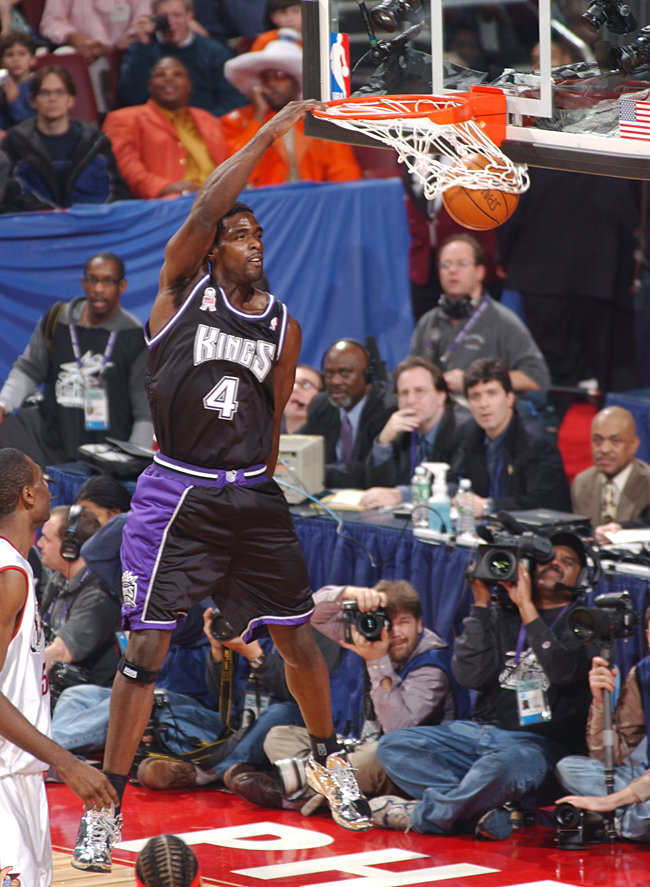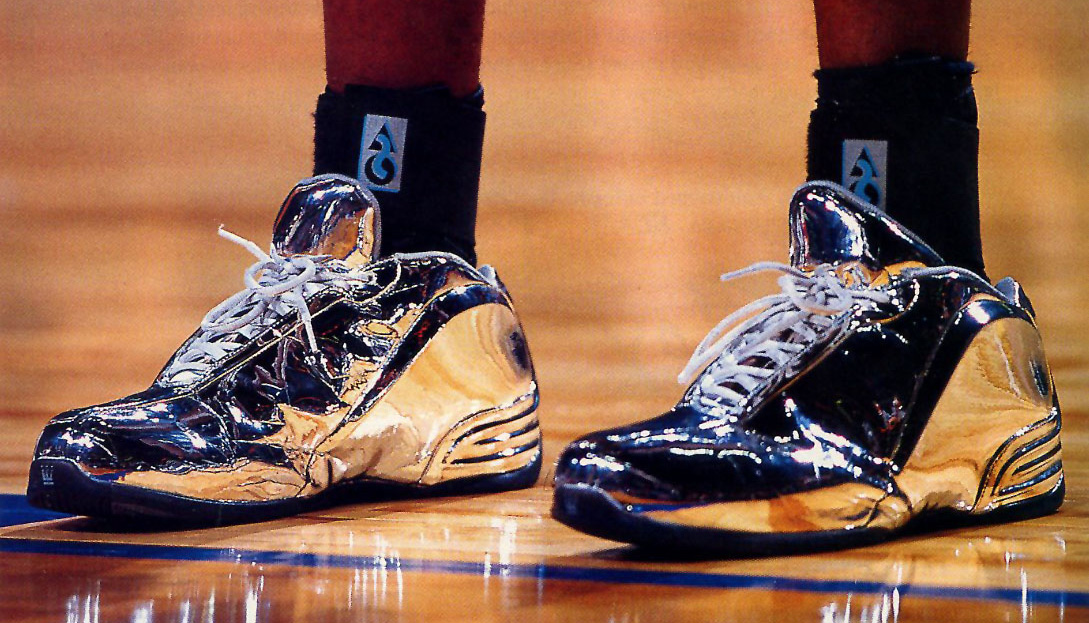 #2 // 1993 – Salt Lake City, Utah – Nike Air Jordan VIII
One of the most exciting elements of All-Star footwear is the opportunity to break away from standard team colorways. And no example is better than the Aqua Air Jordan VIIIs.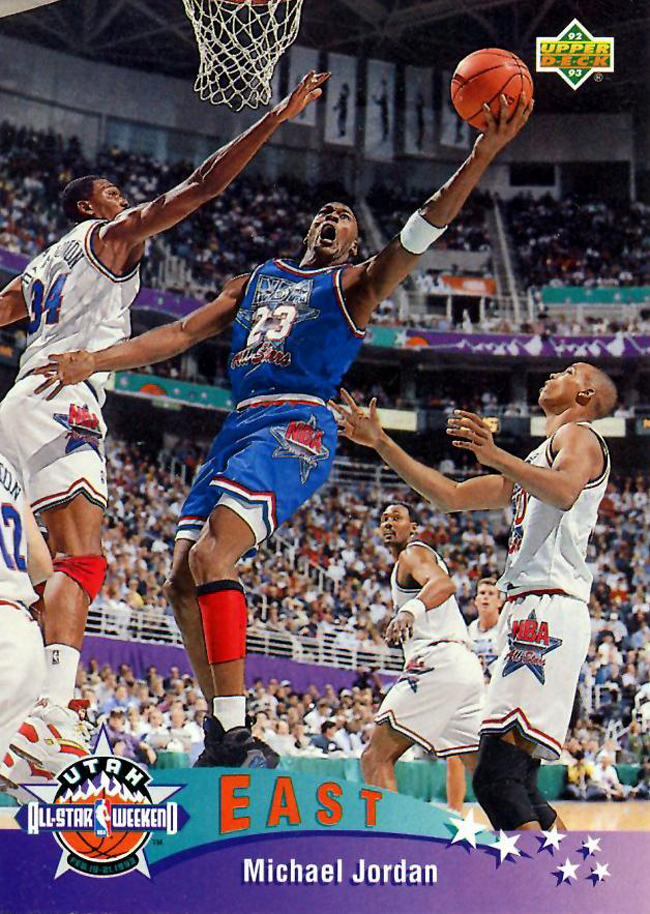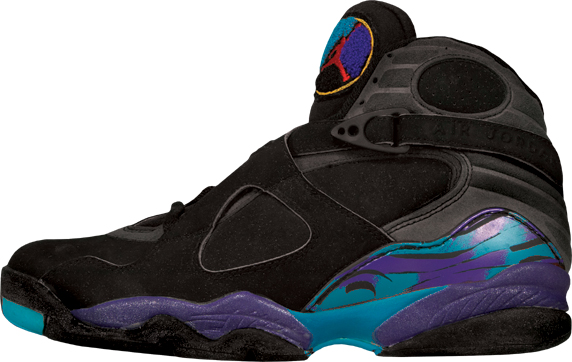 #1 // 1996 - San Antonio, Texas – Nike Air Jordan XI
An all-white shoe is the most memorable sneaker moment in the history of All-Star Weekend? When it's an Air Jordan XI, the answer is an easy "yes." MJ debuted the Columbias en route to winning MVP in the '96 game.