words // Nick DePaula
To be honest, there are quite a few shoes I'd love to have. GP's Black/Purple XII PEs. A pair of Indiglo XIVs. More LeBron IIs. But most of those are just a matter of money (that I don't want to spend) and pulling the trigger.
Being inspired by the likes of Vincent Askew and Alan Henderson to track down a Reebok shoe that once retailed for $95 is something entirely different though. Now almost twenty years after the fact, I still can't seem to find a pair of the Reebok Blast.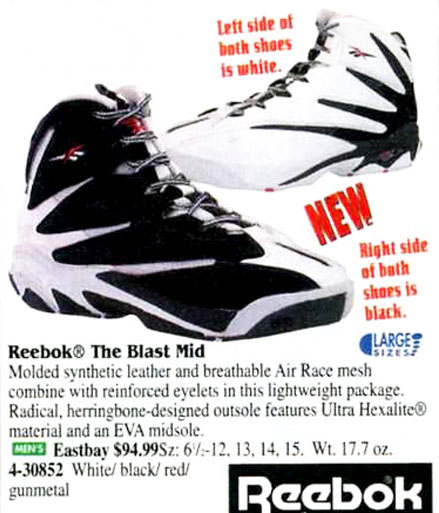 For starters, I'm definitely not even going to acknowledge the terrible attempt at a modernized version that was "unveiled" by Meek Mill while also holding a pile of money as being anything close to a retro. Those sucked. The actual Blast, however, is amazing.
As the name would hint, there's a literal blast effect sparking from heel to toe in the form of a handful of strips of mesh. But that's not the shoe's actual defining trait.
The Blast was actually the first shoe to offer up two distinct colorblocks depending on the angle you looked at them. Even the outsoles were mismatched. As Eastbay's catalog famously warned noted: "Left side of both shoes is white. Right side of both shoes is black."
I was 10 years-old when these originally came out, and along with the help of the equally bold Kamikaze II and Shaqnosis, Reebok was quickly catching my attention. I didn't own any of these shoes growing up, as they were a bit too spendy for my then-$40 limit, but the best part about them was they were unmistakably noticeable on the feet of anyone else.
Like many of the iconic designs of the mid-90s, the branding was minimal, but the shoe's alternating side design and radiating heel blasts made you take notice from across the street, the second you walked into a store, or if you were watching Nick Van Exel on a small ass TV way before the days of HD.
Finding an original pair at this point in size 13 seems to be all but impossible, but I have been a little encouraged to see lesser-warranted models like the Rail make their way back with a true-to-form Retro. Maybe there's hope for The Blast? Between the awesome design that I've always loved and the fact that my 7th grade hoops coach jokingly also called me "Nick The Quick," Reebok can count on at least one person willing to pay retail on the first day they return.