words // Zack Schlemmer
Special editions and outrageous new colorways of basketball shoes have become the norm in the NBA's annual All-Star Game. Remember Chris Webber in chrome C-Dubbz? How about Tracy McGrady's one-red-one-blue adidas T-Mac 3's? Certainly, you recall Nate Robinson's "Kryptonates" from the 2009 dunk contest? Almost every year at least one player has special shoes that stand out and become forever linked to that year's festivities.
With Michael Jordan's retirement, the 1994 All-Star Game was the perfect showcase for the rest of the NBA's players to prove who would now be the best in the game. Scottie Pippen made a strong argument for himself by becoming the game's MVP and showing that he was one of the NBA's greatest, even without Jordan. But that wasn't the only statement he made at the '94 All-Star Game. The other was his footwear.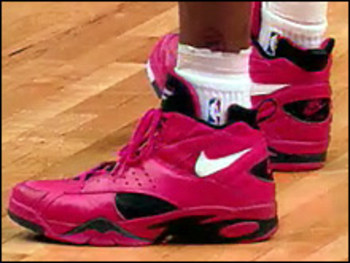 Scottie Pippen, with his pair of the bright red Nike Air Flight Maestro, started the trend of showy, special edition footwear that now crowds the court each All-Star game.
Players often took advantage of the relaxed footwear colorway rules of the All-Star Game (that is, back when the rules were actually strict). Michael Jordan laced up the black-based colorways of his shoes that he never got to wear in the regular season, like the 'Black/Cement' Air Jordan IIIs and 'Bordeaux' Air Jordan VIIs in earlier years, but never before had a special All-Star shoe caught my eye like Scottie's Maestros. Much like Dee Brown's Reebok Pump Omni Lites that he pumped up in the 1991 dunk contest, Scottie's red Maestros became one of the first iconic sneakers of NBA All-Star Weekend history.
The 1994 All Star game in Minneapolis was one of the first I recall watching as a kid, and Scottie's red kicks were definitely the first shoes I can remember seeing in an All-Star game and wishing I had. I also remember seeing a picture of Scottie in the sports section of my dad's newspaper the day after the game, admiring those bright red kicks, and, being the 9 year old nerd I was, cutting out the picture for my makeshift scrapbook.
So you can keep your Galaxy Foamposites, and Area 51 LeBrons. The historical significance to the sneaker world, my own personal nostalgia, and the simple fact that they just look great no matter what, make Scottie's red Maestros my favorite All-Star kicks ever.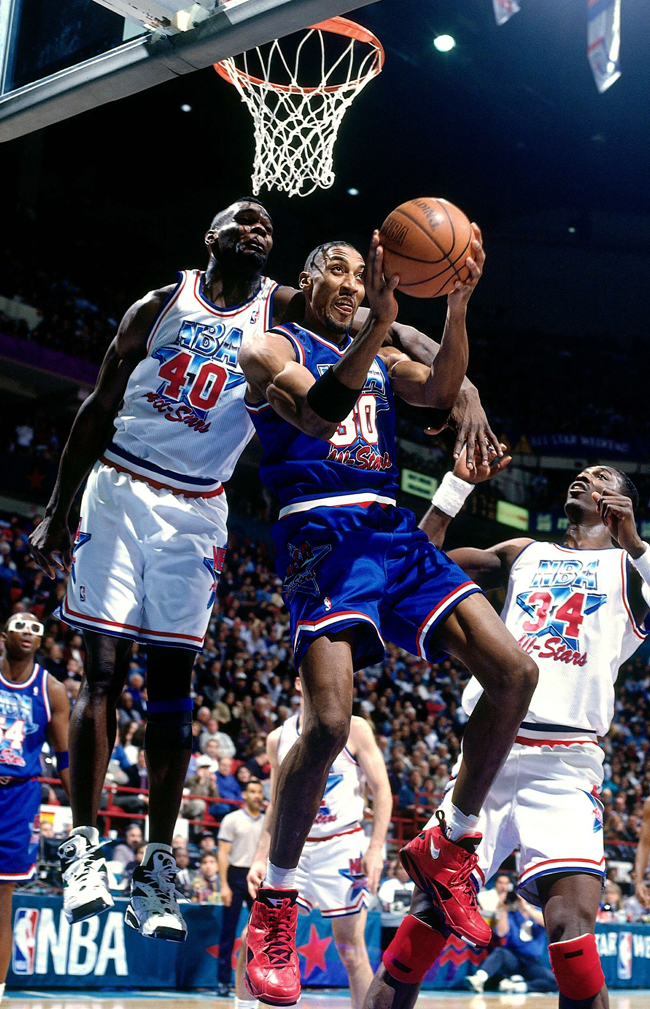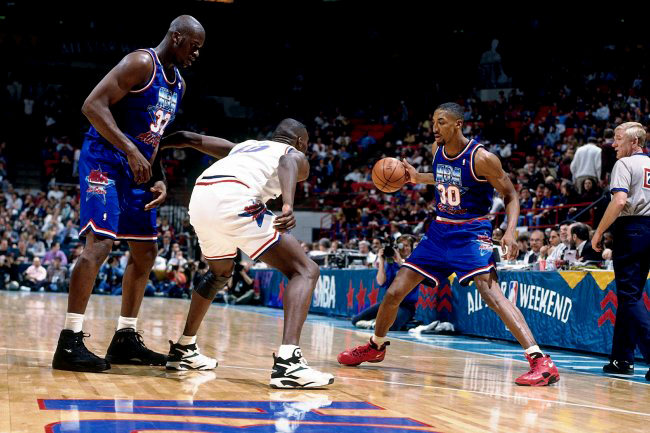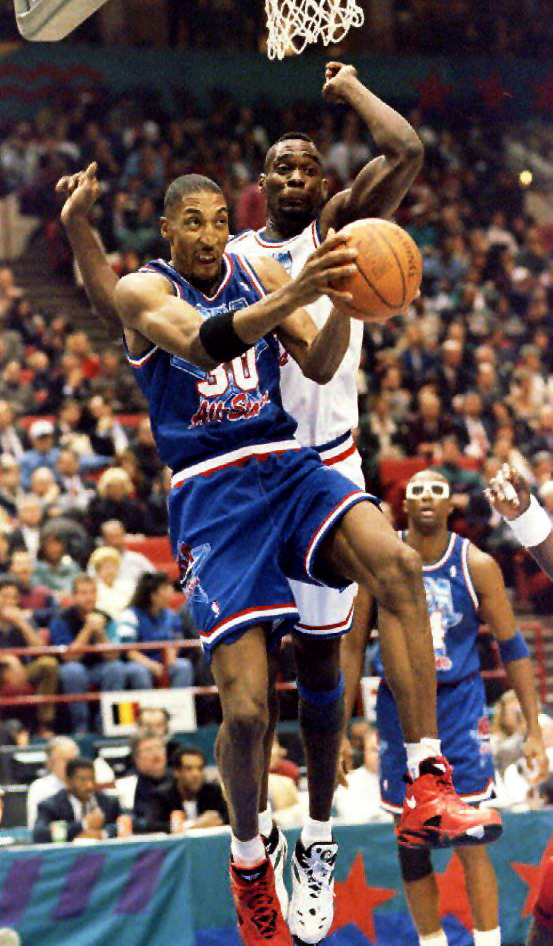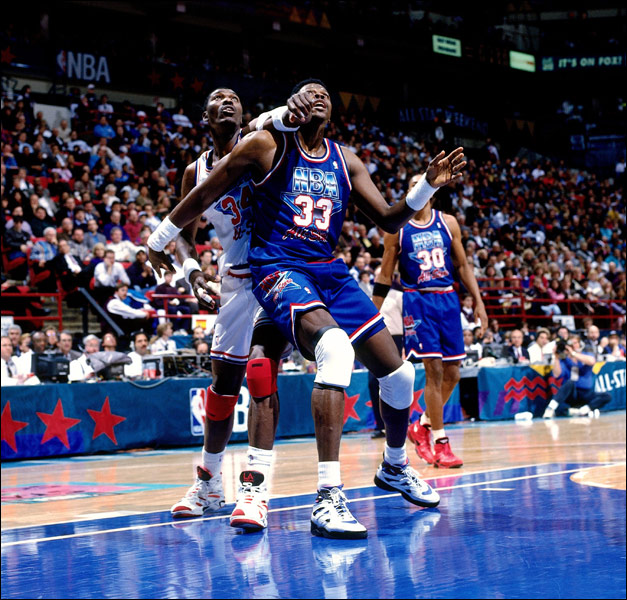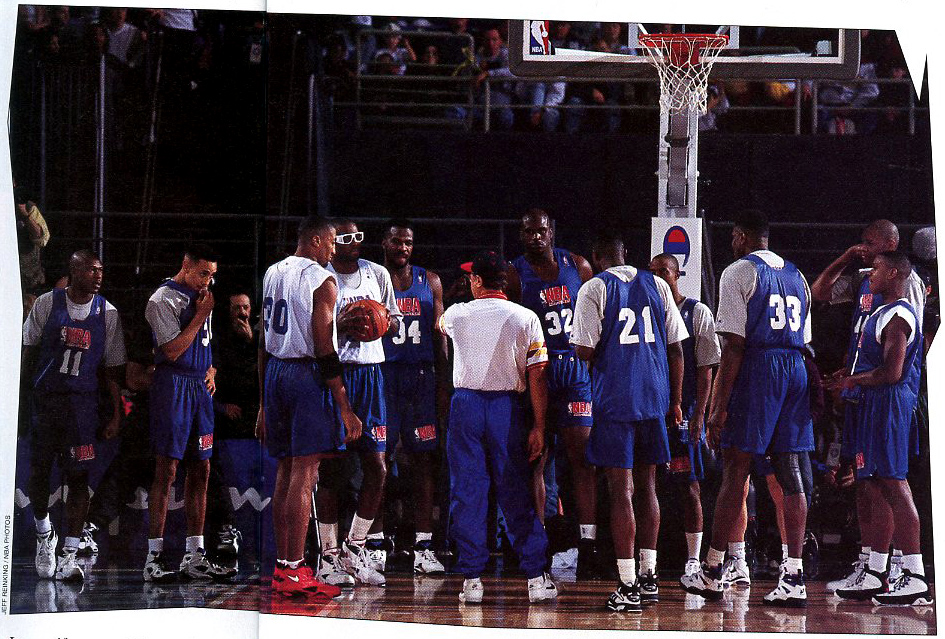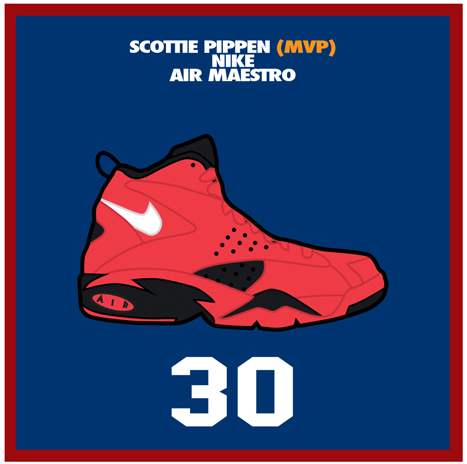 illustration by Commonlight