words // Zac Dubasik
The Nike LeBron 11 has been controversial, to say the least. If you've been paying any attention to Sole Collector, or the Miami Heat, in the past few months, then you're probably aware that LeBron hasn't exactly been wearing the 11th edition of his signature line on court very often. And based on my experience testing the shoe, I couldn't agree with his footwear choices more.
When it comes to basketball shoes, there are some "best practices" that hold true the vast majority of the time. For example, herringbone makes for a great traction pattern. There have been great non-herringbone patterns in the past, but as long as a shoe at least has herringbone, you can count on it being fairly solid in the traction department. So there's really no excuse to not have traction at least as good as herringbone.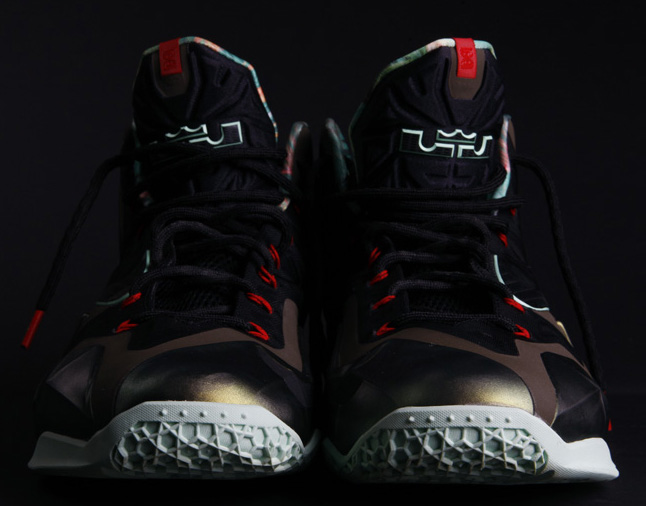 In contrast, double-lasted shoes, or models featuring drop-in midsoles, typically suffer from poor transition and lengthy break-in periods. Those features can give a shoe a unique look aesthetically, but typically come at a price as far as performance. They just don't flex right, or offer a premium court feel.
So, when I saw that the Nike LeBron 11 featured a drop-in midsole, I was concerned. Add 'Posite to that, and the odds were stacked up against the 11s performance from the very start. But there are exceptions, and I loved the look of the 11, so I was excited to get it on court.
I got my 11s on release day, headed straight to the gym, and within two games, immediately changed out of the 11, and into my backup pair. In my subsequent wearings over the past few months, I was able to stick with the 11 for whole runs. But that was partly because I was determined to see if they'd ever break in, rather than actually enjoying playing in them. Time after time though, my feet felt like they'd been in a fight with my shoes by the time I finished playing.
One of my biggest issues with the 11 was with the strange transition I experienced. The thick midsole, which features bottom-mounted full-length Zoom Air, housed below a Lunarlon footbed, didn't flex in a natural spot. Rather, it seemed to flex all the way towards my toes, where the Zoom bag ended. What made things worse though was the 'Posite based upper not flexing at the same point, which created an even more unnatural feel and transition.
To compare the 11 to a drop-in midsole design that actually worked, I'd offer up the Air Jordan 2012. The modular AJ 2012 achieved a smooth transition thanks to its outstanding midfoot shank. The shank allowed the rest of the design to be as minimal as possible, reducing layers and allowing a much more natural flex. In contrast, the 11's upper is stiff throughout, and while its cheap-looking shank does provide support, multiple layers throughout the rest of the upper – including that thick outer 'Posite layer – provide so much support that the shoe just doesn't flex naturally. It's not that the fit is bad – the upper laces up nicely, and hugs your foot just fine. But rather than giving a second skin type feel, it's more like a well-fitting machine, which you have to fight against.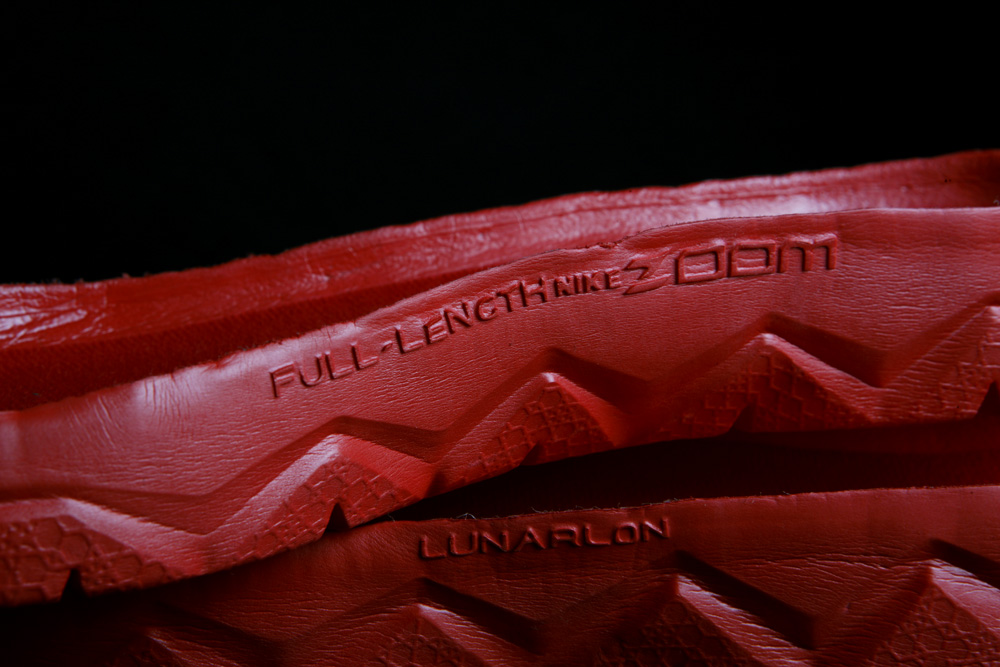 That rocky transition makes the shoe feel heavier than its weight would indicate. It may be the lightest LeBron since the AZG on paper, but it plays much heavier thanks to the aforementioned transition, combined with the unbalanced feel of the heel, and drop-in midsole. It's also important to mention that the drop-in midsole is basically completely incompatible with orthotics. So, if you are a player that uses orthotics, you'll need to take that into account. LeBron, of course, is one such player.
With all that bulk underfoot, you'd think the shoe would at least have good cushioning. And for the most part, you'd be right. The full-length Zoom bag and Lunarlon footbed provide plenty of protection. But in the era of Flight Plate, this combination is no longer the best of what's available. And in comparison, it lacks the responsiveness and explosiveness that we know is now possible. Cushioning is still one of the shoe's high points though, although it ties pretty directly to its lack of court feel.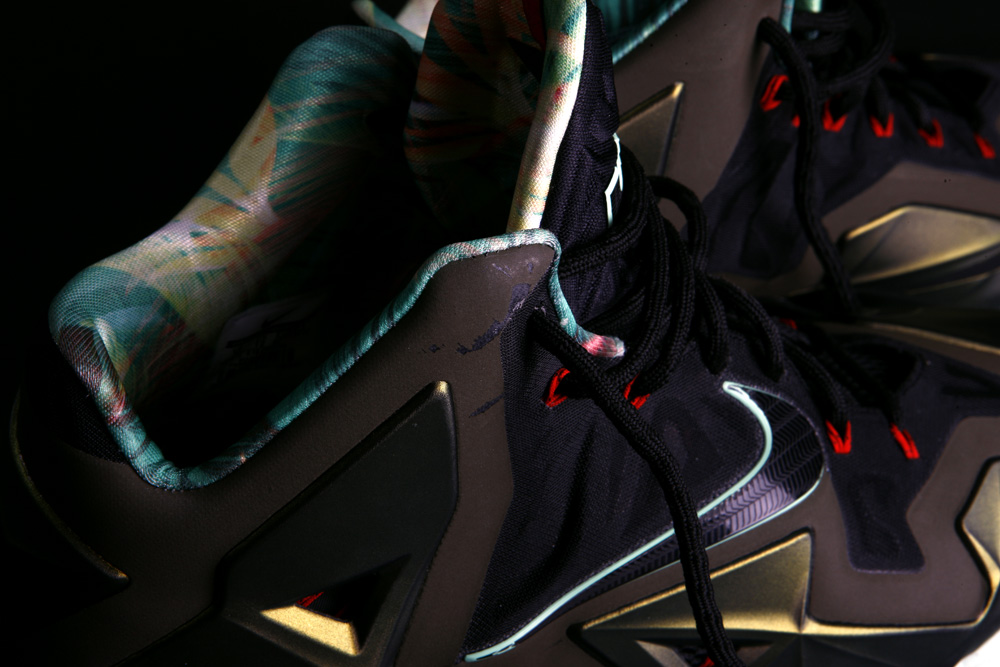 As usual, the "Dynamic" Flywire seems to do absolutely nothing outside of providing a color pop. My pair showed visible slack at points, even when tightly laced. Luckily, that's not where the shoe's actual support comes from, so it wasn't an issue. Another issue I had was constant pinching at the ball of my foot on the lateral side, caused by the strange flex point, and the drop-in midsole.
As for things I actually did like about the LeBron 11, there weren't many. But the traction was pretty good out of the box, and got much better after a few wearings. I also loved the laces. Their bumpy texture gripped the eyelets in a way that allowed for maximum friction when lacing. This is a point that's often overlooked, and so important to getting the best fit possible. I was also a fan of the shoe's cut. If you are familiar with the cut of the LeBron X, it's a slightly lower version of that collar.
Overall, there was not much I liked about the LeBron 11, other than how they look. To put it simply, they hurt my feet and felt slow. In fairness, I've seen a handful of players at my gym hooping in them. When I've asked what they thought, a few said they liked them. So, they may work for some. But not me. And apparently not LeBron. I can't speak on the issues he's had with the shoe, and whether or not they are the same I had. But I'm obviously not the only one that certainly preferred last year's model.
GRADE BREAKOUT //
best for: Post players who want maximum protection
colorway tested: Parachute Gold / Arctic Green / Dark Loden / Black
key tech: full-length drop in Zoom Air midsole; Lunarlon footbed, Hyperposite, Dynamic Flywire
pros: abrasion protection, durability
cons: transition, court feel, foot fatigue, comfort, quality control, extended break-in period, drop-in midsole incompatible with orthotics
improvements: employ more traditional construction method better suited to basketball, rather than drop-in midsole; align design of 'Posite to flex more naturally; more effective shank to minimize upper
buying advice: My feet felt like they were in a constant battle with the Nike LeBron 11, every time I wore them. While they did break in somewhat over time, I still never actually liked playing in them. If you are a post player who needs a solution for protecting your feet from outside forces, the Hyperposite acts as a suitable armor. For everyone else, I can only recommend this as an off-court shoe, for the appreciation of its spectacular visual design.