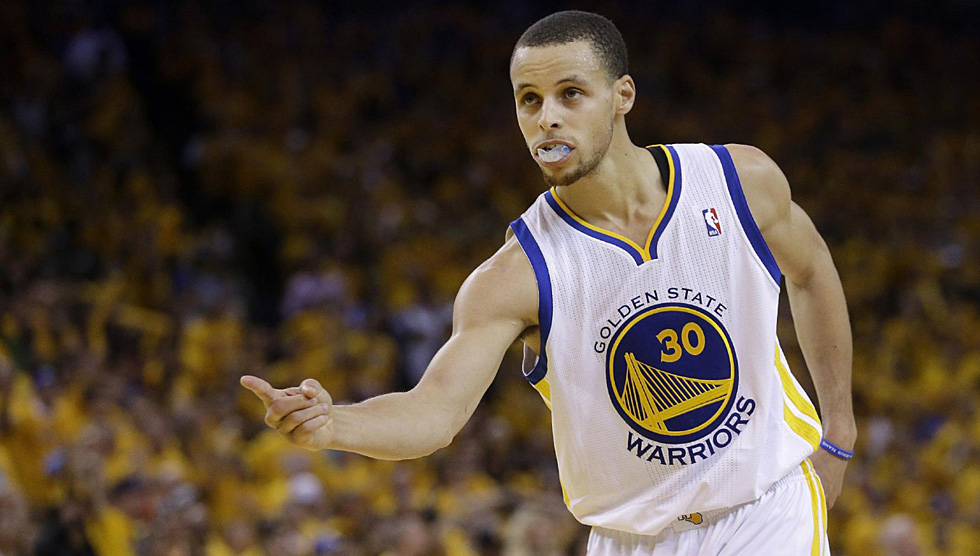 words & interview // Nick DePaula
For a brand still on the rise in footwear, this was monumental for Under Armour. They'd been progressing slowly in basketball behind their existing stable of five players, still looking to break through, and adding Golden State Warriors sharpshooter Stephen Curry to the team this past fall has been nothing short of transformational for Under Armour Basketball.
Their newest model, the Anatomix Spawn, is the #1 selling footwear model on the brand's UA.com webstore, a first for a basketball shoe, and they're already noticing the effect of having an endorser as high profile and relatable as Curry, with a rabid fanbase behind him. He's not only the first Under Armour player to make the All-Star Game, but he led all Western Conference guards in total votes, even beating out fellow All-NBA stars like Kobe Bryant, Chris Paul and James Harden.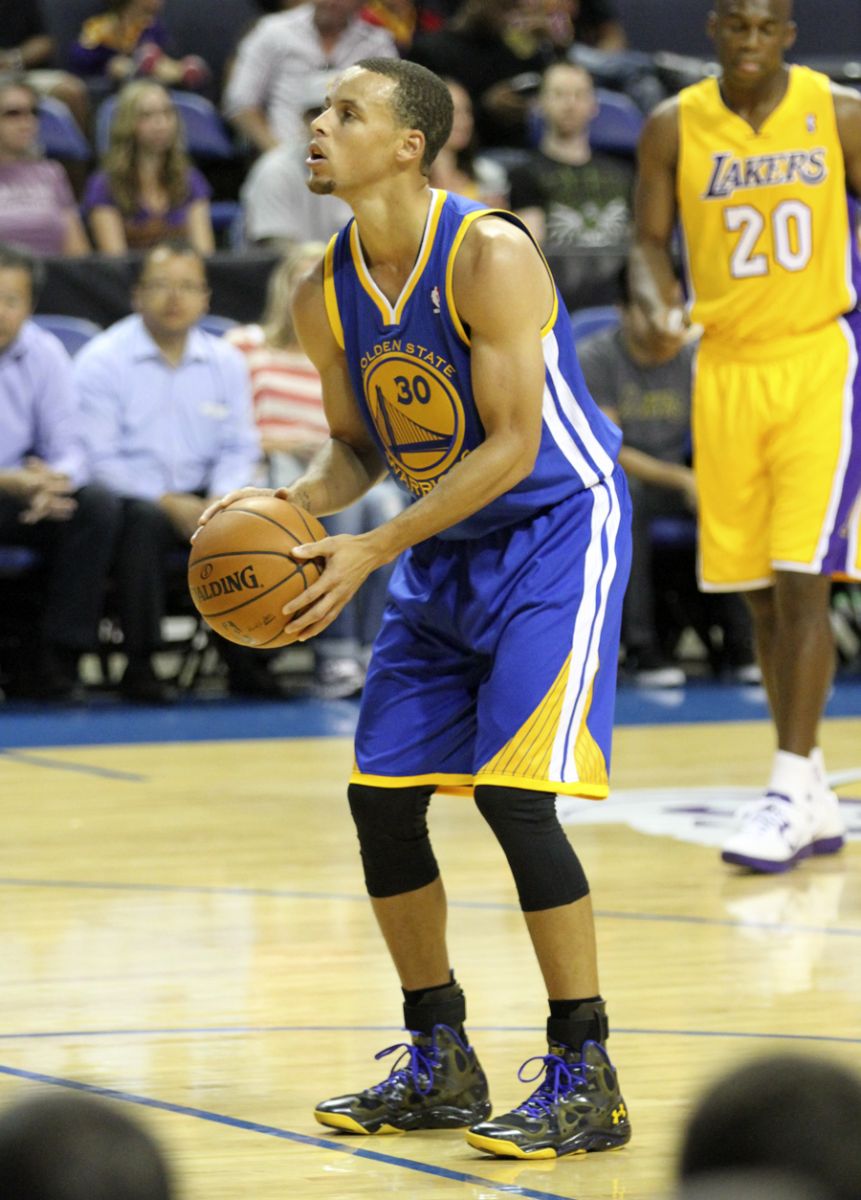 For Steph's sake, going through the process of his sneaker free agency this past summer was entirely new to him, considering he hadn't been heavily recruited during any stage of his basketball career. "I didn't know exactly what direction I would go in, so I wanted to keep an open mind and go where I felt most comfortable," says Curry. "I asked Kent [Bazemore] about his experience and he had nothing but good things to say. I also talked to Kemba Walker about the Under Armour team and he felt the same way."
Now just a few months into their long-term partnership together, the Under Armour team is already looking forward to activating Curry all during this spring with a special edition launch tomorrow, and protecting him on-court in several player exclusives of the Anatomix Spawn.
To get a sense of how the deal came together, we recently caught up with Under Armour Pro Basketball Sports Marketing Director Kris Stone to hear all about all about the brand's signing of Stephen Curry.
Nick DePaula: What was it about Stephen Curry that made him a good fit for Under Armour Basketball?
Kris Stone: The first thing that attracted us to Stephen was the obvious; his ability to play the game at a very high level. Then as we started to learn more about Stephen we quickly realized how great of a person he is. We saw first hand during the playoffs last year that he had a special gift, but when that talent and potential is matched with the motivation to outwork everyone you have a special player. Those characteristics align perfectly with the personality of our brand. He's a great person who above all works hard, is humble and puts his teammates first. Our brand started in a basement and got to where we are today by staying humble and hungry. It was never a question that we wanted to add Stephen to our athlete roster and we're excited about building on a great start to the partnership.
NDP: Over the summer, he was hearing pitches from other brands as well. What were some of the things that he communicated to you guys that he really liked about Under Armour?
KS: Stephen's driven to get better everyday and is willing to do whatever it takes to help his team win a championship. He was looking for an innovative and passionate brand that can play a role in helping him perform his best. He was very clear in what he was looking for in footwear too. When we presented to Stephen he met a very passionate group that understood the innovations that matter on the court. That was critical for Stephen and we spent a lot of time breaking down the technology in our basketball footwear.
Secondly, he was ready to bring his story to life. He knew about our brand's marketing and felt our messages resonated with his journey. When you look into his background he's been doubted since he started playing basketball. It's not easy to follow in the footsteps of an NBA star. He committed himself to the game at an early age and has had to prove himself at every level. Now that he's made it to the league he's in a unique position to motivate young basketball players that want to follow in his footsteps. Empowering the next generation of athletes is at the core of what Under Armour stands for so he was excited about the opportunity to join forces in support of that goal. He saw a brand that was young, passionate and not afraid to do things differently and understood that together we can take things to the level. When you join the team we're going to fully support you and I think that hit home for him and his family.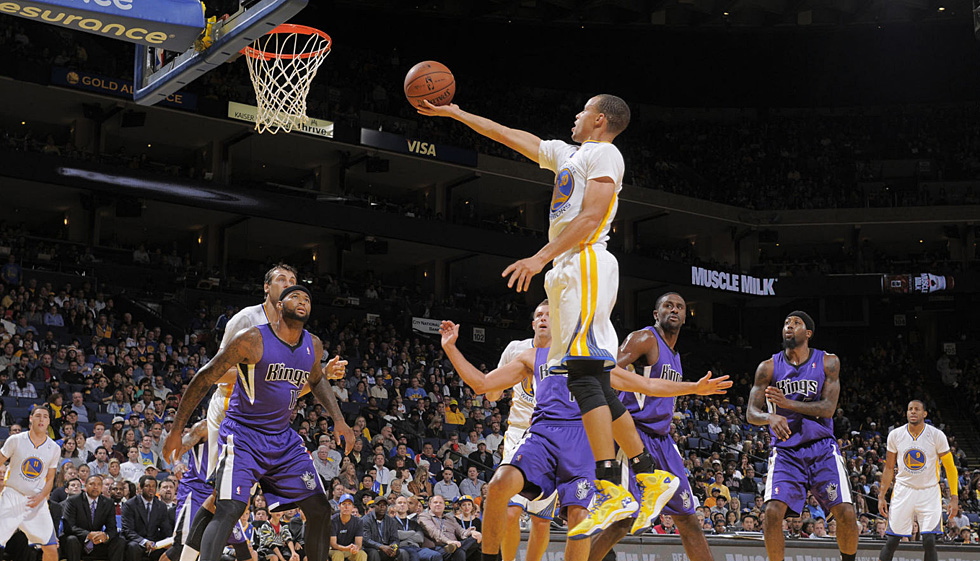 NDP: As you guys have gotten more and more familiar with each other now, what's it been like being around him?
KS: I'm hanging out with him and his family right now actually on the set of his Degree commercial shoot, and it's a great vibe. He's always positive and it's not an act. It's not a show for him. That's who Stephen Curry is. He's respectful, very humble and he's very inclusive. He wants to know everybody's name on our team. He wants their phone numbers so he can build relationships with the people at the brand. Whether it's our footwear product line managers, apparel product line managers or brand marketing teams, he wants to build relationships with everyone. He understands the value of team. He has that same impact in the locker room with the Golden State Warriors.
You also learn fast that he's very competitive. The way he trains and the time he puts into his craft, you see he doesn't take his talent for granted. I don't think he has any limit on how good he can be because he doesn't seem to believe in settling ever.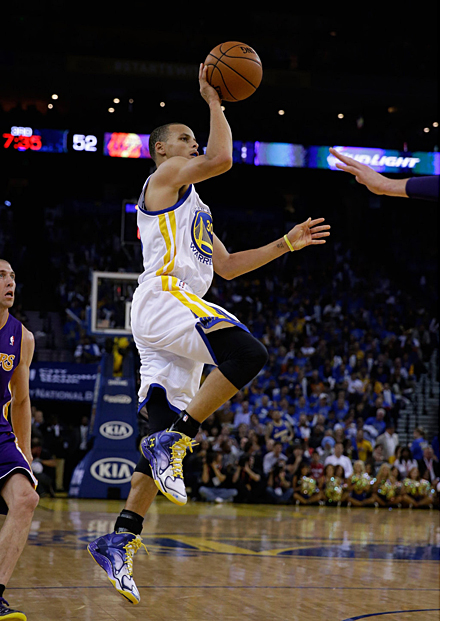 NDP: Obviously, he's had a history of ankle injuries over the years. When you guys met and discussed things with him, what were some of the things he was looking for from a footwear perspective?
KS: The great thing about working with Stephen is that he is very articulate about what he wants in a basketball shoe. From the beginning he was transparent and we had great discussions about ensuring we would deliver a basketball shoe that was going to meet his performance needs. Although we've only been in basketball footwear for four years, we have well-known talented guys in the league that have been wearing our shoes on court. I think that helped him to put his trust in our shoes. He was able to watch from a distance our growth and the evolution of the product. We have a great team of designers and developers. They've made great strides in basketball and are building shoes that perform.
If Stephen needs adjustments because of his ankle brace or any other reason he knows he has a team that can deliver. The Anatomix Spawn is a shoe built around the importance of providing a fit that works with your foot on the court. It's light, and has Micro G for cushioning and response. It's a great fit for him this year and down the road he'll continue to have input into the development of our footwear. Hopefully soon we will get into building signature product for Stephen. One day we might work with him on building a shoe that would accommodate him to the point where he wouldn't have to wear an ankle brace. This relationship is about working together to develop and evolve that Under Armour Basketball footwear point of view and make sure he's fully protected.
NDP: You guys are fairly early on in the partnership of course, but can you talk about the impact he's had so far on the brand? The Warriors have such a loyal and passionate fanbase too and there seems to be a ton of interest already.
KS: One direct example is the Anatomix Spawn has seen a significant increase in key channels over last year's model already and we still haven't launched his PEs. There's also the impact you feel by just being around the game and being around young basketball players. He's one of the best basketball players in the world. Every time he steps on the court the basketball community takes notice. It's hard to measure and put a value on the credibility that adds to your brand because in many ways its invaluable.