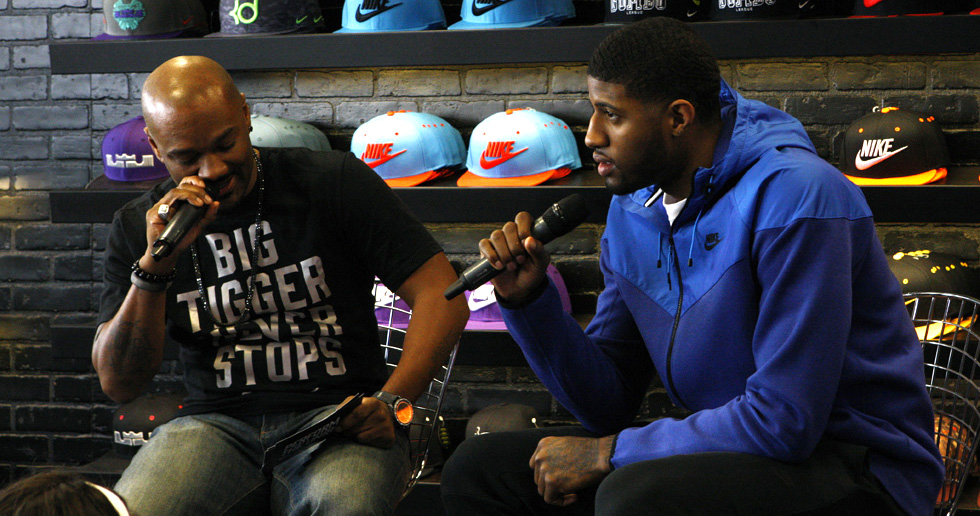 words // Nick DePaula
images // Zac Dubasik
While most players at this weekend's NBA All-Star Game have been on the hoops radar since High School and were destined for stardom, Paul George only recently has been on a rapid path to being included among the league's elite.
After a breakout season last year that saw him win the league's Most Improved Player award, George backed that up and has now led the Pacers to the best record in the Eastern Conference.
Named an All-Star starter by the fans, hear Paul George talk all about the weekend's festivities, the Dunk Contest and his offseason regiment that's helped get him this far.
Big Tigger: What's up PG! How's it feel to be voted in by the fans as a first time starter this year in the All-Star Game?
Paul George: It's amazing, honestly! A lot of guys come into this league with a big fan base, and nobody really knew who I was. It's just a credit to God and the blessings of him onto me to have fans like all of you young fans out here that love my game and can grow with me. It's just an amazing feeling.
We're out in New Orleans, and you're having a good time I assume. Did you think you would reach this point of your career so early in your career?
I eventually thought that I would get here, but I didn't think that I would get here this fast. I just felt like there was a lot of stuff that I needed to work on to get to this level, and I didn't think that I would get here this fast. But, I do know the work that I put in, so it's not so much of a surprise.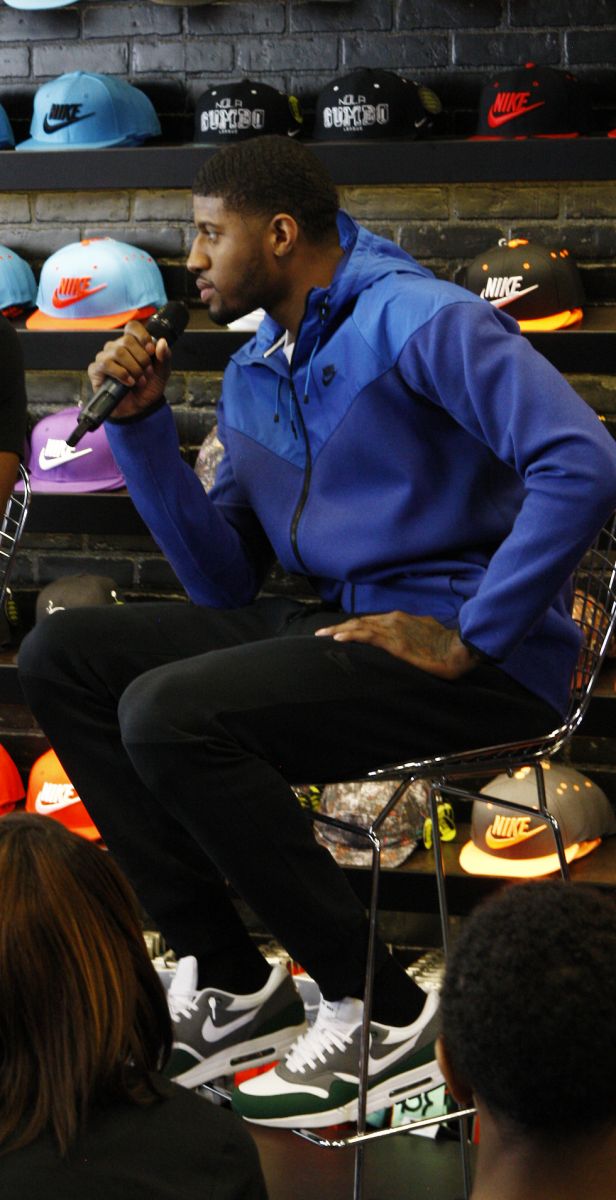 Now, when we flash back to 2012, I have some very distant thoughts of you in the Dunk Contest then. [laughs] In your return this year, what can we expect later on tonight?
I've got some stuff up my sleeves! I'm going to pull out the lost files of 2012. The stuff people didn't see! [laughs] I've got some stuff up my sleeves.
Is it harder to come up with the dunks, or execute them?
I think it's harder to come up with them. There's so much stuff that's been done in the Dunk Contest, and it's a fine line of creativity that you're trying to find when you're coming up with dunks. That's the hardest part. As athletes, it's easy for us to get up and get acrobatic. It's just hard sometimes to get creative with it.
You're been playing great with the Indiana Pacers of course. What makes your team so special?
We just play as one. There's five guys on the floor, but we're all tied up as one. We don't care who gets the shot or who's the player of the game. None of that really matters to us.
How will "Perform The Unreal" translate to tonight's contest? What are you going to do that's going to be unreal?
I can't tell you my secrets! [laughs] It's tonight though. It's going to be hot tonight.
What have been your favorite kicks to hoop in this season?
Well I've been in the Hyperdunks and those are always hot. And the Crusaders. Those are the two shoes I've been playing in.
I see you're in the Air Maxes here. Off the court, is that how you usually get down?
It is. I'm kinda hot though, cause my brother scuffed these. [laughs] There's a little dirt mark on there that I'm hot about, but I like to rock my Air Maxes. I like the whole Nike setup, from PEs to Air Maxes to the whole line.
What was that one Nike shoe when you were younger where you said, "Man, I wish I could get that shoe!"
All the Foams! It was tough to get the Foams. Well, it's still tough to get the Foams, and you've gotta have a connect for some of them even.
There are a lot of young athletes here that play basketball and want to be in your shoes. What is your advice to them?
You've gotta work hard every day. Find time every to work on your game. You can't get better in one day. It's over time, where you gradually start to progress. I also always try and find something new that I can get better at. It could be anything. A better ballhandler, a better rebounder or a better shooter. Find one thing that you can get better and then add to that every year.
What are you going to do in the game on Sunday?
Oh, I'm trying to go for a 40-ball! [laughs] Nah, I'm just playin'. I mean, we've got my Head Coach, so he's gotta give me some playing time. [laughs]
Last but not least, when you say "work hard," describe what kind of effort goes into this? You said people didn't know who you were, and then in the last two seasons, they're like, "That's Paul George!" How much work goes into it? Do you shoot every day? What's your regiment like?
I do everything. Three or four times out of the week, I run mountains. I go and run hills three or four times a week. Twice a day I'm in the gym for the whole week. The weekends, I take off. I'm working on my ballhandling constantly, and I've got a shooting coach I also work extra with. I'm locked in the gym for about two or three hours each time during the day. On top of running the mountains. On top of my weight lifting too. I'm really locked in during the summers. LeBron said it best: "That's when the real season is."
Audience: How does it feel to be famous?
[everyone laughs]
I don't like to look at like I'm famous, man. [laughs] I'm not. I'm a simple dude. I'm normal. It's cool to be noticed and have everyone know who I am, and I like for people to know who I am, but don't think you can't come up to me and say "What's up" and give me a handshake or something like that. I try to embrace it.