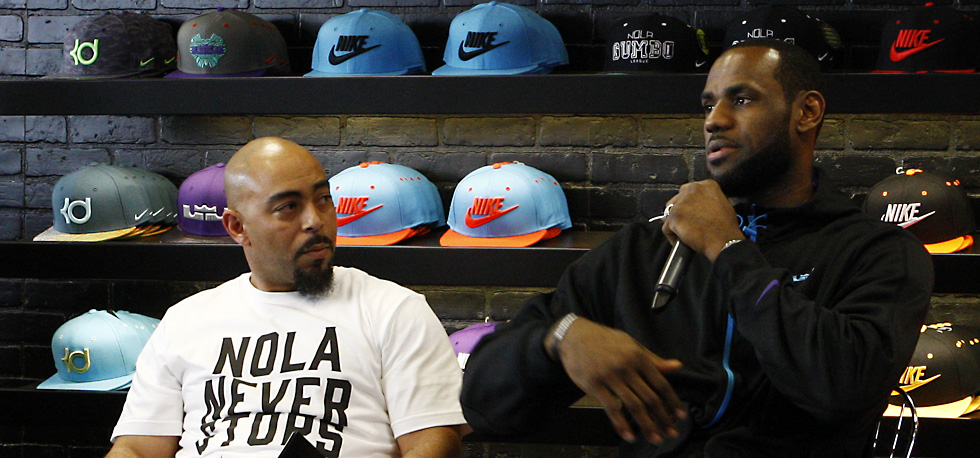 words and images // Zac Dubasik
LeBron James is such a fixture of All Star Weekend that this is his second time being chosen for a game held in New Orleans. A lot has changed since the last time he's been here though. He's since won four MVPs, along with two NBA Championships.
Ahead of tomorrow's 2014 game, LeBron stopped by the House of Hoops, where he talked about "Unreal" moments of his career, who he was looking forward to playing with, and how he continues to improve each year, to continue working towards the Championship goal.
It's your 10th All Star Game. You've been a starter in just about all of them. How's it feel man, to be voted in by the fans?
It feels great. That's the reason – these guys right here, the people outside, all over New Orleans and all over the world voted me in, and I've gotta do my part to make sure I do something special.
What's your favorite part of All Star Weekend?
I think just being around other great athletes. It's like a dream. You can make your own All Star team. It's like a video game, where you can put people on your team, who you want to play with and who you don't want to play with. To have an opportunity to be on the same team as Paul George and Melo and Kyrie Irving, and then my two teammates coming from Miami – CB and DWade. I think it's great.
Nike's theme for All Star Weekend is "Perform the Unreal." Tell us about an unreal moment from your career.
An unreal moment? Getting drafted. That's unreal for me, especially growing up in inner city Akron, OH. That's definitely one of those gifts that's not promised. To be able to stand on the stage in New York City with David Stern, and him give me the cap, and being the number-one pick, that was an unreal moment for me.
You're on your 11th shoe. Only MJ has more. How does it feel to have such a unique and well-received shoe line?
It feels great! [laughs] As a kid I was growing up, and I would always see Jordans or Pennys, and Barkleys and Deions and Griffeys. And I was like man, it'd be amazing if I could have my own shoe one day and be able to put my logo or likeness on, and be able to change the colors and things of that nature. To know that I've got my 11th signature shoe, as well as some other shoes in my line, it's an amazing feat for me.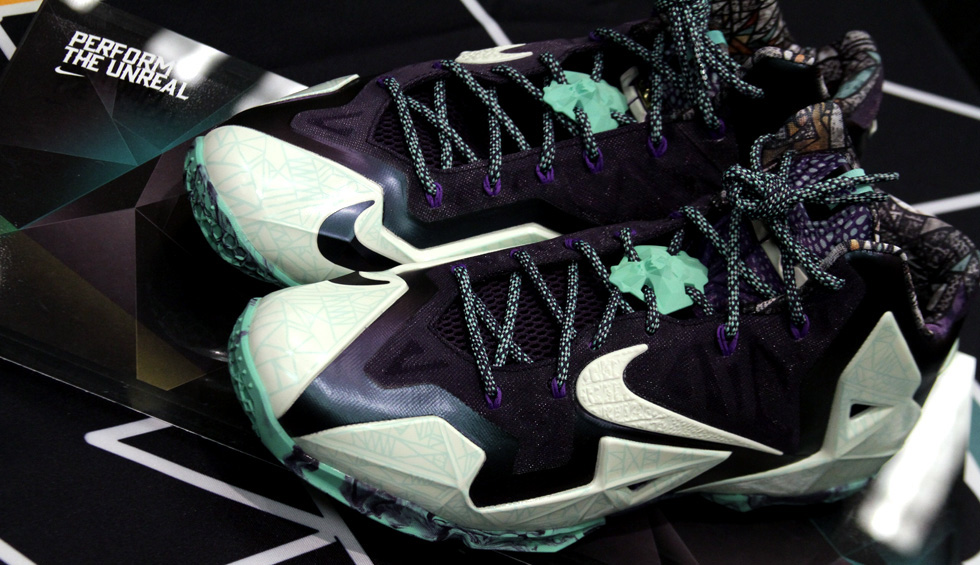 Let's talk about the shoes for a minute. Can you tell us about the design and what you think about it?
Well, we always try to do something that's different. Be innovative and do something different. At Nike, you can do that. The lab at Nike, man, you can do whatever you want to do, with the great designer I have in Jason Petrie. We come together with all the minds at Nike, and we're able to do some great things in different ways, with different colors. We can go to Zoom, or use a full-length Air bag here, the Zoom here on this shoe, or different shoe strings. With this shoe, you can turn the lights off, and you'll still see them. They glow in the dark. This is the All Star colorway, and I'm looking forward to wearing them tomorrow night.
Now, we've gotta talk about the game a little bit. The West has won the last three years. What are we gonna do to make sure the East secures a victory.
We can't continue to let them win, man. We waited too long to get back into the game. We waited too long, and they have a big lead on us, and it's tough to get back. So, hopefully we can get into the game a little bit earlier tomorrow and not allow them to jump up on us.
We talked about you having your [Miami Heat] teammates on the All Star team. But who else out there do you want to play with, or against.
Well, like I said, Paul George is great. Kyrie Irving as well. Carmelo Anthony – it's always fun to be on the same team as him. We've got so much history. And the West, going against Blake and KD and CP3 – those are three guys that it's always fun going against.
You've been to New Orleans twice for the All Star Game. Tell us what your favorite part of the city is.
The food!
What's your dish when you come?
Gumbo. I love some gumbo man. [crowd cheers] The food in New Orleans is spectacular. And so is having an opportunity to be part of the culture. It's been fun. It's been great.
For the Heat fans in the house, they want to know what they can expect from you and the team in the second half of the season to ensure this three-peat.
For us, it's all about being healthy. If we can get everybody healthy to a point where everyone is gonna be in uniform, we have a great chance of three-peating. That's our mindset. Our mindset is to continue to get better in these last 29 or 30 games of the season. And then when April hits, and the playoffs start, we want to be not at our peak, but close to it. We want to continue to try to get better. It's us against everybody, and we look forward to that.
We have a question now from Jasmine Morris. Give it up for her. [crowd cheers] She wants to know what do you do to stay at the top of your game and to get better very summer?
For me, Jasmine, I watch a lot of film of myself. And I'm like my biggest critic. If there's something I see I'm doing wrong, or I see I'm not doing well for a long period of time, I'm like, "I need to work on that." In past summers, it went from, not doing so well in the low post, to spending the whole summer working on my post game, to, I'm not a good shooter, so the whole summer I worked on my shooting. My ball handling – getting better with that. And also getting better as a leader too. I'm not as good of a communicator with my teammates as I could be. Those are all the aspects that I try to do throughout the offseason. Now, you can't to them all. You focus on one thing, you get better with that, and then you implement that into a game situation. Then you think, "Oh, I can do this. I feel comfortable doing it." And then, you start working on something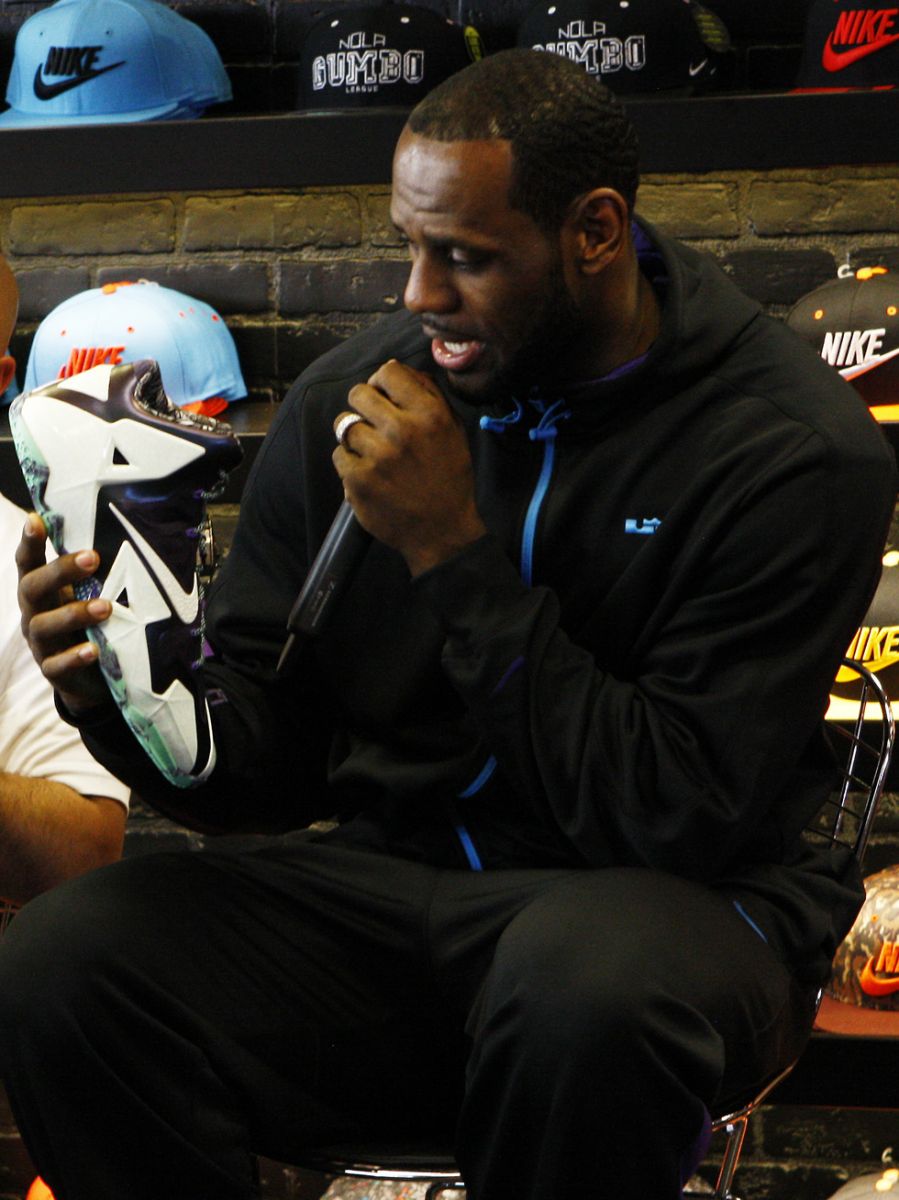 else. You've gotta be your biggest critic. It can't be your coach. It can't be your parents. It can't be your best friend. It can't be your opponent. You have to be your biggest critic. And you have to be able to accept constructive criticism from yourself and say, "I'm really not that good in that area." And once you get that, you'll be pretty good.
[LeBron is presented with his PE pair of Nike LeBron 11s for the game]
This is for you.
For me? The case is crazy!
These are the official shoes that LeBron will be wearing tomorrow in the game.
Yes I will be wearing these. Yes I will. They're spectacular.
What do you think man?
Obviously, I've seen the shoe before you guys have seen them. [laughs] I was in the production. To be in this position today, and to see that I have a signature shoe and get to wear my own shoe in the All Star Game is very humbling.
They're looking sort of MVP-ish.
Well, you know, I'm used to that. [Ooos and Ahhs all around] I'm used to that. So, we can try to make that happen again. [laughs]