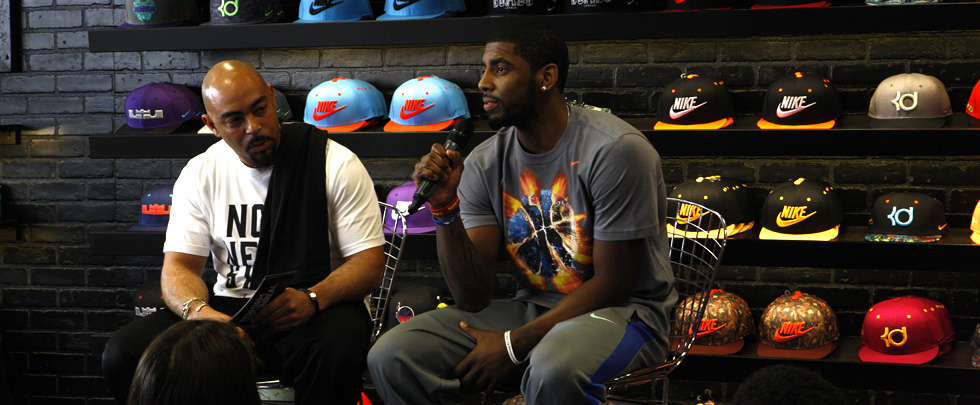 words // Nick DePaula
images // Zac Dubasik
During a busy weekend in New Orleans, two-time All-Star Kyrie Irving stopped by the Nike House Of Hoops for a chat about how his All-Star weekend has been going.
The Eastern Conference starter discusses what he's looking forward to, what his most unreal moment was, and also shares his Top 3 Point Guards and Top 3 players of all time. Let us know if Kyrie's answers surprise you and if you disagree in the comments section below.
Host: Welcome to New Orleans and congratulations on making your second All-Star game. Tell us how it feels.
Kyrie Irving: Oh man, it feels great. It's a great experience to be back here in New Orleans. The traffic is not too good [laughs] , but other than that, the food is great, the people are great and I'm just happy to be here.
The fans voted you in. How does it feel to be voted in?
I'm just very thankful. It's a blessing and an honor to be apart of a prestigious environment such as this one, now for the second year in a row. Being a starter too is a great honor. I'm just thankful for my teammates and my coaching staff.
Tell us about the starting lineup. How does it feel to be apart of the starting lineup?
Bron is playing the 5, Melo is playing the 4 and PG is playing the 3. Then Dwade is playing the 2 and I'm the 1. That's an incredible five right there, so I'm looking forward to it.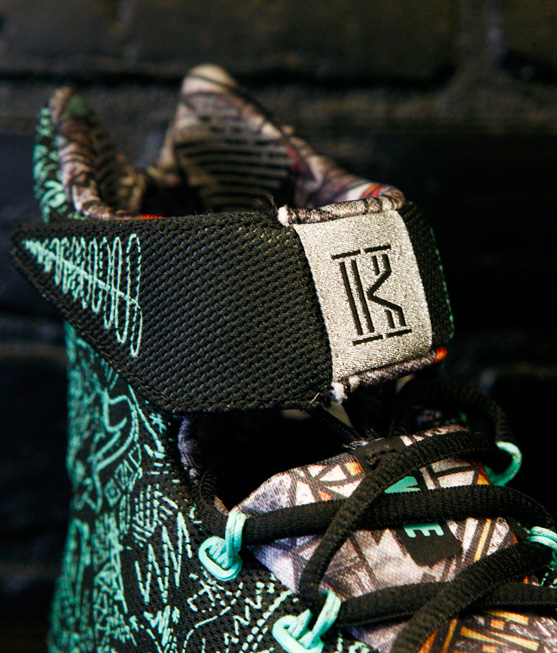 Personally, what's your goal for tomorrow?
I'm just trying to go out there and have fun and put on a show for the fans. I'm going iso on everybody at the top of the key or on the wing. [laughs] That's what it's about. The past All-Star games, if you've watched them, it was real competitive and it's the greatest players in the world playing on one stage. I think the fans just want to see us compete and play hard.
Is there anyone in particular you want to shake?
[laughs] Nah, nah! Not many people want to be on that island, so we'll see.
Nike's theme for the weekend is "Perform The Unreal." Tell us about something that happened in your career that was an unreal moment.
An unreal moment in my career had to be when I got drafted. I was 19, and I was with my dad, my sister and my two best friends, and it was an unreal experience, not only for myself but also for my family. I got to share it with them, and all my hard work had come to fruition. All my dreams had come true. God works in mysterious ways, and it was truly a blessing.
We've got a lot of guards in the house. Tell us about the HyperRevs that you've been rocking.
The HyperRevs tomorrow that I'm wearing, I don't know if they're releasing but I hope they do, but tomorrow they'll have glow-in-the-dark like most of the shoes here. The theme for New Orleans is great and I'm looking forward to wearing them tomorrow.
So is this what your style is like when you're just out hanging around? Do you usually wear Air Force 1s? What's your style like off the court?
Off the court, I'm more of an Air Force 1 or a Roshe guy. I've designed probably around twenty pairs of Roshes already, just sitting at home on NIKEiD. [laughs]
Audience: Have you ever been cut from a team, and if so, how did you deal with it?
I have not, but I've seen some of my friends get cut before. You have two choices: Either you can work harder and make your dream come true, or you just give up on it. You have two choices, and it depends on the type of person you want to be, whether or not you're going to go for it. Every once in awhile, you'll fail, but it's about how you respond.
What about the feeling of when you accomplish something? You've gotten drafted as the top pick and now you're an All-Star, so talk about what motivates you to keep going further.
I just have a saying, "Hungry and Humble." That's what I live by. It not only applies on the basketball court, but it applies to my life and it applied to when I was in school. I've always had that hunger to go the extra mile and do things that people might not want to do. What separates the good from the great is how hard you work when nobody else is. That applies to life. That's more important, and that's something that my dad was telling me as a kid. He taught me life lessons about showing humility, and he always would tie it to the basketball court, but also make sure I was prepared for life. Once the ball stops bouncing, I have to make sure I can still successful.
You're experiencing career highs right now, and you're doing your thing. How good do you think you can become?
It depends, but I think the sky is the limit, and it depends on how hard I want to work and how bad I want it. I feel like I'm my own worst critic, and I control my destiny, so I'm definitely going to make it happen any way possible.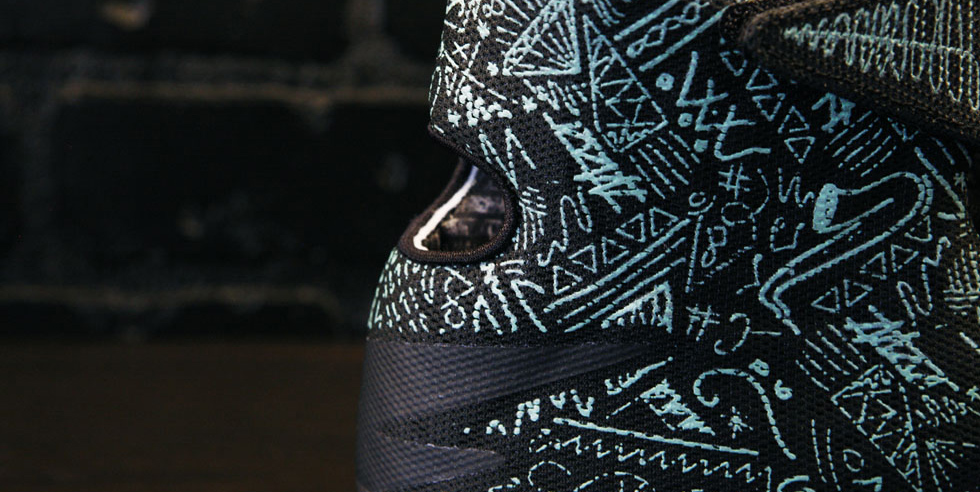 For all the guards out there, give us an essential drill that you do for all of the guards to get better out there?
I wasn't always the tallest guy in my class, so I always had to be good at something else. What I really worked on for my game was my dribbling. I've spent a lot of time in my backyard, and even just walking down the street. If I was walking somewhere, I had a ball. If I was out on the street now, I'd be crossing up everybody and going all around people. I always imagined myself with a basketball, and envisioned myself getting to the next level. Another thing, is I did everything full speed. I was thinking about playing against Kob, playing against Bron and also against all of the great point guards, and just imaging myself there. Once you get that opportunity, then you're already prepared.
Who are your top 3 point guards of all time?
Magic, Isaiah Thomas and Tim Hardaway.
What about Tim Hardaway did you like?
The crossover man!
The killer crossover.
What about AI too? I played against him, and he's a tweener, he's a combo, but everyone always looked forward to playing him.
What about your top 3 greatest players?
MJ, first of course, then I'd probably put in Wilt, and then I'd have Kobe at number three. I don't think we're going to see another person do what Kobe did. I'm talking about the Fro Kobe. [laughs] It's crazy, because you look at this month that KD is having and it's amazing. I saw it, and I looked at all of his numbers, and he's been killing it. All of the respect to him, cause he's been dominating, but then I compared it to Kobe's numbers and compared it to MJ's numbers, and it was like, "Whew!" [laughs]
When Kobe is on, he's unstoppable.
Do you remember the game against Dallas? He outscored the whole Dallas team by the end of the third quarter. Nobody else is doing that. [laughs]