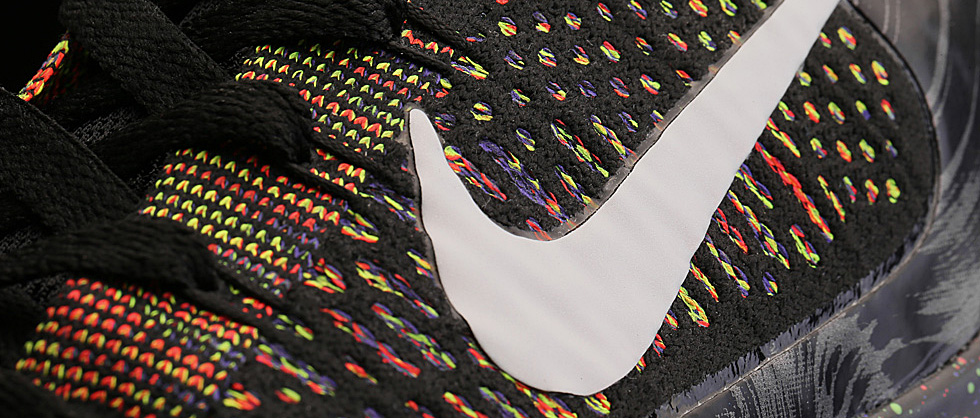 words & images // Nick DePaula
read part 1 of the interview here
With yet another Kobe signature series on the horizon this weekend, there's quite a lot different this time around. There's an entirely new outsole pattern, huge helpings of carbon fiber on a surrounding support plate through the midsole, clearly a much, much higher silhouette, and most of all, Kobe is obviously not currently playing.
With all of those drastic changes in the air, the power trio of Nike CEO Mark Parker, designer Eric Avar and Kobe Bryant continued to discuss the grand shifts that've taken place, and just how the demands of Kobe's game and perhaps evolving post-injury game will be helped out by the new shoe.
Read along as the three talk over all things Kobe 9, and you can check out the shoes in person at stores nationwide this Saturday, February 8th.
Kobe is known to be a demanding customer. Can you help to explain more about your process together?
KB: What! [laughs]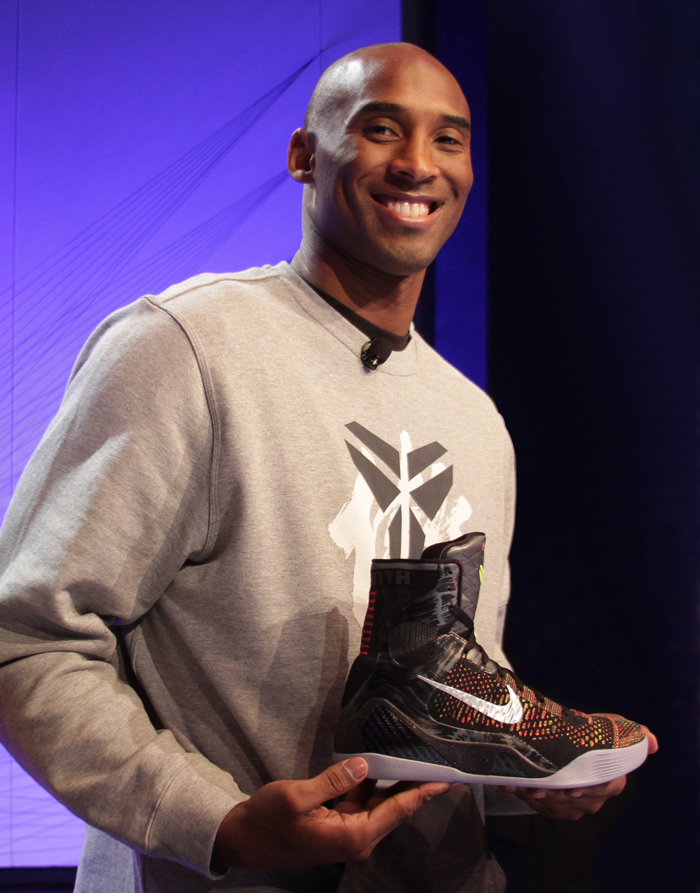 EA: Well, as Mark was saying, working with Kobe is intense. He has extremely high standards that he holds himself to, and he brings that same intensity and demands to the design of his product. That's exactly why we love working with him, and I think that leads to better product. But, as intense as he is, we have a lot of fun too. You've gotta enjoy what you're doing. Obviously, Kobe is an incredibly intense, very competitive, very detail oriented individual and player. The way he plays the game is the way he wants to be involved in the design and innovation process. What he expects of himself, he expects of us. It's definitely intense. I'm a competitive person also, so we just feed off of one another, and I love that. He pushes us, and he's constantly pushing the design and innovation.
KB: I think we're all geeks at heart. [laughs] This stuff is really, really fun to us. Sitting around and going through the materials and going through the entire process is really, really fun to us. This is what we do.
EA: There's a lot of "What ifs?" What if we do this, or what if we do this? It spins, and it's a phenomenal process.
You went through a lot of sketches and mock ups here.
EA: Yeah, and you can see a little bit of the progression from where we started. There's a lot of learnings with the Flyknit process, and something that Kob and I talk about all the time, is finding that right balance between science and art.
KB: I mean, imagine Avar going, "So I think I get the concept of what you want to do, and maybe if we use this material, we can do it something like this." At first, I was thinking to myself, [pauses...stares out] "Well, you kind of have to look at it sideways and have him explain it you a little."
EA: You can squint too. [both laugh]
KB: But you've gotta trust the process too. He obviously sees things differently and has been doing it so long and has been remarkably successful. You always have to have a great amount of trust, and know that we speak the same language and he knows exactly where I'm coming from, and I know where he's coming from.
In a way, this seems to represent the apex of that process where you talked about finding the balance between design and science. How does finding that balance work?
MP: Well, in a way, there is no apex, if I can be so bold. We have a saying that "there is no finish line," and I think there's always a way to make it better and better. But truly, when you work with an athlete like Kobe, who is incredibly demanding and has really high expectations and really knows what he wants and needs from a performance standpoint, it brings an emotional and mental aspect to the design process. There's some insights that can influence the design as well, whether it's the mamba, or the warrior or some of the shark [inspirations]. There are things that are more qualitative and a little less tangible in some ways, that go beyond science, the measuring and the sport research. But, it's blending the emotional with the physical and what we can measure. Now, with the digital technology, and the measurements that we can get in the Nike Sports Research Lab, we can combine those things at a much higher level. To me, being around design a long time, that's one of the most exciting things I've ever seen. The level of sport, combined with the quality of the insight that comes from the athlete, on both the qualitative side as well as saying, "Hey, I know what I need, and this is what I need to play at my highest level."
KB: When Eric and I first met, I started talking about why I'm inspired by the great white shark. Eric and I were then talking about a shark and how it relates to basketball in terms of how you can hunt and attack, and the stealthness and sleekness. They were just like, "Oh yeah, because of blah-blah-blah..." I was like, "Ok, great, I'm not weird." It was fun to be able to speak that language and make those analogies and those comparisons, and now we can carry that emotion into the design process and how things are made.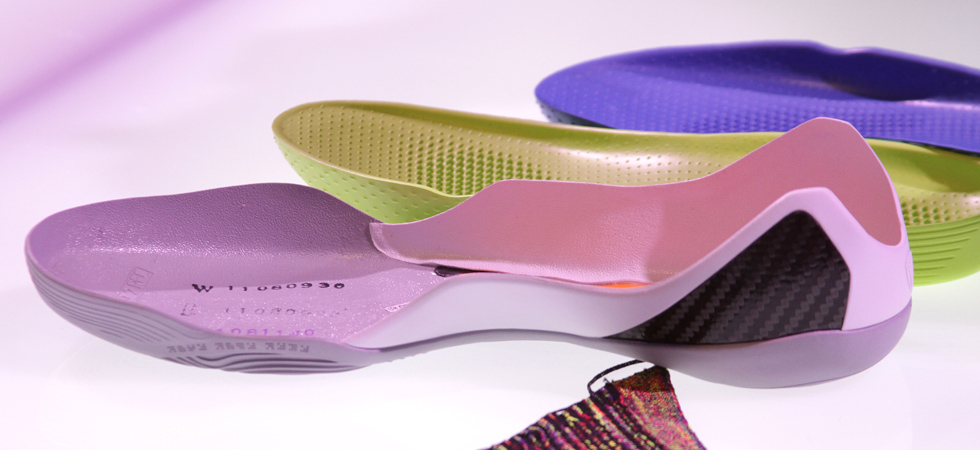 MP: One thing that's interesting, is this [shoe] is unusually high. One of the things that Kobe talked about early on was boxing shoes and wrestling shoes, but how do you get that close-to-the-foot, kind of, stealth-like fit that gives you that proprioceptive support that Eric always talks about? One of the most unusual aspects of the shoe, beyond the technology, is the height.
KB: I look for inspiration everywhere. The idea of first going to a low-cut shoe, obviously soccer or futbol had a great influence in my life in terms of how they move. Same thing happened here. I was with Pacquiao, watching him train and prepare for a fight, and I'm looking down and looking at his boxing moves and saying, "Hey, I wonder if there's something there." The timing, everything just kind of matched up. Obviously with the Flyknit, you have the ability to do some of these things. With the technology that we have now, we can create something that's for basketball performance, can be really high, but gives a lot and can move with you. Really, I just sit and think about crazy stuff, and then I hit them up and tell them about the crazy stuff and they come up with more crazy stuff. I'm still waiting for my flying shoe. [laughs]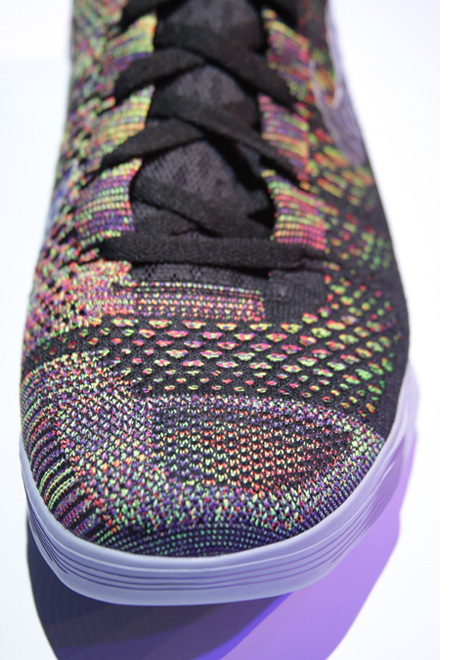 Eric, you sit alongside Tinker at Nike, and the Air Jordan XX8 had a huge carbon fiber heel counter, but also carbon in the shank as part of the Flight Plate. Here, it's just in the heel. Did you talk with him about some of the benefits that that shoe had, and did you toy around with using the carbon fiber under the foot as well, or did you just want it as a counter here?
EA: Tinker and I have a long relationship, and we're always going back and forth and sharing thoughts about product. Carbon fiber is something we've used in a number of ways for a number of reasons through the years, and we just thought it was appropriate in the heel. Kobe was mentioning to me that the fit and lockdown of the shoe is amazing, and I think it's because we tried to pinch that carbon fiber a little tighter actually against the last, and it really secures your heel here. We just wanted to make sure we built it in a way that provided support more than anything.
The Kobe V and VI both had a storytelling outsole and graphic pattern, then you went back to herringbone for two years. Did you bounce around between using herringbone again here, or did you always want to have that anatomical look this time around?
EA: The main inspiration about it was just having a thin web, and a light outsole. Just really trying to play up that natural motion aspect of it. We've had some really good luck with that, with thinner ridges, and so we took a standard pressure map, and designed those ribs to that pressure map. The traction has worked out really good throughout the process.
You guys talked about the Flyknit upper a lot, and obviously the height, but what about the cushioning. Was there much of a discussion in terms of using Lunar versus Zoom?
EA: We've alternated back and forth, and we've had some Zoom product, and Kobe has really liked the Lunarlon. We feel like it gives you good responsive lightweight cushioning, and it gets you lower to the ground. It also has just a little more natural motion and splay to it, and that, in conjunction with the outsole, gives the whole shoe a little more of a natural motion feel. Lunarlon was definitely a big performance point. He was just saying to me before, "It just felt really spongy, and in a really good way." It's cushioned and responsive.
Can you walk us through some of the influences and things that help to symbolize details in the shoe?
KB: With this particular shoe, the entire concept of it was about muses. It's about who and what in my life has inspired me since I was a kid, all the way until now. Trying to take some of the things that I've watched, I wanted to do an homage to some of these people with the inspirations in some of these shoes. The whole concept behind some of what we're calling the Kobe Ninth, stems from certain musical scores, and is about paying homage to people that have inspired me, and also challenge the youth to find muses of their own.
EA: That's one of the great things too about Kobe, is he takes so much inspiration from so many different areas. He has so many emotions and passions that he wants to express, and it gives the product some character and some soul. That's that emotion that Mark was talking about, and when you balance that with the science and heart, that's what makes for a great product.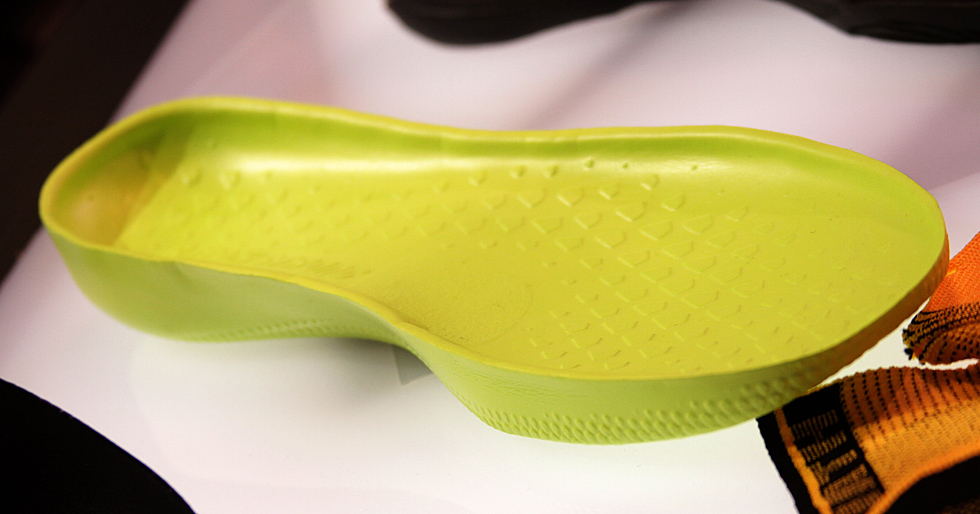 MP: Kobe, to me, represents the modern athlete, in that he is not satisfied with tradeoffs. It used to be that a shoe, to have stability and let you feel really secure, would have to be overbuilt and heavy. That's not an option. It's gotta be light, it's gotta be stable, it's gotta move with my foot and do all of these things, and I don't want any compromises.
KB: And I want it high. [laughs]
MP: And I want it high. [laughs] It's gotta work at a whole different level. Today, you don't have to live with as many compromises anymore. Technology is moving so fast, that we're able to minimize the tradeoff between those characteristics. We're able to create a new era of performance design that eliminates tradeoffs. To me, that's one of the most exciting parts of performance design today.
KB: We push it. You've gotta push it. You can't be satisfied with things that we've done or that we've accomplished. The fun part is getting better, and coming up with something else that can enhance performance, make you feel more comfortable or whatever it may be. What is the next thing that we can do? We're not just going to sit here and rest on what we've accomplished.
What's it going to be like to be back on the court?
KB: It's going to feel like being home. It's like putting the fish back in the water. [laughs] You've gotta learn to swim. It's going to feel like I'm back home and doing what I do best. It's going to be great. You guys obviously see the red stitching, and you know what that's symbolic of. It's about the journey. We've all kind of been on this journey together. A lot of people have been supportive, and some not so much. But whatever. We've all been on this journey together, and it's about telling that story and the inspiration. It's about self-discovery. Me coming back, it's kind of the culmination of all of those things put into one pile.