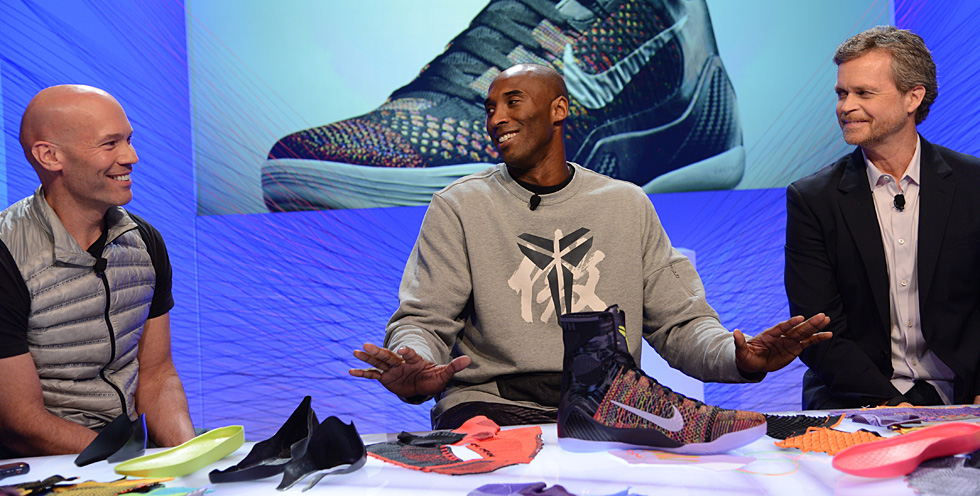 words & images // Nick DePaula
To say Nike's Kobe series has been a remarkable success would be a huge understatement.
While the initial Huarache 2K- models and early Zoom Kobes were beloved for their on-court performance, it's fair to say they were only met with marginal levels of broad interest from the mass consumer. But when that fourth model showed up in early 2009? They ushered in a new era of low-tops and the brand has never looked back, enjoying annual growth at a steady pace ever since.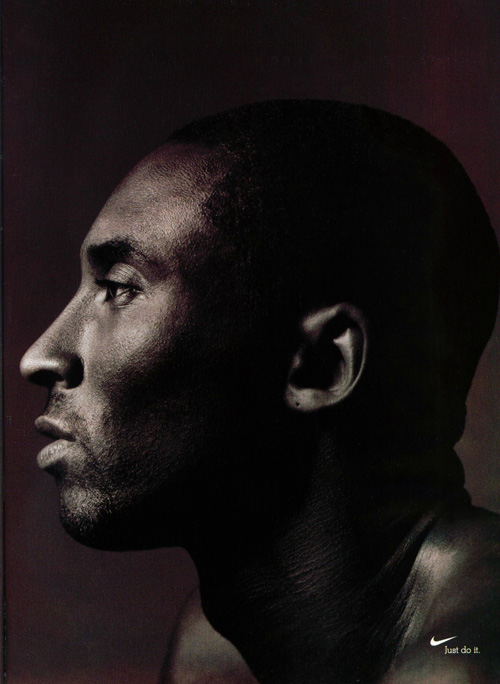 By the time Kobe's eighth signature hit the launch calendar, which has now extended over a full calendar year, an unheard of timespan for signature footwear these days, the actual business has never been better. His footwear sales are topping $50 Million in annual total revenues, and it's not uncommon to see half of the players at your local gym in a pair of Kobes, or countless kids at school in their daily low-tops.
So naturally, the team assigned to Kobe's footwear, led by Nike VP of Design Innovation Eric Avar, is ditching all of that in favor of a high-top.
Huh? I know. While the initial version seen here, available this Saturday at Nike accounts for a steep $225, is indeed as high as it gets, you'll still see a targeted focus on keeping the "range of motion and mobility" that Kobe so often stresses. It's high in silhouette, sure, but the brand's Flyknit construction makes its way into Basketball for a first time to try and balance out that proprioceptive protection in a pliable collar.
What will that mean for the overall success of the model for a line that has become distinctly known for it's low-top cut? We'll have to wait and see, with much of that success perhaps also hinging on the on-court time Kobe is able to spend in it. If you're not entirely feeling the High, don't completely worry, as a toned-down Low version will be making its way to retailers later on this spring as well.
The cut of The Ninth is surely the biggest shift we've seen in five years for the series, and earlier this past December, we got a chance to hear all about the newest signature edition and its many, many new details and cues, straight from Nike CEO Mark Parker, Eric Avar and Kobe in this conversational roundtable.
Can you talk about your history with Nike and some of the biggest projects you've worked on?
Mark Parker: Well, I've been around Nike a long time. I started in product design, I'm very proud to say. I've seen a lot of change throughout the years, and this is incredibly exciting. Meaning, a whole new technology and not only where we've come with it, but it's potential going forward. I've seen a lot of change, as I've said, and there's some things that haven't really changed through the years. We are, as some people may know, very obsessed with the relationship between athletes and doing whatever we can to help them realize their potential. That relationship with the athletes, and that deep connection, is where we get the insights that really drive the innovation.
That's not only in terms of performance, but also in the aesthetic, the emotion and the feeling of the product and how that empowers the athlete and helps them perform at their highest level. I think that process of helping the athlete perform at the highest level is what makes us better. There's been a lot of change, and some people might ask, "What's different today, versus ten or twenty years ago?" I think, largely, the athlete is different. They're bigger, they're faster, they're more powerful and more demanding on the product. They also have higher expectations than ever before, so the product has to stand up and we have to continually raise the bar in terms of performance.

Describe the importance of Flyknit to the brand?
MP: I don't use the word game-changing too often, but I think it's appropriate here. Flyknit is, in many respects, game-changing in terms of performance, in terms of design, and it's like you've got a high precision instrument to work with. It used to be largely cut and sew construction for many centuries, which is more of a collage, where pieces come together. Today, we're working at a fiber level, and at a pixel level. It's kind of like high definition TV, and we're able to get more precise, not only on parts of the upper, but down to the millimeters. The way the fibers are put together enables us to raise the level of performance in a much more intimate way. On top of that, it changes the game of manufacturing. You're taking one of the most labor intensive parts of the manufacturing process and simplifying it. There's a sustainability factor, and in this high-top shoe, there's about 50% less waste than a conventional basketball shoe. If you look at Running, it's potentially 80 to 90% less waste. It's a great example of not being just about performance, and we're enhancing performance, while we're also making a major sustainability improvement at the same time.
Do you think this new process is part of a modern industrial revolution in terms of manufacturing?
MP: I think it is fundamentally and conceptually different, and not only in the manufacturing process, but also in the design process. What we're able to do with this technology, which in many ways is an old technology with knitting, but we're able to be using major innovations in the machinery and major innovations in the fiber designs. We're bringing those two things together, and it enables the designers to do things that they couldn't even think about doing with older cut and sew types of construction. For me, from a design standpoint, this is one of the most exciting things that I've seen in years.
Eric, how long have you been with Nike and what are some of your favorite projects that you've worked on?
Eric Avar: I've been with Nike for twenty-three years now, and I think it's just about to the day that I interviewed with Mark for a design job actually. I've been blessed and honored to work with some amazing athletes over the years, none more amazing than Kobe. I met Kobe eleven years ago when we started this amazing journey of athlete and designer relationship and friendship. In addition to that, I worked on the original Foamposite product, Huarache product, the Hyperdunk series, and one of the ones that I've been most interested in, is the Free product. I'm a big believer in natural motion, and that product should be a natural extension of the body and work in harmony with the body.
MP: We do study the history of product design, and it's interesting. The Air Woven shoe, which many of you might be familiar with, was actually inspired by a pair of sandals in Fossil, Oregon that were about ten thousand years old. It doesn't get much older than that, and we study the weaving technology and craft, and then we marry that with modern technology, which in this case, is high performing and form-fitting materials. We really got a breakthrough in that sense. Knit has been around for a long time as a process, and now we're adding high tech fibers and constructing the fibers to create performance zones. There's different parts of the upper that perform in different ways, based on the fibers we use and the way they're constructed. That's really built a whole new era of performance design.
EA: I'm a big believer in the idea that, to go into the future, sometimes you have to look to the past. We learn from the past and rediscover new ways of doing things. Sometimes, these breakthroughs going forward are exactly that. From a design perspective, new technologies like Flyknit evolve. Good design is always a balance of some classic elements, but also some very modern elements.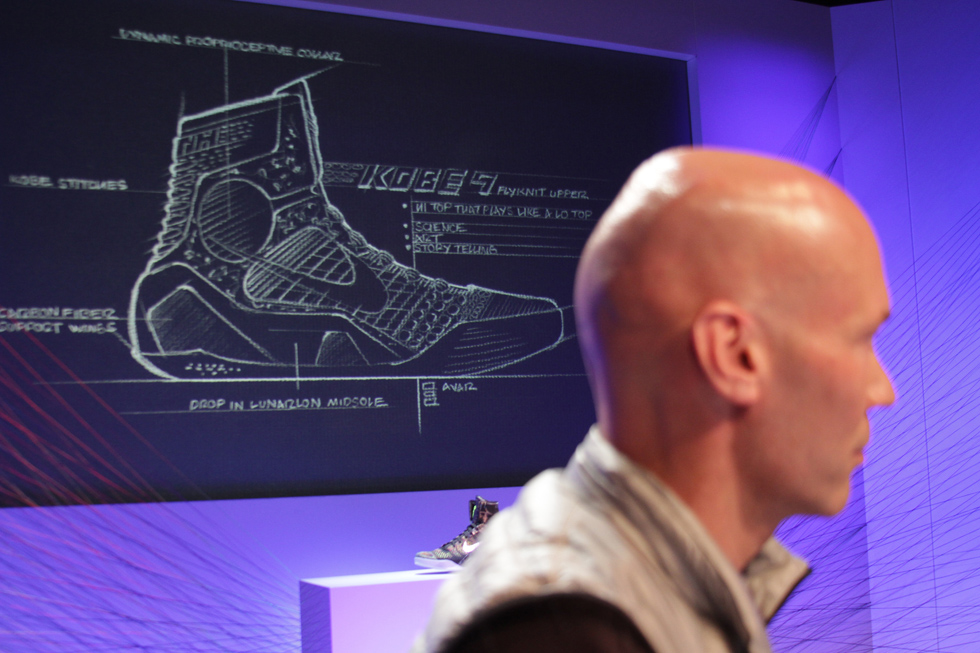 Because the Flyknit process is so different, no two shoes are alike in terms of their weave and look? What constraints and potential does the material have.
EA: Flyknit is an amazing design tool, and Mark spoke to it very well. I like to refer to it as a high resolution design tool, and you can literally design down to the very stitch and the very millimeter. You're designing almost to a pixel level. You can design the amount of stretch and breathability exactly where you want it. Between the stitch and the fibers, you can create an unbelievable amount of performance properties. In the forefoot, where you really want some lockdown and security against all of the lateral forces, you can use a certain type of stitch and a certain type of fiber. Then, through the midfoot, where you want more of a dynamic and secure fit, you use another stitch and fiber. In this case, part of the brief from Kobe was that he wanted a high top that played like a low top. The fibers and the stitch in the collar is all very dynamic, to allow for that proprioceptive fit so that it plays like any high top shoe. Knit, just from a design perspective, allows us to use so many variables, and it's essentially a blank canvas that allows us to design from a functional standpoint and also from a visual standpoint, so it's really amazing.
MP: And we're designing it for the foot in motion, so it's not a static motion. We're dealing with very dynamic forces, movement and rates of motion, so the design, the precision and the performance have to be taking that into account. What's happening in very extreme situations, and how this knit can help to accommodate the foot in various circumstances.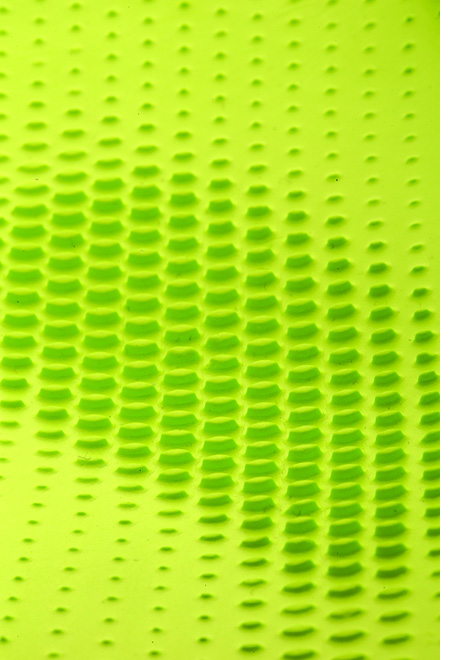 Flyknit started out in running, but at one point did you see the potential to broaden it and take it into other sports?
MP: Frankly, immediately.
EA: Yeah, definitely.
MP: I think with Running, it's a more straightforward motion, relative to a court sport like tennis or basketball, and it's a little simpler to problem solve. When you get into basketball, you've really gotta deal with some lateral forces and some big players that are fast and creating some enormous forces. We wanted to make absolutely sure that this very simple and elegant one layer is actually accommodating those forces and working for those best players. That's ultimately what we do, is really help them achieve their potential. We're not going to do something before it's ready, so it took us a little more time to refine that technology [for basketball].
EA: It was really refining the use of fibers and also the type of stitches to create that dynamic yet secure upper that someone like Kobe would need. No sooner did we decide that we could do a basketball shoe with Flyknit and our minds just immediately went to Kobe. Working with him for almost eleven years, one of the many, many great things about Kobe is he always wants to be pushing the limits of design and innovation.
Why did you immediately think of Kobe for this project?
EA: It was just that, this is such a cutting edge and new way of making product, and we're pushing the limits of basketball product. Through all the years, every time we meet with Kobe, he's always challenging us and he's very intense and passionate about performance. He always wants to be pushing the limits of design and innovation, so it was logical that we looked to him. As soon as we presented our concept to him, he said, "Yeah, let's do it. Let's go for it."
MP: We're privileged to work with some of the best athletes in the world, and Kobe is certainly among those athletes. I would rate him as one of the most challenging athletes to work with, and I mean that in the very best way. He has very high standards, he comes in with very specific ideas in terms of the product, and communication really is everything. He's a guy that comes to the table many times and it's an intense discussion. He's done his homework, he knows what he wants and he has high expectations. We get into the minutia of detail. People always ask, "Well, how involved are the athletes in the product?" There's no one that's more involved than Kobe in developing the product. I think it's working with athletes like that make us better and ultimately create the real breakthroughs in innovation.
Kobe, can you tell us a bit about what this project represents from your perspective? What's it brought to your game on the court?
Kobe Bryant: Well, we always try and do something that's going to help my performance on the basketball court. That's what we always start from – we always start with that discussion. "What is going to help me be a better basketball player?" That's the inception of these conversations, and then from that, obviously Avar and his team, they have so many things going on in The [Innovation] Kitchen at Nike, and a myriad of technologies that they're working on to make the latest and greatest. When it came time to put Flyknit into a basketball shoe, it was a hell of a challenge to say the least. [laughs] But that's who we are. It's been a long journey, in terms of putting it all together and making it work, but it's been a fun one.
You've been trying it out, have you noticed anything in particular?
KB: The thing I was most impressed with was the responsiveness. Very responsive. Especially for a high top. This is higher than the normal, but there's no responsiveness in a high top sometimes. When you're changing direction, your ankle is normally hitting the product, and then there's no give. With this, there is, so you have that tactile stimulation in your ankle, but you also have something that gives and changes direction and moves with you. That's the genius behind the Flyknit.
Stay tuned for Part 2 tomorrow, featuring more insights and background from Kobe.