words // Brandon Richard
Nick's $215 Kobe Forces are a tough act to follow, but I'm going to give it a shot with the story of my worst sneaker pickup.
My story goes back to 2004, an all-time great year for retro Jordans and one of the worst for the game shoe. While the Jordan Brand hit hard with shoes like the 'Melo' 2, 'Cool Grey' 4 and 'Olympic' 7, the Air Jordan XIX was a release that many sneakerheads would like to forget. In fact, most of us have. There isn't exactly demand for a XIX retro and some collectors were even willing to pass on the IV when it was packaged with the XIX for a Countdown Pack in 2008.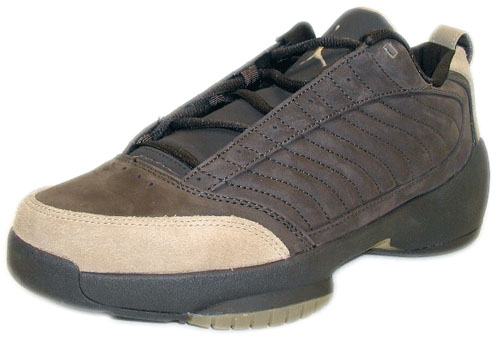 What's worse than the Air Jordan XIX, though? The Air Jordan XIX Low.
This awkward, clunky failure dropped at a time when Jordan Brand was pushing hard to bridge the gap between performance and lifestyle. It doesn't necessarily look like a hoop shoe, but that's what it was supposed to be. They even slapped the horrible design with elephant print overlays in an attempt to recapture the vibe of the good ol' days, then followed up with a few 'L'Style' drops, including the awful awful awful 'Cinder' colorway.
I didn't like the XIX. Or the XIX Low. I particularly don't recall ever having a positive thought about Cinders. However, for reasons I'll never understand, I bought a pair at the full $115 retail tag. I can't attribute the purchase to hype — there wasn't any. I didn't have money to blow. There wasn't any resell value. This was just an old fashioned, beyond impulse, no damns given pickup.
There was no way to salvage Cinders. They were brown. Very brown, with khaki suede overlays on the toe and heel. Any chance that I'd ever make my purchase worthwhile went out the door with those colors. For the entire time I owned them, they were kept deadstock.
The one positive I took away from owning XIX Lows? They were clutch when playing 'Follow the Leader' on the forums back in the day. If you're unfamiliar with the game, it was played by users posting pictures of oddball or rare sneakers in their collection, which had to be followed up by a "matching" picture posted by another member within a certain time limit. (Shut up, it was fun, you had to be there.) And as you can imagine, I racked up quite a few wins with my "Doo Doo Browns."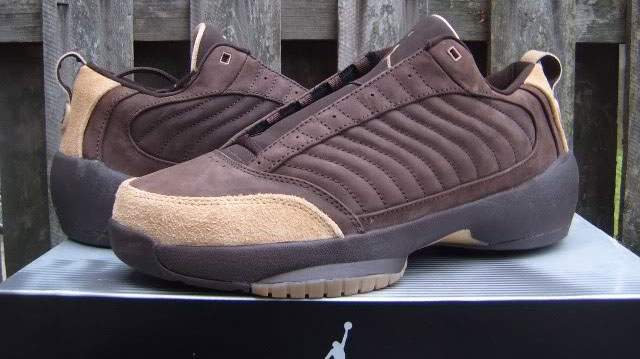 Exact photo I used in 'Follow the Leader.' Didn't even bother lacing 'em up.
Unlike Nick and Zac, I can't remember exactly when I ditched my regrettable purchase. However, I do know that I listed them in our very own marketplace for about half of what I paid retail. Not because I was in a hurry to get rid of them — there was just no way in hell I was going to get anything north of $100.
I'm happy to say that my sneaker standards are a bit higher these days and that I'm much better managing my money than I was a decade ago. Not to say that there isn't another stinker buried somewhere in my closet, but I could at least give you a reason for why it's in there.