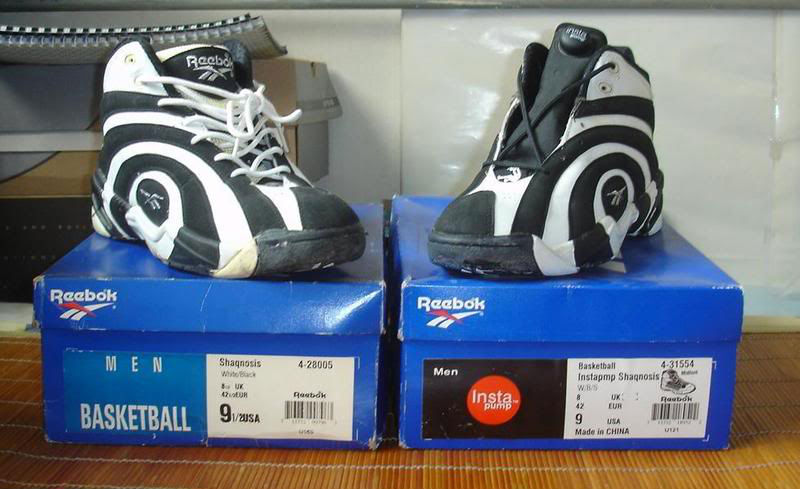 words // Brandon Richard
I own the OG Reebok Shaqnosis, a Shaqnosis PE in Shaq's size 22 and several pairs of the Shaqnosis retro. Yet, the Shaqnosis is my most wanted shoe. I'll explain.
Reebok Shaq collectors are vastly outnumbered by other specialty groups. For that reason, finding pairs to seek and pairs to buy is a bit difficult. For years, I've followed a collector by the name of Autohao and his wildly impressive Reebok Shaq stash on the forums. One pair he owns that always stood out to me is his Reebok Instapump Shaqnosis.
The Shaqnosis was released in 1995, complete with white laces, a mesh tongue and branded nubuck overlay. However, Autohao's rare pair sports black laces, a black tongue and is equipped with Instapump technology. The Shaq line was no stranger to Instapump. By '95, the technology had been used on the Shaq Attaq III and Instapump Shaq Attaq, but not the Shaqnosis. So I thought.
In an interview last year, Autohao told us that he believes the Instapump Shaqnosis may have been released exclusively in Japan. I was doing my sneaker shopping in Virginia at the time, so that probably explains why I never came across a pair. The PE version Shaq wore on court also benefited from Instapump technology, but the pump was positioned along the collar rather than the tongue.
Whatever the reason is for this Shaqnosis' existence, I need to own it. I've known about this version of the shoe for about six years now, and as you can see, I've been unsuccessful in locating a pair of my own. Meanwhile, I think Autohao is up to about three pairs. This is both good and bad news. The good? It means there were other pairs floating around. The bad? Autohao may have bought them all.
The hunt is really what makes this whole thing fun, and I've always respected Autohao's ability to track down the rarest of pairs. Especially when I know how much harder it is to find original Shaqs. Perhaps someday I'll be able to do the same and scratch this unicorn off my short list of must-own shoes.