words // Luis Sanchez
When it comes to samples, there's plenty of gems Air Jordan fans wish would release.
A select few collectors out there are lucky enough to own some of the rarest Air Jordan samples ever created, each featuring unique elements or colorways that add to their appeal and make them one of a kind. It could be premium materials or a never before seen colorway, or maybe even reiterations of already classic color schemes.
And since most of us can't own these rare samples, all we could do is wish they'd someday hit retail. Just which sample would we all like to see release most? Is it the famous 'Grey Toe' Air Jordan XIII, or the insanely rare clear sole Air Jordan III?
Find out in the top ten list below.
10. 'Oxidized Green' Air Jordan XIV Sample
This Air Jordan XIV only features a few differences from the original release version of the 'Oxidized Green' AJ XIV, but they make all the difference. The whited out heel badge, white outsole and white laces create a much cleaner look, while the slightly different shade of oxidized green makes these considerably better than what we actually saw released during the Air Jordan XIV's original run.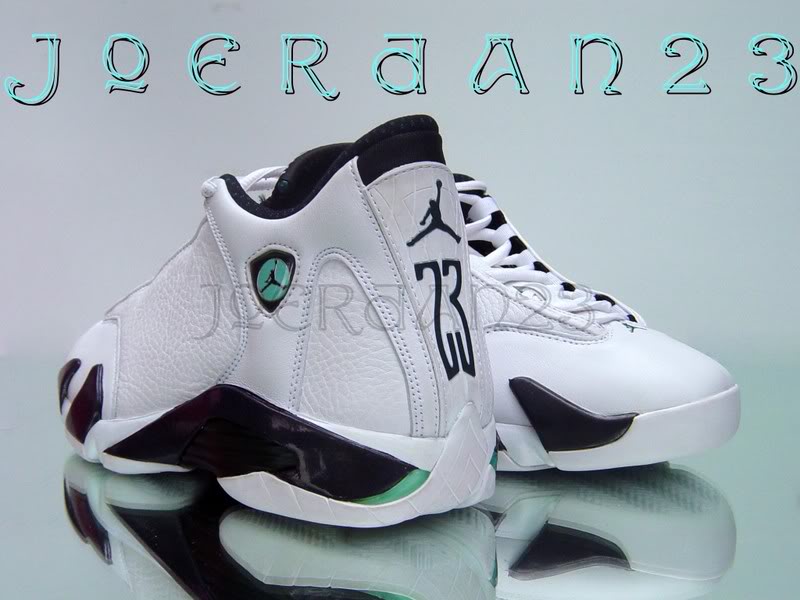 9. 'Grey Toe' Air Jordan XIII Sample
When the Air Jordan XIII originally released, there was one unreleased colorway that always left everyone wondering. Almost identical to the White/Red-Black Air Jordan XIII that released and was worn by MJ, this pair separates itself with a cool grey toe and a white outsole below. Some say they were mistakenly created early on, however most still wish the unique AJ XIII colorway would eventually release.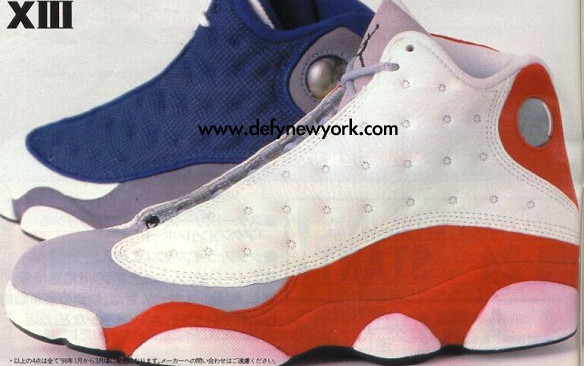 8. Black/Red-Clear Sole Air Jordan 11 Retro Sample
When it comes to the Air Jordan XI, there's plenty of unreleased looks that we'd like to see become available. Few are better than this pair which would have been perfect for Michael to rock on court, sporting a classic Black/Red color combo and an icy outsole down below. And although we won't be able to ever see Mike on the court with them, just about ever Air Jordan fan would still welcome a retail release of these.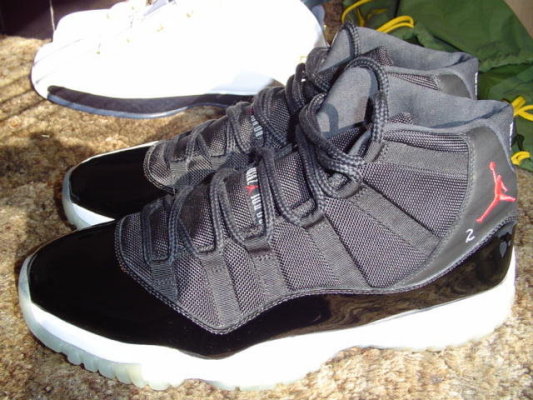 7. White/Navy Air Jordan 11 Retro Sample
Likely exploring new looks during the Air Jordan XI's original retro run back in 2000, the Jordan Brand brought to life this simple White/Navy coloway rocking a combination of unique subtle design details. Similar to other unreleased AJ XI samples, this White/Navy colorway is on display over a smooth leather/patent leather build. This pair features 'JORDAN' across the lateral side eyelets, just like the first version of the 2006 Defining Moments Air Jordan 11 Retro.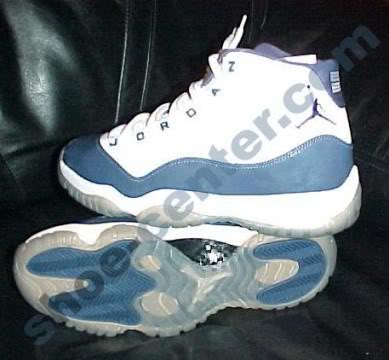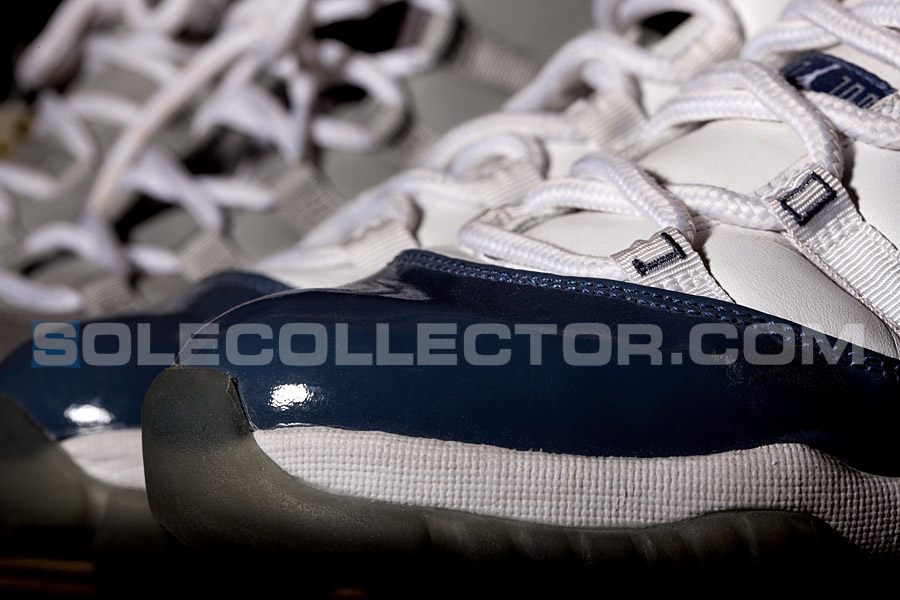 6. Black/Elephant Print Air Jordan 3 Retro Sample
This particular Air Jordan III sample drops all color and lets the Air Jordan III's most iconic feature do all the talking. The premium black leather build alone makes these one of the most impressive non-original AJ III styles ever, while the classic elephant print overlays create a look that's as appealing as it gets.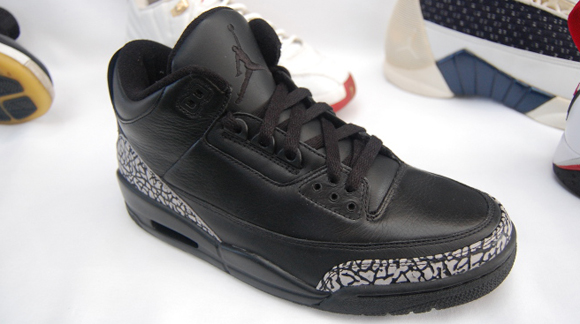 5. Air Jordan I White/Royal-Black Sample
The Air Jordan I is undoubtedly the one signature Air Jordan with the most original colorways. There's a crazy selection of metallic colorways to go along with all the well known original colorways, but one incredibly rare pair is this White/Royal-Black sample. Colored up in original fashion, this unreleased pair replaces the red leather overlays with royal blue for a look that's right in line with the AJ I's original color blocking.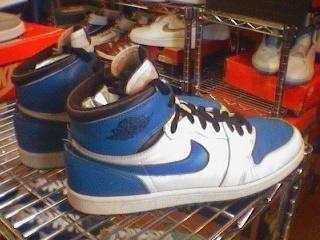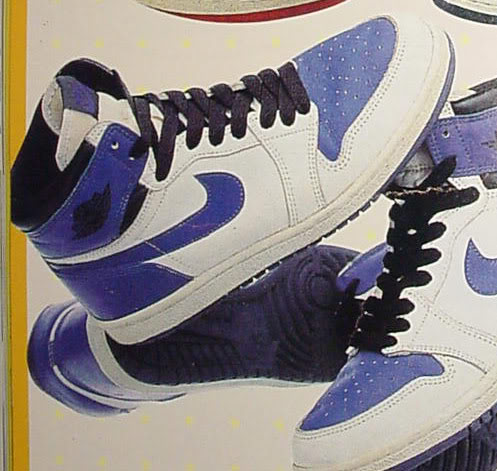 4. 'Blue Laser' Air Jordan 4 Retro.
When images of the famous 'Red Laser' Air Jordan 4 surfaced, there was also a blue pair that many wished would release. As we all know, the Jordan Brand ended up releasing a pair extremely similar to the red lasers last summer, so a release of a blue-based pair wouldn't be a surprise at all. Covered in premium blue suede and the Jordan Brand's usual laser print, this pair is highly coveted by many for their similarities to the rare 'Encore' Air Jordan 4 done up for Eminem.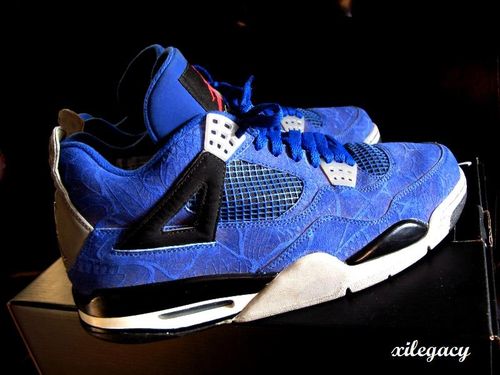 3. Air Jordan XI Low Black/Red Sample
The Black/Red Air Jordan XI is already one of the most iconic Air Jordan styles of all time. Its actually quite surprising we haven't seen them released in low-cut form just yet. This rare sample worn by MJ is like none we've seen before, rocking a bright red collar lining.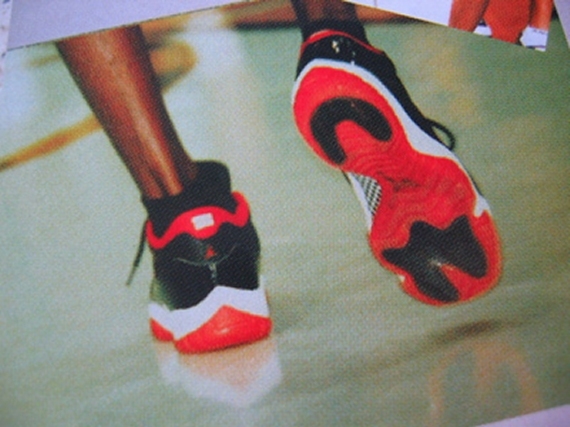 2. Clear Sole Air Jordan 3 Retro Sample
No one knows the exact reason why these were created, but they are without a doubt one of the most unique Air Jordan III samples out there. At fist glance these appear to be just another pair of the White/Cement Grey colorway of the AJ III, but when you look closer, you'll notice an icy outsole, which we had previously never seen on an AJ III at the time.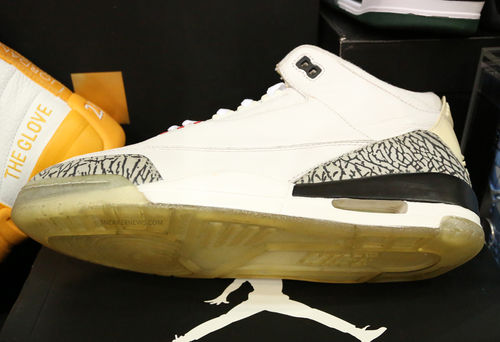 1. 'Reverse Infrared' Air Jordan 6 Retro Sample
Known as the 'Reverse Infrareds' to many, this is without a doubt one of the most talked about Air Jordan samples ever. Created back in 2000 as part of the AJ VI's first retro run, this pair is similar to the original AJ VI rocked by MJ in 1991 with a full black nubuck build, and sets itself apart with a midsole and matching heel branding covered entirely in Infrared. The predominantly colored midsole makes these classics even more visible than they were before, leaving most Air Jordan fans wishing for a release.