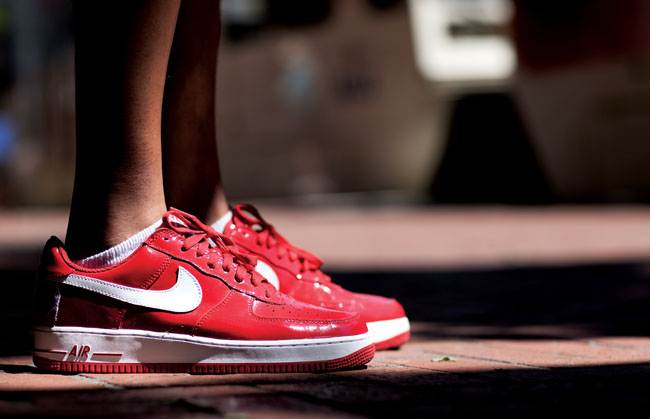 words // Zac Dubasik
Today we looked at elements we consider to typically be present on a great Air Force 1. And while those may be true generally speaking, it doesn't necessarily mean that the more of those that are there, the more likely a shoe is to be your favorite AF1. Maybe multiple elements from that list just might not "work together." Or maybe they do.
The point is, this is all objective. And the reason one person may love a sneaker may be totally different than another's love for that same sneaker. The Air Force 1 is one of those sneakers though that over the course of its 30+ year history, and well over 1,000 colorways, has offered plenty of opportunities to make a connection.
There have been a number of AF1s I've hunted down over the years, and a handful I'd still love to find. I still remember camping out for the "Self Doubt" Forces from the Chamber of Fear series, and finding a pair of Acorns (not even B-corns!) in my size after years of searching. And I still regularly search for pairs of Courirs and Linens in any size I could possibly squeeze into. I can't even recall how many times I've created something as close as possible to those kicks on NIKEiD, but just couldn't pull the trigger, knowing it may prevent me from later picking up the real thing.
My very favorite pair of Forces though wasn't even a hard one to come by. At the time, I was working at a University just outside Cleveland, which was in close proximity to a now-deserted mall. Even at the time it was largely vacant. But back in 2004, most of the stores which were still open carried sneakers. Foot Locker. Foot Action. Lady Foot Locker. The biggest Finishline I'd ever seen. And a few mom and pop shops. Other than that, all that was left was a car stereo and rim store (yes, inside the mall), a kiosk which offered customized and bejeweled goblets, a record store who's inventory was comprised primarily of mixtapes on CDR, a Magic Johnson movie theater, and, of course, the mall's anchor, Burlington Coat Factory.
Because of the wide variety of sneaker spots, I'd stop in regularly to see what was new. And on one particular trip, I saw an all-red, patent leather pair of Sheed Forces, which I purchased without a second thought. Rasheed Wallace was already my all-time favorite player, for probably both the right and wrong reasons. And having recently been traded to my favorite team, the Detroit Pistons, this was a no-brainer. I didn't even know they existed when I left for lunch that day, but didn't hesitate to spend the $90.
The following year, with Bapes at peak of their popularity, Nike began to put out more and more patent leather AF1s. But a brightly colored patent leather AF1 Low was still something new when these kicks first launched in 2004. And as much as I the shoes them the day I came across them, my affection only grew when the Pistons, along with Sheed's help, went on to defeat the Lakers in 5 games for the NBA Championship that summer.
They were always a little too loud to wear very often, and I got plenty of comments any time I did. But at that point, they meant a lot more. It was my favorite player's shoe, and he had just won a Championship with my favorite team. (That's without even getting into the fact Sheed never stopped wearing AF1s in the first place.) And even though he didn't wear that particular pair on court, it still represented my favorite season in basketball history.
That's my story of my favorite Air Force 1. Now it's time to hear yours. Tell us in the comments which pair of AF1s is your favorite edition, and why.