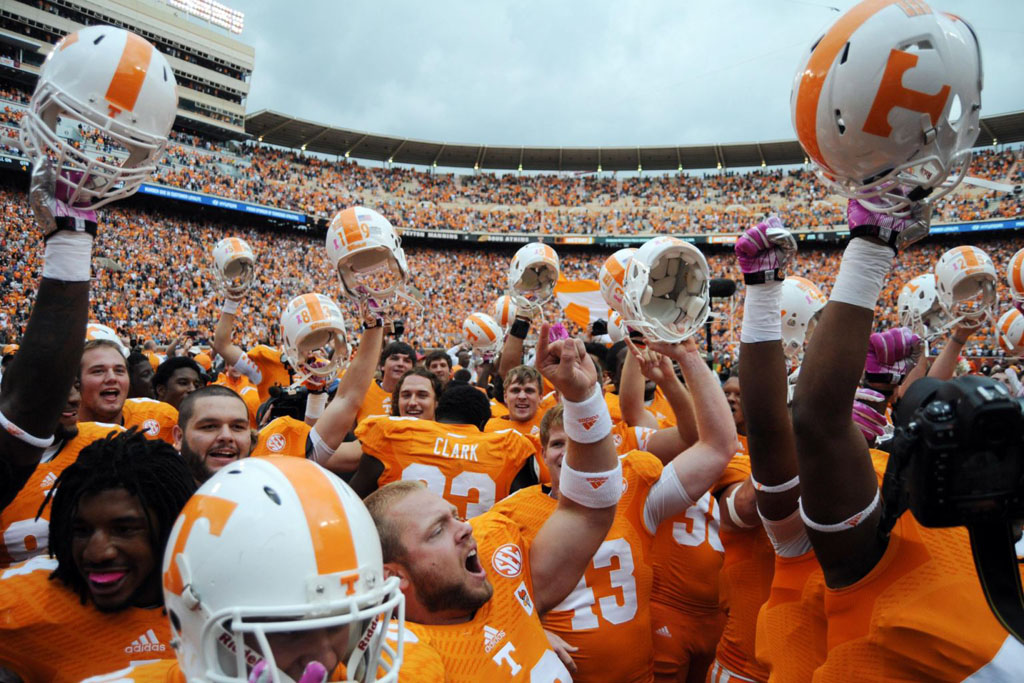 image via Randy Sartin for USA Today
words // Brandon Richard
For the second time this month, adidas has lost the equipment contract of a big-name school. Today, the University of Tennessee announces a new partnership with Nike. The news comes less than two weeks after Notre Dame officially made the jump to Under Armour.
In an official statement, the school confirmed a new 8-year agreement with the sportswear juggernaut, effective beginning July 1, 2015. Nike will supply all 20 of Tennessee's athletic programs as well as the spirit squads with apparel and uniforms, footwear and additional equipment for the duration of the agreement.
"We were very thorough and deliberate in assessing and evaluating our options with our apparel partner decision," said Vice Chancellor and Director of Athletics, Dave Hart. "Nike is the right partner for the University of Tennessee moving forward. We appreciate our current partner and the strong relationship we have had for many years. We will continue to work together through the end of the existing contract."
Fans will be able to purchase officially licensed Nike Tennessee gear once the partnership commences next July.
"Nike is especially proud to resume our association with the University of Tennessee" said Kit Morris, Nike Sports Marketing Director. "We admire their rich tradition and are enthusiastic to begin working once again with Volunteer student-athletes, coaches, and programs."
The partnership between Tennessee and adidas began in 1997 and was extended in 2010.
"While we have had a successful partnership with Tennessee, we will not renew our agreement following the 2014-15 season," adidas spokesperson Michael Ehrlich told SI.com.