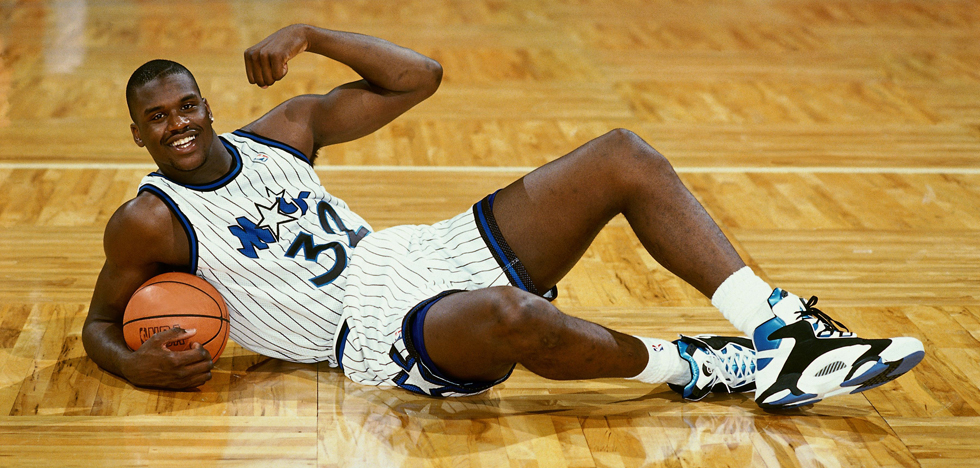 words & interview // Nick DePaula
as published in Issue 45 of Sole Collector Magazine, the 10th Anniversary Issue
While most retro sneaker stories in the industry are consistently told, re-told and then sometimes completely run into the ground, there's quite a bit of unchartered territory when it comes to Reebok's classic six-year stretch with Shaquille O'Neal.
Shaq was signed right out of college as the number-one pick of the 1992 NBA Draft, creating a pairing that was a first of its kind for Reebok, with Shaq not only the first signature athlete for the brand, but also a signature big man, a rarity then and now, even all these years later.
After a prolonged absence from the brand, Shaq is now being honored with some retro releases of the Shaq Attaq and Shaqnosis. Prior to the releases, we had a chance to catch up with a very quotatious Shaq for an exclusive interview in February of 2013.
Excerpted from Issue 43. Check here for the full interview.
Nick DePaula: Twenty-one years ago, when you were the first signature athlete at Reebok, did you have any idea that it would have the success that it did?
Shaquille O'Neal: In my mind, I did. Because I knew I was good, I thought I was going to be great, and it was my job and my people's job to convince them that I was going to be great and convince them to want to sell the product. The hard thing to do was make them believe in it, because no big guy in the history of marketing from the game [of basketball] has ever sold anything. So I had to convince them that I could sell them, and then I had to convince them that I could come up with all of the campaigns, and that I could show them how it's done. And you guys still gotta pay me a lotta money. [Laughs]
So at first they were reluctant, and then we told them we were going to Nike and kinda made them believe that Nike was going to give us big money. Nike actually didn't want anything to do with us, and they definitely weren't going to give me my own signature shoe. I'm known for wearing all my Reebok shit to Nike and getting kicked off the campus. True story. [Laughs]
When I came back to Reebok, [former CEO] Paul Fireman loved that story and he threw in an extra few on top of the contract. I damn near had a tear in my eye, and I just said, "I won't let you down." The Reebok brand was well ran by Paul Fireman, and I don't know how other sneaker companies were ran, but he gave us the ability to see and do how we wanted to do it.
NDP: Not only were you the first signature guy there, but it was also usually only guards that had their own shoe.
SO: I remember being in marketing class one day and my professor said to me, "Big men can't sell. I don't know what you're doing in this class." That's what he told me. I was so fucking pissed, I almost got out of the class. I said, "Ok then ..." and I actually got an A in the class. I wanted to learn all of the concepts. What I took out of the class, and what I knew I wanted to do, was that I've gotta create commercials that will get people to have a reaction.
In 1991, Reebok was beating out Nike as the number-one company, but they weren't getting the respect in the basketball area. For me, to have my own shoe was always my dream, and we went on this big, huge marketing campaign. I directed, came up with and shot the whole commercial, and it was a huge success. This was the first shoe that we came out with, the Shaq Attaq, in the Orlando Magic blue and black. We had the Pump on it, we sold a lot of shoes, and it was hot. I have to give a shout out to all the kids that wanted Reebok to bring these back.
So the first commercial we did, Reebok was real pissed about because it cost like a million dollars, which no one had ever done before. Most of the money was spent on bringing all of the legends in. I had just gotten done watching Terminator, and it had all that futuristic and gooey shit. So I said, "Ok, I need a commercial and I want to walk through something like that." Everyone was all, "What the fuck?" [Laughs] That's when we came up with: "Don't fake the funk on a nasty dunk."
It was a good commercial because no one had ever seen nothing like that before. Then, for the older crowd, you had four of the legends, and that introduced people to who I am, but it also told them, "Hey, if he continues dunking like that, he can be like one of them one day." That was my first commercial, designed and written by me. I just always had to create campaigns like that, to let people know that I was a people person and a friendly person, and I've always been able to do stuff my way.
NDP: You were dunking on literally everyone in the Shaq Attaq when you first came into the League. What do you remember about your first few seasons?
SO: Yeah, in 1992 I was. I ain't doing that shit no more. [Laughs] I was a monster. I actually used to pump these joints up 20 or 30 times, and they were just real comfortable. I just had it going, and this was during the time when I didn't have any championships, and everyone was saying, "He's good, but he can't win a championship." It'd be like people saying about Swizz, "Well he's a good producer, but he doesn't have any Platinum plaques yet." I was just letting people know who the Shaq Attaq was.
NDP: The idea of doing things your way and proving people wrong is something that you really seemed to enjoy doing throughout your whole career.
SO: Oh yeah, all the time, and growing up as a minor and a juvenile delinquent, I was always being told I couldn't do it. It just makes me who I am. I don't get off when people tell you how good you are. I actually fucking hate it. I'd rather you tell me I'm nothing, and I'd rather you tell me these shoes aren't going to do well. That's when you'll see me carrying a hundred pairs of these motherfuckers all around the Reebok booth here and be out there telling everyone when they're releasing and be out there promoting them. [Laughs]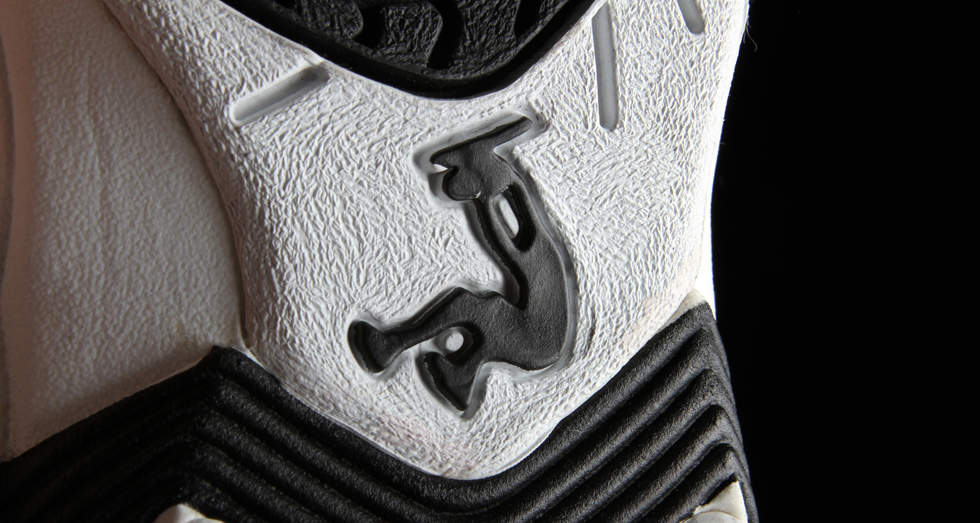 NDP: I've always thought it was real interesting that you own the rights to your own logo. How'd you know to even do that?
SO: Want me to be honest?
NDP: Yeah. Of course.
SO: When I saw the Michael Jordan dunk, his legs spread and how that became a logo – you know, my dunk is with my knees up. I was in college when Michael really got huge, and we were in class learning about trademarks and all of that stuff, and right afterwards, I went down to the Baton Rouge office and I trademarked my dunk. It cost me like $60. I just knew. I said, "Ok, if Jordan is doing this and has his logo, this is my dunk with the knees up." Then, when I turned pro, I did it big time, did it right and got all the correct trademarks and that stuff. Good thing I learned all of that while I was in college.
NDP: So you trademarked it while you were in school?
SO: Yeah, while I was still in college.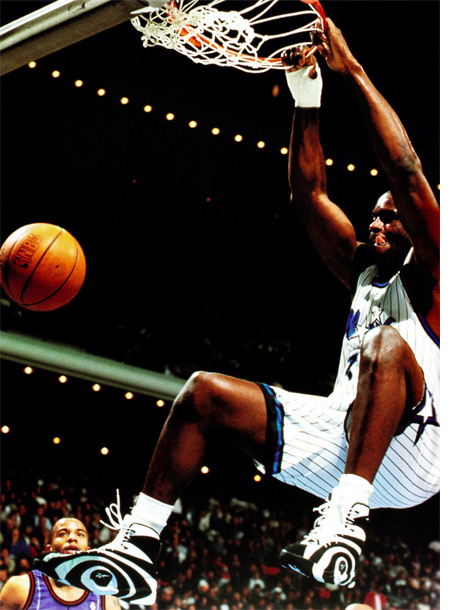 NDP: Wow, that's pretty cool. Now, with all of the different business opportunities that come up, how do you pick what's right?
SO: I have to believe in the product. I also got a Doctorate in Organizational Leadership, and I'll figure out ways to own things without doing any work. For example, the magazine that you run. I could buy the magazine, let you run it, and then make all the money. I won't fucking call you, I won't micromanage you, and I won't even say anything to you. But if I see a problem, then we'll fix it. General Eisenhower said, "The greatest leaders are the ones smart enough to hire people smarter than them." Even though I'm in a lot of businesses and I own a lot of stuff, where people like me and athletes go wrong is when they try and do shit they can't do.
You hear about all of these guys running a restaurant. If you're not a restauranteur, don't try to run a restaurant. Call Bobby Flay, do a deal with him, and let him run a restaurant that you just put your name on. I got a lot of businesses where I've hired great people, I let them do all of the work, and then I just help to manage people. I've always been a good people person, and that's where I focus my skills now that I'm done playing basketball. It's been working, and I don't have any problems with any of the businesses.
I'm educated to go in and look at the books and see what's really going on. If I show up at the office one day to see the books, I'll just say, "Well let's see what's happening in this mother." [Laughs] "Motherfucker, you did what? What's this?" [Laughs] Luckily all of the numbers are all good and I don't have to get mad, and I'm able to just sit back and relax and live a pretty comfortable life.
NDP: What advice would you give to players coming out of school now as they're looking at all of the different shoe companies out there that they can sign with?
SO: Well it depends on who you're talking to. If they have the ability to have a large brand and have the ability to create their own shoe, they should always take advantage of that opportunity first. Also, it depends on what you're looking at. When I came up, I wanted to be socially conscious and I wanted to have a shoe that was affordable. That's why I started my own line and had my own brand. I had much success with Reebok, but I always tell people that you have to take advantage of good opportunities that present themselves and just try and take care of your children as much as possible.
NDP: When you look back over all that you've done in the last 20 years, what's the biggest accomplishment for you after growing up in Newark?
SO: My biggest accomplishment is listening. I know about a hundred, especially growing up in Newark, I know about a hundred "ifs." I remember the first time I saw someone get shot, and if I would've went that way, or if I would've dropped a bag off with one of my cousins, you know ... there are about a hundred "ifs" that I could've gotten myself into that I never did.
Just listening and always being in the right place at the right time and staying out of trouble was my biggest accomplishment. A lot of people think it's all about making money and all of that, but once you experience what I did growing up, that's nothing. I've got 30 cars and I don't drive none of them motherfuckers. I don't. They're just sitting in the garage. I'm trying to teach my kids now that there are more important things out there, like family, taking care of each other and giving back. I've got three kids that fight constantly, and I keep telling them, "You guys don't want to grow up fighting each other. We're not going to keep doing this." When you're 30, you want to be able to say, "Hey, I'm making dinner. Bring your family over." I'm trying to teach them now, and as I've gotten older, I've been able to reflect and know what really matters. My biggest accomplishment was listening to the ones that made me who I am; my mother and father and the people I had around me.