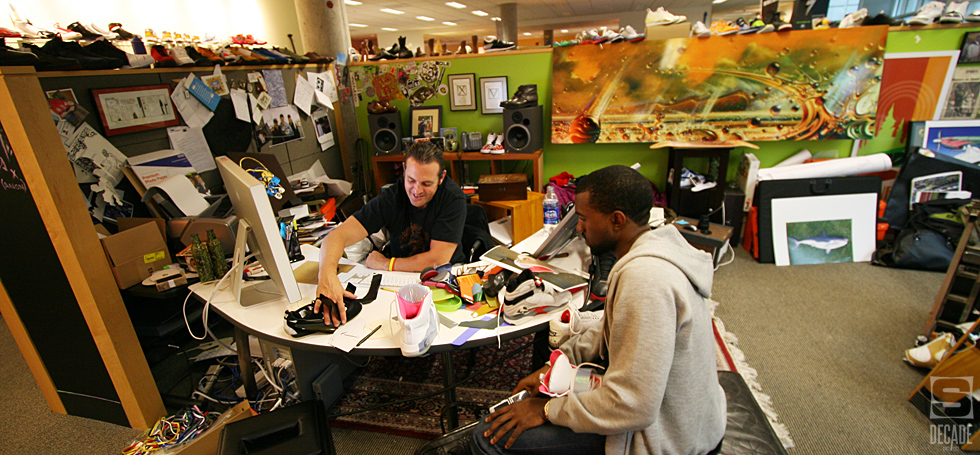 words & interview // Nick DePaula
as published in Issue 45 of Sole Collector Magazine, the 10th Anniversary Issue
All during the summer of 2009, the hype and anticipation leading up to each of the three releases of the first Nike Air Yeezy had been unparalleled in those recessionary times, as not only were entire outfits staged around the tones and accents of the now-classic sneakers, but there's been a love affair with the retro-driven model that's sparked some healthy discussion amongst our long-blown-up subculture.
Across the country, hesitation was nowhere near the scene of a boutique register, as $215 was counted up or swiped via plastic over, over and over again. Just as many people were left with even a remote chance at a pair when they released.
At the time, our Issue 29 cover in August of 2009 actually marked the first time we'd ever included a cover feature detailing a shoe after its release. The explanation was simple, as we had never-before-seen images taken throughout the two-year process of the project, along with insights straight from the shoe's main designer and developer, Mark Smith and Tiffany Beers from Nike's Innovation Kitchen.
February. 2007.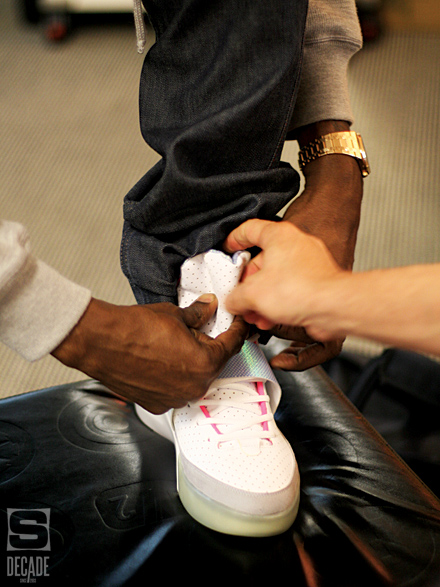 At the time that Mark Smith's phone rang on a random February day in 2007, he was already knee-deep in an endless array of projects for Nike's Innovation Kitchen. Whether that included helping to shape and craft the Air Jordan XX3, helping laser up a storm of one-of-one exclusives for friends of the brand as the Creative Director of Special Projects at the time, or helping to redesign the all-new and relocated Kitchen, surely adding another high-profile brief to his workload wasn't at the top of his wish list.
And yet, that's exactly when he got the call from Nike's current CEO that would spark one of the most anticipated limited-edition sneakers upon its release some two years later. And, he was asked to work with arguably one of the most recognizable names in the collective realms of streetwear, sneakers and music: Kanye West. "It was an interesting design challenge to try and put things together from a design standpoint," says Smith. "It was based on a call from Mark Parker basically."
"We just kind of went into it saying that we wanted to do something that was unique, and Kanye's clear vision was that it should feel retro. I just listened, and he thought it should feel like it came from the '80s," Smith recalls. "Obviously, there was a McFly reference from the movie. He came in and said, 'I want something like this,' and I said, 'OK.' So he wanted it to look like something from the movie and have this retro look from the '80s and the past. The more things he put into it and the more we started to decide where the lines would be, we figured out how things were going to work together."
After the initial meeting, Kanye and Mark Smith were able to hammer down a concept of exactly where the project could be headed. West brought in some of his favorite shoes at the time, and they also thumbed through details of past Air Jordans that Kanye liked, like the toe cap of the III, tongue height of the VI, molding of the V and silhouette of the II. The checklist read perhaps in disunion at first. Exaggerated collar. Organically flowing midsole. Versatile midfoot strap. And comfort – comfort was always a must. The design cues and elements of the shoe were aplenty, and yet the shoe still had a subtlety and cleanliness that made it appear futuristic relative to the era Kanye was after – the '80s – and not a bizarre and unconventional mess according to today's standards.
Smith, along with Tiffany Beers, who goes by the simply awesome title of "Innovator" at Nike's Innovation Kitchen, regrouped, processed their thoughts and developed a game plan to begin to have samples made that they could work from during their next meeting with West. Beers' role during the process was simply to capture as much information as possible during meetings and jot down all of the thoughts shared amongst West and Smith, and then she would work with the Kitchen's sample room or various factories to have samples executed. "When we first started the shoe, we thought it'd be a quick project, like a three-month project," says Beers. "We'd do it, meet with him, make sure he likes it and be done. That's not quite what it turned out to be …"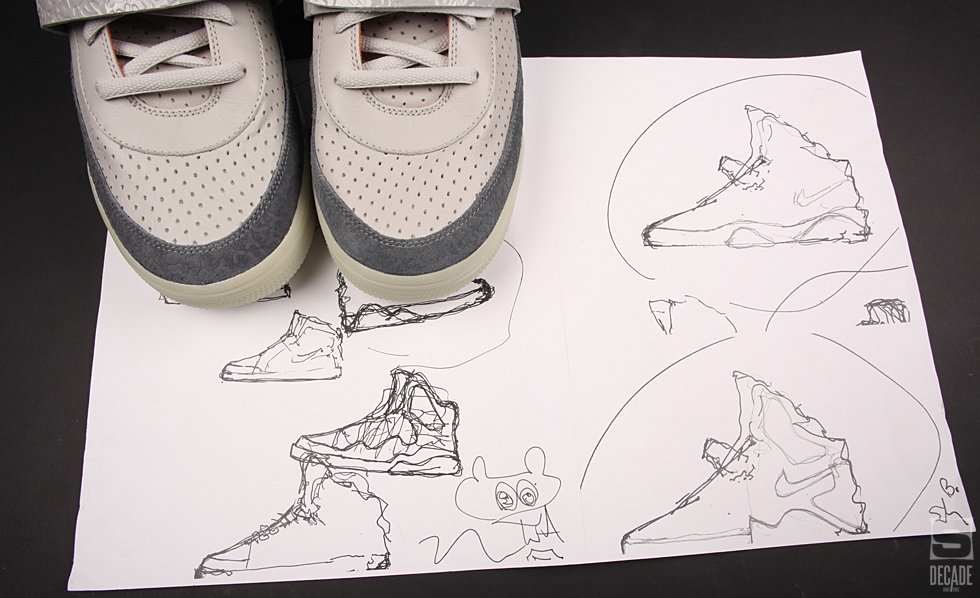 The Upper:
Due to the insistence on the shoe looking retro, feeling luxe and offering extreme comfort, early on the look of the shoe remained more subtle, while the bulk of the initial work would go towards the attention-getting elements, like the out-of-control tongue size, shape and height. "I just kept saying, 'Well, if it's truly a retro-ish product, it should be very simple.' Things weren't very complicated back in the day," begins Smith. "The McFly had, I think, three pieces. There was the upper, outsole and then some interesting stuff going on in the midsole. [The goal was] the more that I could simplify it, and yet keep it a modern retro, so you couldn't tell really from a distance if it was new or old until you got an up-close look at the details.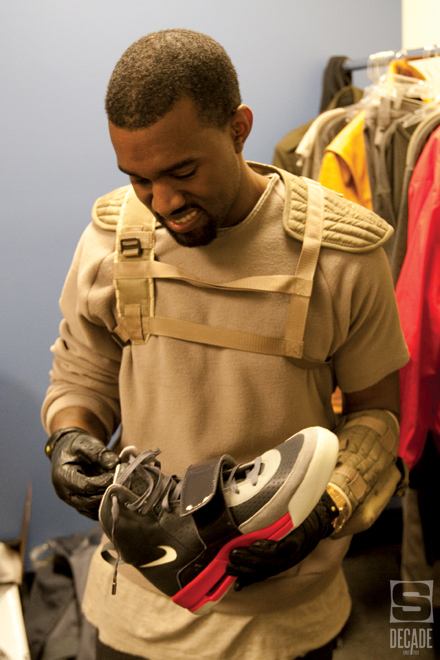 "The biggest trouble that ever came about had to do with the materials and selection. We would do a suede or a leather or a patent, and you can kind of see that in the final three colorways, they're all a bit different," explains Beers. "We just kept sampling in different colors, different materials, and the one thing was that everyone wanted the leather to be super high-quality and like a glove-type leather that was soft and plush. It took us a while to find a leather that was just that. We even took one of Kanye's leather jackets that he sent us, and we cut it up and made a shoe out of it."
Lighting The Shoe:
Tiffany Beers: "Kanye talked about lights a lot, and he liked the Back To The Future shoe. We did approach lighting the bottom of the shoe, and we did a sample of that, and we searched through that pretty quickly and found out that lighting wasn't really a great option and how about doing a glow-in-the-dark sole instead? I think we did the first sample and then showed him."
Mark Smith: "We did new tooling at first, and it was sort of spacey, and then we decided to go away from new tooling and use something that was existing, and he wanted to use Jordan tooling. We said "No" to that, but then he saw the Assault Retro, and it was basically the III tooling and it had the word Jordan replaced with Nike. So he kind of beat us on a technicality, which was pretty cool. [Laughs] It turned out great, because it took it back to that era."
Tiffany Beers: "There actually wasn't a Glow In The Dark Tour before we did that outsole. I'm not going to say we ended up naming the tour, but I'm confident it had something to do with his naming of it. Ultimately, we tried to do a clear outsole, and we put an LED flat sheet that was powered with batteries, and we thought it was really cool, but it would've been very expensive, and it wasn't going to last that long, so we decided to do glow-in-the-dark instead. We did a number of formulations and probably did 10 or more mixes, and the one that came out the best was not actually the highest mix, but it was one of the mid mixes. It turned out that it held the charge of the light really well for a long time, and it didn't degrade much, because I think the first few we tried degraded the quality of the rubber. The one we landed on and stayed with was really good, and we're all real happy with how that turned out."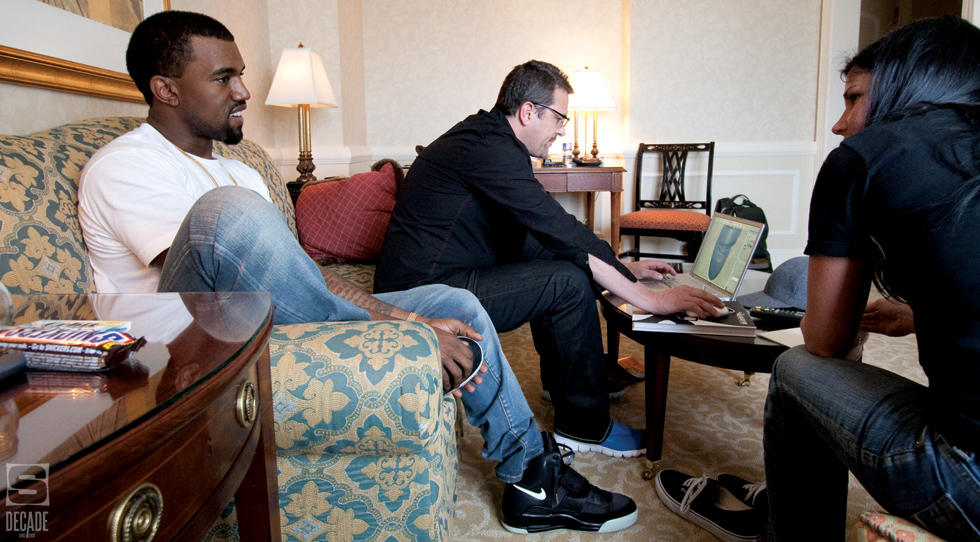 The Details & Colorways:
To start, one of the most noticeable elements of the upper is not a single overlay or technology, but rather, a print: the repeating "Y" pattern. "He referenced the elephant print, and I said, 'Well, we're not going to do the elephant print, let's do something that's specific to you.' I said we could come up with a graphic that's very simple that could be made out of Ys, because we had already come up with the Y that we were using on the lace lock," explains Mark Smith. "I just suggested that we could do a pattern instead, so that was my idea I guess. I put that together, thinking that from a distance it plays the same role that an elephant print plays, but it's not the elephant and is definitely meant for Yeezy."
"From a performance standpoint, it really had to be really comfortable, it had to be simple to make, and it couldn't be ugly, but ugly is always up to everyone," laughs Smith. "I just tried to make it super comfortable, and if you're going to jump around on stage for a couple of hours, but you want to do it in a shoe that's more of a retro lifestyle and previously a performance shoe, that's what you would do on the inside, is make it super plush and comfortable."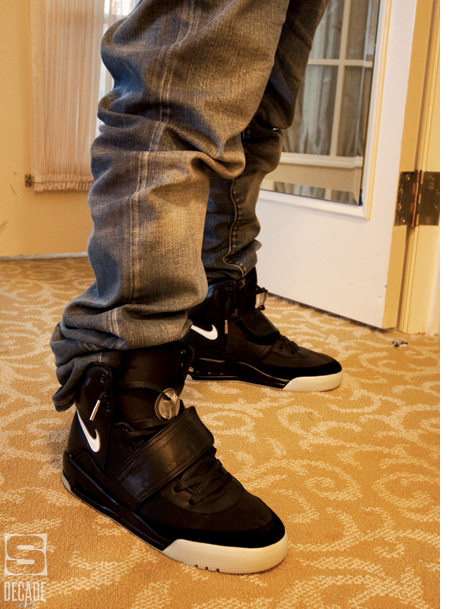 Throughout the whole process, Kanye continued to stress a retro look and also wanted to emphasize loud accent colors that would give some pop to the more monochrome and casual base colors that he envisioned for the shoe's upper. "Really at that point, we had a ton of colorways just to get some reactions and see where we wanted to take it, and he had a couple of influences," says Smith. "The tan colorway was definitely him, and the black and pink was more mine. The grey colorway was kind of a slam between the two of us. I really tried to keep the focus on the technical comfort of the inside being really basic and simple and high-end from a sneaker standpoint."
By the time 2008 rolled around, there was already a considerable amount of buzz building up on messageboards across the interwebs about a possible Kanye and Nike co-designed sneaker, and the digital savages couldn't wait to check up on every last rumor, detail, camera phone picture or leak. For Mark Smith and the team, the internal process was a bit out of the usual only in terms of protecting information, as West is clearly a man whose every move is watched by paparazzi. They clamped down on every single sample made to try and prevent potential leaks.
"We didn't send anything out to him, ever. We would always just meet up. He would come out to campus or we would fly out to see him on trips. We always just kept it real simple and never left anything with him. We just showed stuff, and it frustrated him because he was thinking that we were just doing these shoes for him, and that we were going to give him stuff, but it was more about making sure it was on the right track because we just didn't want it out there yet," says Smith. "We didn't want him walking around out there and wearing it and getting people to see it until we decided when was the right time. The Grammys felt like the right time to do something, and we were far enough along on the design that we felt like it was going to evolve, but not change.
"The buzz was 'What's going on?' People approached me and said, 'Hey man, there's a lot of buzz out there, and some people think it's really ugly,' I just said that I really didn't care what they think. I never cared, and I just want to do really good product, and that keeps me at a distance a bit from worrying about what people think. With me, it's always been: If he likes it and he's the guy, and I like it and I'm the guy, then we're really in good shape."
When it was all said and done, the Nike Air Yeezy likely took longer than everyone involved with the project expected – over a full two years – but its impact on the sneaker scene of 2009 is certainly undeniable. Supple leathers, loud liners and that intensely vibrant glow sole left people content with paying $215 at the door (at the few retailers that didn't mark them up, at least), and on the online secondary market, prices peaked much, much more. What began as a simple design challenge for Mark Smith with a phone call from a longtime cross-campus friend had turned out to be that year's most monumental sneaker release.
"Every single prototype we did was a really great shoe," says Beers. "Those shoes turned out great, and it's a very comfortable shoe. Looking back on how much work that was, it turned into a really great shoe."