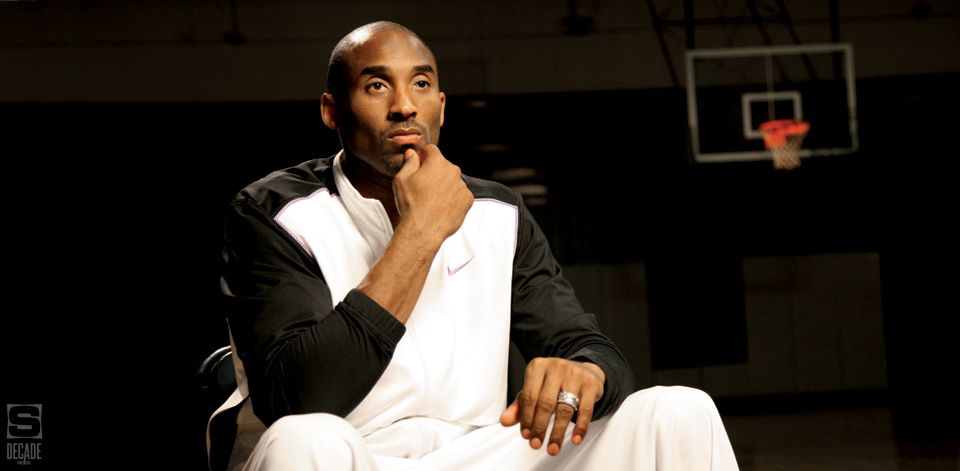 words & interview // Nick DePaula
as published in Issue 45 of Sole Collector Magazine, the 10th Anniversary Issue
When most athletes are asked about their sneakers, they oftentimes have only a surface level of interest in the details surrounding their footwear, from the way the shoe looks and is developed, to the way it fits and feels. For some, they might not get past saying, "I just want them to be comfortable." And that's OK, because after all, it's not their jobs to design and construct a high-performance basketball shoe to suit their needs. They're tasked with playing the game.
But that's what makes Kobe Bryant so different. He's not like most athletes.
As we found out during a phone interview with Kobe in 2008, he's as meticulous as it gets. Read ahead for a look at how important Kobe's shoes are to his game, the inspiration behind building the Kobe IV, and some of his earliest memories with the brand.
Interview excerpted from Issue 26 -- January 2009
Nick DePaula: How long ago did you get involved with the process of designing the IV, and what made you decide to go in the direction of a low-top shoe?
Kobe Bryant: Maybe about a year and a half ago. It was a couple of reasons. One is I wanted the foot to move comfortably. I felt like hi-tops at times can be a little bit restricting of your movement. Also, I wanted to decrease weight. I wanted to cut the shoe [in height], make it lighter, make it sleeker, and we were able to accomplish both of those things.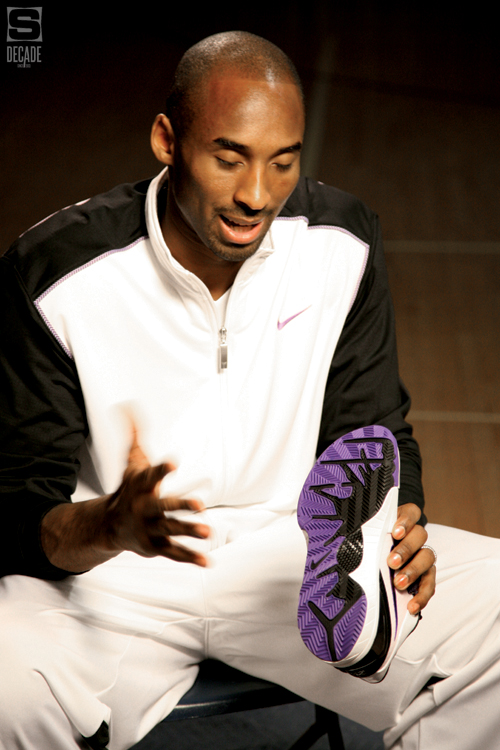 NDP: How much of a role did your background of growing up in Italy around soccer have on this shoe?
KB: It actually just came from a functional point of view and just thinking about the game and how I feel when I play. I just wanted to have better range and flexibility within the ankle and be able to move and cut and not feel like that movement is restricted. I think how the soccer background came into play is understanding how much stress you put on your ankles and how hard you play the game. In soccer, you can still wear low-tops, and they put more stress on their ankles than we do, but they can still wear low-tops. So I think you need a confidence to be able to push the boundaries a little bit.
NDP: Were you met with any resistance when you approached them with the idea?
KB: No, not really. They know that once I come up with an idea, whether it was with the 2K4 or all of the other shoes that we've developed, all of the technology that we've put into them comes straight from me, from a necessity and basic need [perspective]. And Nike, they're so true to the athlete and what the athlete wants that I'll say, "Hey, this is what I need in my shoe," and everyone else will just jump on board.
NDP: Were there any elements or technologies that you wanted to see incorporated in the IV?
KB: Well, we kind of developed a theme for my shoes. We always want to push the boundaries of lightness and speed. Also, we want to minimize the reaction time in the shoe, so when you change directions, we want to try and minimize that so that the foot is not sliding within the shoe and it actually reacts quicker with the change of direction and changes of pace.
NDP: How much importance do you place on your shoe looking good in a casual setting?
KB: Actually, none. That's never even something that's crossed my brain. This shoe, I personally wanted to play in. Whether it [works] well off the court or not is really irrelevant to me at the time.
NDP: Your mentality as a determined and focused individual and athlete seems to align with Nike's as a company. Did that play a part in your decision to come to Nike?
KB: Oh, no question. No question. I'm telling you, it was like when Harry Potter landed in Hogwarts. [Laughs] He was home. I'm always around a bunch of people who are competitive and just as competitive as I am or just as passionate about the sport as I am. I'm not looked at as being different or anything like that because I'm ultra competitive. I'm just around a bunch of people who are exactly the same way as I am.
NDP: Let's talk about some of the past Nike shoes that you've worn, starting in 2003. Were you a fan of the Flight Huarache going back to the Fab Five days?
KB: It was a fun shoe, and I was very familiar with it back in high school because of the Fab Five, obviously. Those shoes were so tough to find, and I think I only had one pair originally, and I only wore them once a month. [Laughs]
NDP: Was it different just because of the ankle cut-away, or was there anything in particular that was different about that shoe?
KB: Well, the thing that I noticed, and even at that early age, I always used to look at the technology of a shoe. At that early age I could tell that my ankle had a lot more freedom of movement, which interested me because it felt different than any of the other shoes that I played in. It felt better and it moved better in that shoe.
NDP: Did wearing the Flight Huarache give you any insights into what you wanted to see in the 2K4?
KB: Well yeah, we kind of said that we wanted the 2K4 to kind of go take it a step further. Like, Huarache was a good place to start for us, now what's the next step? How do we take this technology and increase that and take it to the next level, both in weight and in stability, and we were able to do that.
NDP: Were you aware of the Free technology through the running line, and was it something you wanted to see incorporated into the 2K5?
KB: Absolutely, and we talked about that, and I was very open to it because if your foot can move as God intended it to move, then you're in a good position. When you run in Free technology, your foot is such that you can actually feel your feet underneath you moving as they should, as opposed to just being one … blocky … thing going up and down the court.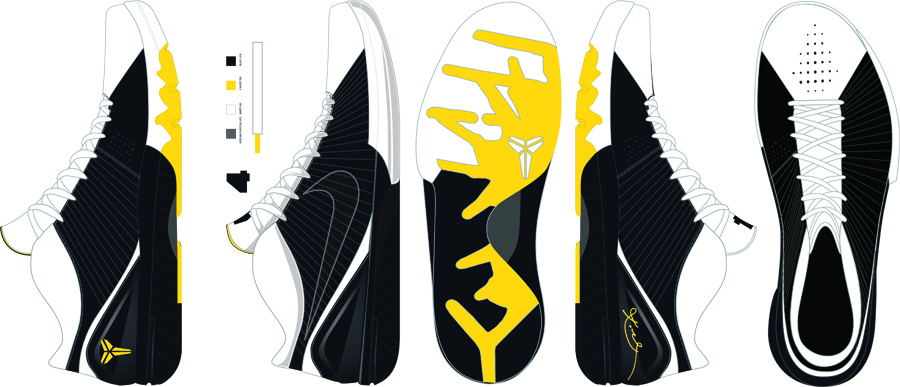 NDP: The Zoom Kobe I had a much more solid and sturdy look and feel than the 2Ks. Was that a reflection of your playing style at the time?
KB: Well with the Zoom I, what I wanted to do was I wanted to have more cushioning. It was a season where I was coming off of some knee injuries and some things like that. So, we actually sacrificed some weight with this shoe for a lot more cushioning. As soon as you put that shoe on, you are going to see that it has a lot more cushion. A lot of power forwards and a lot of players that are bigger in stature enjoyed those shoes more than some of the others because it had a lot more cushion in them. Coming off of that shoe, I wanted to get back to the lighter-weight stuff.
NDP: Does the Kobe I hold a special significance to you because of the 81-point game?
KB: It's special, man, because when you see that shoe, that's the first thing people think of: the 81. It's special to have those moments with shoes and how people tie in your years or games to a shoe.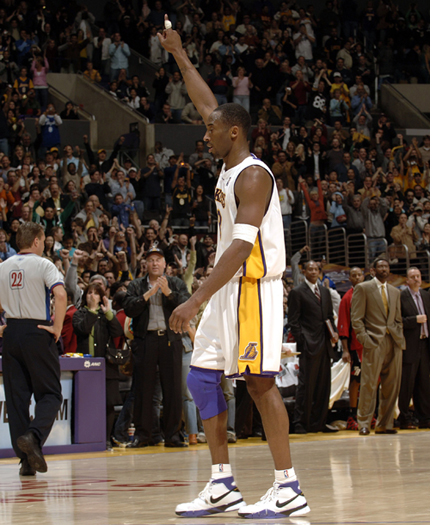 NDP: What was your mind state like during that game?
KB: I was just in – it was almost like a trance, where you're just relaxing and you're playing and everything is just flowing. You put a lot of work into the offseason, and everything is just clicking.
NDP: Whose idea was it to incorporate Considered as well as Free in the Kobe II?
KB: That's something that we decided to do. It's always us sitting in a room just chopping it up. The designer on that, Kenzo [Ken Link], is extremely talented, and we just sat around the table and chopped it up and came up with a design that I really liked. I love the Free Technology in it; that really works well. It was good, but still, the most special shoes that I enjoy the most is when me and Avar are sitting around and we come up and just brainstorm man, because that's just having certain guys that are on the same wavelength and get each other.
NDP: The Kobe III is a very distinctive-looking shoe – it draws a strong response from anyone that sees it. Was it your idea to go with such a daring look?
KB: Well, me and Eric always just do stuff that's true to form and stuff that we enjoy. So, when people first saw the shoe, they were like, "Oh – I don't know. I don't know." Then they see it in different colors and different schemes and stuff is tricked out or it's the Lower Merion color, and then it's like, "Oh – that shoe is murder!" But that's what we do; we create stuff that you're just not gonna see on the shelf like any generic shoe, because it's not a generic shoe. It's me and we fit our personality into the shoe so it can't be a shoe that looks like a LeBron shoe or whoever else's shoe. It has to be a shoe that's you and is your special shoe.
NDP: Both the II and III have a diamond-inspired pattern based around your daughter Diamante's name. How much do you try and add in those little personal touches to the shoe?
KB: Oh it's always fun to do that, because that's part of my inspiration. So, we always try and put things that inspire me within the shoe, but we hide them like Easter eggs. [Laughs]
NDP: Was minimizing weight becoming more of a priority at the time of the Kobe III?
KB: Well, it was always a goal of mine, outside of the I. We always wanted to minimize weight, always, and we wanted to continue to cut and continue to slice it down. I told them after the II, "What we're going to do is, we're going to continue to cut weight, but we're not gonna sacrifice stability, and we're not gonna sacrifice the cushioning of the shoe." And it seemed, at the time, like why the hell would you do both? [Laughs] That was a challenge that I gave to them, and they went back to the lab, and they came back with that goal being reached.
NDP: What were your first thoughts of the Hyperdunk?
KB: The thing that sold me on it was the technology. I'm a real big technology guy, and there's not a lot of people who would push that boundary or hop in a shoe that's so new or be liked or not liked. So, I like to push those boundaries, and it was pretty easy for me to jump into a shoe that fit everything that I had been talking about for years.
NDP: All of your previous shoes included Zoom Air, so what were your initial thoughts on Lunar Foam?
KB: I actually enjoyed it. It's comfortable, man. You know, the foam actually gives you a lot of cushioning and a lot more stability, and like I said, we continue to advance it and we continue to progress it. I'm still a big fan of Zoom, but the foam ain't bad either.
NDP: We talked with Eric, and he mentioned how big you are on metaphors, whether it was the Orca Whale inspiring the Kobe II or other shoes. Can you talk about the role that metaphors from Spiderman played in the Kobe IV?
KB: The concept behind that is it being one and the same. It's that scene in the movie where he's trying to pry [the suit] off of him, and he can't get it off of him because now it's part of him. And that's how I want the shoe to be. I want the shoe to be a part of my foot. I don't want it to be separate. I don't want it to be my foot and the shoe. I want the shoe and the foot to mesh together.