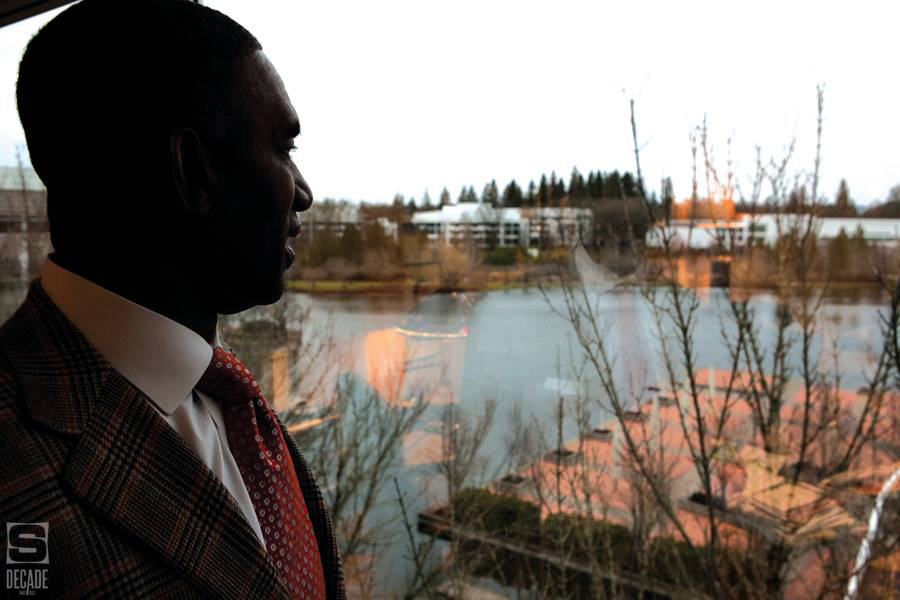 words & interview // Nick DePaula
images // Zac Dubasik
as published in Issue 45 of Sole Collector Magazine, the 10th Anniversary Issue
When you have known Michael Jordan for as long as Howard White has, it's no surprise that he has some truly unique firsthand accounts of the past three decades.
In fact, he has been so integral to MJ's Nike days that H is credited for being part of the team that helped to keep him with the brand through some uncertain times. Let's not forget that Michael entertained the idea of leaving for adidas in 1988. If it weren't for that bit of careful negotiation on H's part, there probably wouldn't be a Jordan Brand as we know it today.
These days, White serves as the Vice President of Sports Marketing for Jordan Brand, and he is one of the most respected and well-liked individuals at the company. Always happy to share some of his wisdom and knowledge, H sat down with Sole Collector for Issue 33 in 2010 to take a look back at his time with MJ and Jordan Brand.
Nick DePaula: Could you talk about what your earliest memory of Michael was when you were at Nike?
Howard White: He jumped. That was the big thing then. And so it all kind of really came together. How could this young man take us into another realm of sport? We were coming off of Moses Malone as MVP of the League. We had some very good people, but then he came and kind of nudged it to, "Wow, let's make some things happen." We really put a lot behind it, a lot of marketing and a lot of the thought process. In one of those brainstorming sessions with his agent, [David] Falk and all of them, somebody said "Air Jordan." Air Jordan, ok, cool! And with Air Jordan – you never know when something is going to stick, and I remember when I really knew it took hold was when he had gone into Boston, and the newspaper headline said, "Air Jordan Flies Over Boston."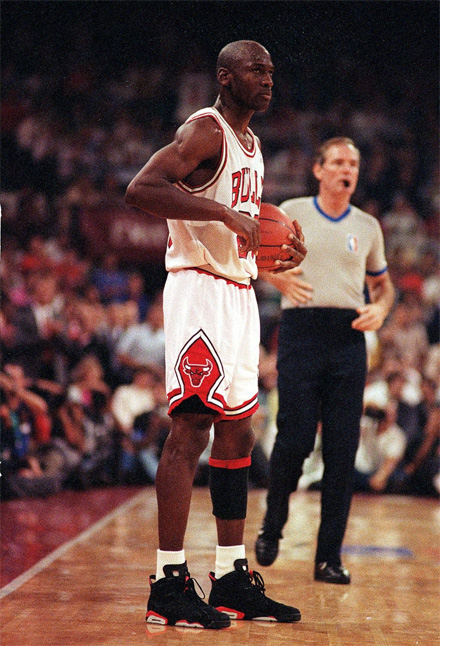 NDP: Do you remember where you were when he won his first title?
HW: I know where I was – right there. Right there on the sidelines; that's where I was. [Everyone laughs]
NDP: What was that moment like for you guys and for everybody at Nike at the time?
HW: Man, it was phenomenal. It was just phenomenal watching them. I mean, a lot of people don't know, but Michael had gotten hurt. He had hurt his foot. We were down in L.A., and he stayed in bed the whole time because he couldn't walk. And he told me, "Order me in some running shoes."
I mean, you couldn't really play in them [because] they were so light. And so we ordered them, and he said, "I might have to play in these," because his toe was killing him. So that Sunday he got up and he cut the toe of his basketball shoes out. He said, "Ok, I'm going to play like this." Then he went out – not enough support. So, he put a new pair on, and it's killing him, and he said, "Well, it'll hurt for a while, and then I'll just have to get over it." And he did.
I mean, Michael has a tremendous, tremendous threshold for pain. It's phenomenal. Now, he might be scared to sit in the dentist's chair, but his threshold for pain was phenomenal. So, he was able to rise above that, and then went out and just went to work. So, that was the mystique of Michael Jordan.
When I called Phil Knight after they won the championship, we just had a great talk. Really, I just wanted to sit in the hotel and kind of reminisce and just think about what we had gone through to get to that point … just to have arrived at that place was special.
NDP: When Michael retired for the first time, we've talked to Tinker, and he always mentions how internally a lot of people were unsure if the Jordan line should go on.
HW: Yeah, a lot of uncertainty. I remember even feeling like the world was done. It's over; it's been a great run. "You know Michael, if nothing happens, it's been a great run." For me, it was. I remember telling Phil one time though. I said, "You know, I just saw a Mercedes-Benz go right down the street in front of campus." He said, "What?" I said, "A Mercedes-Benz. I just saw a Mercedes-Benz driving down the street." He said, "I'm not quite sure I get your point here." I said, "A Mercedes. A Mercedes-Benz was riding down the street." And he said, "And your point is?" I said, "I think Mr. Mercedes has been dead a long time, and it is amazing to me that the Mercedes-Benz could be riding down the street after that man's been dead. So, really, this can live on ad infinitum."
This can keep going, because I've never seen it as basketball. I think Michael provided something. I don't think you could do this if it was just about basketball. But, hope is something that the world needs every day, and they need it in large supplies. And I think Michael Jordan represented that to a lot of people. I think he represented that you could be bigger than your situation; you could be bigger than your circumstances; that you didn't have to let these things define who you were.
People needed to believe that. They needed to believe, "Michael Jordan, CEO. Wow, he's the CEO of his brand. Oh my goodness, you can be anything in life." And those are the building blocks that started it. You know, I've been in airports and with mothers that would say, "Those are some expensive shoes. But I told my little Johnny if he got good grades, I would get him some." And nine times out of 10, little Johnny got good grades. Mothers that told their children, "If you work hard enough, you could be like the man that can fly." I mean, so those things aren't about basketball. They're about the indomitable will to be more and to overcome, and I thought that's what Michael Jordan was.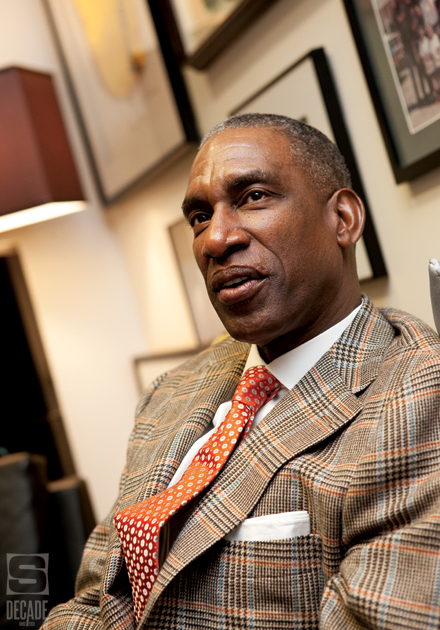 We used to play ping pong at my house. I would beat Michael, but when he went back home to Chicago, he bought a ping pong table and he set it up in his basement. Everybody that came over had to play ping pong. He played ping pong every day after practice at the facility too, with the media and with the team. Michael Jordan got pretty good at ping pong. [Laughs]
But, that was his will to say, "I'm going to be better; no one's going to stop me." You know, we'd play tennis all of the time, and Michael never wanted to just hit around. I said, "Let's practice." "No, let's play." I said, "No, let's just practice." And he would just run every ball down. I mean he had the attitude that he would not quit. That was who he was.
[Former Chicago Bears player] Richard Dent and I rode bicycles a lot. He was taking spin classes, and I always had to travel with a bike. So one trip, Dent came and said, "We should go riding tomorrow." I said, "Yeah, let's go riding tomorrow." So, me and Dent, we went out and we put in a 30-mile ride, and as soon as he got back he says to Michael, "MJ, me and H just went 30 miles." Michael said, "Ok, cool."
So, like a year later, Michael and I were over in Japan. He was playing a game over there for a tour. I had my bike over there and I was riding in the mornings, and he said, "When we get to Hawaii, you'll get me a bike, right?" I said, "Yeah, yeah, a bike will be there for you." He said, "I wish I had it right here, but we got that bike in Hawaii?" I said, "Yeah, the bike's over there."
After our trip to Japan, our families took a vacation and must have got in about 4 o'clock that morning into Hawaii and went right to the hotel. Our wives went and watched the sun rise. I went to bed. My wife came back about 6:30, and she said, "Michael's looking for you." I said, "What? For what?" She said, "I don't know. He's looking for you."
I got up and went up to their room. He said, "You were trying to leave me." I said, "Leave you? I'm asleep." He said, "No you weren't; you were going to try and leave me and go riding without me." I said, "Nope." He said, "Well, let's go right now." I was like, "Ok, let me put my bike together." He got his bike, and we were set.
I said, "Ok, how far are we going?"
He said, "Well, at least 30 miles."
I said, "What?" He said, "At least 30 miles." He dropped his water bottle, shirt flying in the wind, but he went over 30 miles. That was all he was concerned about. He was gonna beat what Richard Dent and I did. And he remembered it from a year ago!
Right then, I knew that if young people could take that and want to accomplish whatever it was that they set out to and have that kind of drive to do it, then they could about do anything in life. And if his brand could represent that, then anything's possible. And, yeah, you might buy something that one might consider somewhat high-priced, but the entry price to confidence, the entry price to being able to overcome should never be low. And I think that's what he has shown people is possible.