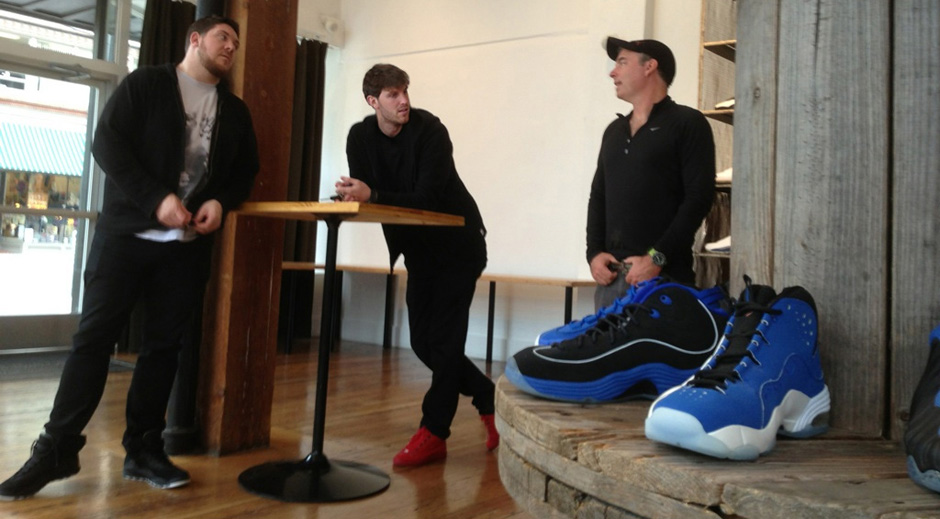 When the magazine first started, even though "Collector" was in our name, collecting wasn't really a full-blown thing like it is today.
Sure, people in pockets of the country had pairs stashed away, but these days, thanks to the sheer frequency of releases and the help and explosion of the Internet and Instagram, it seems like literally everyone has a 100-pair collection of rare sneakers piled up. (Or, at least they pretend to on Instagram.)
To sort through just what accelerated things to where we are today and the brands and technologies that have come and gone, Sole Collector's three leads chopped it up for a roundtable discussion of the past 10 years in footwear. Read our conversation ahead, and let us know how you think sneakers have changed during the Sole Decade in the comments section below.
Nick DePaula: It's been a pretty interesting 10 years for sneakers. How do you guys think things changed since 2003?
Steve Mullholand: I actually ran into a guy the other night at the airport. He works at the airport and he was unloading some magazines into the newsstand store. He walks all the way over to me and he goes, "Man! Those Penny IIs are great. Where'd you get those from? Those are the Sole Collector joints." I just said, "You know, I know somebody." He kept going on, "Man, those are so nice." Then I said, "Thanks, man, I actually work for Sole Collector."
He had black VIs on, and they were definitely beat, but fuck it, that was his work shoe. He said he didn't have a ton of sneakers, but he said, "Let me show you some shoes I got." He actually had a ton of photos on his iPhone of all of his shoes – Foamposites, Penny IIs, a bunch of Jordans – and I'm like, "Man, you have a bunch of shoes!" He says, "Well, I only have like 130 pairs and the new ones are pretty expensive." I'm just thinking to myself, this dude has 130 pairs and he buys every single one after working a tough job, and he doesn't think that's a lot of shoes. I just said, "Man, that's some great shit." Then he says, "Yeah, but it's all changed so much. Now, it's so expensive. I try to get a new pair of shoes, and everybody is into sneakers now. Everybody."
It's funny. I love looking around at the airport, and it's a great way to gauge things. I usually fly through Atlanta, and it's always a place where people are connecting from all over. It's a hodgepodge of everybody, and you'll see some old ladies wearing some pretty decent shoes. You'll see couples wearing a loud-ass pair of Reeboks. You see kids in real cool stuff. You see all of these shoes on all of these people, and it's pretty insane to see how far it's come since we started the magazine. When we started the magazine in 2003, the average person just wasn't into wearing something that they cared about like today. I guess that's around when you were really starting to get heavy into things, too, Nick.
NDP: Well in terms of actually being able to buy a ton of stuff, yeah. Growing up, I knew all about all of the shoes that I could possibly know about, but I didn't have all of the best ones or anything like that. Once I got to college then and realized I could link my credit card up with PayPal and buy stuff, it was bad news. [Laughs] That was also right around the time when stuff was releasing more than in just three or four colors for each model, and also retros really started to take off.
Steve: It's so funny, though, because a guy like that at the airport looked at me and said that he didn't have that many shoes. He had 130 pairs!! I was expecting him to say he had 20 pairs and most of them were beat from work. It just made me think, it's really crazy how this has all evolved. I know we've played a part in this, and I'm not saying that we helped push everything along to where it is now, but I know for a fact that we played a role in where things have gone. We were at the forefront of getting some of our event shoes quickstriked with an event and still available at retail. If you look back at all of the stuff in the past, I love talking to guys like that.
NDP: How do you guys think technology has changed things, just in terms of how many websites, apps and things are out there now?
Steve: The ease of access of information is crazy now. A lot of people just live on their iPhones, whether they're in class, on the bus, in study hall or whatever. It's like, if you can have something on the iPhone or iPad, you can captivate people. You're able to showcase a story like no other medium now. With the Internet, it's all driven digitally. The Internet is what happened to shoes. It wasn't Nike, Michael Jordan or a single brand or person that took things to another level, those things have all been amazing, but it was the Internet. All of the sudden, all of these kids that thought that they were on an island by themselves because they had 10, 20 or 30 pairs of shoes and none of their friends did, they can now reach out to hundreds of thousands of kids just like them. All of these kids are in the same boat, and they're all jacked up about it. Maybe their personal friends at school aren't as excited, but all of these kids online are going nuts over stuff these kids are picking up.
You guys all lived through this, and when we went to all kinds of different cities for events and interviews, I didn't know if anyone was going to show up to the first one. [Laughs] I really didn't. I distinctly remember turning the corner in San Francisco, seeing the line around the block and thinking, "Holy fuck!!" [Laughs] We had the NIKETOWN store all set up, the event ready to go, catering and everything, but I had no idea if all the people from the Forum would actually show up in real life. I walked on up, and the first dude in line had the orange Supreme Dunks on, and the second guy had the red Supremes. They were there over four hours before the event.
The great thing was, it was like, "Holy shit! Not only am I seeing these crazy shoes in real life, but there are lots of people here that are into it as much as I am." The events were a great stepping-stone to connect people from the Forums in real life, and from there, the Internet just changed the game. Nike and Jordan have been making hot shoes forever, but things didn't get to this level because of an artist, an Air Force 1 song or anything like that. It was all because these kids connected up and built this culture online, and it just blew up. We've been in the middle of it all along, and it's not dying down. It's only getting bigger.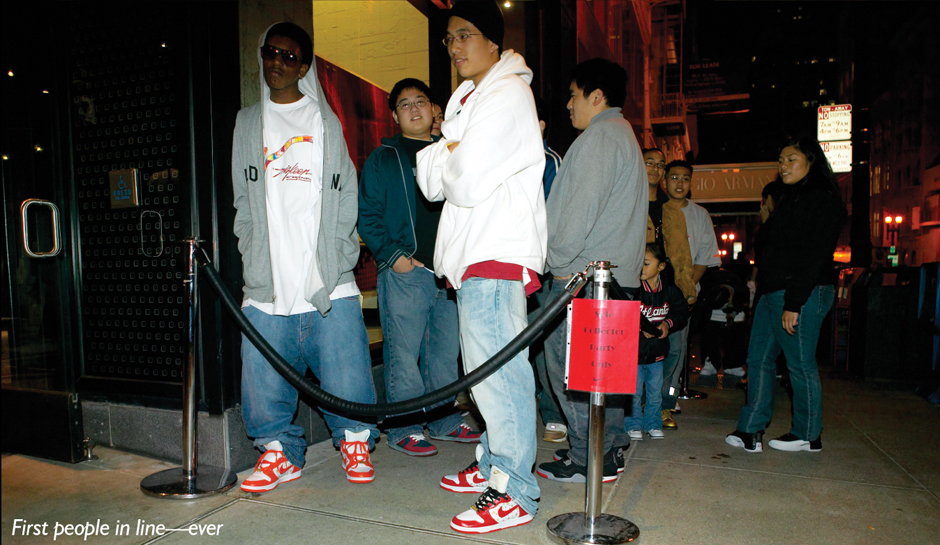 Zac Dubasik: It's gotten that way with a lot of things. I remember being a kid and looking for particular records or CDs at literally every record store I'd ever come across. Then eBay kind of changed that. All of the sudden, you could find anything you wanted. And it's the same thing with sneakers. Technology hasn't really killed the thrill of the sneaker hunt, though, like it has with music, because it's not like you can just download a sneaker a few weeks early. And the way prices have gotten, things are much easier to find than afford. Getting things at retail has become such a battle, even if you've known the release date for months in advance. The information is out there for everyone, so even more people are in the race to get all these new releases. I look at it as a positive, though. The growing popularity has made so much possible, from the sneakers themselves, to things like sneaker magazines and websites being able to even exist.
NDP: When the magazine started out, it seemed like people really into collecting were in their early 20s and more into '90s shoes and vintage stuff. Now, the collectors are getting younger and younger and are really into the current stuff just as much, whether it's a new Kobe or LeBron or something like Flyknit more recently.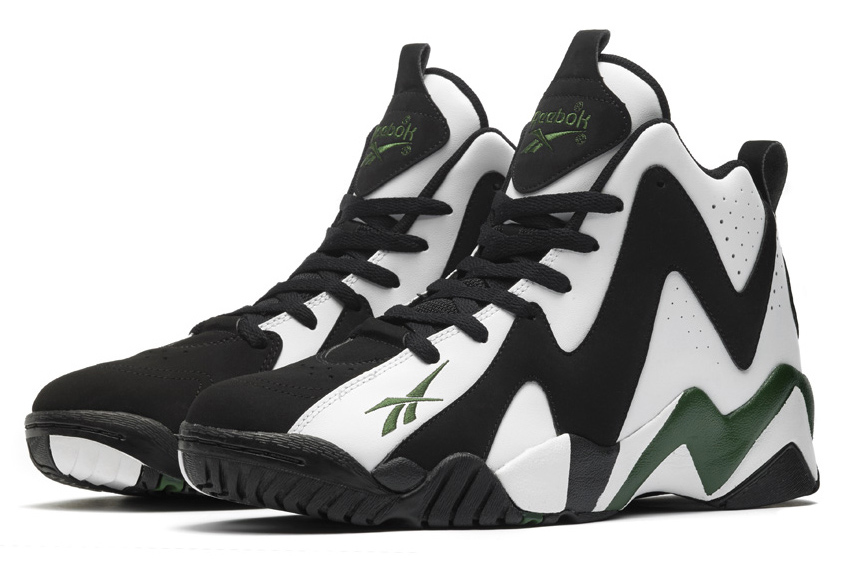 Steve: When we first started those competitions, I don't think there were more than five PEs in the place. It was just old stuff, which was great. At the later competitions, everyone had PEs and if you didn't have any, you knew you didn't have a chance to win. Today, the kids are just presented with so much variety or colors and so many limited releases. When all of us got into things way back when, there were no limited releases even. There wasn't no damn raffles or RSVPs or anything like it is today. It was just unheard of to get a PE, unless you were at the damn game and someone threw a pair up into the stands off their feet. [Laughs] Nowadays, if there's a hot colorway it's almost impossible to get, and I don't know what pisses me off more, those fucking resellers snagging all of the pairs or the fact that there're just not enough created.
One thing I really miss actually, though, is going into a Foot Locker and not knowing what they had there. When you saw the Air Max 95 or 97 for the first time, it was probably when you walked into a Foot Locker. That's when you saw it. Now, with all of these leaks and blogs, you see everything way before it comes out. It's pretty impressive that the last Air Jordan didn't leak until the media event. That's pretty goddamn cool, and I'd like to see more of that instead of some shitty pictures leaked out or some shitty musician getting them early.
NDP: Something that's been different during the magazine's time too is just how many more brands were around at the start. Reebok had Iverson, adidas had a ton of big guys, AND1 was at its peak, and there was a ton going on. What were some of the brands back then that were doing great, versus now how it's really become just Nike Inc. and adidas at the top?
Steve: You know, it's funny. Sometimes in life, you just get lucky. Early on with the magazine, I picked two companies that I really wanted to work with. One was a manufacturer, and one was a retail brand. We were just a small company with five people, and I knew that I couldn't give enough attention to every company, versus focusing on just two. One was Nike. The other was Foot Locker. Both weren't as obvious then as it seems now. There was a time when Foot Locker wasn't even getting Retro Jordans for like two years. [Laughs] Way back then, although Nike was dominant and Jordan was by far the most dominant, I remember going to Reebok and they definitely had some buzz going. That was back when Todd Krinsky had first gotten in charge and they had the Jay-Z, 50 Cent and Pharrell stuff going on. There was a ton of buzz around Iverson still, and they were doing some really interesting technologies. PUMA had some nice momentum going too, and they had a cool energy at their design center in Boston. That was the shit I loved seeing, and it just drove the interest level of everything up. Reebok, PUMA and ASICS, which was more of a tech shoe company at that point, but they were doing great too.
I definitely remember the first time we went over to AND1. They had an office in Philadelphia at the time, and it wasn't anything great from the outside, but once you walked inside, there were big-ass graffiti murals up, and there was a basketball court and everything. There was a vibe about it. Everybody was loud and in charge, and that was really when AND1 was killing it. Even K1X was off to a great start then. They had the Chiefglider, and like it or hate it, there were small companies coming up making little waves. One thing that just stood out was Nike had the best overall team and direction that pulled it all together and just crushed everybody. Back then, there was an opportunity in the early 2000s where someone could've turned it up a notch and had exponentially more market share in the basketball world. But nobody really did consistently. Now, Nike has such a commanding role in sneakers, and I don't think anyone can touch them for a long time.
Zac: The stuff that's surprised me more lately has really been all of the ASICS collaborations. It never did anything for me, and I thought it would be short lived, but it's been real impressive that it sells out regularly for this long. I never expected that. I also didn't think Reebok would come back the way they did. Not because they couldn't, but I just don't get what took them so long to. They were in a tough place and the basketball stuff was non-existent. Then they did the Zig stuff in basketball, which made me wish it was non-existent. [Laughs] Only after that, when they hit absolute rock bottom, did they bring back the stuff that everyone had wished they brought back all along. It was unexpected in the sense that I don't know why they didn't do it sooner, but it's been cool to see and they've done a nice job bringing all of that stuff back exactly how it's supposed to look. We get on Jordan sometimes when they don't do their Retro models justice, but Reebok has done all of the OG colorways real nicely. I don't know that they have a lot of legs left, though, because they've pretty much brought all of the good stuff back in a pretty short period of time.
Steve: Their back catalog is just so freaking small when you compare it to other brands, too. Sportswear and Jordan can just go deep forever.
NDP: What's crazy is that we were there in 2009 and told them pretty much everything they've done now.
Steve: They were saying, "What, you think kids really want the Kamikazes and the Shaqs?" We're all sitting there going, "Fuck yeah!" [Laughs] We were really on top of a lot of that, and you guys have been living that on a daily basis.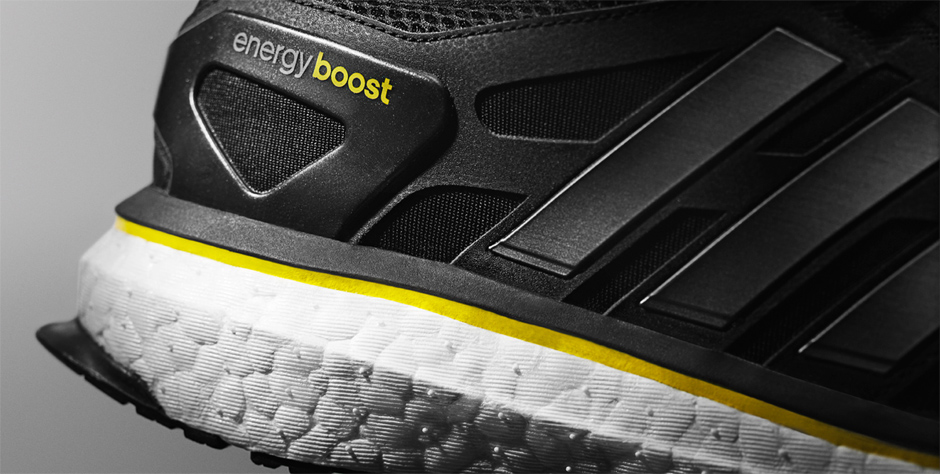 NDP: Another thing that I thought was pretty big was how during our first five years, there were a lot of brands doing some of the same things in terms of mechanical cushioning setups and signature guys, and then Nike came out with the Hyperdunk. That was really a tipping point that pushed things into a new era of that silhouette, later on of Fuse and of this new lightweight era. We've either seen people directly try and rip that off and fail at it, or you had someone like adidas that took awhile to reset and introduce something that could really compete against it with the Crazy Light. The biggest thing from the Hyperdunk, though, was that it also was a new era of themed shoes really taking off since the McFly, and now people will wear current in-line basketball shoes casually.
Steve: Something that happened right before that time was SB really falling off, too. A few years before that, people were losing their minds over every Dunk release. But that's what's so crazy about Nike and makes them so tough. You had Jordans and SBs killing it, then that cools off and you have Kobe and LeBron come on strong. Then you have all of the newer tech stuff like Lunar and Hyper, and now you have the Flyknit and Free stuff. They just keep coming with these great platforms, silhouettes and looks.
Nick, one of your best lines ever was when you said to someone pretty high up at another brand, "Flywire, Lunar, Fuse and all of this stuff, those are things that any brand could do, but Nike came up with it first. Why is that?" And it's so true. Too often over the decade did we see Nike roll something out, and then other brands try and play catch-up instead of launching their own thing. Reebok had Zig, and that worked for them for a bit there, but it wasn't anything they could follow up. I think what's really going to change the game is when one of these companies pushes out a new technology that sets the bar. Nike has had Air, Zoom Air and other iterations, then Shox, Lunar, Fuse, Free and everything else. Outside of that, what is an amazing technology that has hit?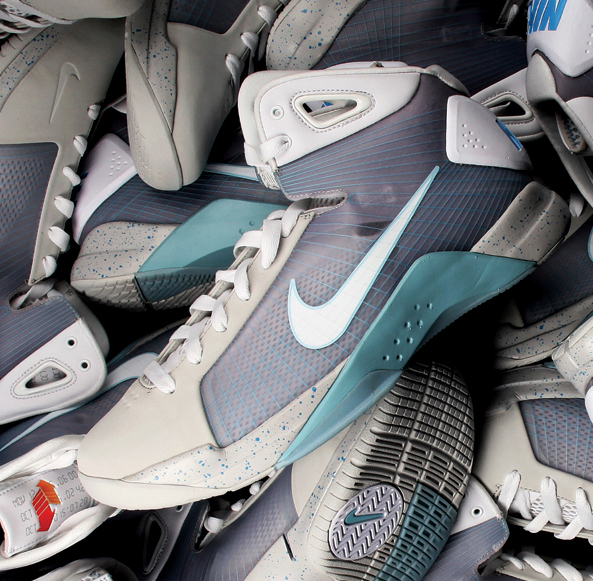 Zac: It's interesting, and I've been thinking about this a lot. I don't know if you'll agree, Nick, but I think you might. Probably the most actual useful new technology in a long time is Flight Plate, which is really just better use of an old technology more than an actual new thing.
NDP: I thought you were going to say Boost. [Laughs] In our decade, that's another big shift that we've seen, though. Jordan went from being the leader of any new technologies – even if it was one-and-done stuff like IPS, Tech Flex or whatever – to really following what Nike Basketball had done. Now, even though Zoom Air is nothing new, at least Flight Plate is something they can call their own and it works really, really well.
If you go back to the Pump, DMX and Feet You Wear, those were things that were unique to the brands that launched them and really solid ideas, and that's why they were so successful. More recently, we had stuff that looks like copycat constructions or platforms, but I'm hoping that Boost can be a big platform for adidas that really helps them stand out from a cushioning standpoint, which is what they really need. It's not a technology of course, but just the general sense of style and culture that adidas Originals has been able to lead has been real big the last three years or so too. They've done a real nice job of creating capsule collections that were cool and different, when that's something Nike might not do because they don't want to give anyone from the outside that much consistent control of their own brand.
Steve: The most disappointing thing to me during all this time was when we saw full-length Air and Flywire put into Jordans – way later. It should be the opposite. It's been a lot of years since people looked at Jordan as the technology leader instead of Nike Basketball.
NDP: How do you guys think some of the players have evolved? The thing with the magazine that's been interesting is it started in '03, and that's when DWade, Melo, my main man Darko and LeBron all came into the League, and that's also when Kobe switched over to Nike. That was a big jumping point and time to be a part of.
Zac: We talked about the technology being such a big part of the sneaker world really exploding, but a lot of credit has to go to those guys, too. In the past 10 years, LeBron and Kobe have four titles between the two of them, and a lot of great and memorable shoes. The combination of those things, along with the technology, has really allowed things to flourish.
Steve: If you take a look, how could you possibly say that Wade should've been at Converse, but they had a nice run. Then, he was at Jordan and now he's with a relatively unknown brand in Li-Ning. I think every athlete has the opportunity to jump, and it's hard to believe that there was a time when Jordan could've gone to adidas. Or just think, what if LeBron jumped? How would that change everything? One thing I love is that LeBron kept his nose clean. He didn't get into any stupid shit over the years, like Lance Armstrong or any of these other dickheads. If the worst thing you can say about him is that he did "The Decision," then that's pretty good. He's lived up to the hype and he's been great along the way.
NDP: It's been cool to see how he's basically lived up to everything that people hoped he'd be. When we had him on the cover of Issue 8 during his second season, you didn't know that he was going to become the best player in the League, but he has.
Steve: Man, no doubt. He really has.