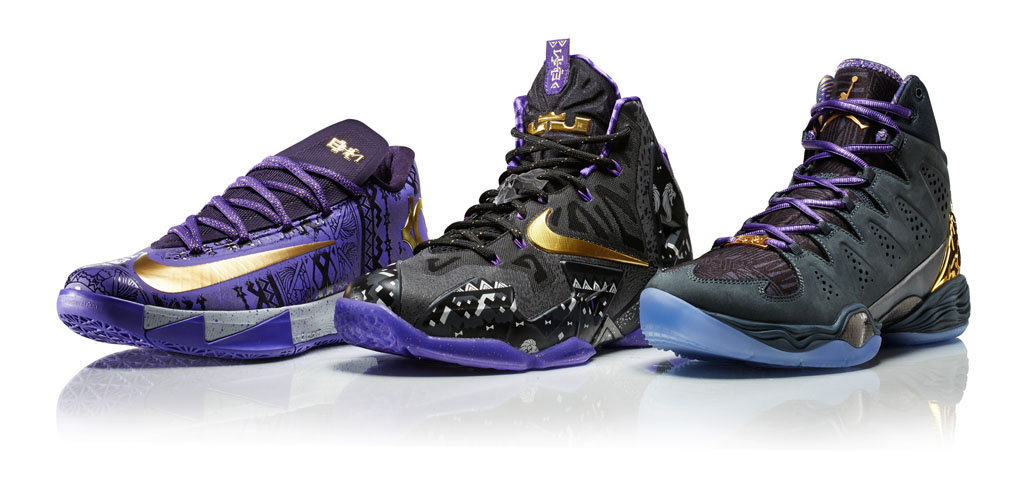 words // Brandon Richard
via Press Release
For the fourth-straight year, Nike honors Black History Month with a collection of footwear and apparel for athletes with an unwavering dedication to achieving success at the highest level.
This year's collection was designed under the theme of 'Sport Royalty,' celebrating the kings and queens of sport. These athletes have worn multiple championships, awards and led with high integrity and commitment both and off the field.
The 2014 BHM Collection spans across performance and lifestyle with 23 products including footwear, apparel and equipment featuring purple, burgundy, gold, black, grey and the new BHM print graphic.
Below is a detailed look at the BHM footwear and apparel for LeBron James, Kevin Durant and Carmelo Anthony. The collection will debut with promotional product during the NBA's MLK Day games on January 20. Pieces will then be available worldwide on nike.com and at select retailers beginning February 1. 100% of the proceeds will go to the new Nike Ever Higher Fund, a donor advised fund administered by Charities Aid Foundation of America that will support charitable initiatives that leverage the power of sport to maximize the human potential of underserved youth.