words // Zac Dubasik
Yesterday, the New York Times published a piece on sneaker collecting. But rather than your standard "This person has XXX pairs in their parents basement, and camped out X days in line for the XX release" story that the mainstream press usually puts out on the sneaker world, it took a look at a different kind of collector.
The kind that actually gets paid to wear sneakers for a living: NBA players.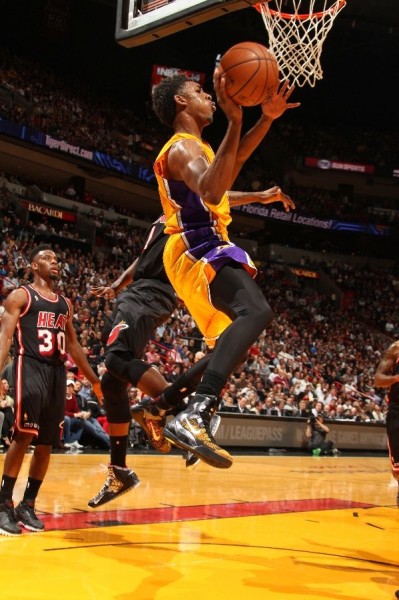 The article referenced players like P.J. Tucker, and his 2,000 pair collection; Nick Young, who recently debuted his teammate's ninth signature shoe, the Kobe 9 Elite; and Tony Wroten, who says he has played in 30 different pairs of sneakers during the first half of the season. If you are a frequent visitor of sneaker blogs though, this is probably not news to you.
You probably also know Nate Robinson has a crazy collection, and that Derrick Williams has also been known to showcase his on court. That's because, if you're a fan of sneakers, you pay attention to that kind of thing when you watch basketball.
And if you are a fan of sneakers, you probably frequent blogs like this one. So do the players themselves. "It's an obsession. It's something that I love," explained Tucker to the New York Times. "My vice is shoes."
Thanks to blogs following players' kicks on a daily basis, players have a platform for showcasing and documenting their sneakers on court. So, when a player like Tony Wroten claims to have "the best shoe game in the League," we actually have an idea of what exactly his collection entails.
Not every player has the opportunity to show off their collections on court. Due to contractual obligations, many of the League's top players have to stick with current models. Those that do have more leeway are taking advantage of it, and have sneaker fans paying more attention to them than they ever would have otherwise.
The roots of this current phenomenon of players showing off their collections on-court can be traced pretty directly to Gilbert Arenas.
Following a series of off-court issues and a lengthy suspension, Arenas found himself without a shoe contract after parting ways with adidas.
Gil had amassed a large collection over the years though - many of which he couldn't wear thanks to his adidas deal. So when he found himself with the freedom to wear whatever he wanted, he took advantage of the situation. Full advantage. And the Sneaker Champ was born.
"It reminds me of when I was in high school," Arenas told us the season after his Sneaker Champ breakout. "You just go to the store and buy the shoes that you like. I just want to go out there and play in what I feel like, the shoes that I like, and the shoes that I've collected over the years. I just want to play basketball and feel like a kid again."
Gil set the blogs on fire that year, and during the 2010-11 season, we saw shoes we'd never imagined seeing on court. And while Gil has since exited the league, he paved the way for players like those mentioned earlier to be recognized for their collections. And what better place to be recognized that blogs just like this?