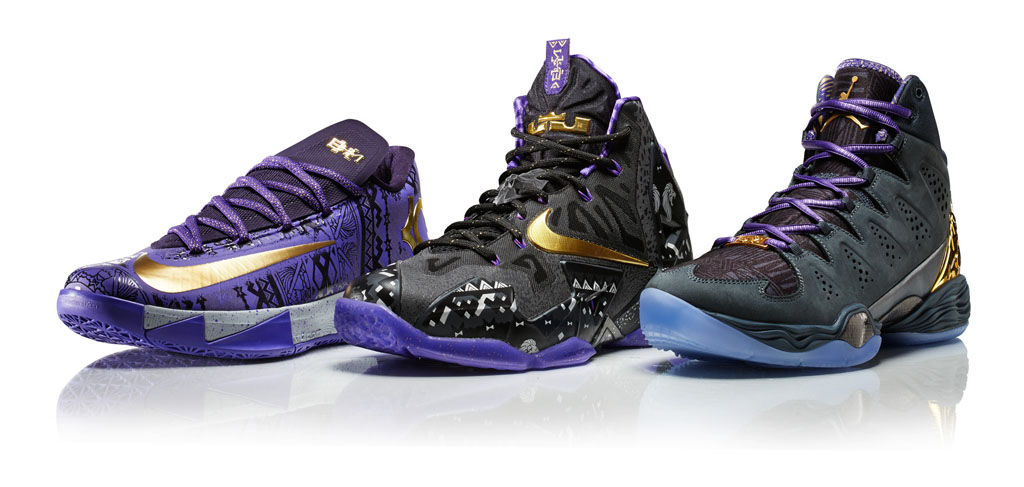 words // Zack Schlemmer and Zac Dubasik
It's Martin Luther King Jr. Day, and that means the NBA's feet are once again adorned with a range of special edition footwear honoring the great African-American leader.
With retail proceeds of Nike Inc.'s Black History Month footwear debuting today going to charity, recognizing this particular holiday with specially designed footwear is an appropriate way to honor Dr. King's legacy in the fight for racial equality and human rights.
Back in the day, like all the way back when Chucks were on-court, players were only permitted to wear white sneakers, with either team or black accents. And you've certainly heard the story about MJ's black and red Air Jordan 1s being "banned."
Not too long after that though, the rules changed, with the newly enforced stipulations calling for home shoes to be at least 51% white, while away shoes were allowed to be 51% black. (They could always be white too, as the Pistons wore white for both home and away games until just two seasons ago.) It was this rule that forced Penny Hardaway to take a Sharpie to the grooves of his Black/Dark Neon Royal Foamposites, in order to add enough black to avoid a $5,000 fine.
With the importance of superstar signature sneakers, and growing influence from sneaker brands, we've seen the rules become even more relaxed in recent years. They again changed about three years ago, and now allow players to wear any shoe for any game as long as one hue from their team's color palette is included—and that has seemed to open up the excuse for an entire slew of holiday and theme week footwear on the court.
Here's a breakdown of the current holiday and theme weeks recognized by the NBA—or at least the days that players get away with clashing shoes, along with the designated footwear colors allowed:
- AIDS Awareness (Red)
- Halloween (Orange)
- Christmas (Red/Green/Gold)
- Grammy's / Awards Season (Gold/Red)
- All-Star (Anything)
- Green Week (Green)
- Breast Cancer Awareness (Pink)
- Veteran's Day (Red, White and Blue or Military themed)
- MLK day (Undefined)
- St. Patrick's Day (Green)
- Autism Awareness (Blue)
- FIT Week (Red)
Yikes! That sure is a lot. With so many theme nights now on hand throughout the league's 82-game schedule, the significance of wearing specially colored footwear seems to get a bit diminished. Perhaps there may be too many themes approved by the NBA – to the point where an important holiday like today's celebration of Martin Luther King Jr's life and cultural impact unjustly loses meaning, as more arbitrary themes like Awards Season and FIT Week continue to also be recognized.