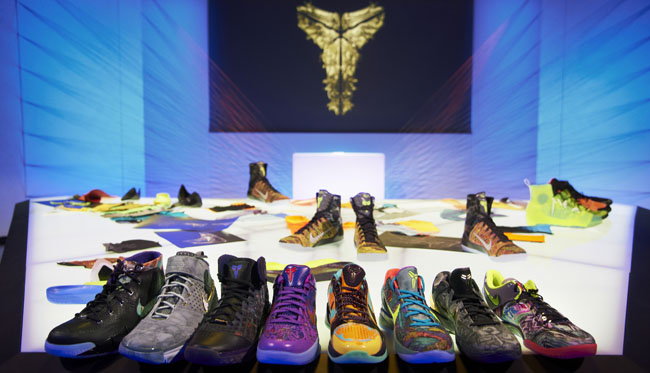 words // Zac Dubasik
Despite a rather disappointing climax on Sunday, the past week has been a big one for Kobe. It started with the rather unlikely rumors that he could come back against the Kings last Friday. This is Kobe we're talking about though. There was never a chance he was coming back on the road, in Sacramento.
Then there was the launch of not only his ninth Nike signature shoe, but the announcement of the Prelude Pack – a set of shoes honoring each model from his line, and his accomplishments while wearing them.
Next came the actual comeback announcement. In epically over-the-top fashion, the Lakers on Friday announced that Kobe would be making his return to the court on Sunday.
As Sunday's game got closer, Nike launched a campaign touting Kobe's comeback as unnecessary for someone with a legacy such as his. But because he's Kobe, he had to.
When Bryant finally did return to the court, he did so in the first shoe of the Prelude Pack, which had just released the day prior: the Kobe Prelude 1.
Now the questions is, what's next? As Kobe tries to get back into game shape, will he move to the Kobe Prelude 2 in anticipation of next weekend's launch? Will he wear each shoe in the line, week by week, until the launch of the 9? Is it just a coincidence that the entire launch just happened to coincide perfectly with his return, or did marketing play a part?
Let us know your thoughts, and if you think you'll see Kobe play through the entire pack. We may know more tonight, as the Lakers take on the Suns.
With each model seemingly working just enough with the Lakers' unis, which shoes would you be most looking forward to seeing on-court?