words // Zac Dubasik
We often feature new shoes, tech breakdowns and athlete interviews in the pages – both digital and print – of Sole Collector. But there's so much more to sneaker culture than that. And for this issue, we are going to take a closer look at some of the day-to-day issues that fans face, and hopefully provide some helpful insights.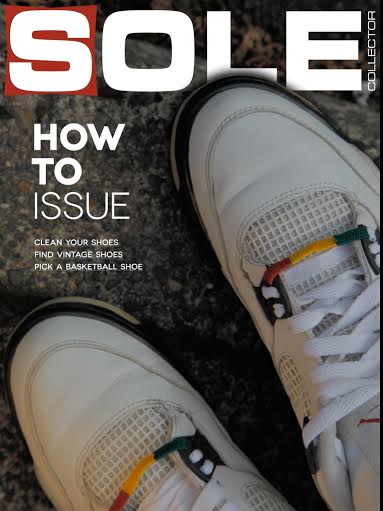 Keeping your shoes clean is one of the biggest dilemmas every sneaker fan faces – so much so, that many simply leave their kicks in the box rather than taking a chance with them. In this issue, Jason Markk, creator of one of the premier sneaker cleaning products on the market, will take you through the step-by-step process of using his cleaning kit.
We've also got tips on things like finding the right shoe to hoop in, properly showing off your kicks via social media, restoring old kicks, spotting fakes, and even how to track down forgotten classics.
We hope you find some helpful hints in this "How-To" issue. It's not always easy being so into sneakers, but the more you know, the better prepared you'll be as these issues come up.
The Sole Collector 'How-To' issue can be downloaded in the itunes App Store here.
IN THIS ISSUE //
HOW TO CLEAN YOUR SHOES WITH JASON MARKK | Exclusive how-to with Jason Markk on a variety of materiasl from Flyknit to suede.
HOW TO TRACK DOWN VINTAGE FOOTWEAR | Learn the In's and Out's of tracking down undiscovered original footwear.
HOW TO RESTORE SHOES | One of the most respected shoe restorers in the community walk us through re-soling a classic Air Jordan.
HOW TO FIND THE RIGHT BASKETBALL SHOE | Make sure you're making the right decision before purchasing your next pair of hooping kicks.
HOW TO SPOT FAKES | We compared a grey market pair of one of the most coveted Jordan styles with an authentic pair for a detailed guide helping get rid of some of the most impressive fakes we've seen yet.
HOW TO BRING BACK A SHOE THE RIGHT WAY | Asics sets the standard for what we should expect from a retro release this day in age.
HOW TO HUNT DOWN SNEAKERS AT THRIFT STORES | Sole Food San Fransisco sat down with SC for an in-depth interview revealing his thrifting ways when tracking down sneakers.