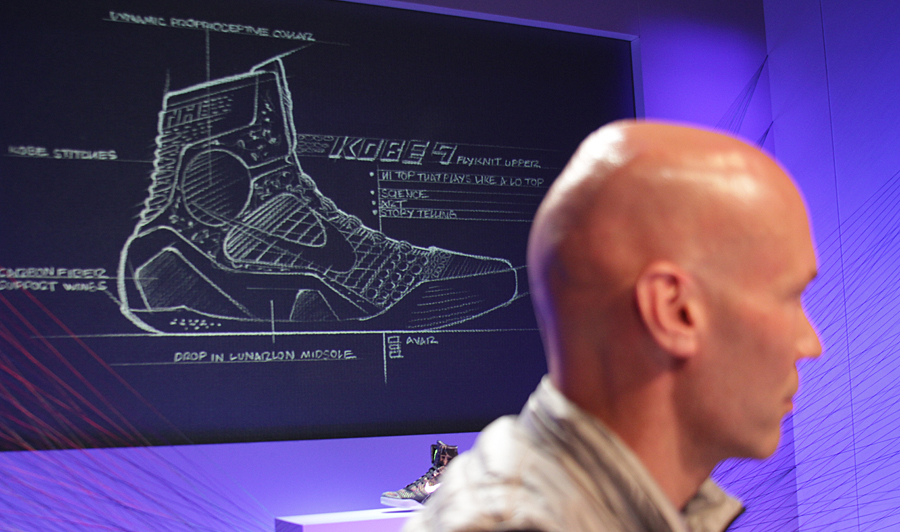 words & images // Nick DePaula
Earlier today at the MOCA Gallery in LA, Nike's VP of Design Eric Avar helped to unveil the new Nike Kobe 9, with both Kobe Bryant and Nike CEO Mark Parker in tow for the presentation.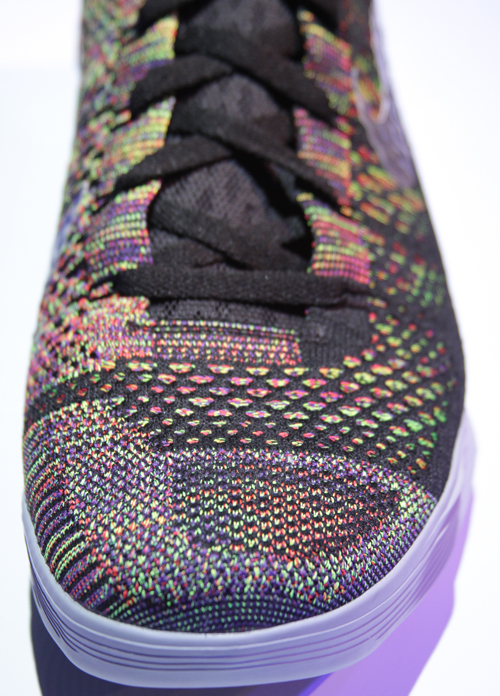 The latest addition to the family of Bryant editions, The Ninth is obviously a grand departure from the last five models that all featured a lower cut. In the quest to go higher, as per Kobe's request, rather than pile on a collar full of more firm and clunky materials like most high tops, the new Kobe 9 features a full Flyknit upper. Yes, there's a higher cut, but also more range of motion and mobility that comes along with the knitted fabric upper.
Sole Collector, along with George Kiel III from Nice Kicks and John Kim of SneakerNews, caught up with designer Eric Avar for a group chat about the newest Kobe signature model.
George Kiel III: Mark Parker has said that Kobe is one of the toughest people you've ever had to work with. What's that process like of working with him, and why is it so tough?
Eric Avar: I wouldn't say it's tough, I would say it's intense. Obviously, Kobe is an incredibly intense, very competitive, very detail oriented individual and player. The way he plays the game is the way he wants to be involved in the design and innovation process. What he expects of himself, he expects of us. It's definitely intense. I'm a competitive person also, so we just feed off of one another, and I love that. He pushes us, and he's constantly pushing the design and innovation.
Nick DePaula: The Flyknit upper and obviously the height are two of the biggest points of emphasis here, but you didn't really talk about the cushioning. Was there much of a discussion in terms of using Lunar versus Zoom?
Eric Avar: We've alternated back and forth, and we've had some Zoom product, and Kobe has really liked the Lunarlon. We feel like it gives you good responsive lightweight cushioning, and it gets you lower to the ground. It also has just a little more natural motion and splay to it, and that, in conjunction with the outsole, gives the whole shoe a little more of a natural motion feel. Lunarlon was definitely a big performance point. He was just saying to me before, "It just felt really spongy, and in a really good way." It's cushioned and responsive.
Jon Kim: How was Flyknit specifically engineered for basketball here, as compared to how it's constructed for a running shoe?
Eric Avar: Primarily, the type of fibers that you can use. Just as you can use different colors, you can use different fibers that have different properties too. We used some really non-stretch fibers in the forefoot on the lateral side to secure the athlete against lateral forces. We used more traditional fibers that we use in the running shoes in the midfoot. Then, we used really dynamic fibers up through the collar area, to give you that dynamic fit that allows for more range of motion. It was really a combination of the fibers and the types of stitches. We used really tight stitches in the forefoot, moderate stitches in the midfoot, and simple dynamic stitches in the collar.
Jon Kim: The arrangement looks to be more of a zig-zag pattern and tighter too.
Eric Avar: Yeah, the stitches we used are a thicker gauge, and we think that'll help reinforce the fit and security. It also helps to give it more dimensionality than some of the running shoes from a visual perspective.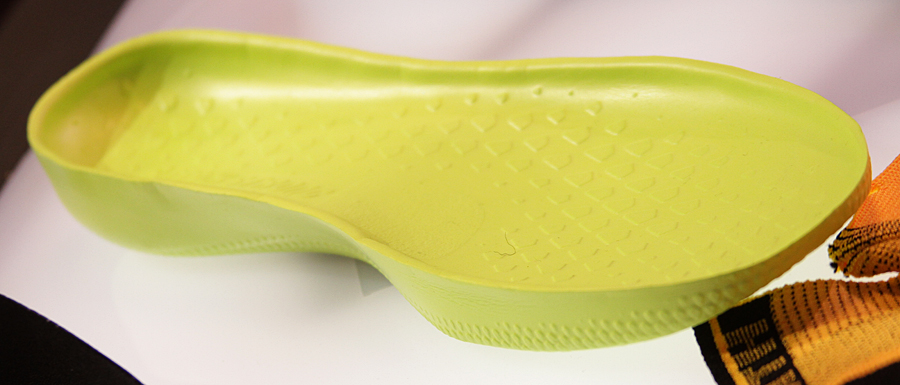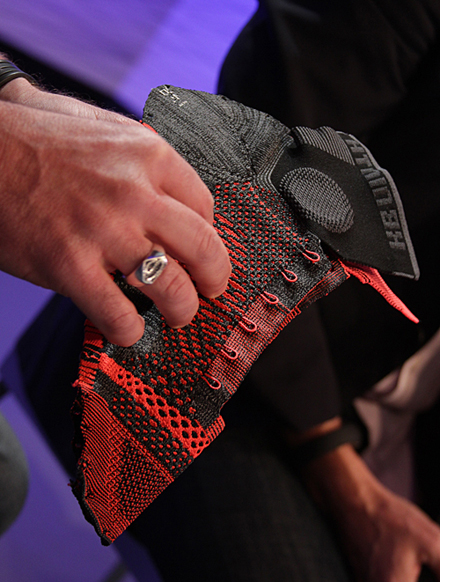 George Kiel III: Did his injury have anything to do with the height of the shoe?
Eric Avar: No, and we've been working on this for almost two and a half years. When it did happen, I remember meeting with him shortly after his surgery, and he was showing me the picture of his surgery and the stitches. He had a picture of it on his phone, and we just thought that could be a really cool story if we could just weave that into the back. As Kobe said, it's part of the journey.
Nick DePaula: You sit alongside Tinker at Nike, and the Air Jordan XX8 had a huge carbon fiber heel counter too, but also in the shank as part of the Flight Plate. Here, it's just in the heel. Did you talk with him about some of the benefits that that shoe had, and did you toy around with using the carbon fiber under the foot as well, or did you just want it as a counter?
Eric Avar: Tinker and I have a long relationship, and we're always going back and forth and sharing thoughts about product. Carbon fiber is something we've used in a number of ways for a number of reasons through the years, and we just thought it was appropriate in the heel. Kobe was mentioning to me that the fit and lockdown of the shoe is amazing, and I think it's because we tried to pinch that carbon fiber a little tighter actually against the last, and it really secures your heel here. We just wanted to make sure we built it in a way that provided support more than anything.
John Kim: For the Kobe line, one of the most visual takeaways has been the different uses of skins, starting with the III and then in different variations over the years. Was that all because you were converging eventually to Flyknit, and was that planned in any way?
Eric Avar: Not per se planned, but we're always looking back to move forward, because there are a lot of learnings. I think Flyknit is a natural evolution, and as we learn more and more about Flyknit, it'll be even more of a natural evolution.
Nick DePaula: The Kobe V and VI both had a storytelling outsole and graphic pattern, then you went back to herringbone for two years on the VII and 8. Did you bounce around between using herringbone again here, or did you always want to have that anatomical look this time around?

Eric Avar: The main inspiration about it was just having a thin web, and a light outsole. Just really trying to play up that natural motion aspect of it. We've had some really good luck with that, with thinner ridges, and so we took a standard pressure map, and designed those ribs to that pressure map. The traction has worked out really good throughout the process.