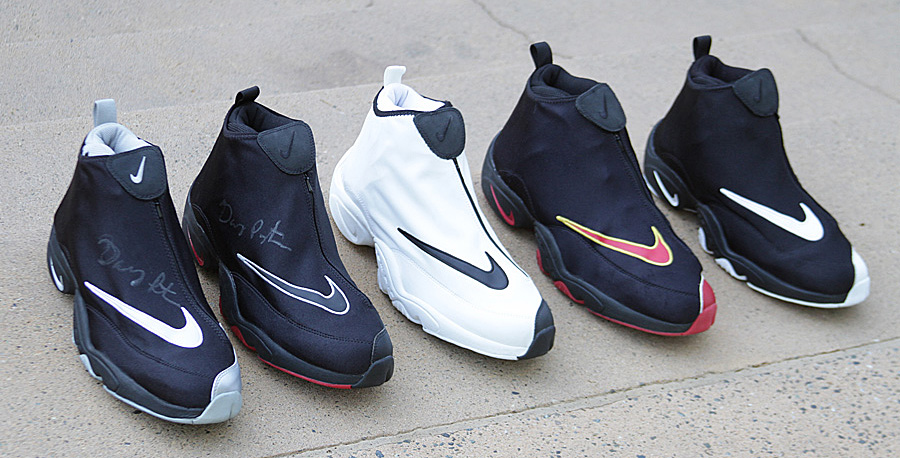 words, images & interview // Zack Schlemmer & Nick DePaula
In the world of sneaker collecting, some people like amassing a deep stash of more easily obtainable shoes, like every latest Jordan Retro or the newest Kobe launches. Which is totally fine with us, of course.
And then there are collectors like Byron Warouw, who patiently peruse the internets for their niche interests, which in Byron's case, includes all things Seattle. A longtime area resident and huge fan of the Emerald City's sports franchises, Warouw has been collecting Sonics, Mariners and Seahawks memorabilia for almost two decades now.
One of his favorite players over that span is of course "The Glove," Gary Payton. After initially picking up just a few of GP's PEs and game-worn kicks during the late 1990's, Warouw has since become the ultimate collector of nearly every sneaker Payton wore on-court with the Sonics. From Hawk Flights to Maestros, Gloves to Air Alarms and even most of his Zoom GP series, Warouw has all but a handful in his possession.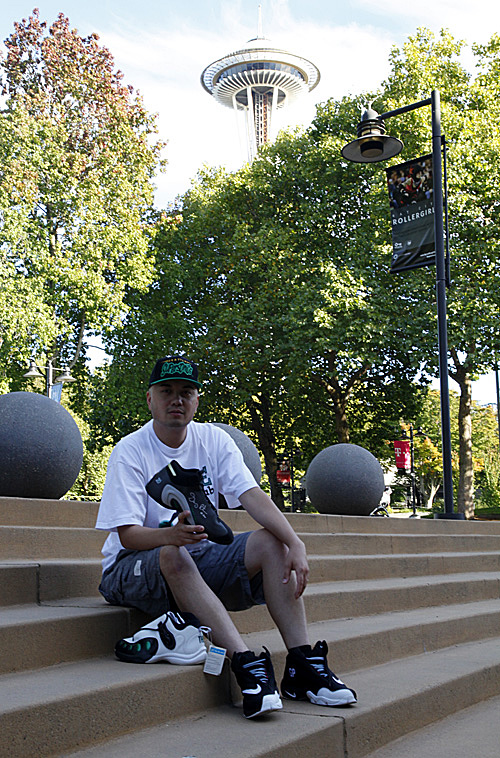 We recently caught up in Seattle on the steps of KeyArena with Byron (who has an unreal Instagram feed of even more GP & Seattle related memorabilia) to hear all about how he started collecting Payton's game-worn shoes, which pairs were the hardest to track down, and of course, which ones he likes most.
Stay tuned all week long for detailed looks at his extensive GP collection, including his entire Ultraflight set, Glove set and other models ike the Zoom GP. If you're looking to add a Seattle-inspired pair of the Zoom Glove to your collection, be sure to check out our "Sonic Wave" Zoom Glove collaboration, releasing this Saturday at House Of Hoops location nationwide.
Zack Schlemmer: How did you originally get started collecting Gary Payton stuff?
Byron Warouw: Well, my dad took me to a hotel they were at back in '91, and that's when I first met GP; he was still a rookie. It was cool because that was also the first year that my parents sprung [the money] for expensive Nikes. So I had the Command Forces and the matching jacket, and I had him sign the jacket. I still have it on my wall and it's inscribed, "To Byron, best wishes. –Gary Payton, #2" And he never wore #2 after his first season, so that's one thing that, when you see it, it was right in that time period. It all started back then, and just kind of went from there.
ZS: So it started not with shoes, but with just being a fan?
BW: Yeah, my Gary Payton stuff didn't start with shoes. I didn't start collecting his shoes until the late 90's.
Nick DePaula: So all through the 90's, you were a big Sonics fan and were just grabbing and going on whatever Sonics stuff you could – autographs, jerseys…
BW: Yeah! Whatever I could get. Whatever I could get the players to sign. It wasn't so much focused on Gary Payton stuff at the beginning, just as more of a sports fan. As I got older and got money, that's when it became more focused on GP. In '95 was when I graduated high school, and of course, 95 and 96 was crazy for Seattle.
The Mariners and Sonics, so that's when things kind of started to ramp up with my collection and of course when you're at that age, you want the shoes the players are wearing and you start getting the good general release stuff.
NDP: What was some of the stuff that when it originally came out that you had? Did you have the Glove, Hawk Flight, and all of that when it hit the first time?
BW: I didn't have the hawk Flight. I had The Glove, all the Kamikazes, one shoe that's not GP-related that I was really big into was the Zoom Flight '96. That and the Air Worm. My girlfriend at the time, that's now my wife, bought me those, so she's been there since the beginning of my whole shoe craze. I started getting into shoes about 1989, but from that time all through high school, my parents were the supplier of the shoes.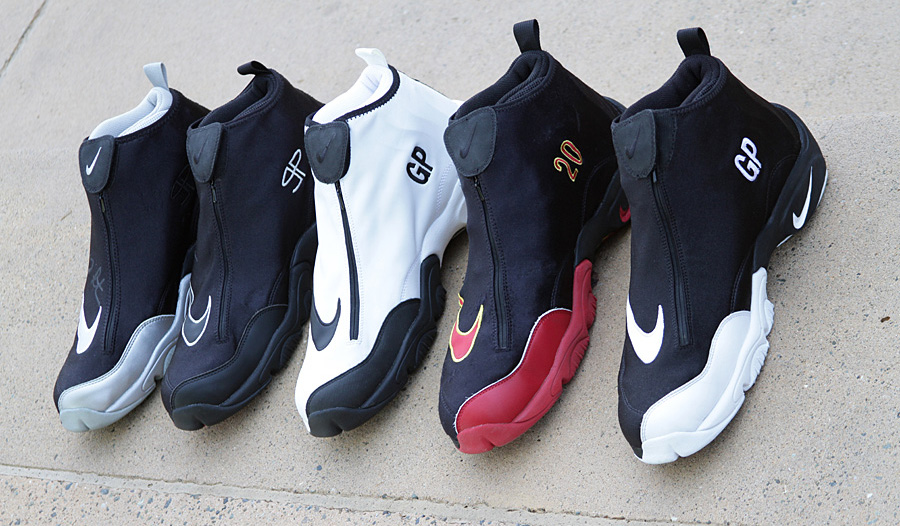 NDP: And then at what point did you start to go after certain PE's? Was it just GP first that you really started to collect?
BW: No actually it wasn't, it was Ken Griffey Jr. stuff. I met him as a rookie also, and I have this picture of him – they used to do field day and you could go down on the field and take pictures with the players…and so I have this picture with Randy Johnson, and just as they were taking the picture Jr. jumped over Randy Johnson and kind of photobombed the picture [laughs], and it was really cool because back then you could then send in the picture to the team and they would sign them and send them back to you.
So it started with Jr. stuff, and I was like, "Well, you know, being a Sonics fan, I should just get a bunch of [Sonics] stuff I like," and the big stuff seemed to come pretty easy being around here. At first it was getting stuff from locals and that's kind of what started it all. I got the Griffey stuff, and cleats are cool, but basketball's the universal sport. Some of my good scores came from locals. You know, the kids grew up and mom doesn't want that stuff in the house anymore so they have this stuff for sale, or I'd get stuff from Craigslist or something.
I'm always just searching everywhere I can. So along the way, when you start to get into more of the organized shoe auction stuff, and rub elbows with the different collectors around here, you start to score more here and there. Most of the older stuff came from locals.
ZS: All of the stuff that you have autographed by Gary, was that all in person, or was some of it found that way?
BW: Half of it is was in person, some of it was just the way it came.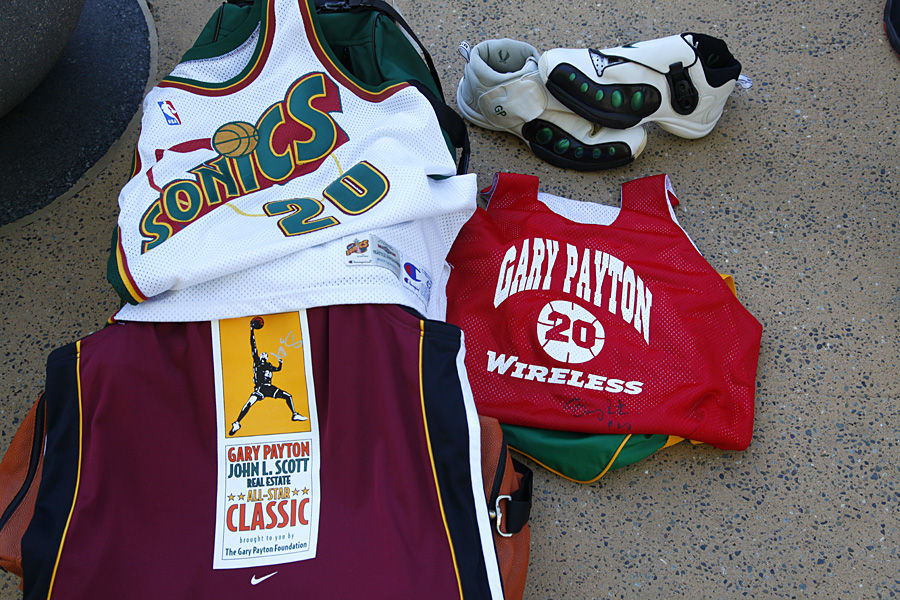 ZS: What is your favorite pair in your collection?
BW: I think my favorite pair would probably be the Heat championship Gloves. That's the one I put in the most work to get. A lot of them will show up to you at good times, but the Heat pair was one I knew I had to have because that's what he wore for his championship.
NDP: What was the story on getting them?
BW: Actually it was kind of crazy because, like I said, along the way you get to know people, and one of these guys I knew that knew I collected Gary's stuff hit me up out of the blue and was like, "Hey, this guy down here in Florida has a pair, and for pretty cheap." So I was like, "Yeah for sure!" And so I still owe him one for that. [laughs] He definitely looked out for me.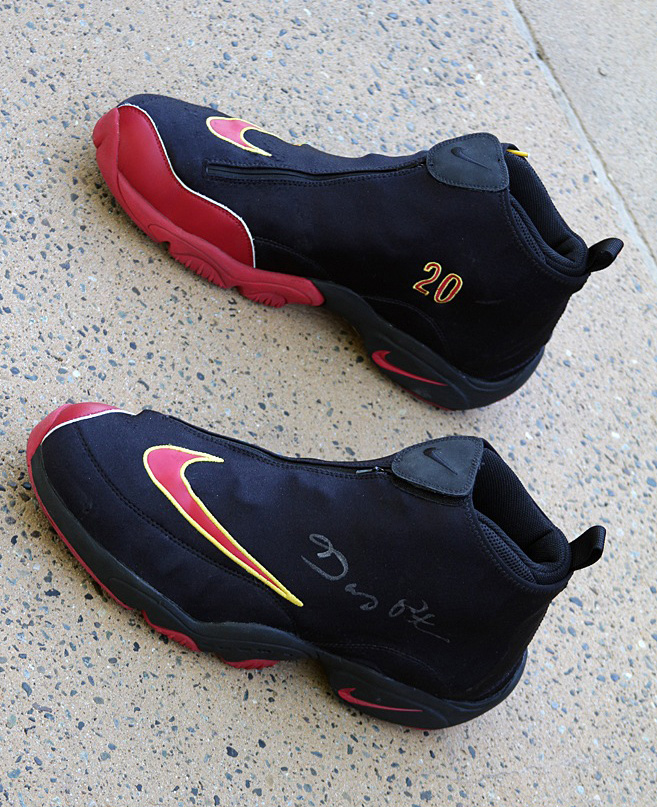 Those were game-worn and unsigned, and then recently Gary had a softball charity thing at Safeco, and I sprung for the V.I.P. tickets where you get to sit in a really good section and you get to go out on the field. I had one shoe in my backpack and my wife was like, "Go get his autograph!" But he wasn't really signing at the time and I didn't want to be that dude, but we saw other people going over to him, so I went over to him and my wife ended up getting pictures of him doing the autograph.
ZS: Nice! So you've met him how many times?
BW: Oh gosh…[pauses] probably a dozen or so times.
ZS: Does he recognize you at this point? [laughs]
BW: Well, one time I went to an organized public signing he was doing and he kind of called me out in front of everybody, like, "Hey, this is the guy with all of my shoes!" [laughs] But that was cool. He follows me on Twitter and he follows me on Instagram, which is kind of cool, so we interact every now and then.
NDP: What's one of the more obscure shoes that a lot of people might not know that he wore that has sentimental value to you?
BW: My first instinct is the Air Alarm, which you really have to know your shoes and you really have to be on top of it to know [that he wore them]. So definitely the Air Alarms, but also that whole span from '96 through '97 where he wore the Hawk Flights, the Turbulence and the Maestros ['96] and they were all PE's with his number 20.
So I would say it's all the 90's stuff that I cherish most. Just because it's older stuff, and it's not really considered as popular. You know, it's not like a Jordan XII or something where twenty collectors have the same shoe. These are the shoe you have to go out and look for. And it's cool because on the flip side, not everybody wants them. So I would definitely take any of the 90's stuff over the more recent stuff, excluding the Miami Heat Gloves.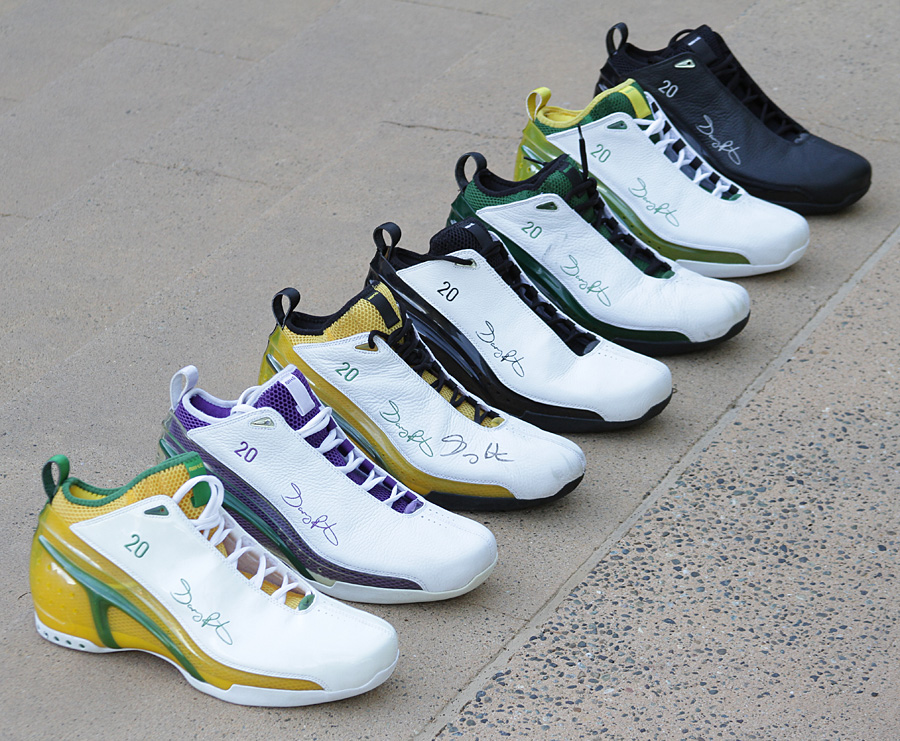 NDP: Can you talk about the Ultraflight a little, and how you got all of those.
BW: Oh, wow, ok so… [laughs]
NDP: Because that's one of the most impressive things I've seen in a while…
BW: The Ultraflight set! Yeah, so that's all of the ones with the stitched signature. There was one that he wore in the All Star game that was white and red. It didn't have the signature, but it did have a special back pull tab. I'm still not sure what it said, probably "The Glove."
With the Ultraflight set, I didn't even intend at first to do the whole set. I wanted to get all of the Sonics colorways. So I got the – well, they're all white, green and yellow [laughs] – but I got the ones that LeBron wore with the green mesh and clear shell. Those were the first pair I got. And I was really happy because that's still one of my favorite pairs.
And then I acquired a couple online, and then I was able to acquire the Bucks colorways. I got those two from another collector. The white and green is actually a Sonics color. I got those from another guy who doesn't actually collect shoes, but he has a lot of game-worn stuff in general, and he happened to have that pair. And, God, he was a pain in the ass to work with [laughs], but I finally landed them.
And then the hardest pair to get was the white and black one. He only wore those on media day for the Bucks. If you look at all of the tags, they're dated back to the Sonics days, and the only real Bucks one is the clear shell with purple mesh. The rest are Sonics. I got that black and white pair from eBay, just randomly. And then it just all came together. It wasn't like a set plan, but now I have them all.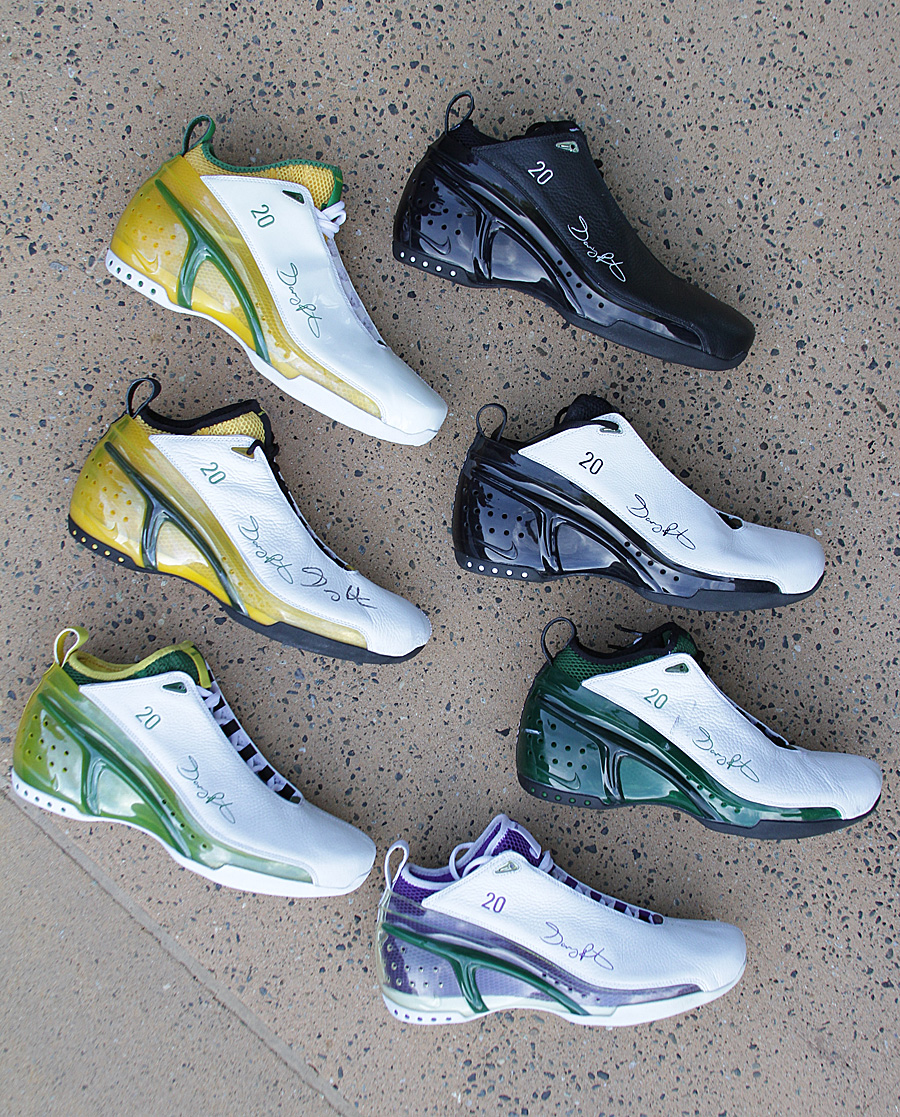 ZS: And what other models of his are you still looking for?
BW: The 90's stuff for sure. You know, his Jordan PE variety has so much, but I'm not really a Jordan model fan that much. I have a lot of the Heat Gloves, but I'm missing the one white pair and then there's another one from 2006-07 that's mostly black with the interior in all red.
Those are the two Glove PEs that I'm missing. But I would say what I'm mostly looking for are the mid-to-late 90's PE's. I want the Turbulence still, it has "20" on the back collar, and then the Thrill Flight for sure.
NDP: You said you didn't have any Payton IIIs?
BW: Payton III's, yeah, good call. I did find a pair, but the guy selling them never got back to me, so the search continues.
ZS: I wanted to ask you about the new Glove retro, how excited are you?
BW: I am excited. I've never really understood guys who complain about their "grails" being retroed. I think they do it because they're more hyped that they have an original shoe that hasn't re-released, but I couldn't care less. I love that shoe and I don't want to be wearing these [points to his OG Gloves] all the time and busting them someday, so I'd rather stock up on a bunch of those.
Of course, Nike being who they are, they're going to make some funky colorways, but as long as they look like the originals and they don't have that Air Tech Challenge treatment, you know [laughs], then we're good!
NDP: Are there any other players' PE's you collect?
BW: Pretty much anything that's Seattle stuff. I like the older stuff a lot more. I have Kemp's Kamikaze game-used shoes and some of the Vin Baker Jordans – like the Team One and the VINdicates.
ZS: Do you have any Durant stuff?
BW: One Durant – I have the Vis Sweet. It's an alternate colorway, and they're black with the yellow. Ray Allen seems to be the player that is hard for me to keep a hold of. Everybody wants Ray PEs, and anytime someone gets a Payton shoe that I want, it's usually the Ray that they want. So I'm good at renting those [laughs], but I can never hold on to them.
My collection spans into game-used Hersey Hawkins' FILAs, Sam Perkins' Reebok Blast, and I even have some WNBA shoes. I have Lauren Jackson's HyperMax, Sue Bird's Hyperize. game-used PONYs, and oh, one of my favorite pairs is the "X-Man" [Xavier McDaniel] Spot Bilts. So it kind of spans everywhere.