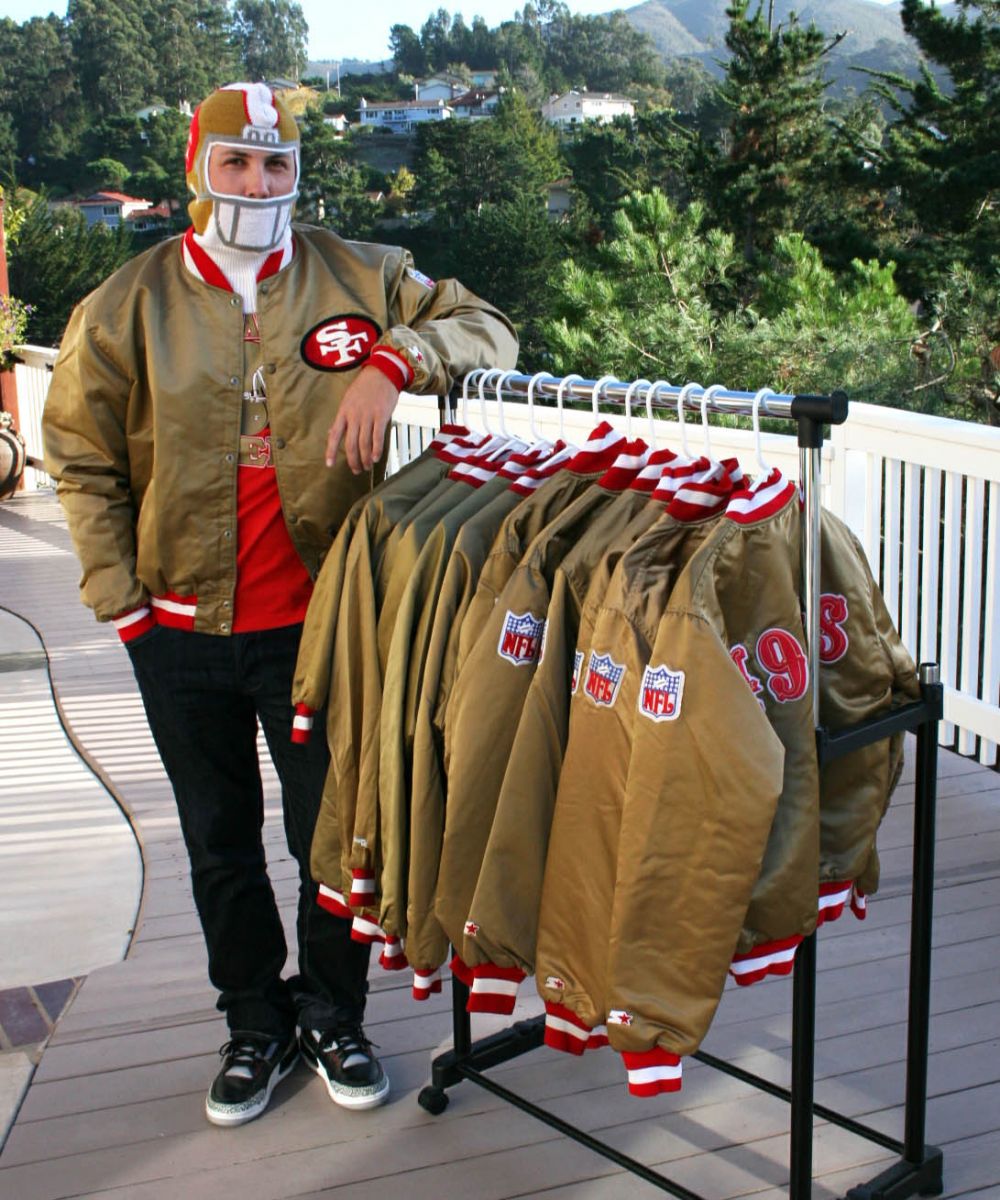 words & interview // Zack Schlemmer
As featured in Sole Collector's 'How-To' iPad Issue, now available for purchase in the Apple App Store.
I'd like to consider myself pretty good at thrifting. One of my favorite things to do in my free time is check the racks at my local thrift stores and flea markets for anything from cool coffee mugs, to records, to my favorite target: vintage sportswear and shoes. Along the way I've found plenty of vintage basketball jerseys, countless T-shirts, and a few pairs of kicks. In other words, I've dug up enough goodies to be confident in my thrifting abilities. That being said, my finds in no way compare to thrifting pro Andrew Kochevar, who runs Sole Food San Francisco, an online sneaker and vintage sportswear store. If you are in any way a nerd for vintage sportswear or shoes, you're probably already following Andrew on Instagram (@solefoodsanfran). If not, you're going to want to start! Almost on the daily, this dude is posting amazing thrift store finds that will either leave you hating him with envy or asking: "How much?"
Andrew was nice enough to offer some insight into the world of thrift store shoe scores, answering a few questions for us about how to do it and what to look for. Study up, and then head to your local thrift shop to see what you can find.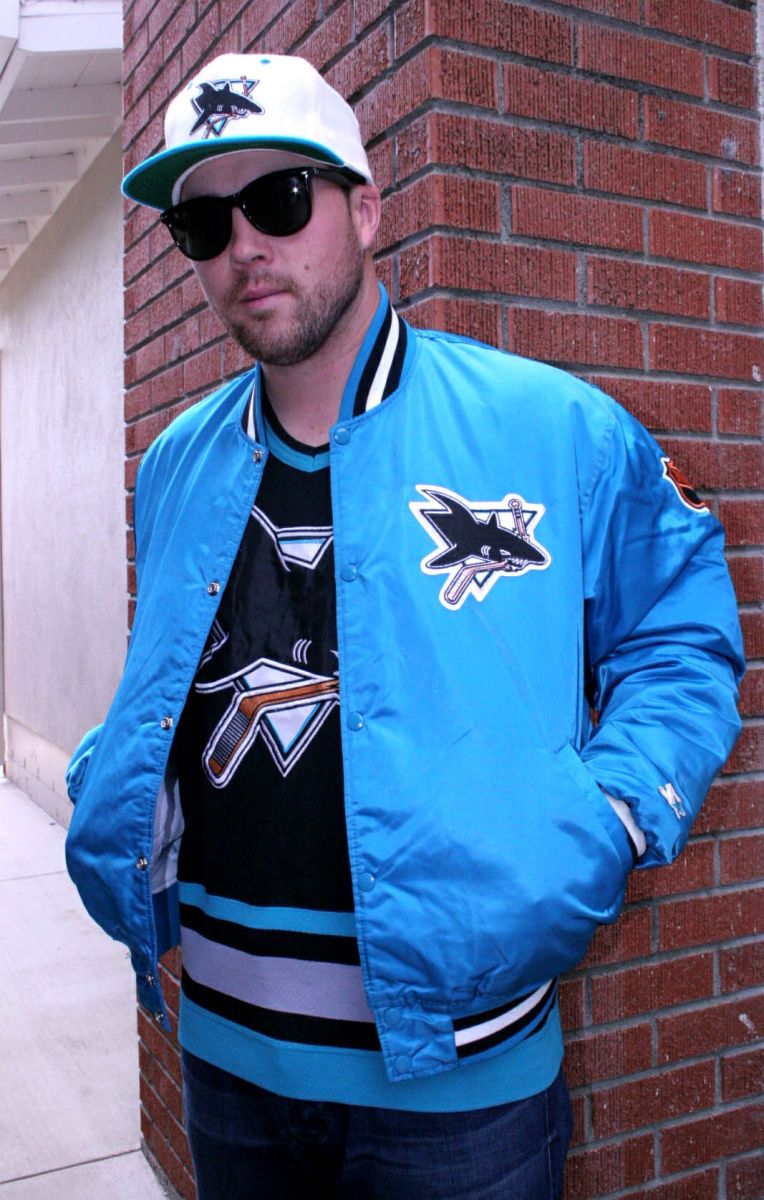 Zack Schlemmer: Hey, Andrew. Thanks for taking some time out from your busy thrifting schedule to answer a few questions! I've been following you on Instagram for a while now, and I can tell that you definitely have an eye for both vintage sportswear and shoes. I can't believe some of the stuff you find! So, how do you do it?
Andrew Kochevar: Honestly, I just look. I treat "thrifting" like a full-time job. I put in my 8 hours every day in order to find quality vintage sneakers. Some days I hit up 20-plus thrift stores. Other days I stop at one or two. I just browse without any expectations. Sometimes I strike out, but sometimes I hit gold!
ZS: What's your favorite sneaker find of all time?
AK: That would have to be a pair of Nike Air Jordan XVII Low Mike Bibby Player Exclusives signed by him. Probably the best $12 I have ever spent in my life! Other notables include Diamond Tiffany Dunk SBs, OG Penny Foamposites, OG Reebok Pumps, OG Nike Air Command Force and a whole bunch of mid-1990s OG Jordans.
ZS: Do you usually keep the shoes you find in your size, or is everything up for grabs in your online store (www.solefoodsf.com)?
AK: I usually keep everything that I find in a size 12 and I also keep all of the infant and toddler kicks that I find. Everything else is up for grabs.
ZS: One thing I've noticed about your store is that you keep the prices very reasonable, unlike most typical resellers. It seems like you're really in it for the love of the vintage gear, and not just to make money.
AK: I try to be realistic in my pricing. I understand that the majority of my followers are in high school or are young adults. I try to price myself into their comfort zone, giving them the opportunity to grab some quality one-of-a-kind pieces without breaking their bank. I really do this for the love of vintage clothing. Each piece has sentimental value to me and brings me back to my childhood. I am basically trying to recreate my childhood from a fashion standpoint one Champion jersey and one Starter jacket at a time.
ZS: Is there one shoe you're hoping to find on the racks you haven't come across yet? A thrifting Holy Grail?
AK: I have yet to come across a pair of Original Jordan 1s. I have heard stories from fellow "thrifters" that they happened upon a pair, but it has yet to happen to me. I would love to come across an OG pair of Maroon Jordan VIs. Those were my first pair of Jordans as a kid, and I would love to find a pair for nostalgic purposes.
ZS: Can you think of any amazing shoes you've found on the racks that you didn't buy because they were just too beat? I always feel like shedding a tear when that happens!
AK: I still have nightmares about some of the things that I passed up on over the years. I passed on OG Military Jordan IVs because the midsole was crumbling and a pair of OG Reebok Twilight Zone Pumps because they were just too far gone. My worst experience was finding a pair of Original Concord Jordan XIs in practically new condition, only problem was I could only find the left shoe. I looked high and low for literally 2 hours, but never found the right shoe. Leaving that gem on the rack broke my heart!
ZS: Without revealing any of your secrets, is there any advice you would give to somebody trying to get out there and score some thrift store sneaker finds of their own?
AK: Be patient! Don't expect to walk into a thrift store and see OG gems just sitting on the shelves. It takes time and persistence. Get your hands dirty and dig through the racks. There will be things you overlook (especially tucked away in the women's section). A lot of the shoes are in well-used / beat condition; you will probably have to pass on some things before you find something of high quality. You may strike out a few times, but all it takes is one awesome find to make it all worthwhile.
ZS: Putting in the time is definitely the key, so we won't take up any more of yours! Thanks, and happy hunting!
AK: Thank you for having me; I really appreciate it!
Follow @solefoodsanfran on Instagram to check out Andrew's daily thrift store finds, and head over to www.solefoodsf.com to check out his current items for sale.