words // Brandon Richard
One of the overlooked storylines in Michael Jordan's career is the unsuccessful playoff run after he ended his first retirement to return to the Chicago Bulls in 1995. Sure MJ was knocking off rust and the Bulls didn't have the same team chemistry, but Shaq and Penny's Orlando Magic were the only team to beat Chicago in the playoffs during the dynasty era. That has to count for something.
The series was also historical for reasons beyond the eventual result. After uncharacteristically coming up short for the Bulls in Game 1, Jordan ditched his #45 jersey for the more familiar #23. The team was fined $100,000 for allowing Jordan to wear his old number without notifying the league. Said Jordan, "If it's a mental confidence, then it's a mental confidence. I'm going to stick with it until I finish playing basketball. That's me. Twenty-three is me." The move was worth EVERY penny.
In addition to wearing his old jersey, Jordan also laced up brand new sneakers. The Air Jordan 11 was his signature model for the 95-96 season, but he debuted the shoe against the Magic in the '95 Playoffs. The 'Concord' colorway was his weapon of choice for games played on the road at the old O-Rena. When the Bulls returned to the United Center, he broke out 'Space Jams' for the very first time, five years before we'd actually have the chance to pick them up as a retro. Jordan's PEs were printed with the number '45' on the heel, further evidence that his jersey number change was truly spur of the moment.
Above is a video from Game 4 (he settled the Air Flight One bet with Penny in Game 3!), in which Ahmad Rashad and Marv Albert discuss MJ's new sneakers. Check it out and let us know what memories you may have of that oft-forgotten series.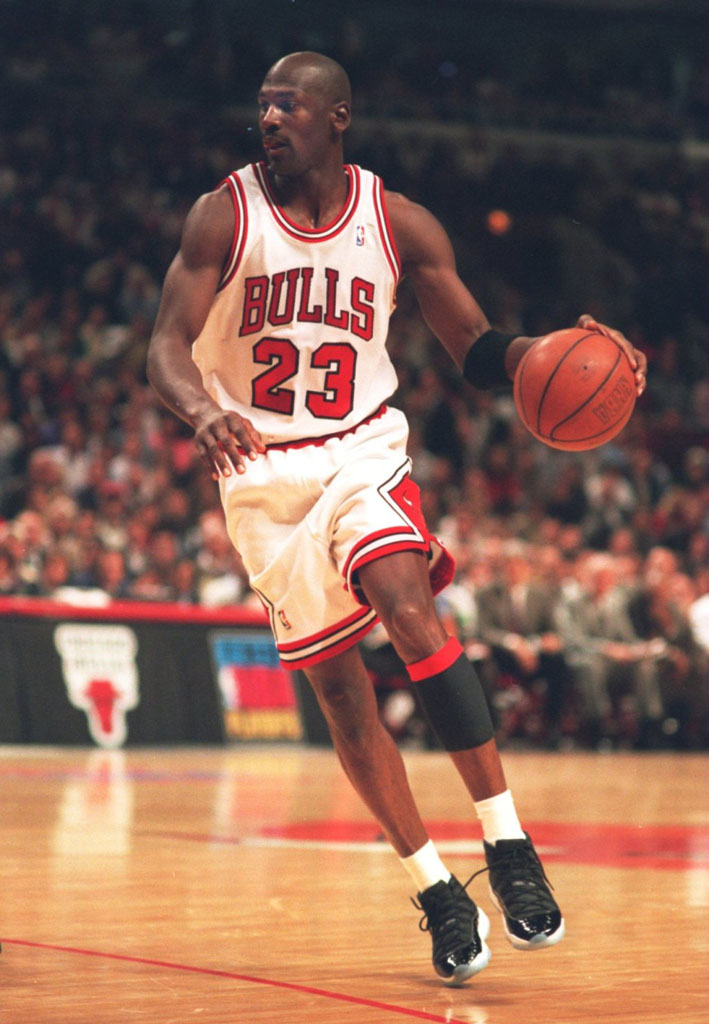 image via Jonathan Daniel / Getty