as told by Steve Mullholand
published in Issue 45 of Sole Collector Magazine, the 10th Anniversary Issue
Issue 7 was what made Sole Collector. There's just no doubt in my mind that if we didn't have an Issue 7, that Sole Collector wouldn't be around today like it is now, and I don't think the sneaker community would be the same if we didn't reach the level we did and go past it.
I can distinctly remember the phone call. There was a person named Roman Vega that worked for Jordan Brand, and back then, he was in charge of advertising. We were in Las Vegas shooting Stacy Keibler and a bunch of the WWE Divas for Issue 5, and I remember being in a parking lot when Roman called.
He says, "Steve, I've got an idea for you. I'd like to buy out half of Issue 6 and dedicate it to Carmelo Anthony. Then, I'd like to buy out the entire Issue 7 and dedicate it to the game shoe." That year, it was the Jordan XX. I was like, "Yeah Roman, let me think about that and I'll call you tomorrow." [Laughs]
Man, I was fucking jumping up and down. I couldn't even believe what I was hearing. The brand with the content that everyone is dying to read about is calling me up and saying they'd like to buy out an issue. No other company at that point could've called up and said, "A half issue and a full issue." It would've just been too forced, and we were only five issues in. Yeah, we could've done all of the Nike Basketball shoes, all the adidas or all of the best Reeboks. We could've done a good issue, but we'd never done a full issue like that yet, and it wouldn't have been as impactful as an all-Jordan issue like this. LeBron and Kobe didn't have a full line of shoes like they do now, and Jordan was the epicenter of the sneaker community then.
So a day later, I call him back and say, "Yeah, that'd be great. I'd love to do it. I'll be up on campus whenever it makes sense and we can sit down and plan everything out." After that, it was now in our court to figure out like 20 items that we wanted to highlight and feature in the issue.
Of course, the cover is one of them. The Jordan XX was another easy one, and we were just thinking, "What could we do that would be kind of interesting for the kids to read?" My idea was to put every single Jordan that we had access to in the magazine. It had never been done before, and there was a Japanese magazine named Boon that had done that, but it was a few years ago and it didn't have any of the more recent Retros or game shoes. We thought that was a cool idea, and then we wanted to connect up the Forum so that we could get some of the members featured in the magazine. We had a personal story for every single Jordan with people that were into that model. We had someone talking about each model from the I all the way to the XX.
We had a huge list of ideas, and I sat down with Roman and a couple other people. The first thing I said was, "We'd like to get an interview with Michael." He looked at me and he said, "Steve, I'll see what I can do, but I don't know if this is the issue we can do that for."

Well, that was my cover idea, and if we aren't going to get Michael, what's the next biggest thing we can do? Well, the next biggest thing, to me, would just be having the Jumpman on the cover. They thought it made perfect sense.
No words. Just Sole Collector and the Jumpman logo. One in black and red for newsstands, and a limited one in white and red for subscribers.
They thought that was the coolest thing, and we ended up working with their graphic design department on it. It was obviously the easiest cover we ever did. [Laughs] But it was real impactful. It put us in the same space as Jordan Brand, and it was powerful for us. It's simple, it's elegant and you knew you were diving into the brand once you got the issue in front of you.
Being that it was the 20th anniversary of the game shoe, Spike Lee was brought back by the brand to do the Jordan XX commercial. They actually invited Anthony Gilbert and I to go to New York to the studio where they were shooting the commercial. We were able to capture the atmosphere for the feature in Issue 7, and then they told us that we could also get a few minutes with Spike afterwards for an interview too.
There are four or five rows of seats on the set, and Roman and the Jordan people are in the front, we're in the middle and there are a couple guys behind us. We're just sitting there while Spike Lee is on camera, reading from that big book.
I 1000 percent remember this. Before we all sat down, I just said to AG, "Hey, make sure your damn phone is turned off." [Laughs]
He looks at me and says, "Steve, I don't have my phone off – I've got the battery out of it." [Laughs] I just said, "good!" We definitely didn't want our phones going off.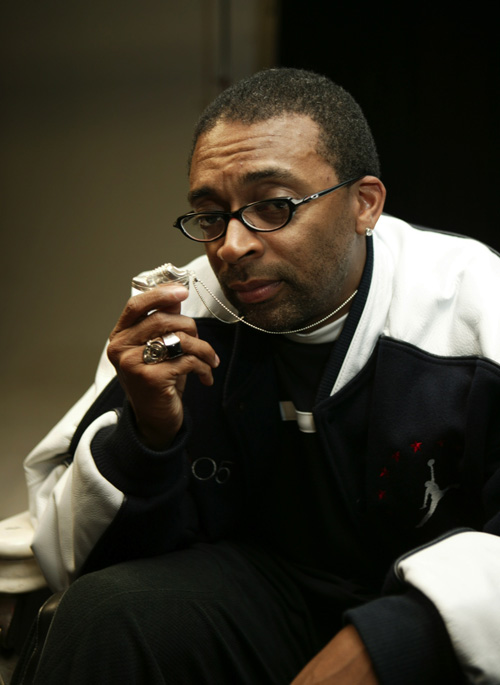 Sure as shit, the guy right behind us has his phone go off while Spike is being filmed. Roman and everyone turn around, and they see us right in between the guy and think it was us. [Laughs] The guy takes the blame luckily, says he turned his phone off and we're all thinking it's all good. Within five minutes – his goddamn phone goes off again! [Laughs]
Those guys are getting pissed, and Spike goes, "Man, if this was my set, none of this would be happening." Luckily for us, the guy stood up, and he just walked out of the room. [Laughs] Man, I just didn't want to be the one that was fucking up the entire shoot, and it worked out that they knew it wasn't us.
Spike did all of that work to nail it for the commercial, and you could tell that everything was wrapping up for the day, so we walk towards him with Roman. He just says, "Hey Spike, this is Steve and AG from Sole Collector, and these guys would like to interview you about your connection to the brand."
We sat down and Spike was amazing. I didn't know what to expect from Spike, and he just was coming off of this long ass commercial shoot, and he's laughing and just the best. He lit up the room, was so excited and all of the sudden, one of the Jordan guys with a camera comes over and says, "Hey, we didn't capture him like this when we interviewed him, is it ok if we film all of this too?" It went so great, and we were with him for over an hour.
At the end of it, Spike says, "Hey guys, would you like to come by my house and check out some shoes that Michael and Mark Parker have given me?" Of course, we're like, "Fuck yeah we want to!!"
I'll never forget when we were on the way to Spike's house. The damn battery in my camera died right on the way there, and I didn't have my charger. So we had to go to a Best Buy and they didn't have the right batteries there, so I bought a little Sony camera to use. The photos turned out like shit. [Laughs] It just wasn't that great of a camera, but at least I had something.
We all got to Brooklyn at his place, and he's showing us all of these crazy shoes in his basement. He's got a bunch of Foams, Jordans and just tons of shoes. All beat to hell. [Laughs] He wore all of them. He had the original Brooklyn Dodgers scoreboard down there, and just some really cool shit.
His wife comes home with his son, and he introduces us to them. He went upstairs to grab a pair of shoes and I sat down on the couch. AG yells at me, "Don't sit down!" I'm like, "Man, take it easy!" He says, "Steve, you've gotta respect his house and stand up until he sits." [Laughs]
Spike comes back down, and he has these lasered Jordan IIIs on Dunk bottoms. They were given to Spike Lee and there's a handwritten note from Mark Parker and they're in a beautiful wooden box. It was just so well done and he was so proud of them.
It was really cool, and back then, we thought we knew about every shoe out. We didn't know there were hidden shoes like these. This was back before there were tons of PEs and special one-offs being made. Here sitting in front of me is a pair of shoes I had never even heard about. It was pretty cool, and we got to hang out with Spike Lee one other time too and he was just amazing again.
We really got in-depth with the Jordan XX. We had Tinker, Mark Smith, Josh Heard and Tom Foxen. We went real deep with those guys and got some great stories, and it was the first time that we hung out with Tinker and Mark Smith. They loved talking to us, because we understood what they were saying. Otherwise, those guys only talked about their shoes like that with marketing and internal PR people, and you can't really tell the real story in settings like that sometimes.
We had an audience for it though, and those guys could get as technical as they wanted to and could really talk about the lasering process, the IPS cushioning and everything else. They could say anything, we could understand it, and then we could follow up with the right question. It was really the issue where everything clicked for us as a magazine. Those guys loved it.
One really cool thing about this issue, too, is that we got a lot of shit for the inside back cover. [Laughs] It was something Jordan Brand gave us to tease the XX1, and it had an Ace and a Jack and then a silhouette of MJ dunking. This issue was obviously for the XX, and in 2006 the XX1 was going to be coming out, so there was kind of a nod to Blackjack there. Well, MJ had some issues with gambling, and people connected this image to gambling and it wasn't great. Nobody at Jordan ever said anything further about any fallout, but I know for a fact that this issue was sitting on MJ's desk for a while. I'm positive that when he got to that very last page that it might've been a bit of a surprise for him to see the gambling association. [Laughs]
Another thing I really remember is the printer actually made a mistake with this issue and they had too much yellow in all of the photos. Of course, this is the biggest issue we ever had, and we had advance copies of this issue that were printed and were actually being given out at the 2005 All-Star Weekend event in Denver that Jordan Brand was putting on. I talked to the printers and I said, "We can't have this going to Denver in this condition. Jordan is a luxury brand and we have to treat them like it." So these guys re-printed the advance copies, and they Fed-Exed them overnight to Denver. It was 10,000 issues. That's a TON of issues, and they paid for it to make sure it was done right. It was amazing.
Sole Collector Magazine // Issue 7