as told by Steve Mullholand
published in Issue 45 of Sole Collector Magazine, the 10th Anniversary Issue
Being able to shoot Michael Vick was a huge deal. This was another big, big star and I actually talked Kevin [Roberts, the photographer] into driving up to Michael's house. I told Kevin it was a five-hour drive, but really it was a seven- or eight-hour drive. [Laughs] We get to the hotel we were staying at outside of Atlanta at like three in the morning, and it was late.
So we get up the next morning and we go over to Michael Vick's house. It wasn't like Tracy McGrady's house, but it was still a really nice house. It was more on a cul-de-sac, and we drive up there and there are like five or six guys there.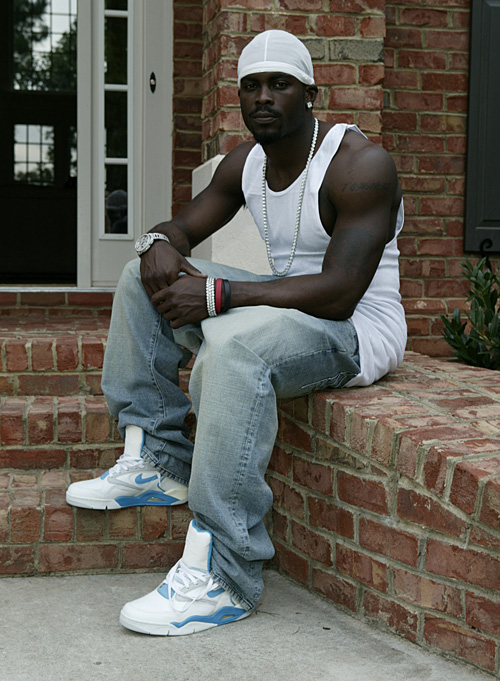 I'll never forget it. We go knock on the door and I say, "Hey man, I'm Steve and here to shoot Michael today."
His friend says, "That's cool! Come on in!" We go in and the guys are all downstairs playing video games, and the cool thing about Vick was he had all of his guys wearing nice stuff.
It was on a Saturday, and it was his only day off during the week. He had all of his guys dressed up real nice, dress pants and everything. It was a class act. I was carrying all of the shoes that we brought into the house, and Kevin and I were going back and forth to the car to get more shoes.
I overheard Michael talking to his five or six guys in the other room, and I overhear him say, "Don't ask these guys from Sole Collector for anything. Don't ask for shoes." I always thought that was a really cool move. He cared enough about this relationship and this photoshoot that he knew to tell those guys, "Hey, they've got a lot of cool shoes with them, but don't ask for anything."
Of course, if anyone would've asked, I almost have to say, "Well yeah, go for it." [Laughs] The thing is, NIKEiD had just done a whole set of colorways of the second Zoom Vick for him, and he hadn't even seen them yet. So I had him sitting up on his Range Rover, and we were throwing him the shoes. He was so damn excited! He was really impressed with the colors, and some of them tied back to his old college, his high school and his hometown. He was all jacked up about it, and you can see it in the photographs. He was genuinely excited about seeing these shoes.
We made sure we did a great job shooting him, for us, for Vick and for Nike. We just wanted everyone to be super stoked about it, because he was our first big Nike athlete for the cover, and they were helping us out to be giving us access to him and by letting us get the exclusive on all of those NIKEiD colorways.
After that, Vick says, "Hey, I see you have some other shoes here." I just said, "Yeah, I'd definitely like to shoot you in these if I could." He just said, "No problem," and I had these old-ass Air Force Vs from 1990, and they were his size! I shot him with those on, some Air Max 95s and some other pretty damn cool shoes.
The coolest thing about it all was I'm in the middle of shooting him in front of his house, right on his front door step with those Air Force Vs, and his buddy just pulled up to deliver his new car. It was this amazingly sick new Rolls-Royce. We walk out there to greet the guy, and he just says, "You know what guys, I'm going to be able to enjoy that car all evening, but let's get this photoshoot done and make sure you guys get what you need."
The car was crazy. It had like a mink interior and was totally ridiculous. We sat there, kept shooting and he was nice as hell. We loaded everything up in our car to take off, and then he and his buddies got in the Rolls and got the hell out of there too. Everything was amazing.
It's funny, though, because you see how people are often portrayed in the media, and then you compare your experience with them and it's totally different. The guy was so professional, well spoken and just so accommodating. It's just tough to see all of the things he went through later on that were definitely on him, but still, he was nice as could be and a good guy from my experience.
Sole Collector Magazine // Issue 6 -- November 2006