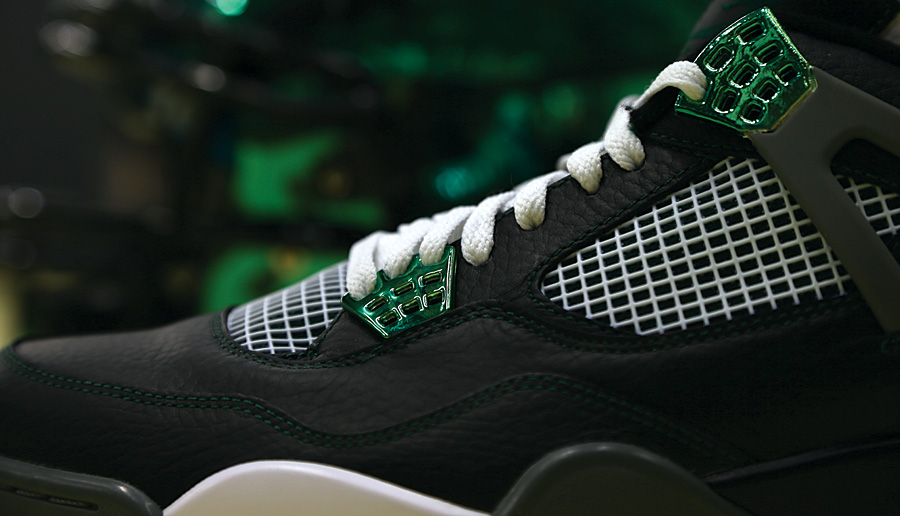 as told by Nick DePaula & Steve Mullholand
images by Steve Mullholand
published in Issue 45 of Sole Collector Magazine, the 10th Anniversary Issue
Nick DePaula: I remember getting a text from someone saying, "Hey, Tinker has a story he'd like to tell about an Oregon Jordan. Do you think that'd be interesting?" So of course I'm like, "Uh...hell yes that'd be interesting." [laughs] So we set the interview up and Steve came out to Portland for it.
Steve Mullholand: Going in to talk about the Ducks shoes, both Nick and I were super jacked up. I thought some of the colors turned out super sick, and obviously with Nick going to school there and collecting pretty much every Oregon shoe, he was excited too. At the time, there was a lot of heat about the "Pit Crew" Jordan IIIs getting out and ending up on eBay. They had some contests that students won pairs from, and then they put them up on eBay, and Tinker wasn't too happy about it.
Not only were the shoes usually pretty nice, but there was always a story behind it from Tinker's end for each color. So we went in there for this interview and didn't know what to expect. We just knew that he had a story to tell us.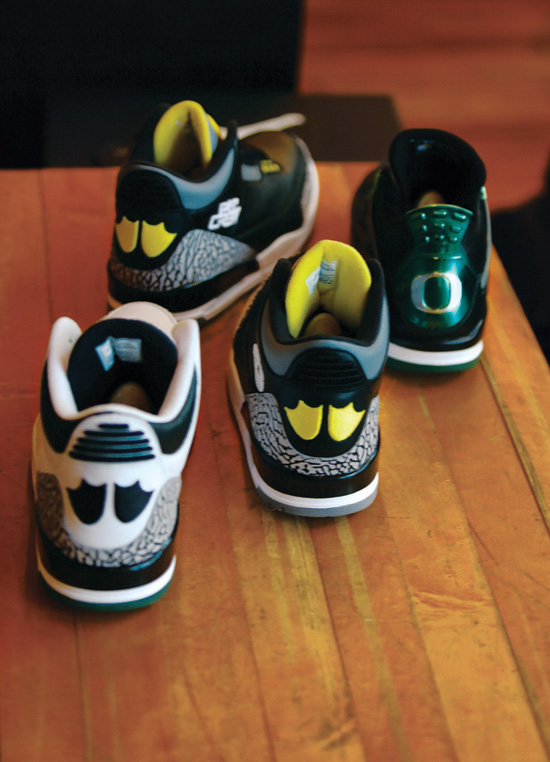 This was one of those interviews where you go in thinking one thing, and the story was told to us, and it was just one of those stories that you get emotional about. It wasn't about the latest Air or Lunar Foam, it was about a person and somebody that was linked to Tinker since his childhood.
We sat down and Tinker's assistant grabbed all of these Duck shoes for us to check out. These Oregon Jordan IVs are just insane. The metallic paint on the heel tab and everything was just crazy. We're all amped up to hear what the story behind the shoe was, and Tinker is telling us a bit about the IIIs and where they came from. We got to the Jordan IV, which was this year's shoe, and Tinker started telling us all about his childhood friend, Doug McClain.
NDP: He had a picture of them from when Tinker was three and Doug was five.
SM: They were best friends since they were super young. You could just tell how much Doug meant to him, and he was just telling us all about these cool trips that he and Doug and their families would go on. They'd go to every Duck football game together and everything. His friend Doug passed away, and it just really weighed on Tinker.
He wanted to do something for Doug, and he wanted to remember him in a way that most people can't. He did it by putting a shoe together that had all of the Duck pieces on it, but then on the tongue, it says "In Memory of Doug McClain. Designed for U of O Football team."
This was one of those interviews where it just had a lot of emotion to it. The only way you wouldn't have any emotion is if you weren't human. It was just a story that shook Tinker to his core, and you could tell by how he told it and the inflection in his voice. This was the first shoe that Tinker ever decided to put his signature on. This was just a special case where he thought it made sense to do as a tribute.
Nick put together the story and it was really spot on and captured the feeling in the room. It captured everything that Tinker was telling us, and it is the issue that I can give my friends back here in Key Largo, or my parents or anyone else. It is the one story that people can read if they don't really get the magazine, and they can say, "I finally get it."
This story really lets people know that there are also stories behind the shoes. All shoes have some kind of story. Some of them are just the design brief and that's the story. Other ones might have a lot more emotion behind them. This one had the pinnacle of emotion attached to it. I couldn't believe the response that this story got from everyone and all of my friends. They all said, "I finally get it. It finally makes sense. There are real people behind the shoes creating them." A lot of general people might not know Tinker or Avar by name, but once they read that, they could see how much these things can be connected to a real life story, even though they're just a pair of shoes.
That's something that makes all of these issues through the years so special to us. I don't know if every magazine has all of these personal stories and connections to everything that's happened. Some of the trips we've gone on, the photoshoots we've done or how we were basically working out of Nick's house for two straight months. We were a small company and we made the shit work. It was all very connected to us. What shoes do we want in the magazine? What shoes do we really like at that particular time? Who do we want to interview? The three of us made all of those decisions, and I've always been proud of that.
Sole Collector Magazine // Issue 42 -- January 2013